In quick succession, we got preview seasons for Double Masters and Zendikar Rising, with barely room for a breath between the end of Core 21 and the start of Double Masters. Similarly, we saw official preview/teaser cards from the winter release, Commander Legends, before the previews for Zendikar Rising started rolling out.
Double Masters featured more than a handful of downshifted commons, but not so many slam dunks as to necessitate an update so soon after our last one. We've elected to combine the review and update with Zendikar Rising. Tying our updates to the main standard legal releases makes things easier and more viable in the long run.
White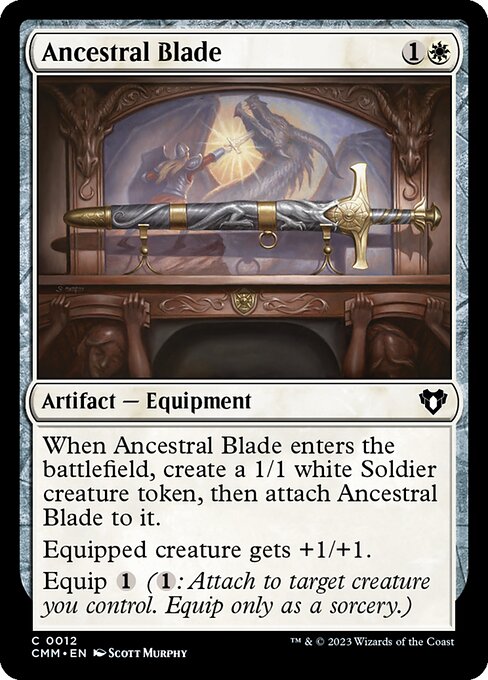 Phizzled: Living Weapon is a mechanic I adore. A resilient creature buff and a trinket threat at both okay in my book, and the combined creature produced by Ancestral Blade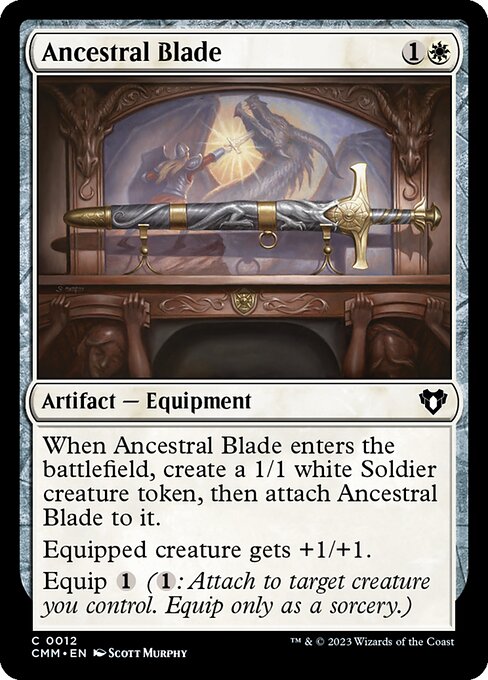 is a 2/2, technically on rate for the casting cost. I am a fan and the only question I have is: what is on the chopping block to make room?
Omniczech: while I might not have an answer right out of the gate, I can tell you that "on rate bear that leaves behind a short sword" is a real card and I'm very excited to find room for this. Super simple and clean design that was a joy to see downshifted.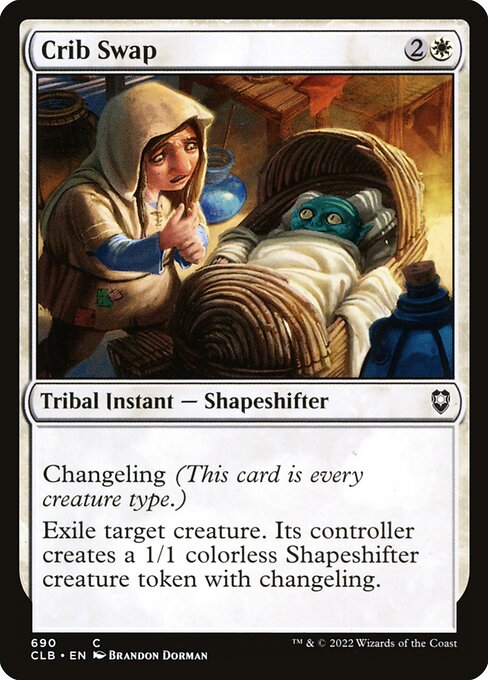 P: At 3 cmc, this is an expensive Swords to Plowshares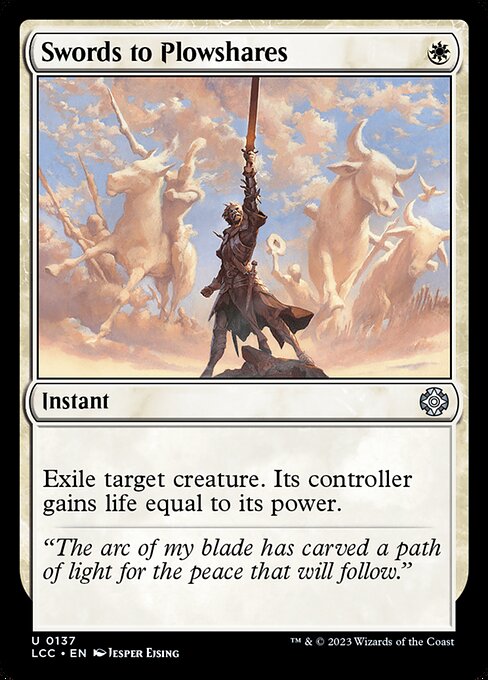 . But because it exiles, it is more appealing thanArrest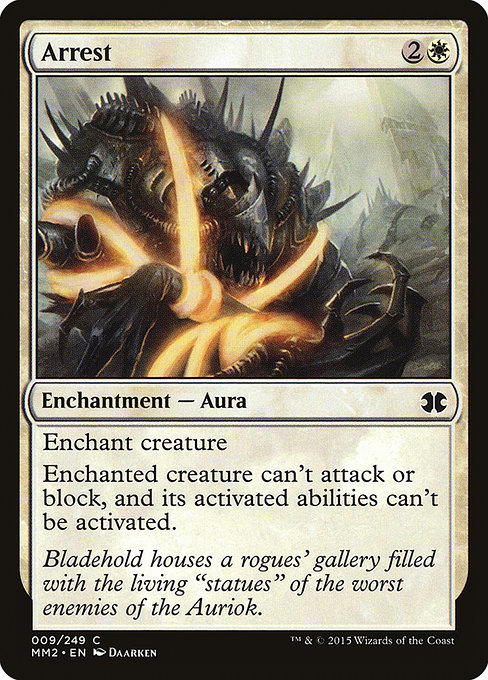 and some other enchantment variants. Does the presence of Heliod's Pilgrim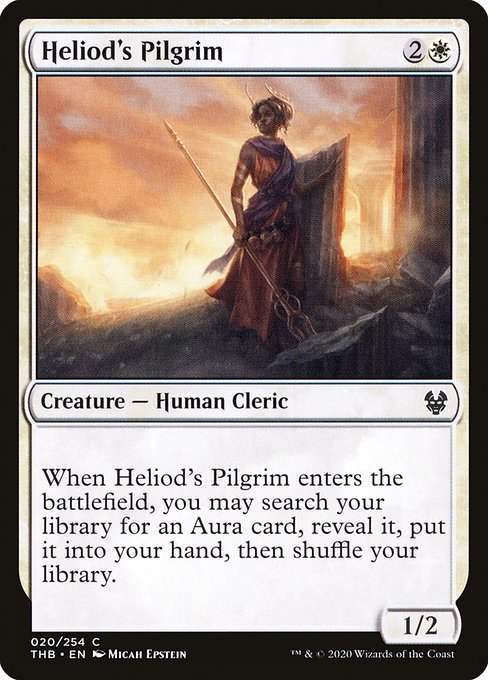 and Totem-Guide Hartebeest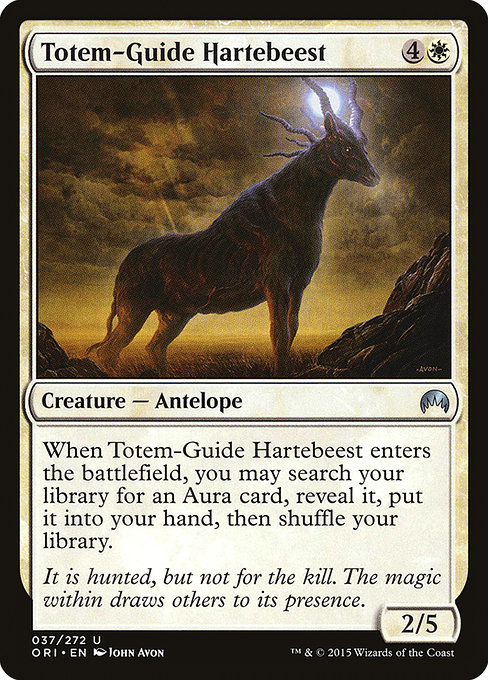 cause me to hesitate? 
O: more than arrest this makes me think of the turn to frog style of enchantments that leave a pretty meaningless body behind as their "apology" to the opponent. Almost makes me wish Kasmina's Transmutation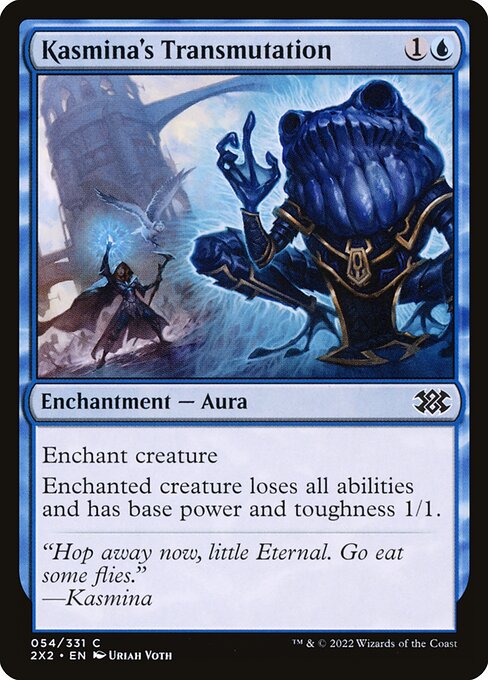 was a white card to make the swap here easier.
Blue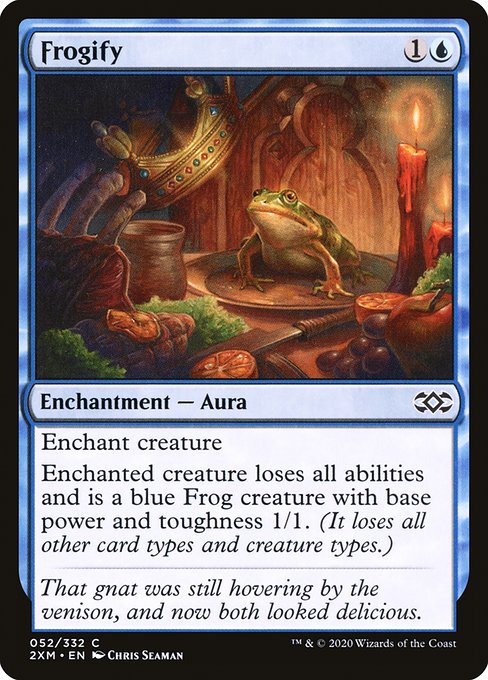 P: We already have Kasmina's Transmutation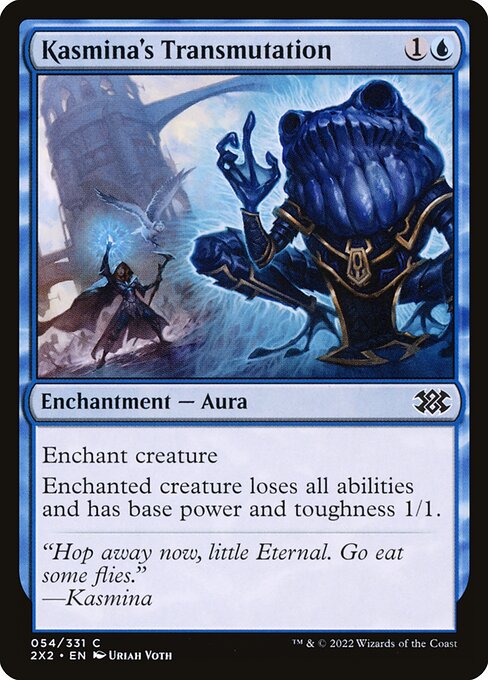 , but if you happen to run a 540 version or just didn't grab a foil during War of the Spark, maybe pick one up?  Frogs are neat!
O: Agreed, it's a redundant effect for one I'm not 100% in love with so this likely doesn't make the main list.
Black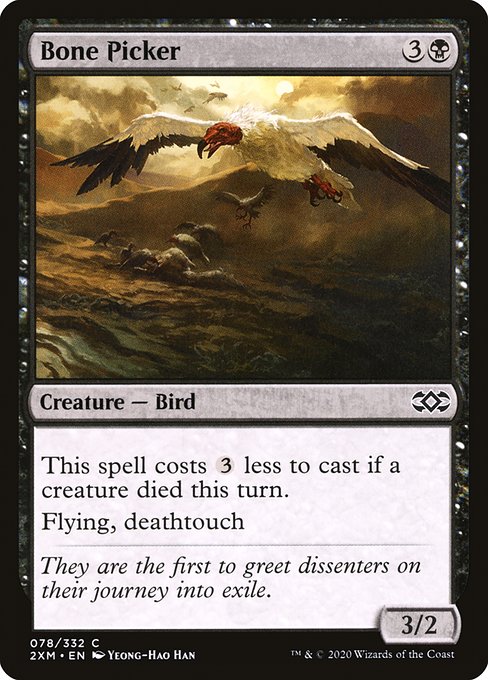 P: Paying full price is a bummer, but this is a very solid threat before you add deathtouch. I liked this during Amonkhet, and nothing has changed except the rarity.
O: I really like this. A lot of of modern designs for cost reduction in this vein feel tricky to get active sometimes, but Bone Picker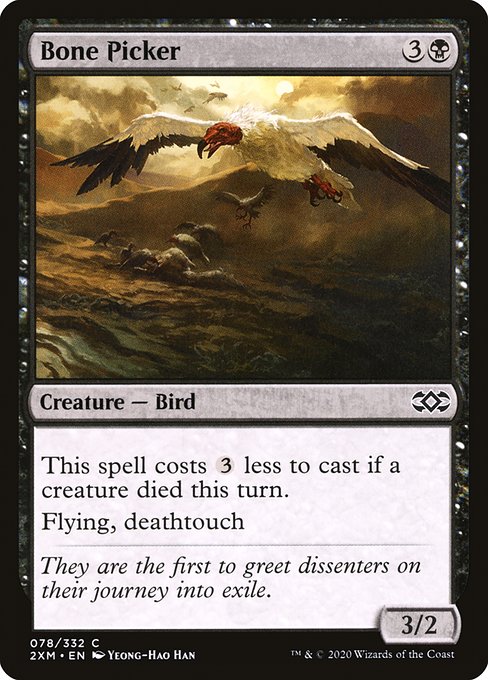 is a clean design and it being discounted should your opponent chump or casually trade leaves you with an undercosted evasive beater. Easy win for me.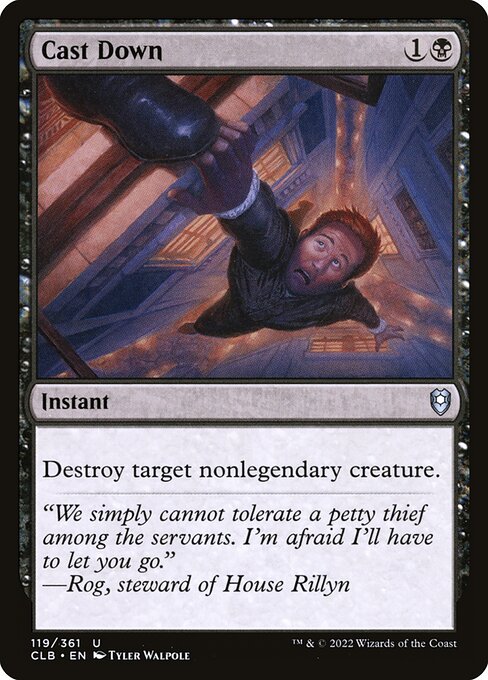 P: As currently configured, we have no legendary creatures and it's unlikely any will be added until at least Commander Legends.  Cast Down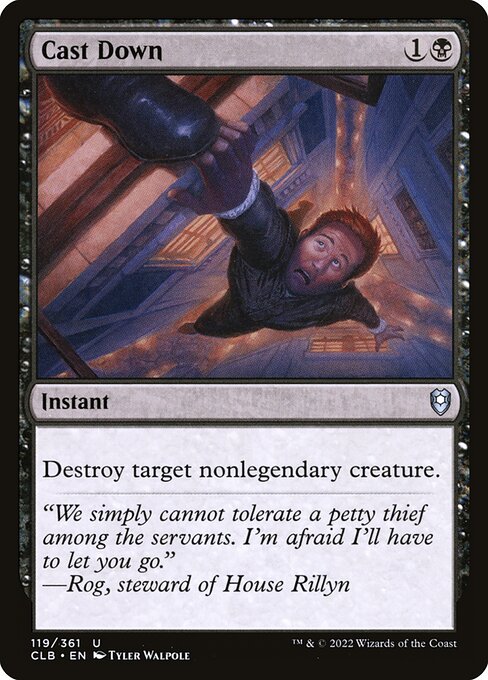 is so clearly and cleanly good that there is almost nothing worth talking about. Until we figure out the cut for it.
O: I'll echo Phizzled's sentiment here, Cast Down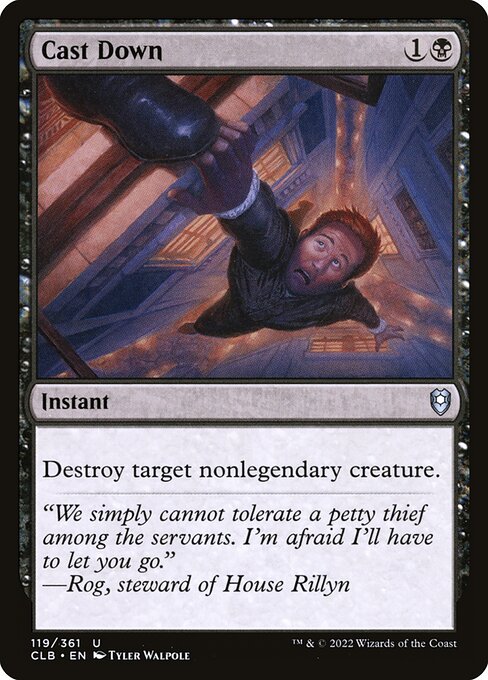 is just an obviously great removal spell. My only question is are we almost at the point where Doom Blade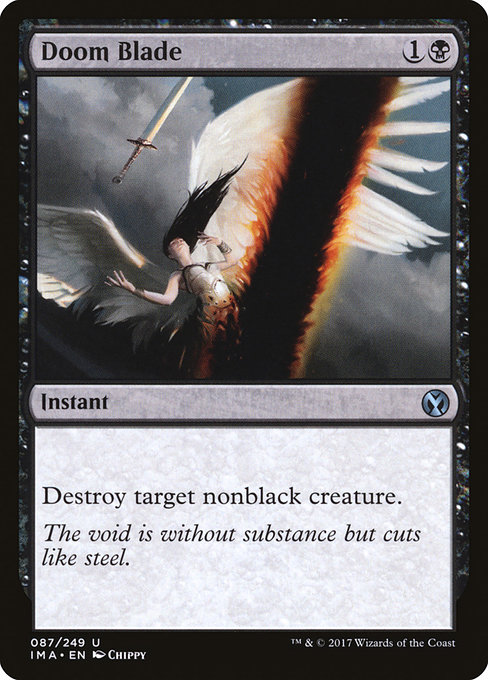 is on the chopping block?
Red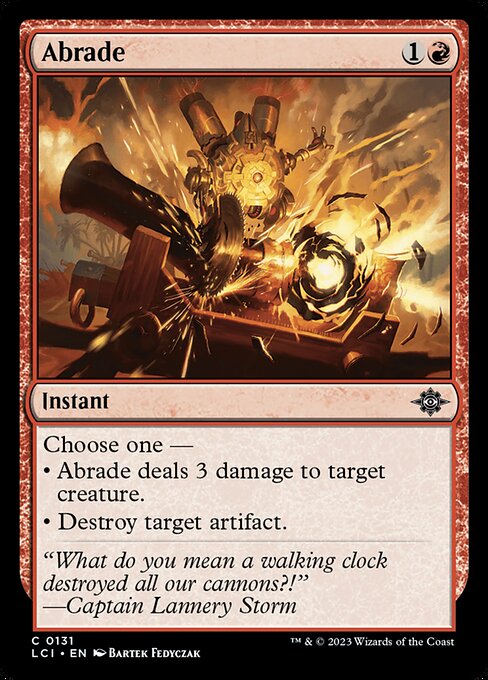 P: A versatile three damage removal still kills a lot of creatures and happens to kill several pieces of equipment, Pristine Talisman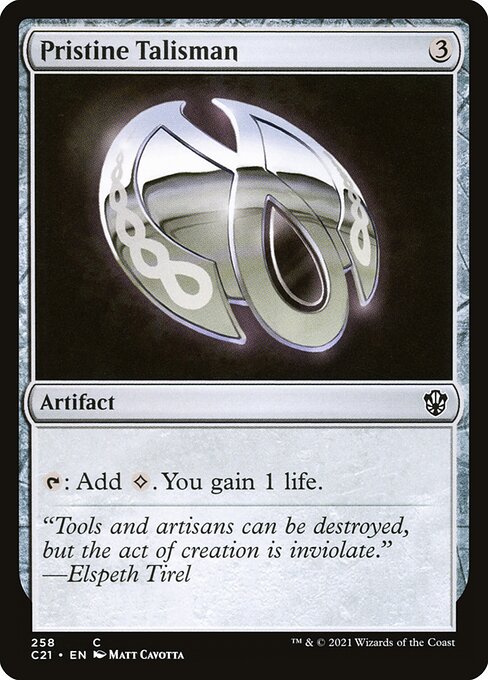 , and Serrated Arrows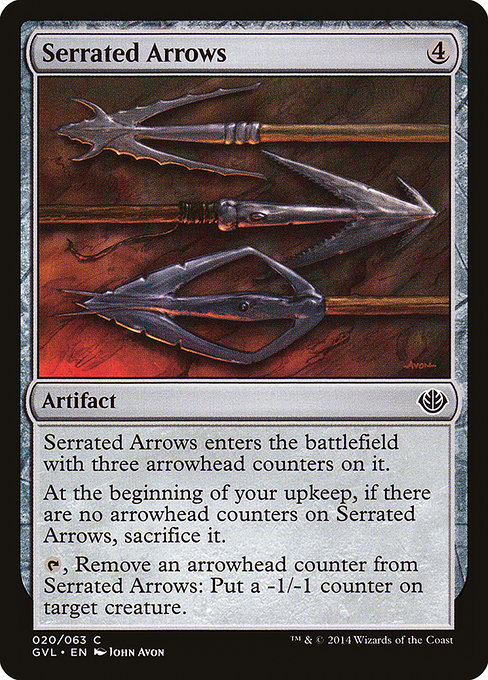 . Abrade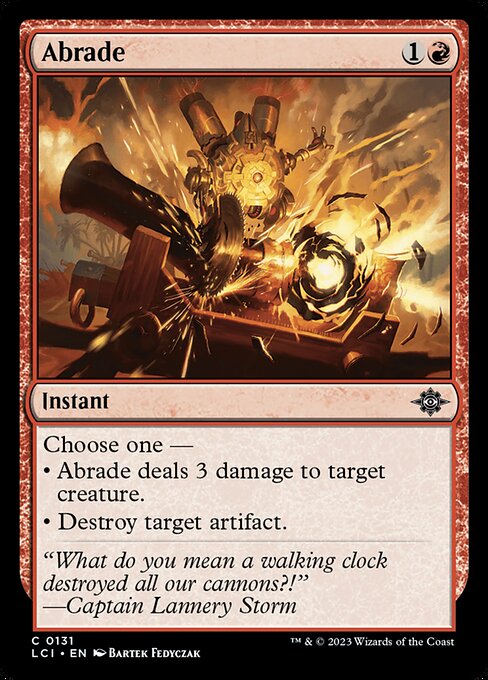 was an early highlight of preview season, to me.
O: I've cubed Abrade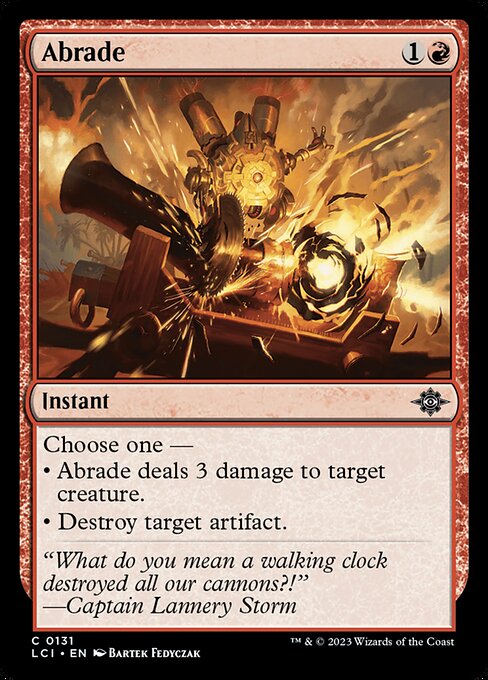 elsewhere and played it in constructed formats and folks, I have to admit, it absolutely rules. Each mode is just ever so barely below rate, but having removal that hits artifacts being a main deck option is just great. Another easy win in my opinion.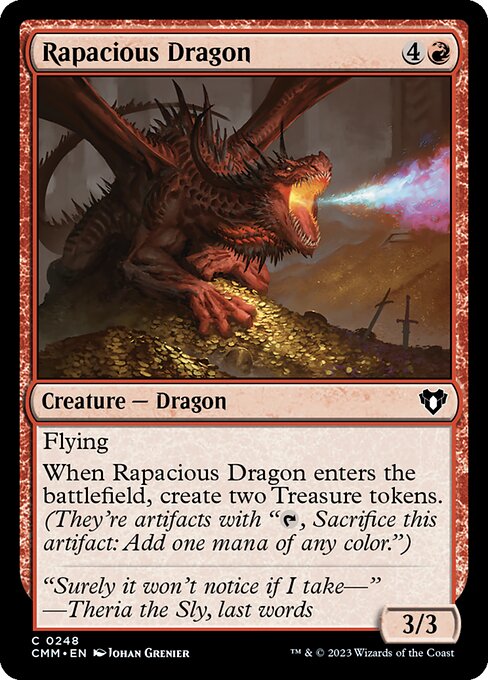 P: A 3/3 flier is pretty nice, but 5 cmc is below rate. Getting a refund of two mana probably doesn't do it for me.  I'm expecting to pass on this.
O: There's probably a world where this acts as a combo piece in some flicker deck. This isn't the place for it though
Green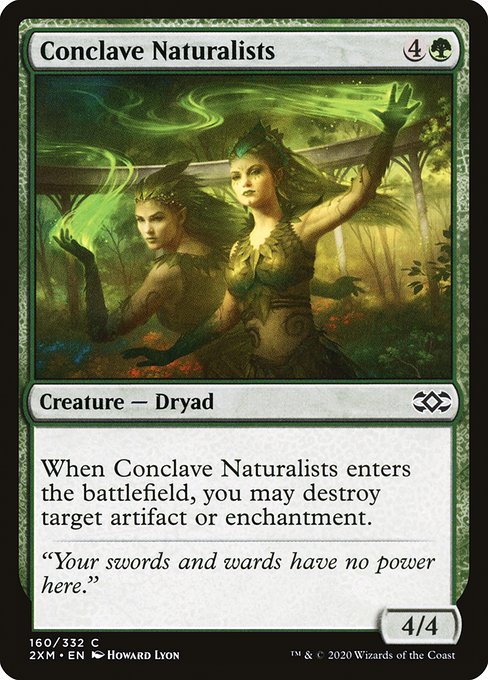 P: The body is merely acceptable, but the ETB naturalize is the potential selling point for the Cube. We probably need another reasonable piece of enchantment removal, but is this the right one? I'm honestly in need of community feedback on this one.
O: While I'm not stoked on this effect at 5 (see Reclamation Sage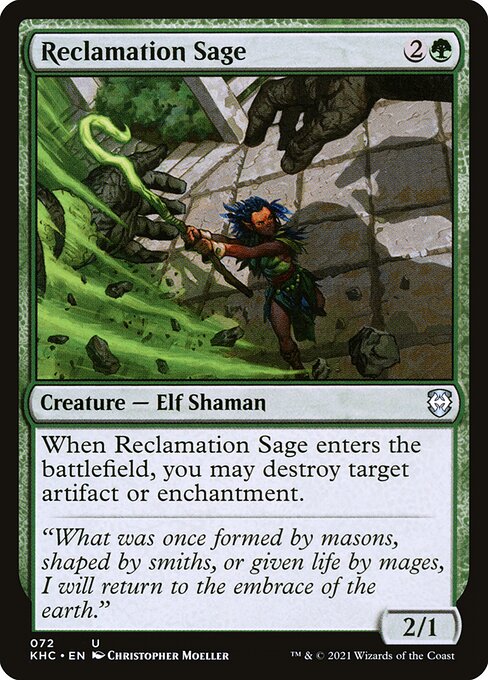 for a proper version of removal with legs) a 4/4 body is nothing to sneeze at, I'm high on it as a way to respond to community desire for more removal for non-creature cards
Colorless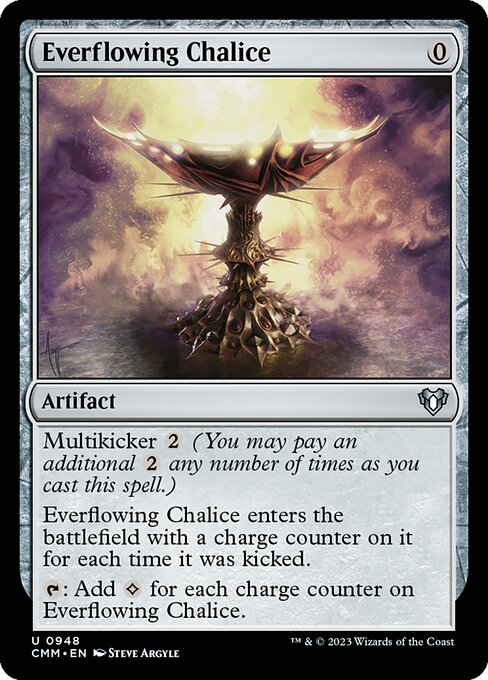 P: As a clean mana rock, Chalice is nice. Our big mana finishers are lacking in flash, but maybe they would be more appealing with an additional rock to add to the elves we've added this year.
O: I honesty have no idea on this one. The base mode is bad Mind Stone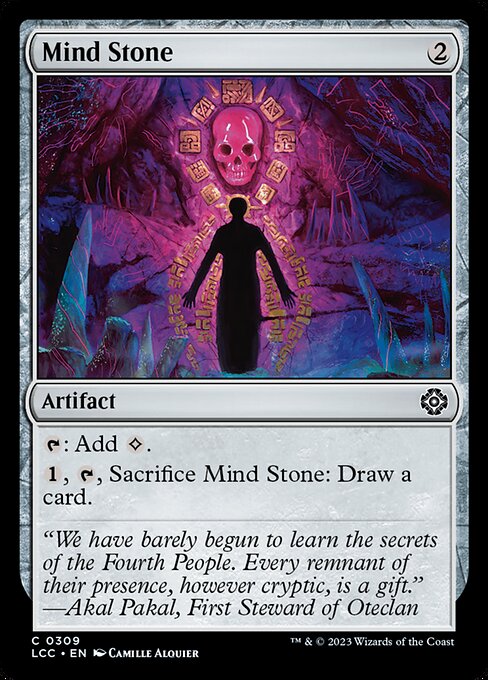 and with us culling some of the ramp cards I'm unsure exactly where this finds a home in the cube.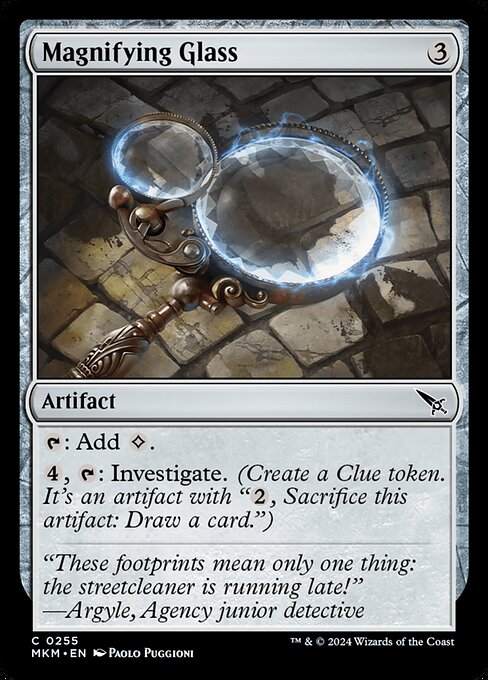 P: I think I'm probably the only person who loves investigate this much in cubes, and "pay 6 mana, draw a card" is a costly version. We didn't give much attention to Bonder's Ornament when Ikoria was released- is that a better option if we need this effect?
O: I think I agree that Bonder's Ornament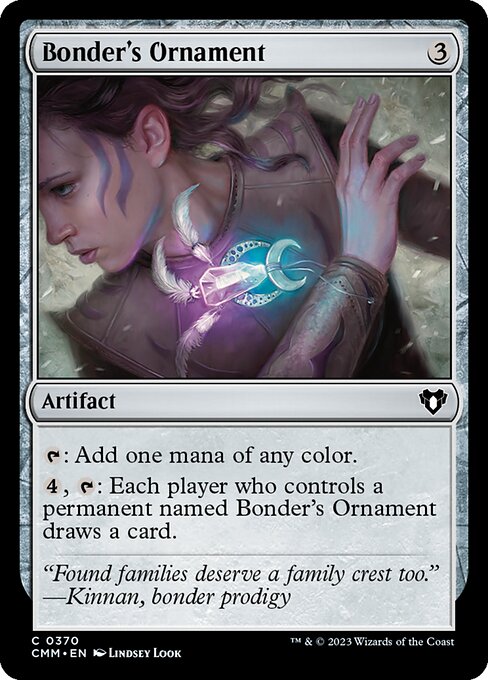 is likely the better version of this effect. Us not having a readily available way to take advantage of investigate making a token means i'm very lukewarm on this, but curious if the Ornament was incorrect to pass over.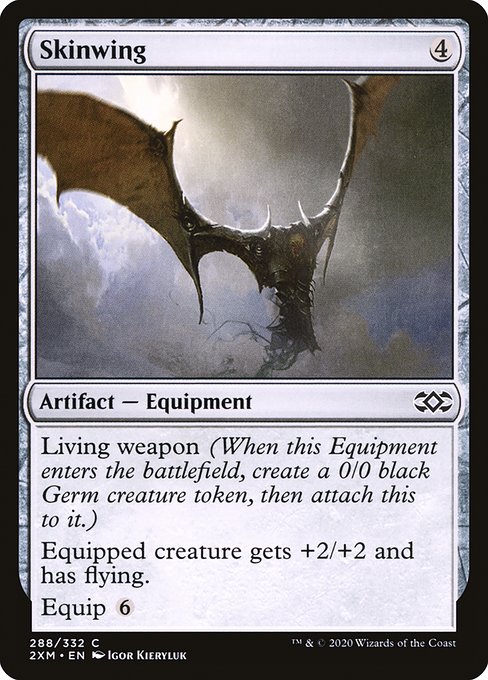 P: Living weapon gets the same praise here that I offered with Ancestral Blade above. But the equip cost is a painful one. I have concerns. 
O: Living weapon is a great Keyword, and I was excited to see one more of these get downshifted, but it seems the years since I first saw this made me forget about the equip cost and 6 mana just feels impressively Miserable.
P: Upgrade my concerns to doubts, then.
Zendikar Rising
Our third trip back to Zendikar includes three primary abilities that matter for the Pauper Cube, and one that doesn't appear on any commons.
Landfall, which triggers to cause a benefit when a land enters the battlefield, is a known quantity and features already on a few cards in the cube.
New ability Party, which adds a benefit when you control creatures with the Rogue, Wizard, Warrior, and/or Cleric creature types, is going to require some number crunching,  seems to be properly costed at common.
Returning cube allstar ability Kicker returns, as well.  Paying additional mana when casting a spell adds a benefit to the resolution of the spell.  On Zendikar, our kickers are all mana costs, though that hasn't always been the case.
Finally, we have modal double faced cards in the set.  Each gives the option of playing the card as a land or whatever is printed on the other side (which may also be a land).  Modal double faced cards are not available at common, so we get to ignore them at present.
White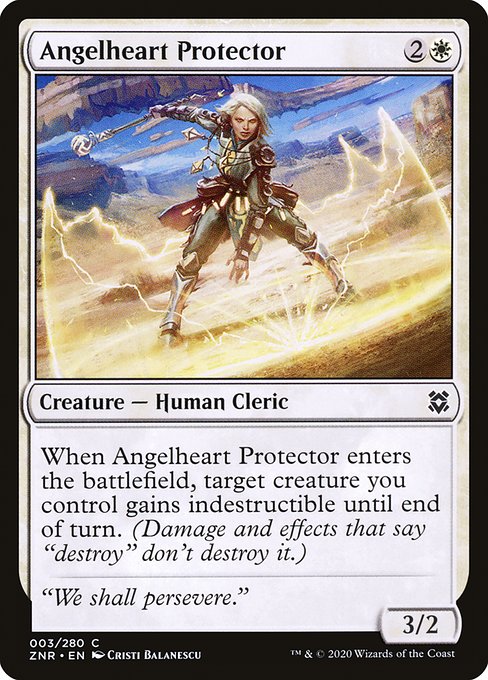 P: The 3 cmc spot is where white starts to get kind of crowded, but I think I like this enter the battlefield protective ability to start the first main phase before sending in my one and two drops. This encourages early go Wide but doesnt force me to turn off attackers the way, say, Martyr's Soul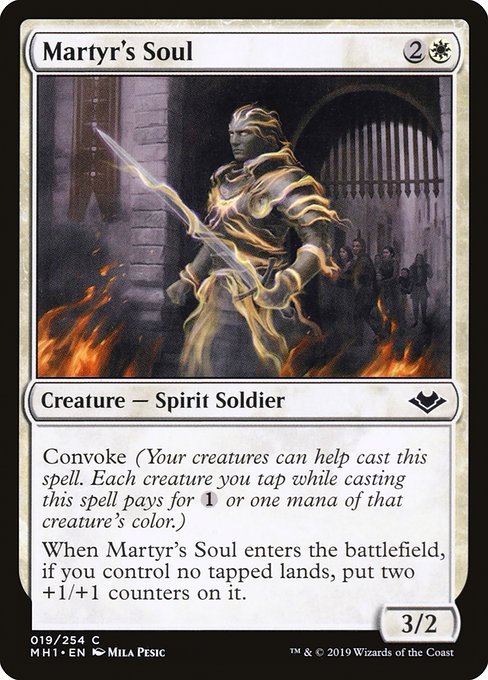 does. I want to think about this a little longer.
O: I'm not sold, indestructible isn't knocking my socks off and while the body's reasonable, it's not exciting me a whole bunch either.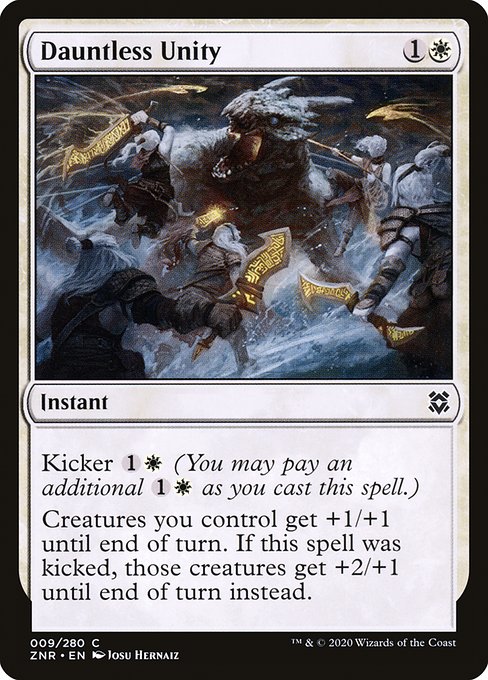 P: Kicked, the +1/+1 bonus off of Unity is cheaper than an entwine escalated Borrowed Grace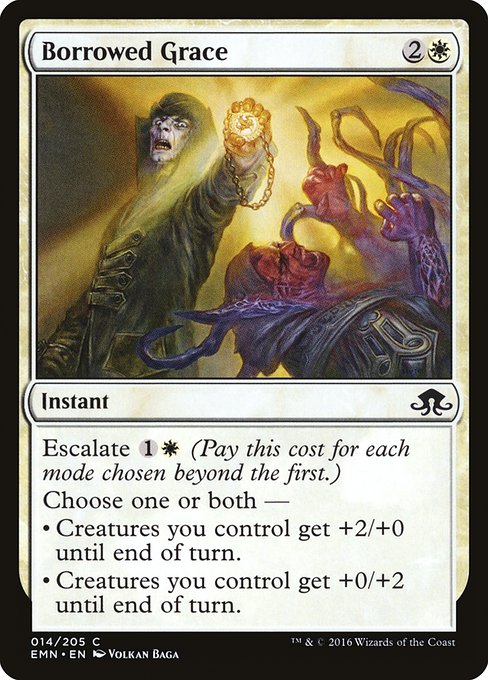 .  The only reason to seriously consider this is if I expect to see it kicked more often than Borrowed Grace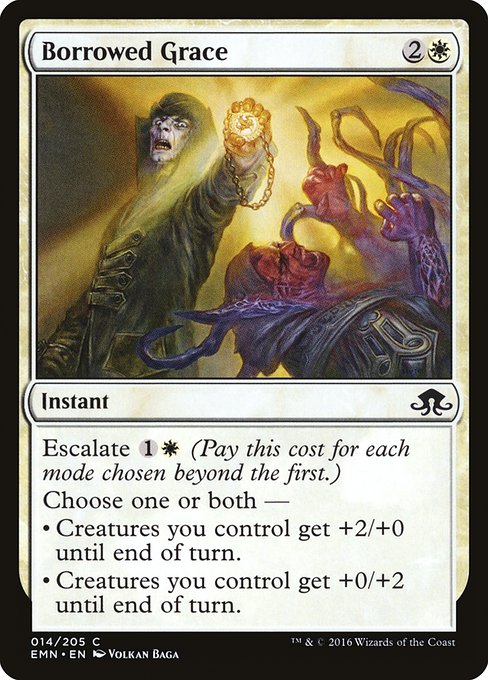 is cast without the escalation.
O: Honesty I'm kinda into this. 4 mana has been the "Acceptable" cost for a 2 power team buff for years, and I can see the unkicked version either turning a close combat into lethal or just shifting number enough to break a deadlock. I'm unsure if I'm off but if I am, I'm sure the community will be there to steer me on course.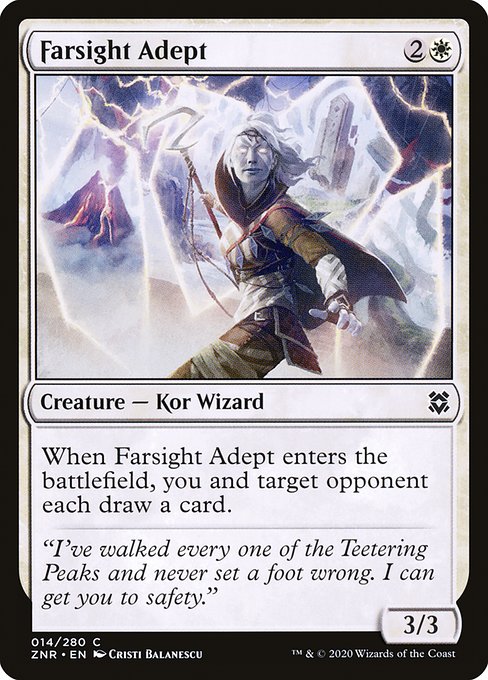 P: "Draw a card" on a white creature deserves a second look. But symmetrical draw in a color with only so-so disruption in the cube is a likely pass.
O: Folks wanted card draw in white, and they got it. It's just not good. White individual card power tends to be slightly lower that some colors (read: blue and black) and that isn't heping make this more appealing.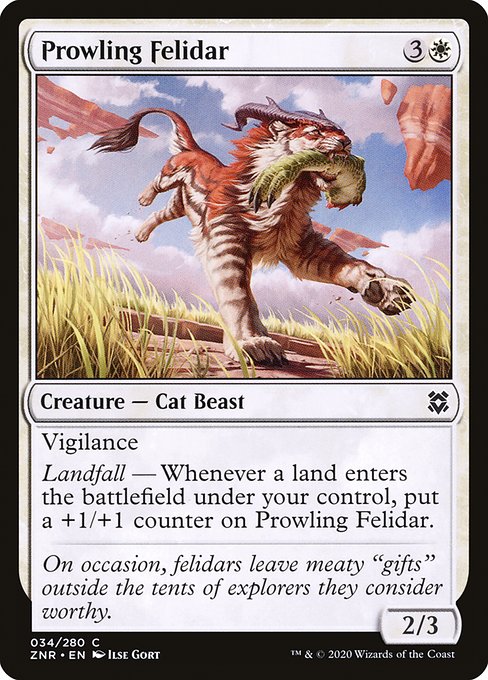 P: If, like me, you sometimes worry about Guardian of the Guildpact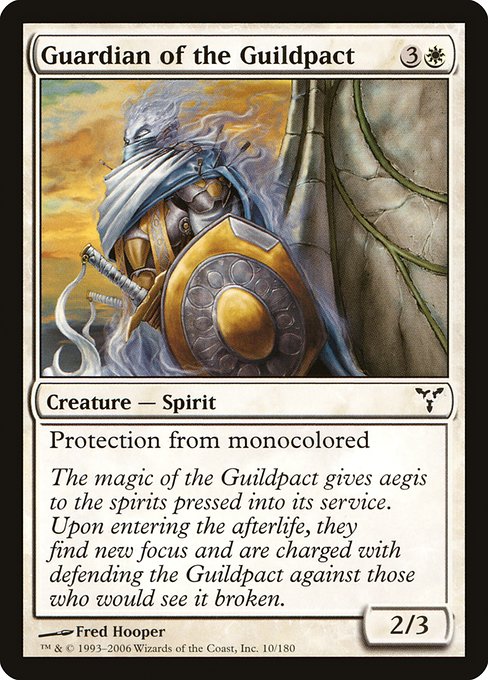 acting as a pauper True Name Nemesis, this is a four drop that ticks a lot of boxes as a potential replacement. A single landfall trigger takes it out of single Lightning Bolt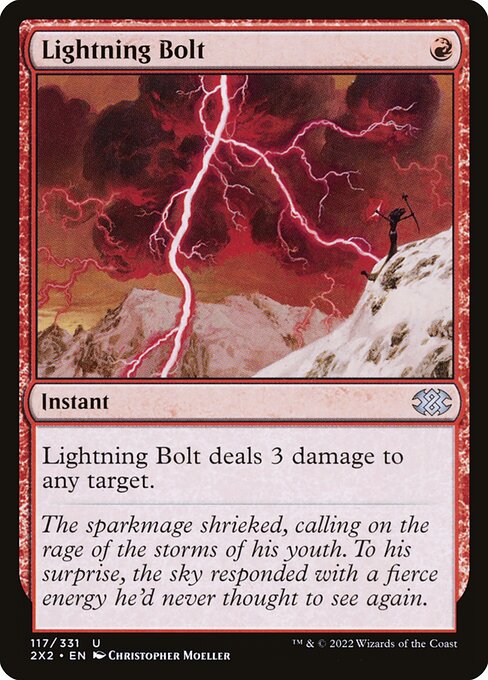 range, and vigilance makes it a fine defensive creature that can crack back after a horde of goblin tokens has attacked. I doubt the rest of the community is itching for this particular change, but I might swap this in for Parhelion Patrol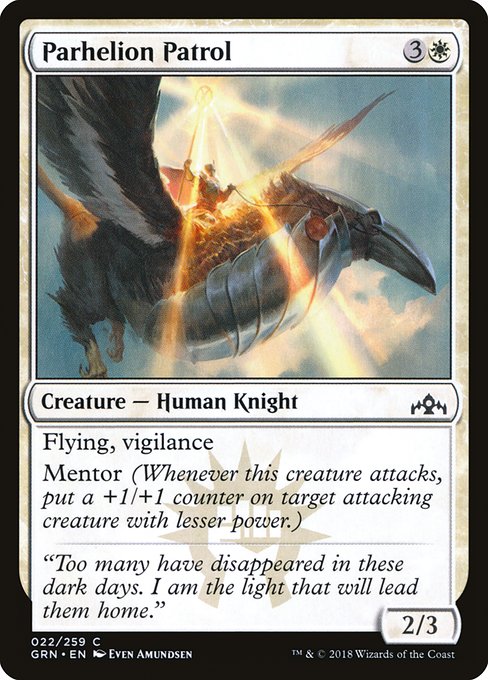 (which itself took the position of Guardian a year ago) in my Pauper cube fork.
O: While White on its own certainly isn't dumping large volumes of land onto the battlefield, I think this can put in work in a slower Wx deck just gradually gaining value. I almost wish it was a Selesnya gold card just to gently steer drafters to trying to make this thing big.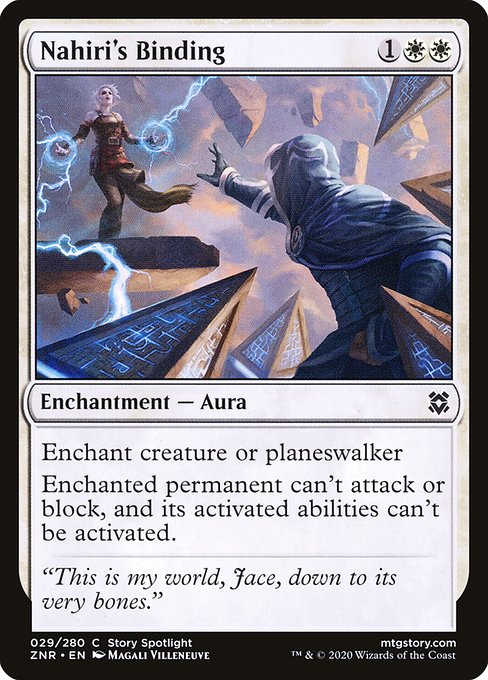 P: This feels like a sidegrade to Faith's Fetters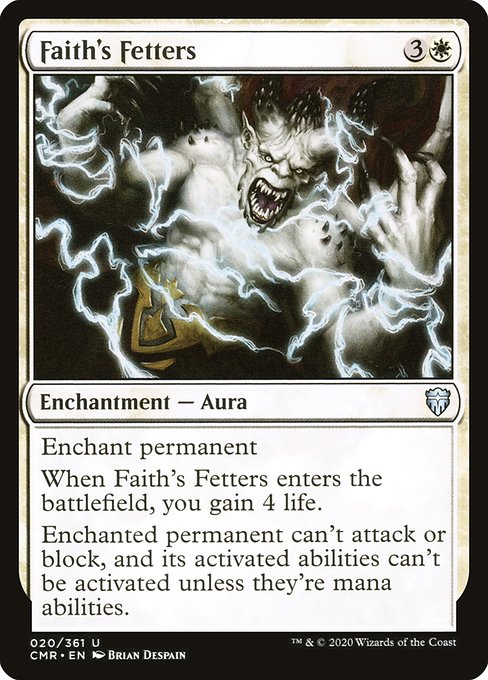 .  I plan on keeping one on hand for the unlikely eventuality that we double the size of the cube and I need a different option.  I do like the art, and I guess if you are allergic to lifegain or the four drop spot. Expect this to languish in the on deck binder, though.
O: This is going to be Arrest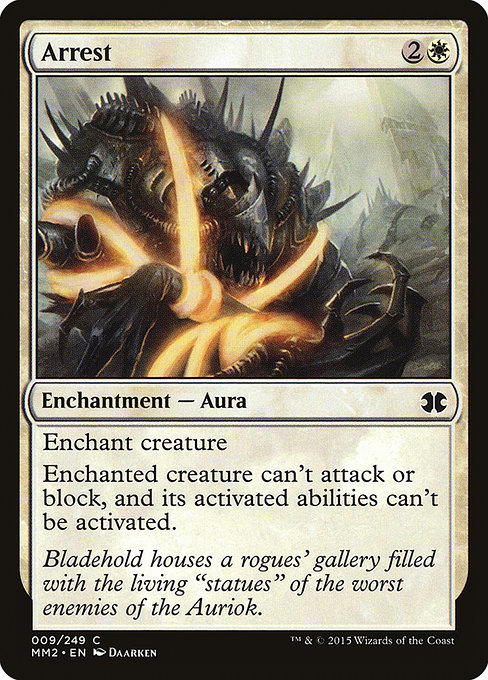 V2 if you opt to include it. Redundancy is nice but I think that the slight increase in flexibility presented by Faith's Fetters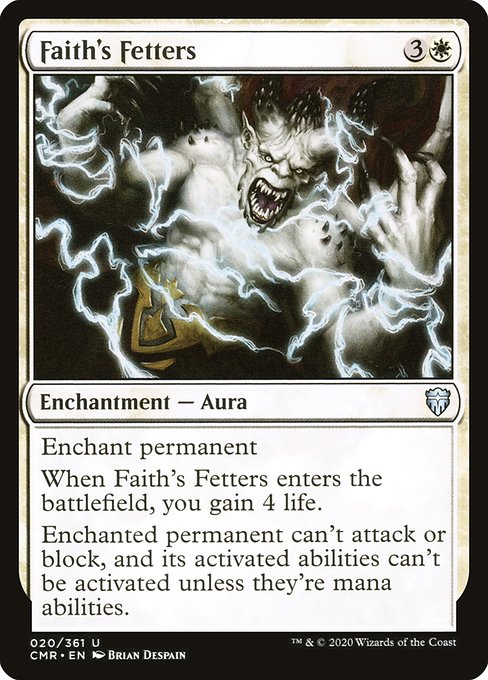 just makes it a better pick.
Blue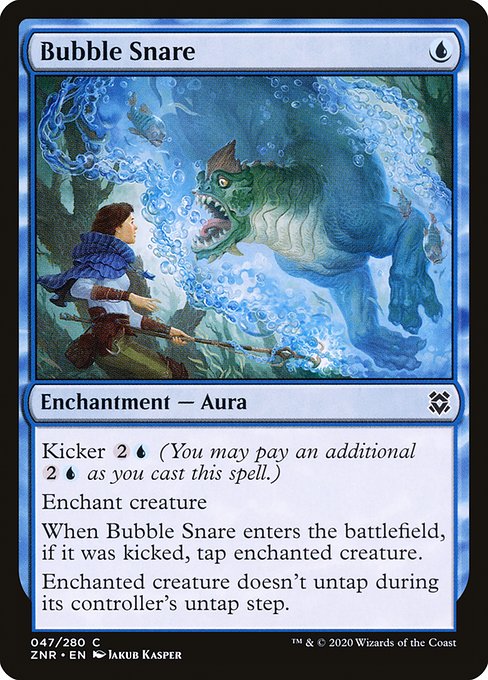 P: I think I like this.  I don't know if I like this more than Narcolepsy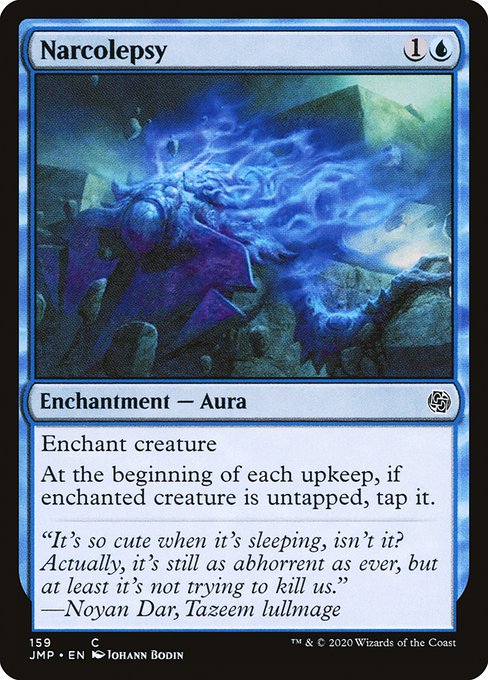 , but not offering that window in the upkeep for a creature to use a tap ability could certainly matter. We just dont have too many in the cube worth stopping.
O: I really like this. The fact that the base rate is 1 mana removal in a color not renowned for that type of effect is neat. If you need to, it can lock down vigilant threats or even mana dorks if that's what you need. I am very high on this for rarity restricted cubes.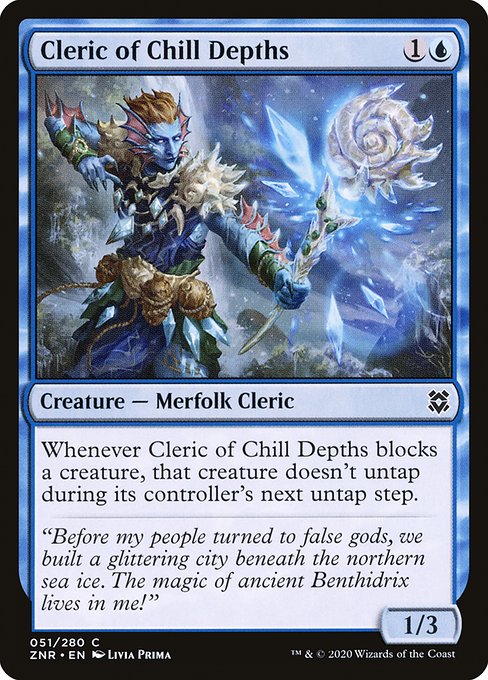 P: The 1/3 body at two is a standard blue defensive creature, but we lose a powerful ETB like Augur of Bolas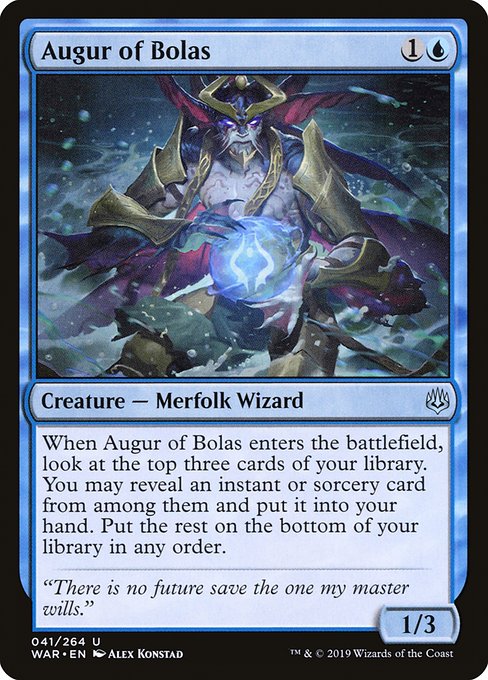 or Omenspeaker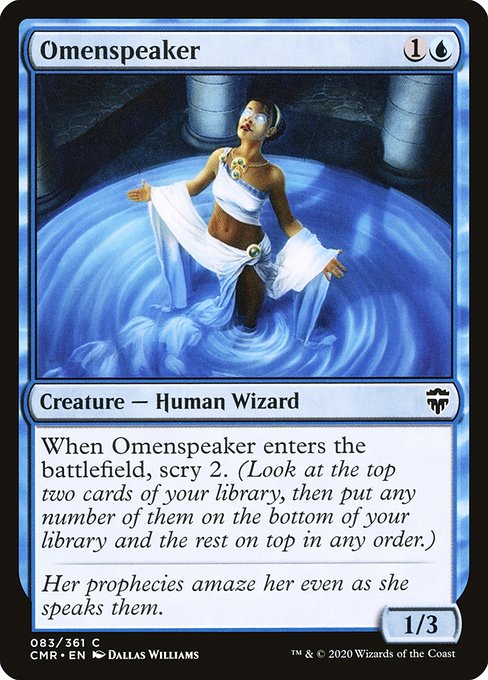 to purely play defense. We also have to be able to block the creature to tap it down. Wouldn't I rather grab the about-to-rotate Queen of Ice // Rage of Winter
, instead?
O: Agreed, I think that Queen tends to be better than this for both flexibility and overall power level.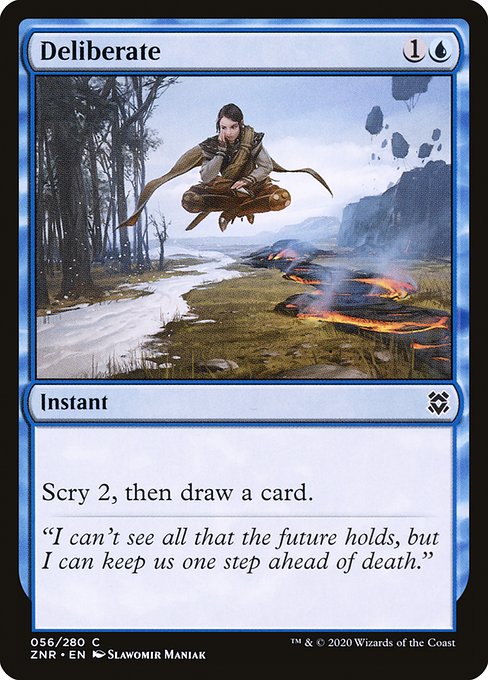 P: The text mimics recent cube addition Omen of the Sea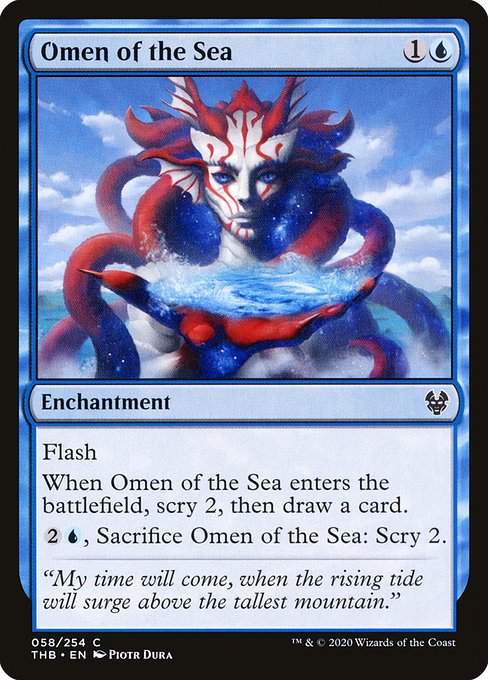 , and I like what it does.  The difficult question isn't "is this good enough" but "is anything else underperforming?" Naiad of Hidden Coves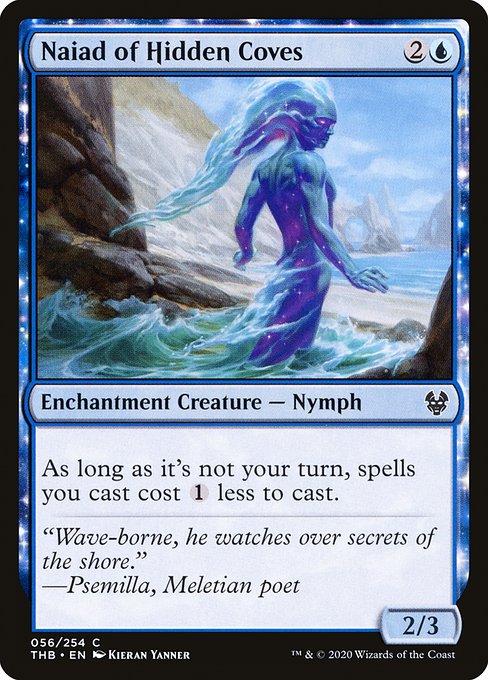 can help both this and Omen, but not with, for example, Preordain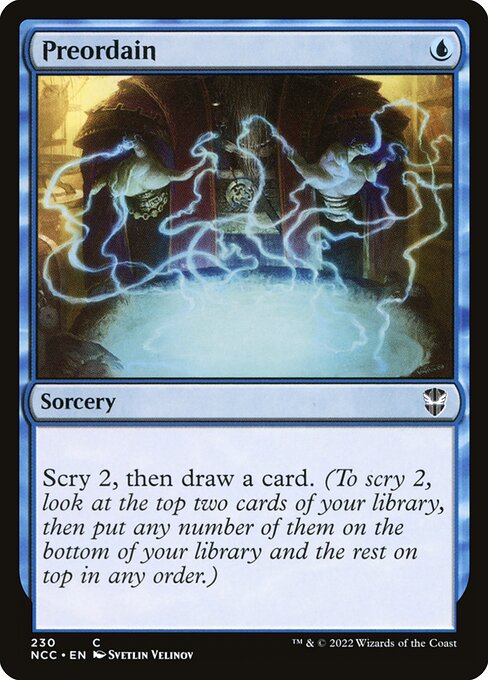 .  What is our dream cantrip suite?  I honestly don't know if this is a necessary change.
O: I read this several times as Instant-speed Serum Visions
. It's actually better than that. I think this is a solid option for the cantrip suite and will have to come down to whether we need/can afford another at 2 mana.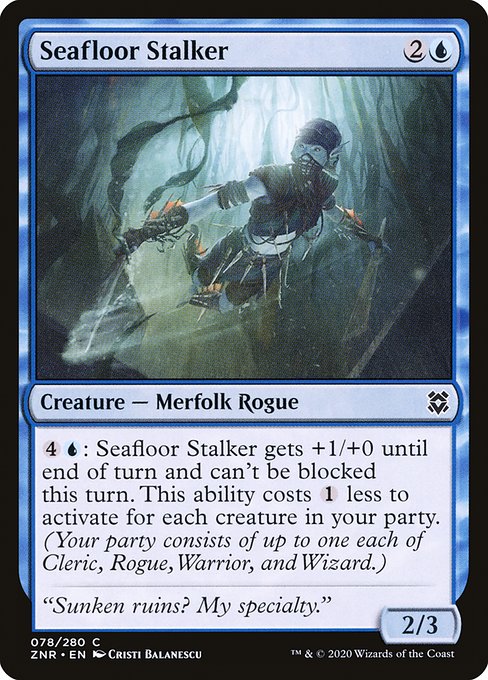 P: A 2/3 body for 3 is right around rate for a blue creature these days, and reminds me of blue control oriented finishers like Skittering Crustacean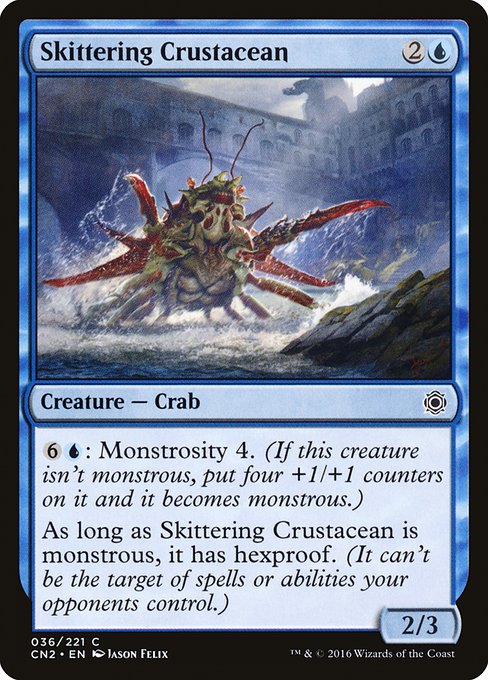 – in the early game we're hoping to hold off a few 2/X threats and after we build up some mana we want to close out the game with the mana sink ability. Unfortunately, unless we have large party, the unblockable power is expensive, and not gaining hexproof or other protection means the high number of removal could still pick the Stalker off. I like it, but I have doubts.
O: I'm very suspect of Party as a high variance mechanic that rewards you for a semi-arbitrary part of just having a board. I feel like these introduce a lot of additive distraction and this isn't the quality of effect I consider worth it for that downside.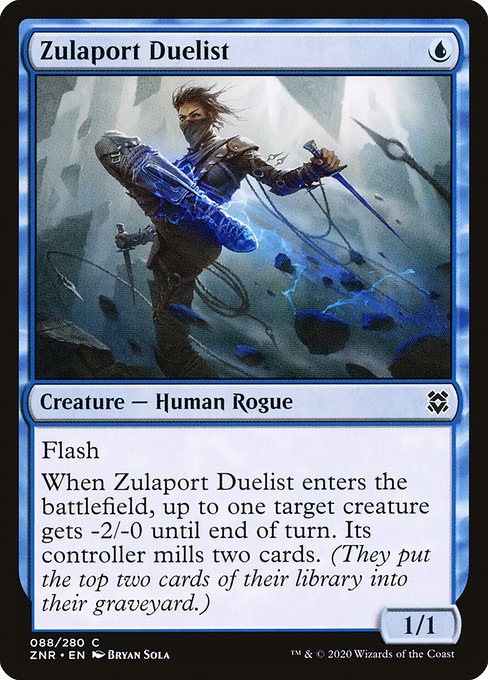 P: The mill is trinket text, unless we radically reshape the Cube in the near future, but flash blockers are very nice. This tangles favorably with a lot of 2 cmc creatures, but can act as a fog against mana two power creatures even without putting itself in harm's way. I dig it.
O: If this is in consideration, why not Faerie Duelist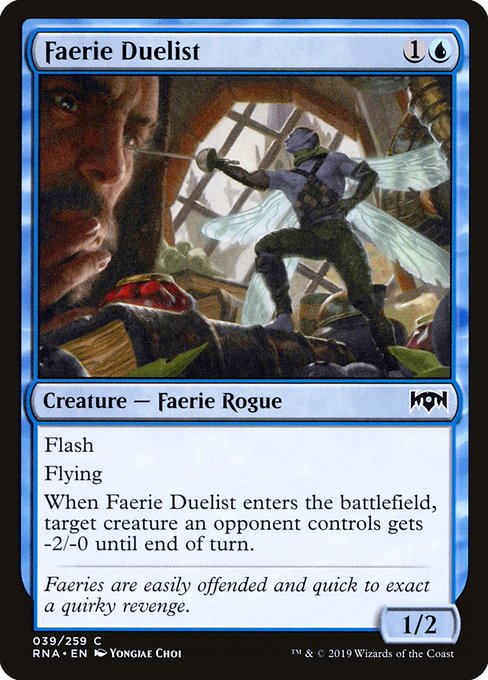 ? I think that the incidental mill is a non-zero downside to this effect and the body here is pretty nothing for me, vs a flyer that can slowly chip in damage if it lives.
P: You know, that's fair.  Faerie Duelist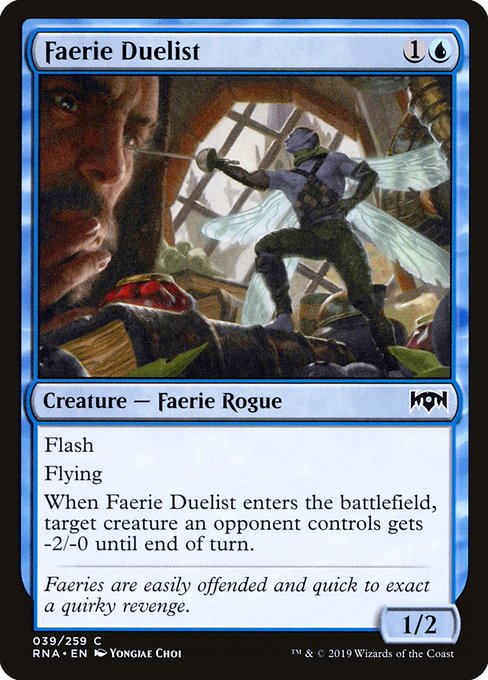 comes up whenever we talk about substitutes for Carnivorous Death-Parrot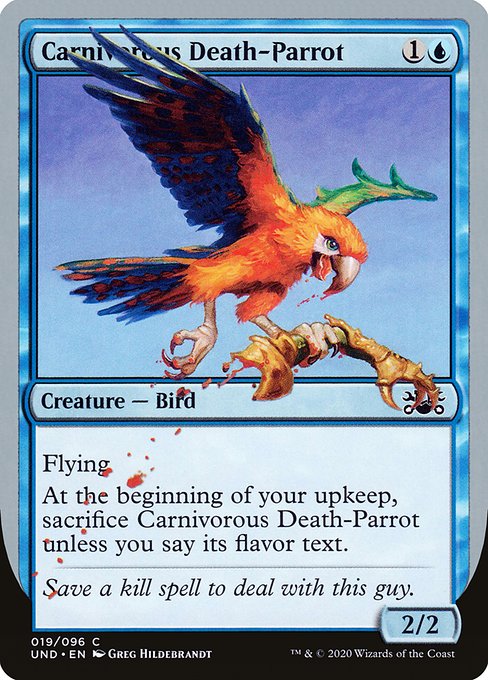 and I sometimes forget it's not in the main list, as a result.  Evasion, even at the cost of an extra mana, is bigger game.
Black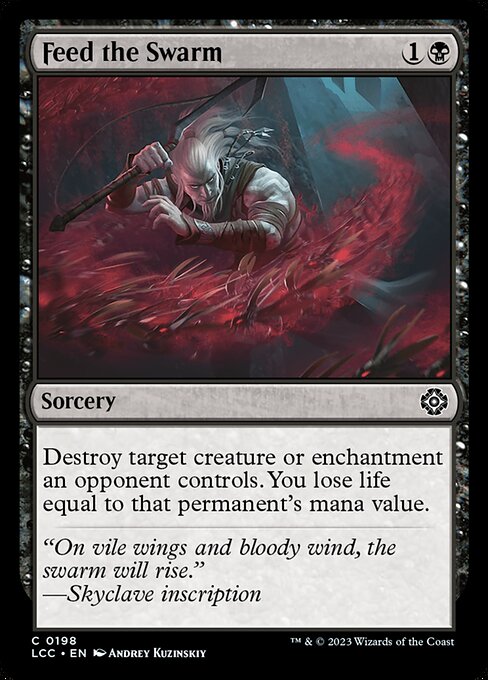 P: At sorcery speed, the life loss for creature removal seems unfortunate for black. Realizing, on second read, that this says "enchantment" rather than "planeswalker" puts it squarely on my "let's talk about this during the Q&A" list.
O: I think that this, while not nearly as good as Abrade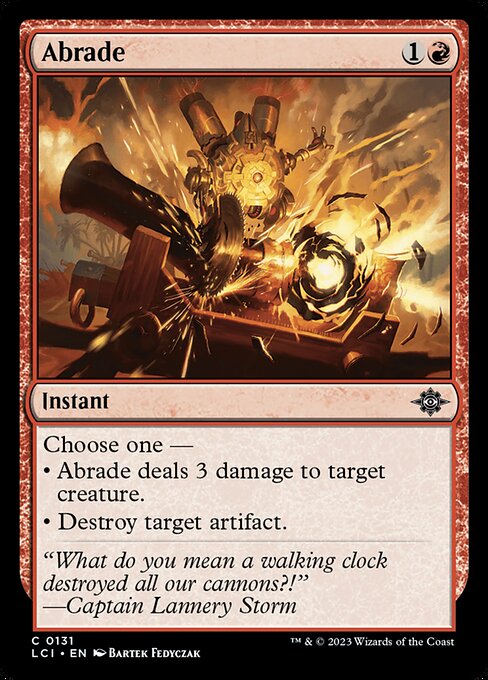 at face value is a very powerful effect. Life loss is an actual downside, but the versatility means this is either a slightly overpriced Vendetta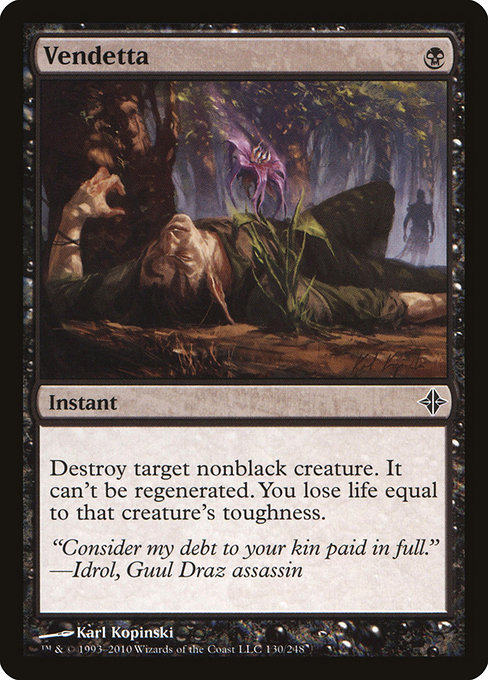 or it can in a pinch interact with a card type that's been historically tricky for black as a color.
P: The Scathe Zombies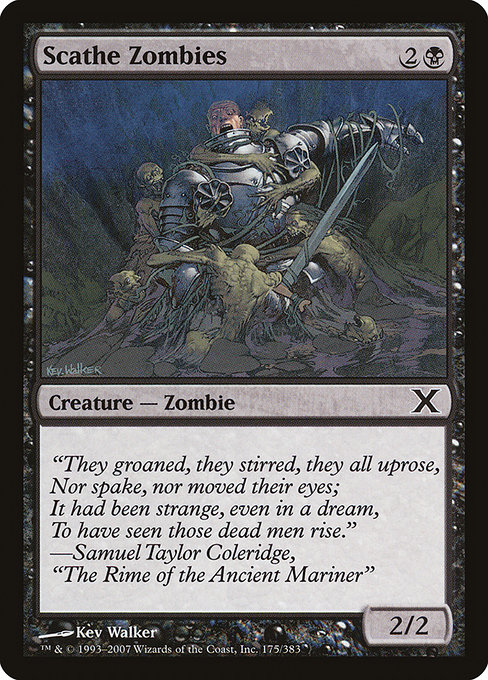 rate isn't super exciting, but the +1/+1 counter lord text is the reason to consider this. Black has relatively few counters to distribute, but it only takes a few creatures having menace to close out a game.
O: I'm actually shocked when checking that there's a pretty solid assortment of +1/+1 counters that get placed on stuff in our black section already. I actually dig this as a "tribal" lord.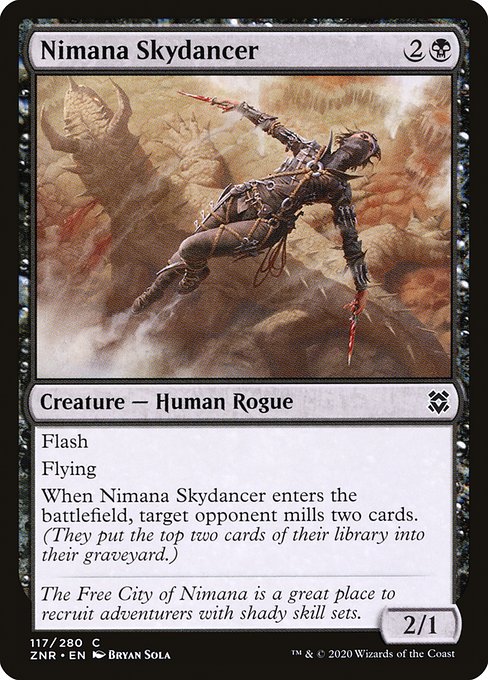 P: Milling is trinket text here, as well, but flash on an evasive creature is catnip for Phizzleds.  Hired Blade is a creature that thoroughly vexes me in the cube, because it is solid good without ever being truly exciting. Adding flying is quite appealing.
O: I've recently been playing a lot more constructed than usual and can attest that 2 mana 2 power flash threats with evasion can put in work. My big question here is, does a 3 mana version succeed in the same way?
P: My anecdata tells me that three mana, non-evasive flash creatures can act as Doom Blade Fog or Lightning Bolt under certain cube circumstances.  They offer more decision making opportunities and that is where I need to hear how the rest of the community feels before casting a vote.
Red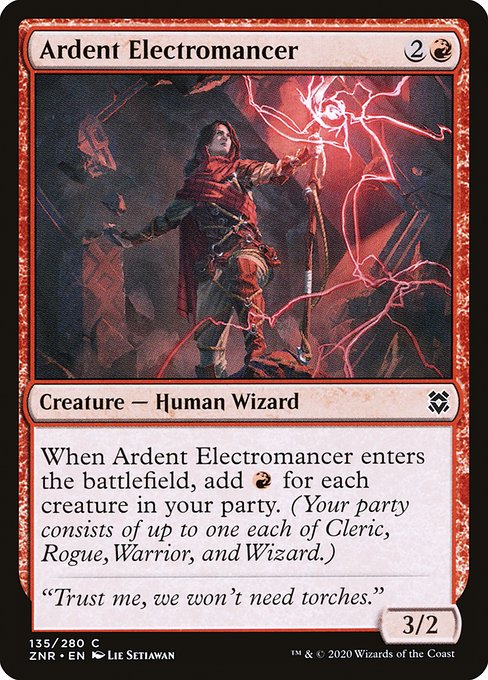 P: At a baseline, on the third turn, this gives a small rebate of red mana, allowing a follow up one drop.  Is one mana enough of a rebate if you get to play this on turn three every game? Double spelling is often powerful.  I'm not sure this is enough to crack the stacked three drop spot.
O: The ceiling on this is a silly version of Burning-Tree Emissary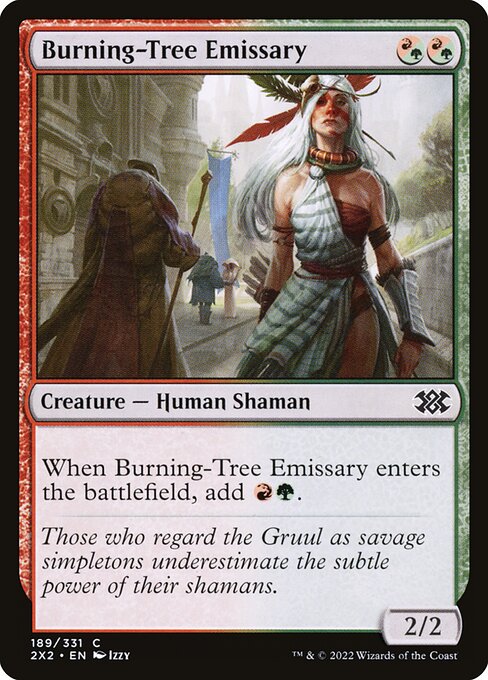 . That said, I've voiced my gripes with Party as a mechanic and think I'm off this.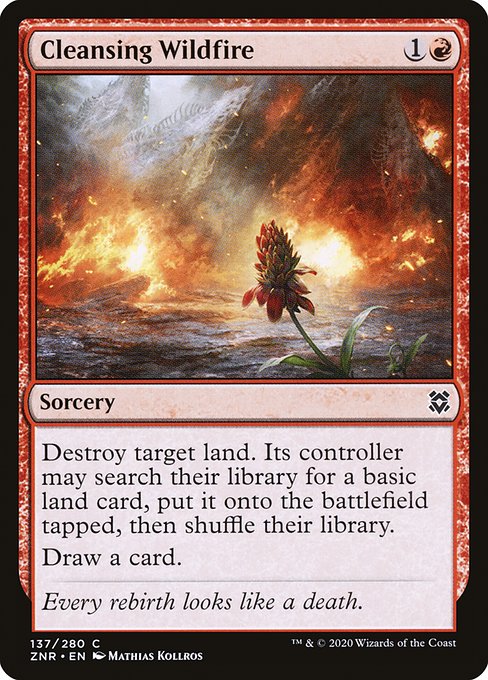 P: If we had Urzatron in the cube, I would consider this reasonable sideboard card. At present, I think the land I fear most is maybe Desert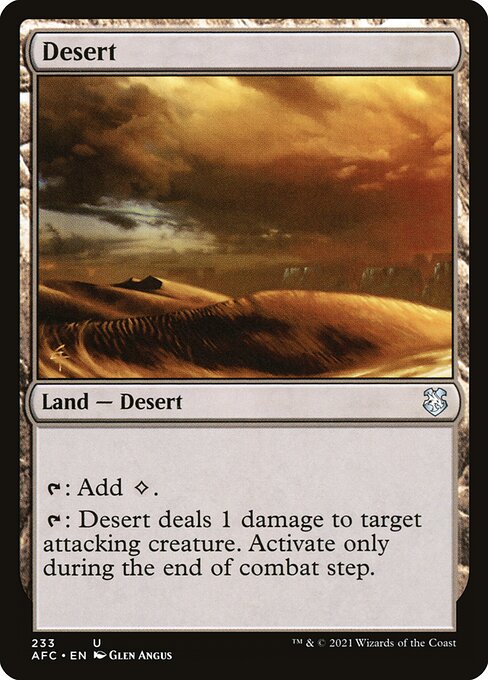 , but I would feel silly putting a card in the cube just to deal with that.  I'll grab a playset for pauper constructed, but I don't think this is right for the cube, at present.
O: I'm not sold, but this is close, it helps punish greedier mana bases and also as a base rate cantrips. If we had Karoos, this could be a back breaker but as it stands seems more irritating than anything else.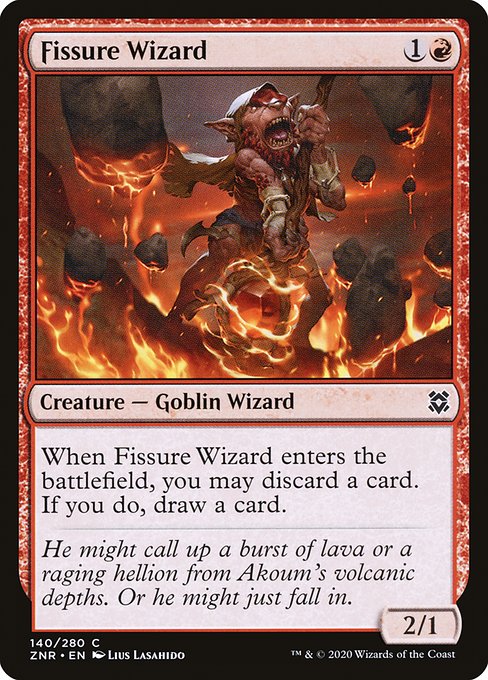 P: The rummage text is always worth a second look. The 2/1 body is merely fair, and less likely to survive than former cube card Common Iguana
.  Is being slightly more aggressive enough to warrant reconsideration? 
O: I like this. It's on-rate, aggressively slanted and allows you to filter cards into better ones. I'm here for it.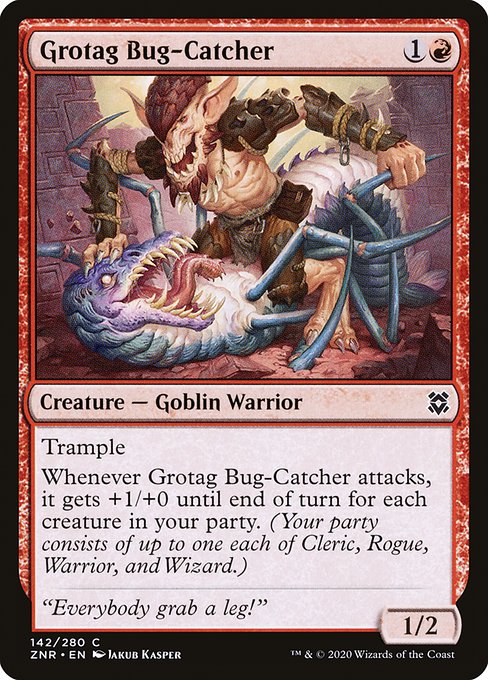 O: I think this is a sneaky good option. It's a bear with trample as a base rate, and if it gets to a 3/2 I feel like this is very solid. I need to crunch more numbers but I think this might actually be a solid aggro card.
P: At a base 2/2 while attacking, this clearly outranks our other two drop trample options in red.  Red only has five creatures at present that are non-Warrior party members, so I don't know how often we'll get above the 2/2 base, but I guess I don't know if we need to if the goal is just to diversify Red aggro's evasion types.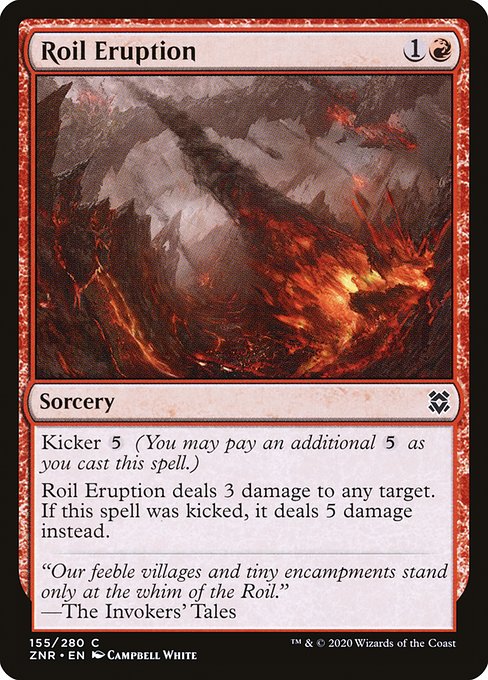 P: Burn spells are always worth keeping on hand.  But I think the kicker on this (as well as sorcery speed) will make this more of a standard card than a cube all star.
O: I think that Volcanic Hammer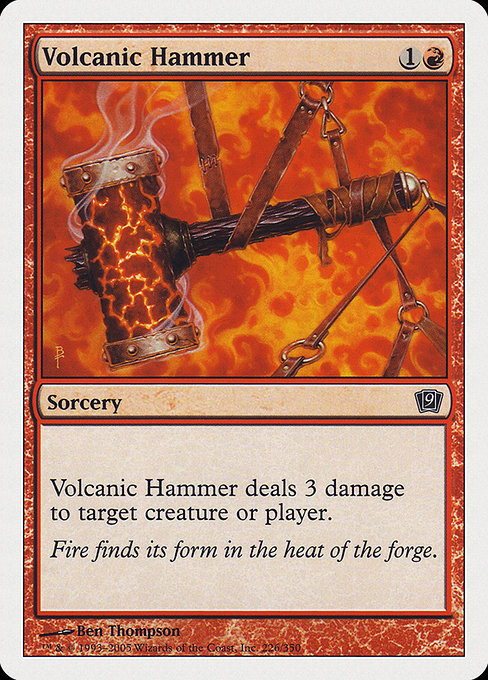 effects are just fine in cube. I think that having a mode where you just get to Lava Axe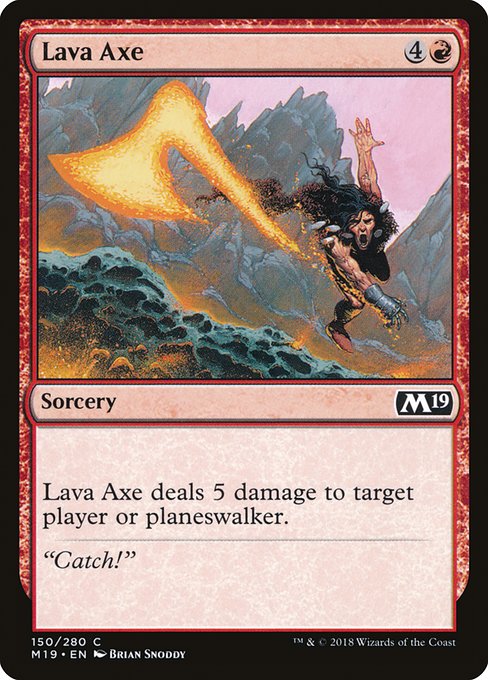 a thing late game feels solid to me. I'm actually a fan here.
P: I've enjoyed Goblin Smuggler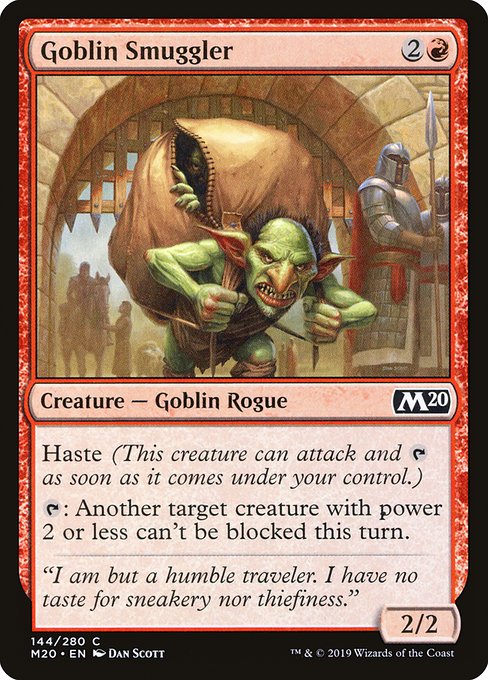 , and I like a good mana sink. I'm honestly not sure what to say here aside from "I want to test this in limited before saying how I feel about it." I'm not expecting much, though.
O: I don't love that this requires a bunch of mana over and over. If we're really hurting for this, I'd prefer to get a version without the mana cost on the ability just to make sure it can keep being used.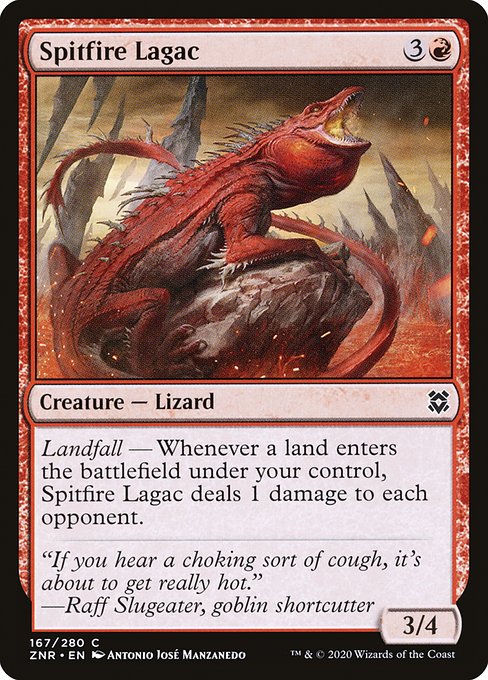 P: At 3/4 for 4 mana, somehow the lagac is tougher than the rest of the red 4 mana spot, but less aggressive. The landfall ability turns late game topdecks into damage, but not at an especially impressive rate. I'm not confident on this one. 
O: I don't love this without ways to ramp aggressively after it. The body is just fine but nothing to write home about and not being able to point the damage anywhere just makes me incredibly lukewarm on this one
Green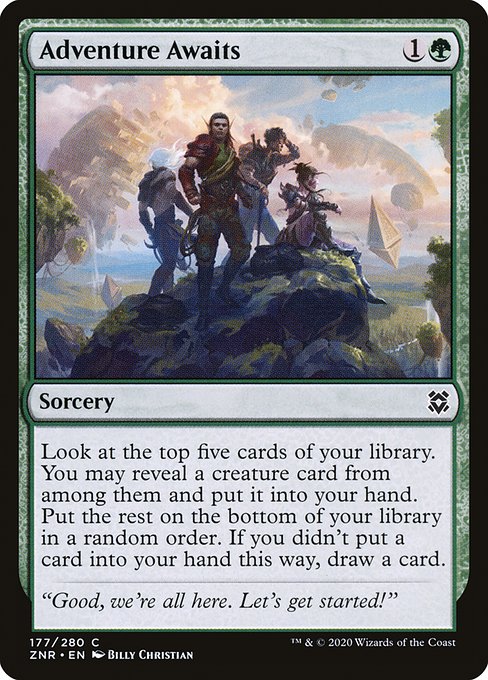 P: Looking at the top 5 and selecting a creature is a fair chunk of your deck.  Getting the sixth card is a fair consolation if you don't see what you want. This feels less powerful than Grapple with the Past but ahead of Track Down, for raw power. Inflexibility might keep this from making the list, though.
O: I think that getting one of these Glimpse draw effects which never fully misses is interesting. It sees a LOT of cards and always allows you to opt into drawing a card if you don't need any of the 5 you've seen. I think this is one of the better takes on this type of effect we've seen.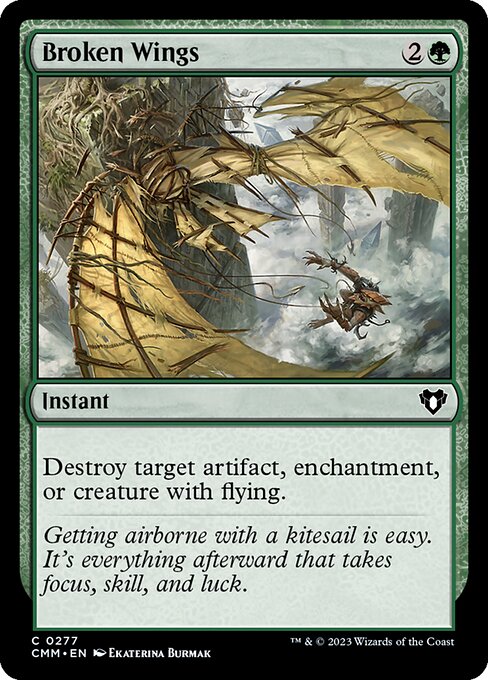 P: I wonder why this isn't written in the style of the new modal spells, with a "chose one" option. We keep pointing out enchantment and artifact removal as appealing. Are there enough targets for this card to be maindeckable, or will this be a cube feel bad option?
O: This is a straight up strictly better than version of Return to the Earth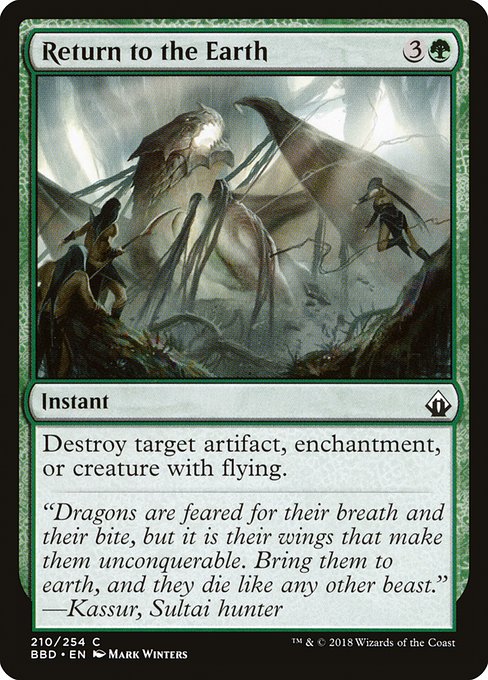 . I'm not entirely sure it's good enough at 3 but it's definitely pretty close.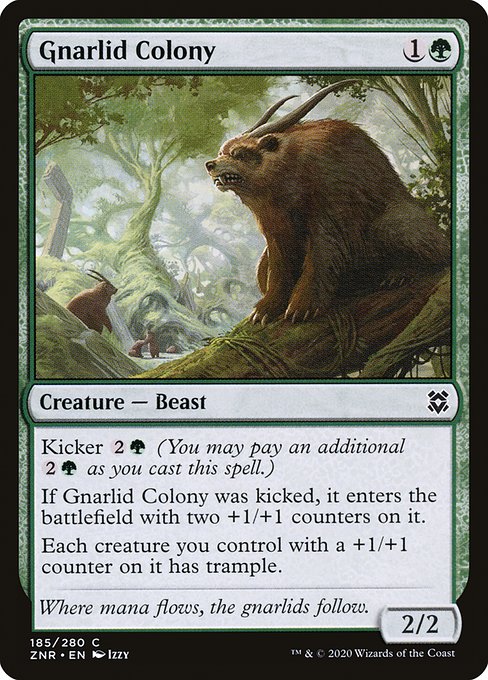 P: Put the desire for +1/+1 counter support into the universe and you shall receive. The counters lord ability is nice. Kicker on a bear is nice before you get to granting a Boon to your team. 
O: This seems surprisingly solid as a payoff for counters. I anticipate this gets kicked quite a bit if it's included as a top of curve game ender.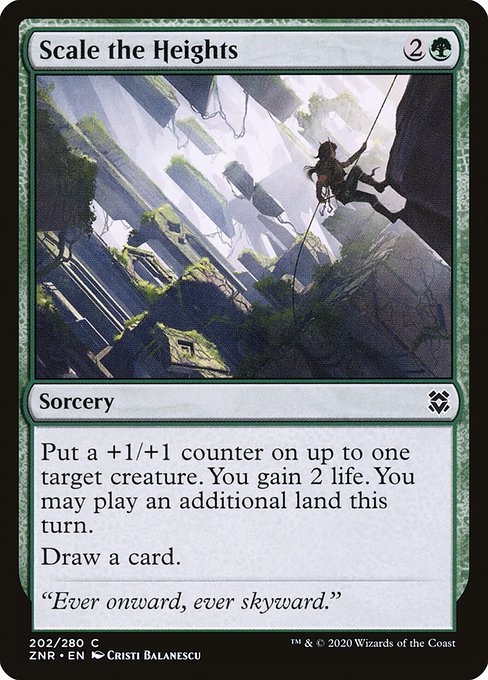 P: It's unclear how to best consider this. Discord user saddlebags called it Battlefield Promotion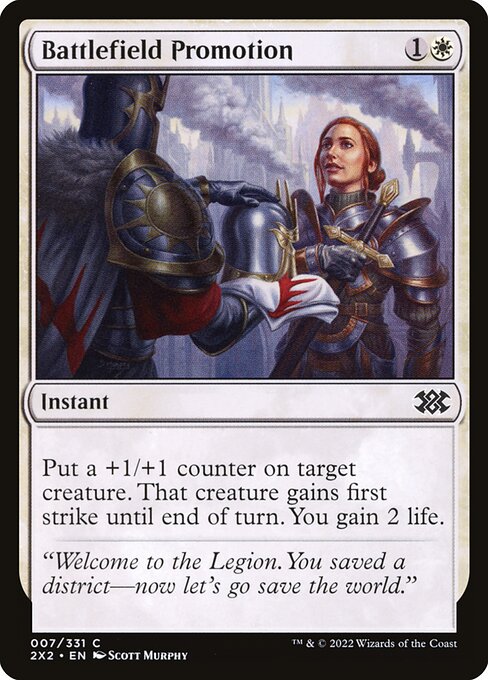 stapled to Explore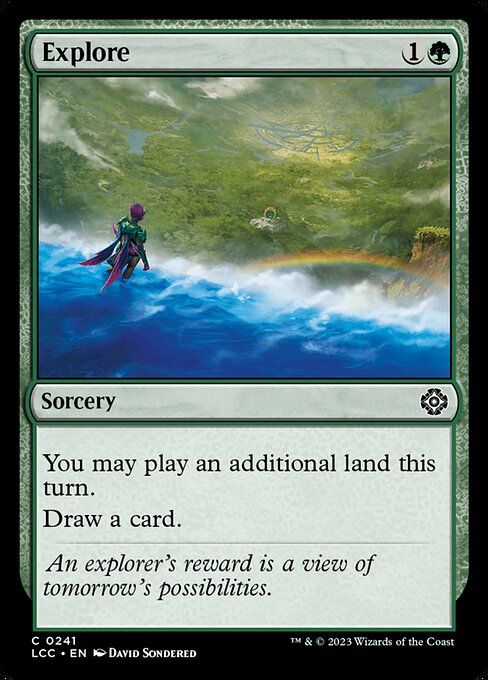 . If you consider each ability trinket text, it's four trinket cards stapled together.  And if you choose to not target a creature (to avoid begging blown out and having the effects all fizzle) it's about a third of Pulse of Murasa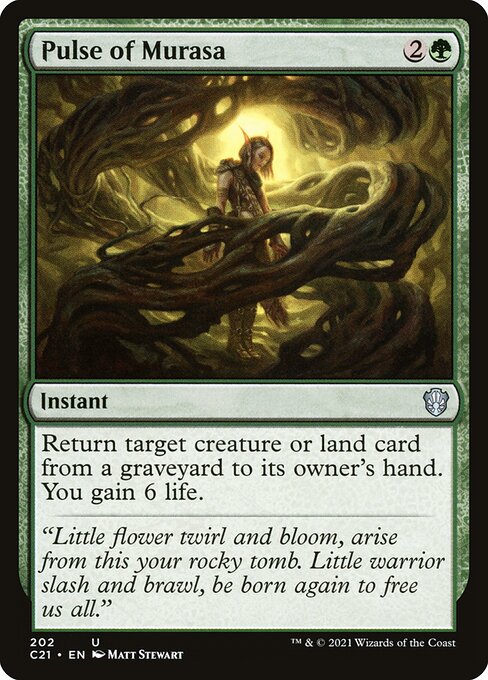 .  I like it, but I don't think I love it yet.
O: I have honesty no idea what to do with this many things stapled together. None of them are bad, but none blow my socks off, this one will probably need more discussion in the community as a whole. 
Colorless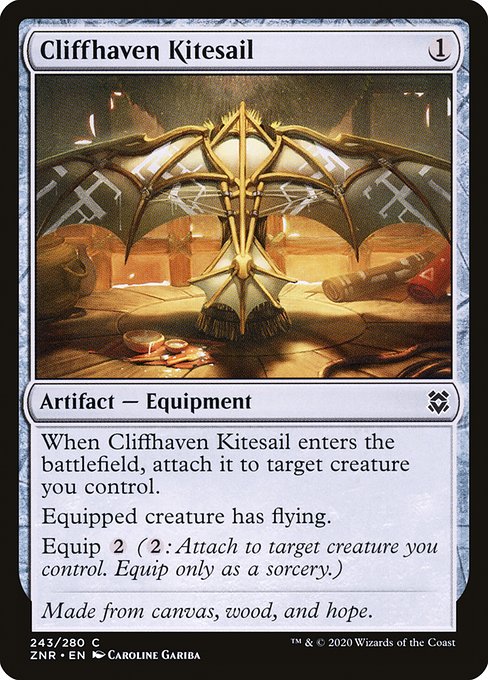 P: This is one of my favorite pieces of evasive equipment, and I'm a big fan of the phrase "attach it to target creature" when it enters the battlefield.  I still think Wings of Hubris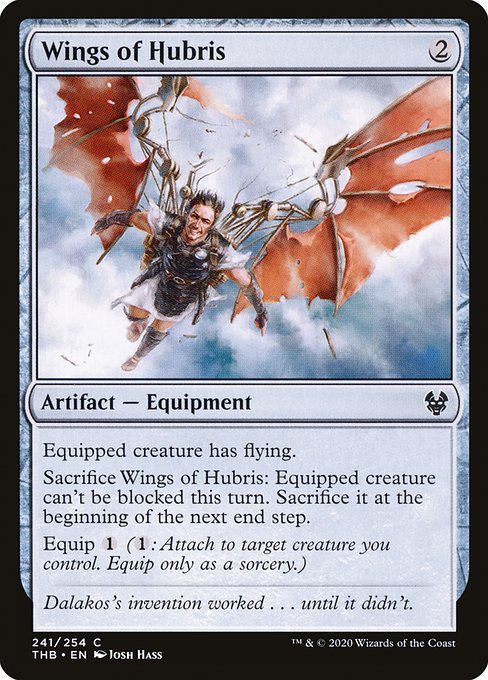 are maybe more appealing as a finisher, but regular evasion is perfectly fine.  I think I'd prefer something that adds power to the board, like our friend Utility Knife, below.
O: Launch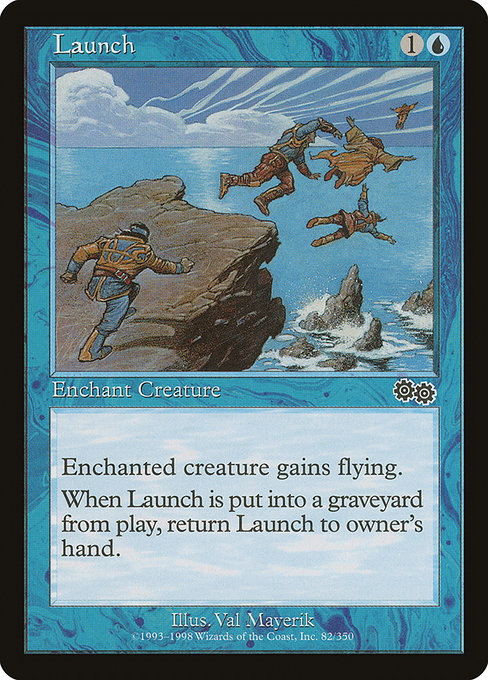 or Shimmering Wings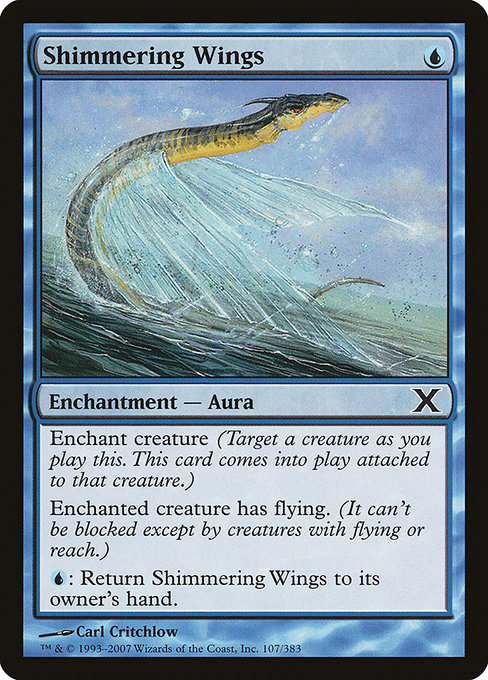 aren't amazing, but this card is simpler, and gives fewer chances for being countered. I like the idea of being able to pay 1 mana to make a threat evasive but I'm not totaly sold here.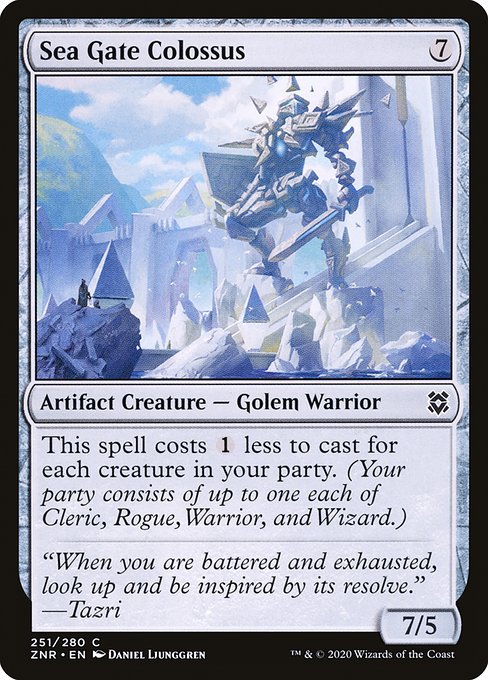 P: The slight discount for having party members means in a ridiculous three or four color deck, you could cast this for very cheap. But it has no evasion and isn't especially resilient beyond its base toughness.  I'm confident this is a pass, and even the dream of a discount shouldn't put us ahead of Prophet of the Peak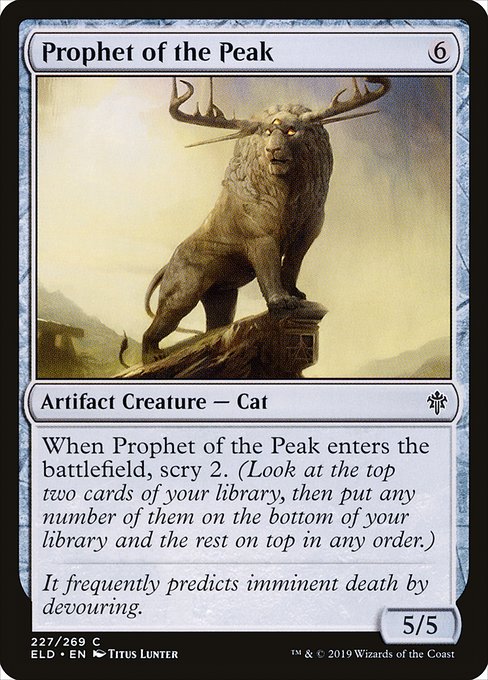 or Gathan Raiders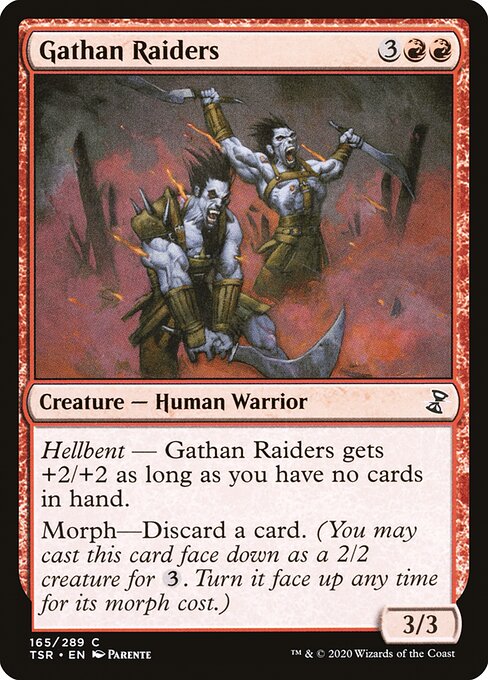 .
O: I would rather rework the cube to have an artifact subtheme so Myr Enforcer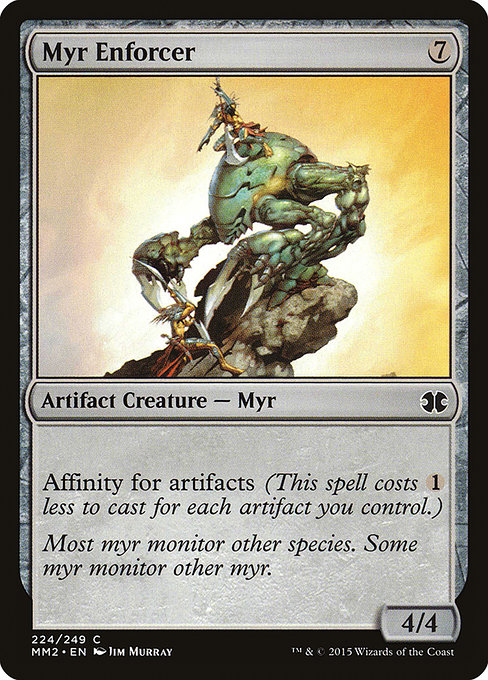 work than cube with this.
P: I am digging the series of "when this equipment enters the battlefield, attach it to a creature you control" cards. Utility Knife is the cheapest version we can get at common, I'm guessing. I'm hesitantly in favor, but I imagine I'll still have to argue with friend of the show Usman about replacing aggro support card Adventuring Gear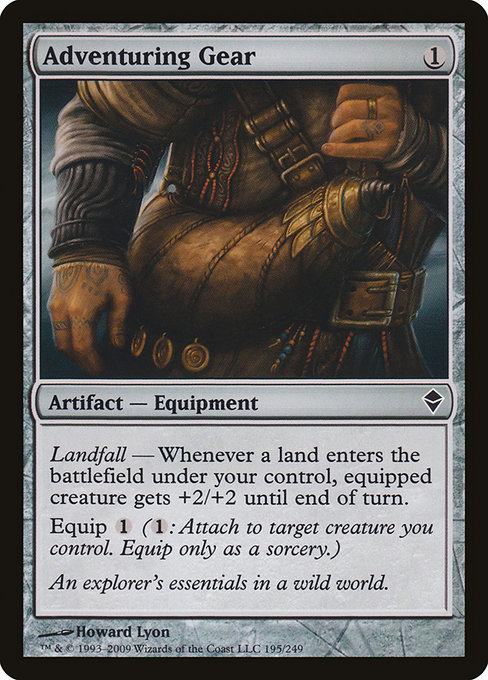 with something that is always live. I'm not sure if I'll persuade him.
O: 3 mana is SO MUCH for this effect. I'd much rather jam a Honed Khopesh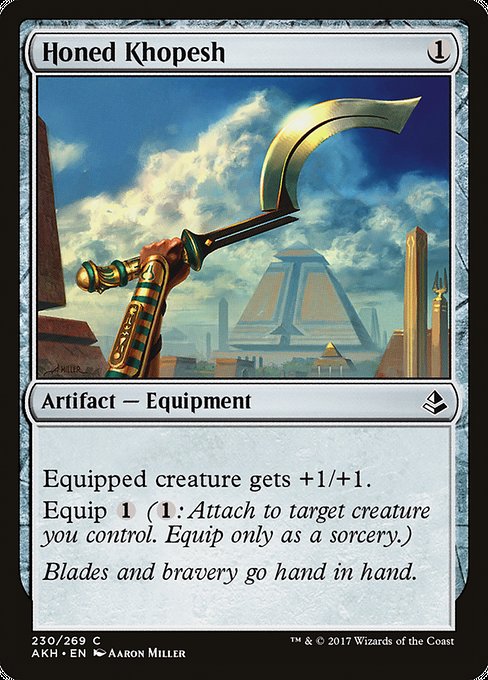 or similar since while there's more of a setup cost to get it on the first creature, being able to slap this on anything for a single mana feels so much nicer than having to take 3 mana to give something a +1/+1 boost. 
Reprints already in the Pauper Cube:
Into the Roil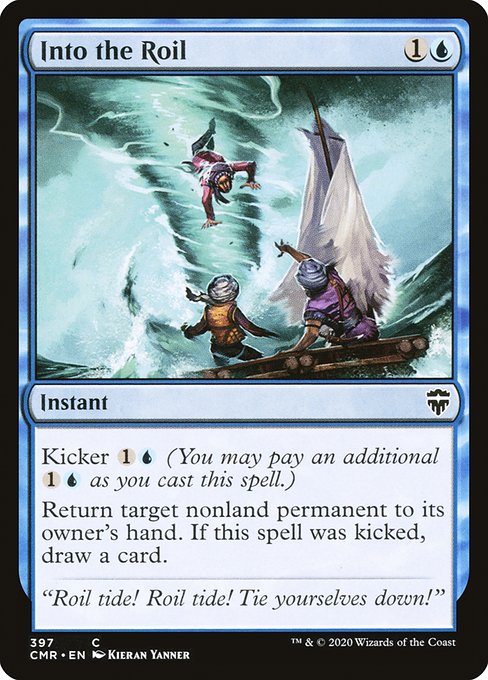 Full Art Basic Lands