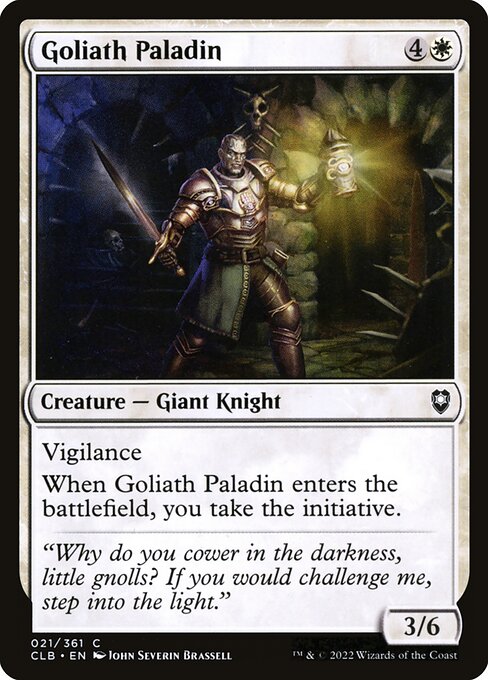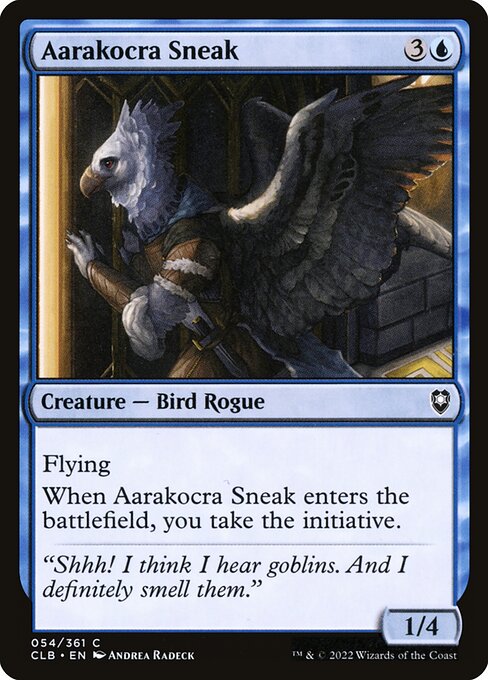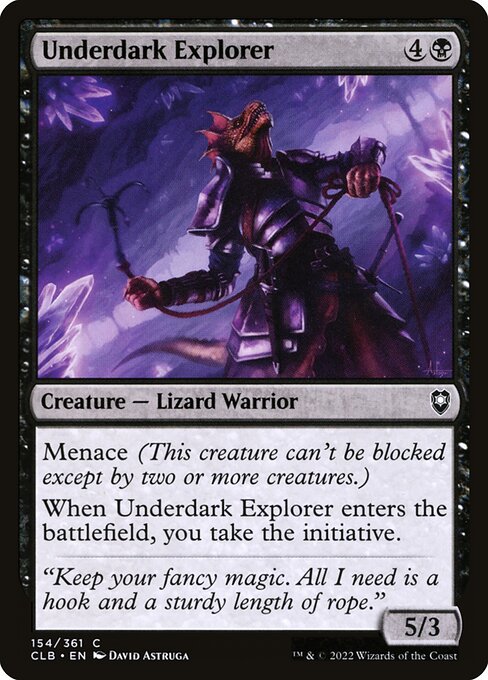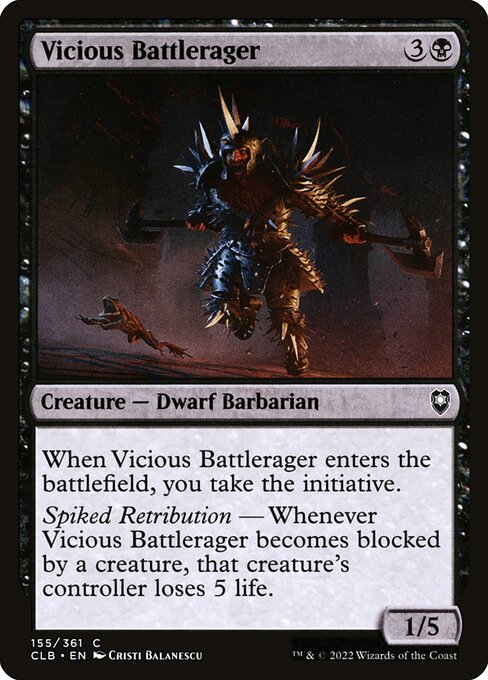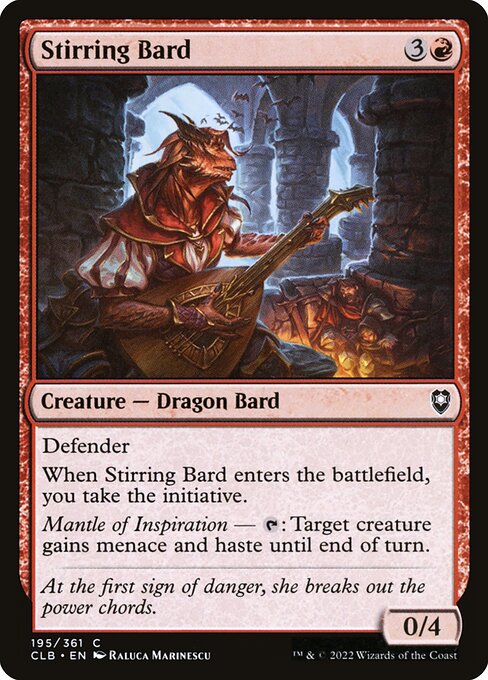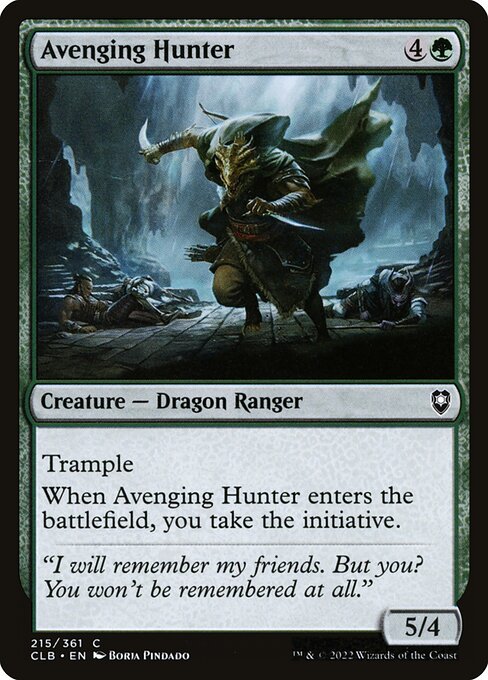 Omniczech: We've pulled these out as they're a class of card that is a very large power level anomaly the likes of which we haven't seen since Conspiracy 2, a set I can barely believe is six years old. The initiative is reminiscent of the monarchy but with a slightly more aggressive, board impacting effect, and I really like that. That said, these cards are kinda nuts. When someone asked if Aarakocra Sneak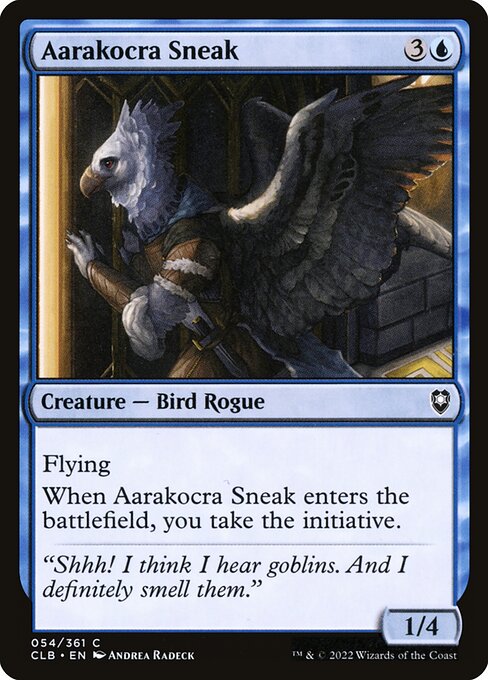 was better than a middling 4 mana walker, I had to pause and consider it. Polling data so far is also showing a similar result with folks split very evenly on whether or not to include these, most negative opinions citing either the complexity creep, the raw power level or both, and I think that's pretty fair. While there's still more to discuss (and probably testing to do), I would guess unless the community votes swing wildly before the fall, we're unlikely to see these enter the cube.
Neveron: One card I'd like to highlight here is Vicious Battlerager. While the ability is similar to Afflict, it's distinct in that it triggers on each blocker. If you toss out a Shinen of Life's Roar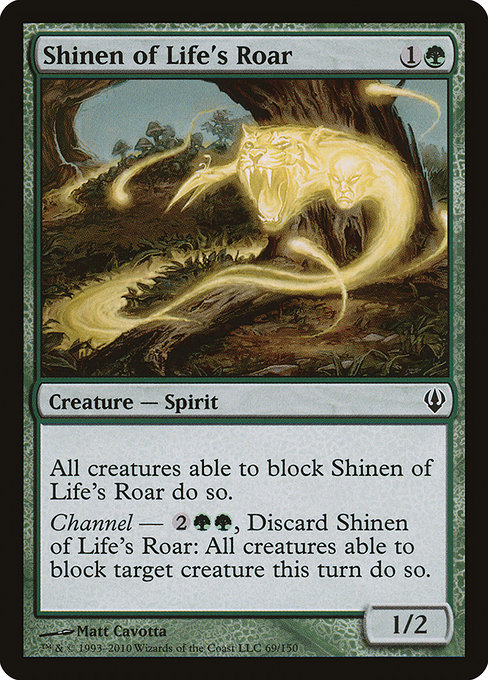 or some other Lure effect, this card can win the game in a single turn even without the Initiative. Of course, if you do get two ventures into the Undercity this also just becomes a 3/7 that's effectively unblockable.
Solset: It seems pretty clear that most, if not all, of the initiative have enough merit in terms of rare power and playability. They do however cause a decent amount of concern on some other axis such as their play complexity, the fiddliness of having to own dungeon and initiative tokens, and the delays in drafting if you don't remember or even know what those effects do. I think more than any other set or mechanic, we are confronted with a key question for our cubes identity; Who is this cube designed for?
Phizzled: We've entertained questions (and occasional demands) to remove monarch cards. Beyond the complexity required in memorizing and determining Undercity paths, the Initiative is clearly lower powered than Monarch, but a little too powerful for 1v1 cube play. Without the Initiative, I'd lean on passing on all of the commons, but venturing into the undercity is sufficiently powerful, especially when you can keep the initiative for multiple upkeeps, that all of them are clearly powerful enough to make the cut.
White
Omniczech: Our first adventure card isn't exactly amazing, but a protection spell that functionally draws a card is kinda a lot of value. I think when this update hits in full, I would be unsurprised to see a lot of new additions with split text boxes.
Neveron: While Indestructible is much weaker than Protection against blue, black and white, I feel like this card still compares favorably to Gods Willing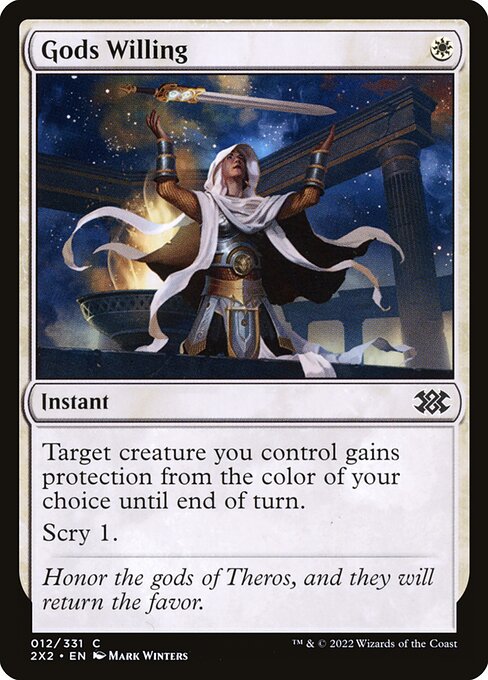 , Shelter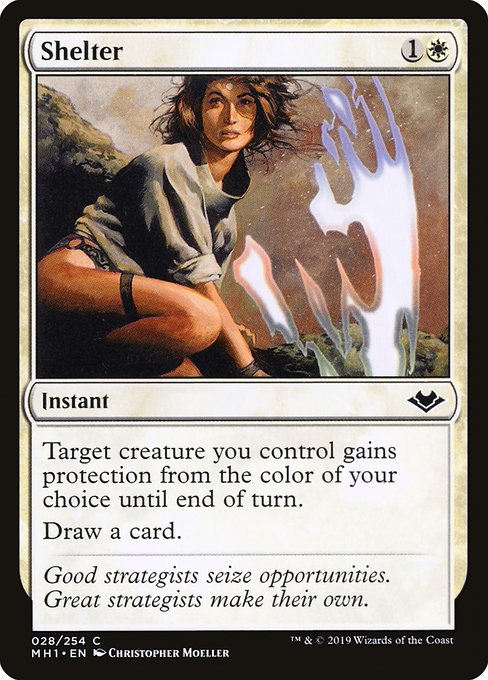 , and similar. It's also just pleasant to have a combat trick that's also playable on an empty board.
Solset: I think I rated this card negative since the creature side just looks like so much draft fodder. However, I have rarely used Gods Willing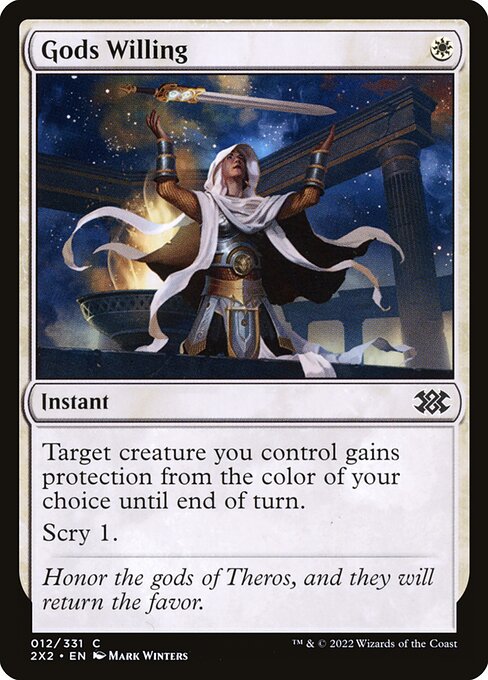 to get through blockers, and almost always use it to save my team from removal or an unfavorable block. I also think this underwhelming flyer is a better upside than a scry 1 unless you are desperate for something specific or just have a bomb deck. I reluctantly believe this is going to play better than Gods Willing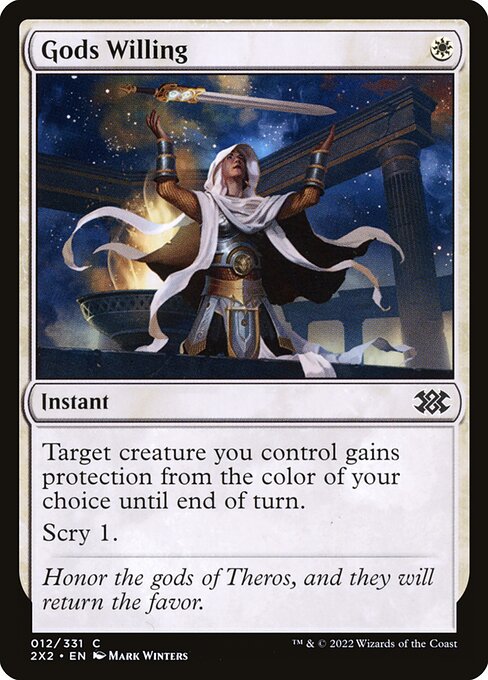 the majority of the time.
Phizzled: The body is weaker than some of White's other 4 drops, especially compared to some of the other repeated effects, but we still have some classic creatures like Seraph of the Dawn. The adventure is reasonable early on, and giving another creature evasion will eventually end the game. I think this is probably not going to make the cut, but I'm personally a fan.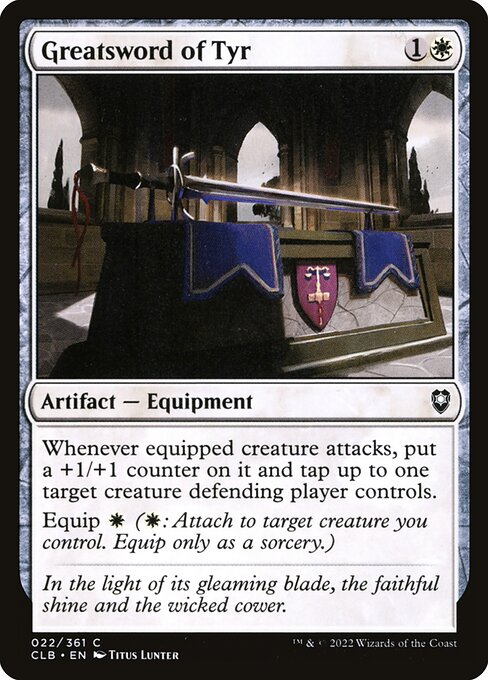 Omniczech: I spent a whole day just thinking about this very stupid equipment. The Hammerskull trigger is super strong and will make combat a nightmare in general, but this thing also perplexingly grows the creature it's on every single turn? Absolutely an all timer in my mind that I'm incredibly ready to lose to.
Neveron: Recently Wizards of the Coast has been printing common white equipment that gives +1/+1 and a minor upside. Ancestral Blade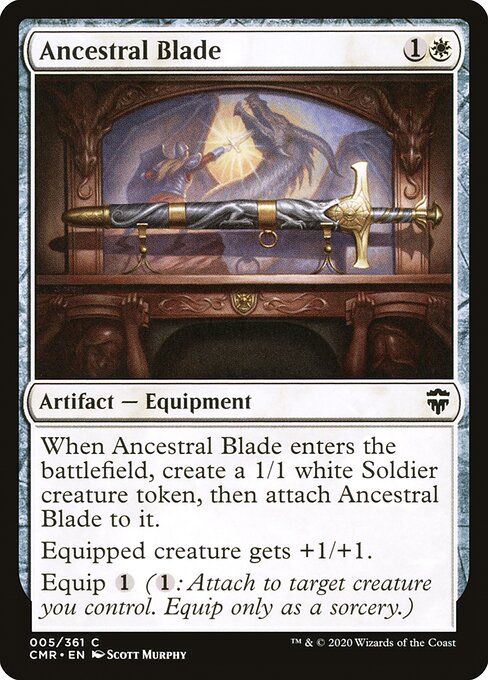 , Delver's Torch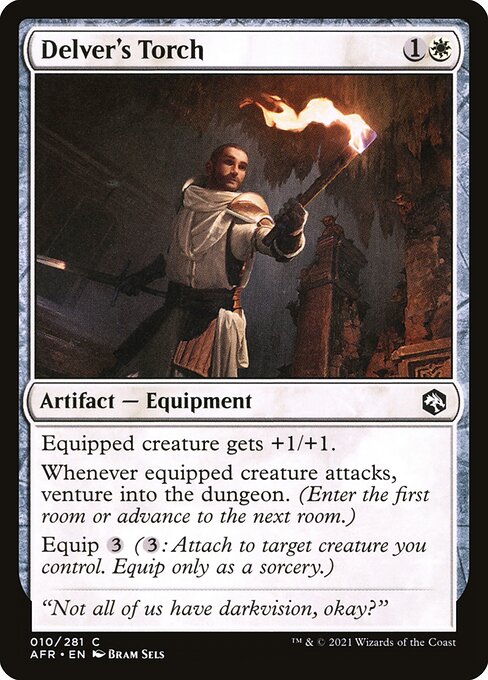 , Hedgewitch's Mask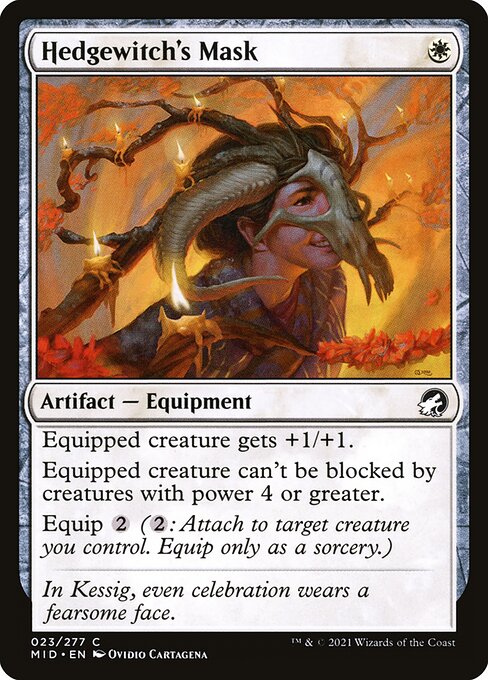 . For this card, it feels like one developer made the upside the Hammerskull trigger and a second developer independently added the Armory of Iroas trigger without either of them realizing that this was a common.
Solset: I legitimately believe this could be a rare from some other modern set. The fact it only grows when attacking is really nice for powering up our low to the ground aggressive decks without giving midrange something to power up chumps for favorable trades.
Phizzled: The Greatsword reminds me of one of my favorite Modern Horizons cards, Rhox Veteran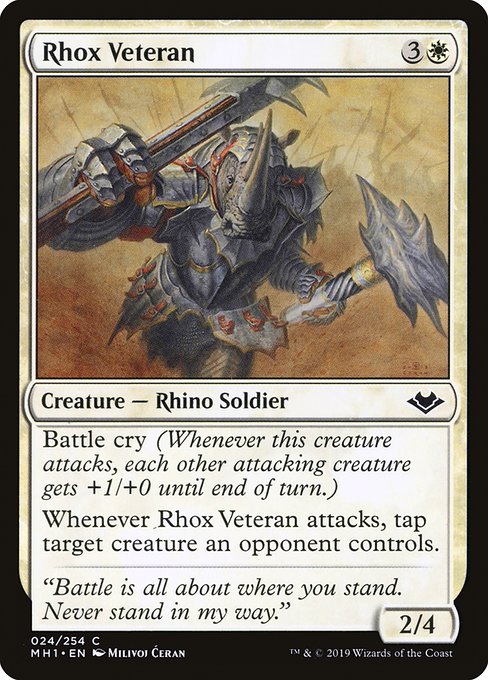 . Both of the attack triggers are nice as long as you have more creatures than your opponent. I haven't had a chance to play this in a heads up, but what I saw of it felt strong. I'm hopeful that means it has a place in our cube and isn't overpowering.
Omiczech: I think this is the miss out of the adventures. The cheap half of this being conditionally usable sets it apart from a majority of the new adventures and not in a good way, where the others are a utility spell that draws a 4-8 drop, this is just a 7 drop creature that sometimes has a utility stapled to it. I wish this was one I was a bigger fan of but it just isn't there for me.
Neveron: Fun fact: this is the largest white common ever printed. Lairwatch Giant and Yoked Plowbeast wouldn't trade with this even if it wasn't pseudo-indestructible. If this ever hits the board it immediately becomes a huge problem that needs to be dealt with, but unfortunately costing 5WW means that's a huge "if". The three types of decks that could reliably bring this out are ramp, reanimation, and hard control, but ramp has nastier beaters in green, reanimation isn't great at common, and control would probably prefer a Shimmering Glasskite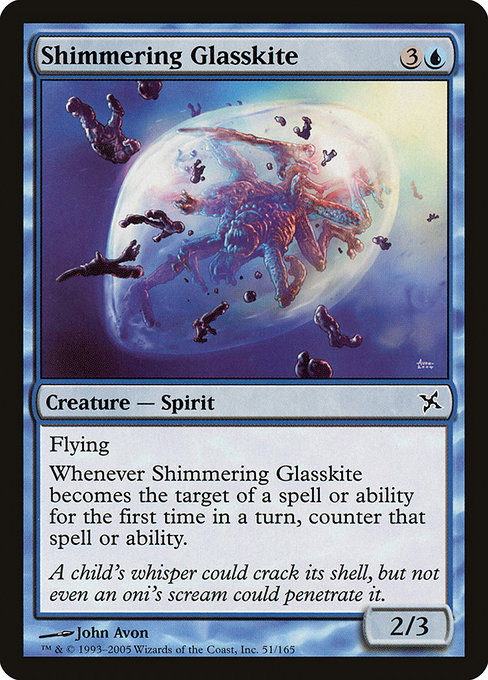 .
Solset: I do want to see a bit more trinket text that can Disenchant in our cube, but this thing is a 7 drop battleship. Not like this, not like this.
Phizzled: I really like the text on the Naga, but the combination of hard to use adventure and very, very expensive body doesn't make the creature strong enough. I do think I would be singing a different tune if this were 6 mana, and I'd be evangelizing regardless of what the adventure said if it cost 5.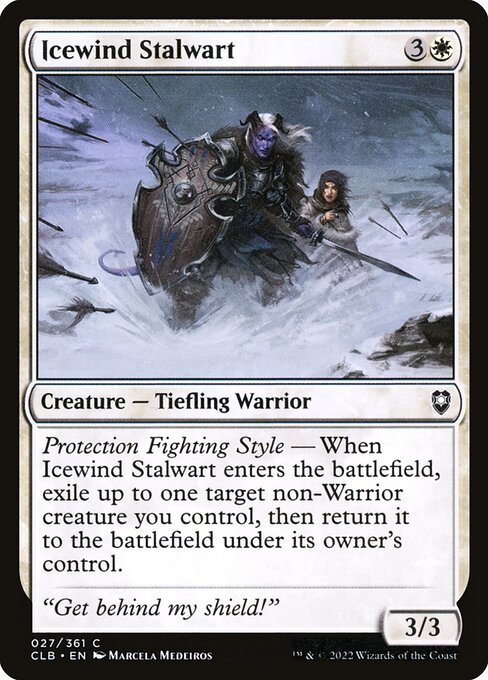 Omniczech: I know that folks have been looking for that mythical replacement for Ordinary Pony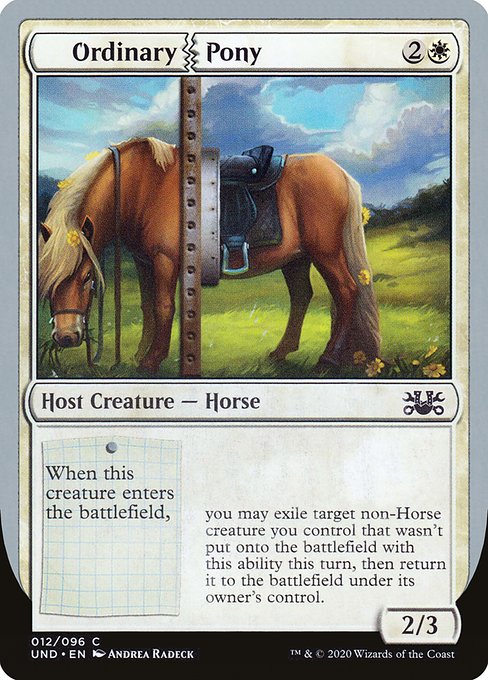 , and I really do get it. This one is in a slightly rougher Mana Value slot, and its type based restriction is much more real in what it restricts, but this is an effect we know to be solid, so I can see this finding a home.
Neveron: I find that for a lot of cards in recent sets I've asked myself "do we want this to replace a similar thing, or do we want two of them?" I'm not sure, but I think this might warrant doubling up. The Johnnys and Jennys out there might appreciate the three-card combo with the pony and Witty Roastmaster, but the payoffs are rare enough that I doubt it'll impact this card's chances.
Solset: This is the first flicker creature we have seen that is actually legal in pauper. While it may cost a bit more than Pony, the truth is there are not a ton of great 2 drops you are wanting to flicker anyways so curving out into Pony was never a big priority.
Usman: Being 4 mana does help it curve better into ETB-value-generating 3-drops – my gut says this is worse than other existing options like Ordinary Pony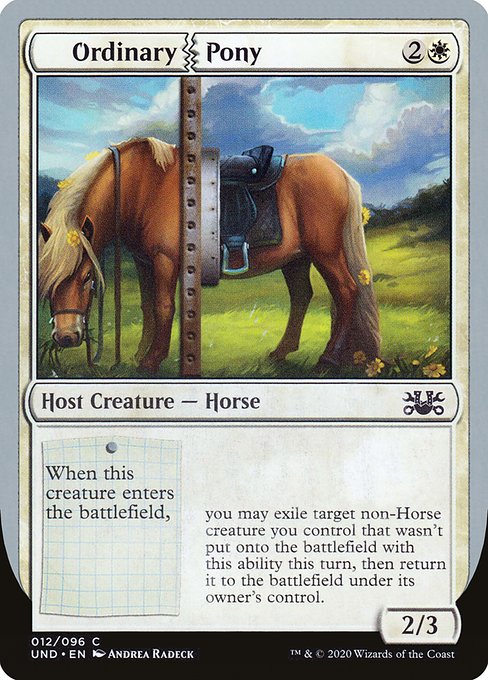 and spell versions like Displace
/Ghostly Flicker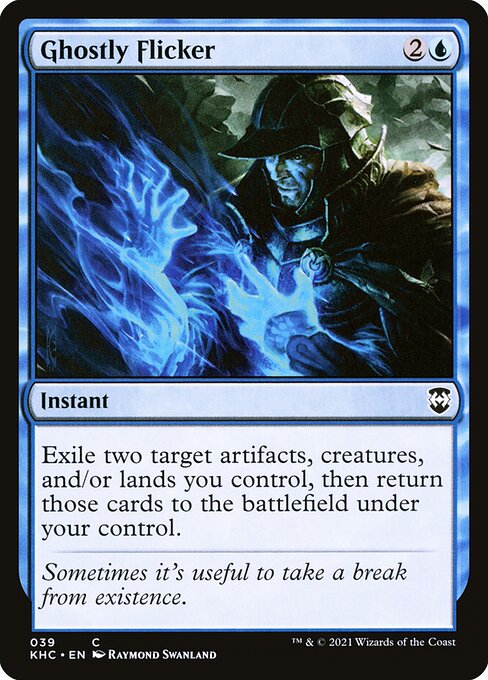 , but it may be nice to have another one of these effects for critical mass.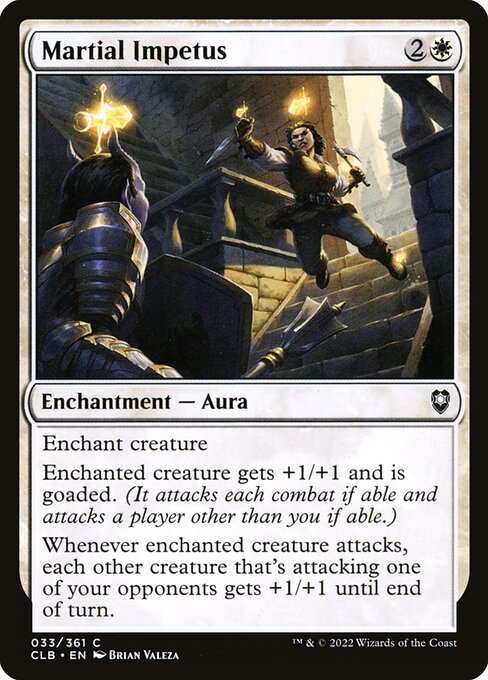 Neveron: This card polled fairly poorly, and it's easy to understand why: it's a card designed for multiplayer formats where you can force your opponents to fight each other. The reason I bring it up, however, is that it's also just a common 3-mana anthem. The downsides of attacking each combat and being an aura are very real, but the only real competitor this has at the same price is Warded Battlements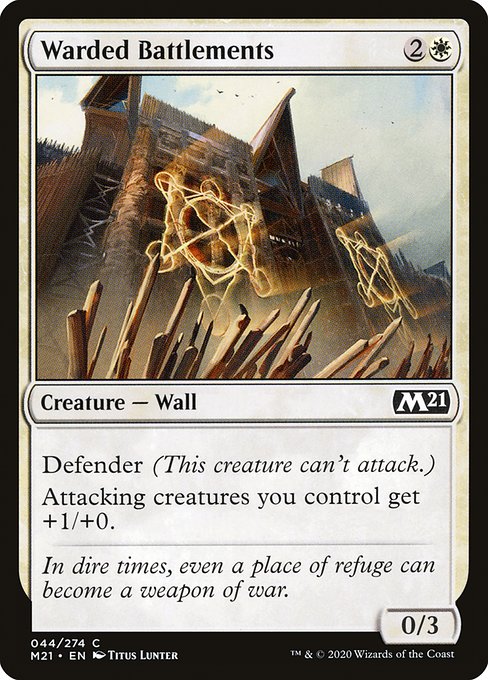 .
Solset: As someone who has experimented a ton with "enchantment matters" in green/white, this card will be on my back burner if we ever think the +1/+1 counter theme isn't working.
Omniczech: I do like that this is an anthem, I don't love that it's an aura and I especially don't love that some percentage of the time it's just gonna vanish if your opponent has a large enough blocker. This is a pass for me, but incredibly interesting and something I hope gets iterated on.
Omniczech: I really want to like this one and I think objectively it's good enough, but something about the creature portion of this just keeps rubbing me the wrong way in some aspect I can't nail down. I'm sure I'll come around on it, but at first blush, I do just think there's something off here.
Neveron: When this was revealed, I thought about how people have long suggested Acrobatic Maneuver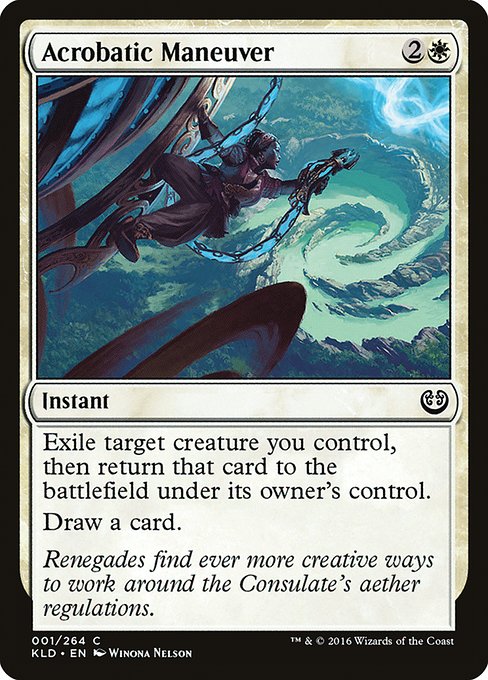 as a black-bordered alternative for Ordinary Pony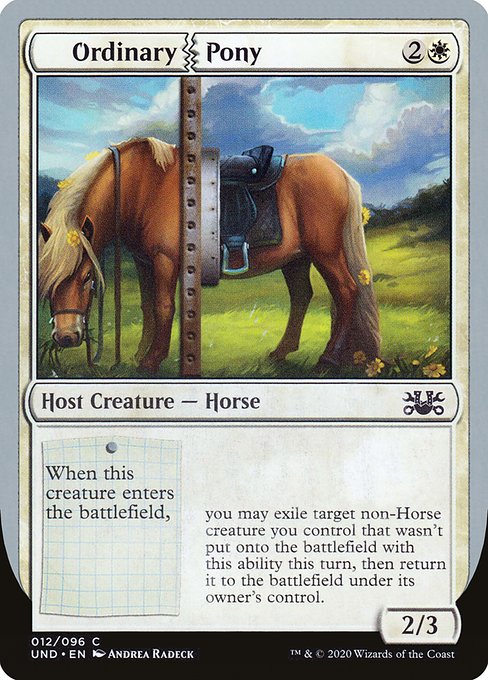 . The creature side of this also acts as a rare common payoff for blink decks, but the high mana cost and low toughness make me hesitant to recommend it.
Solset: I am pretty high on this horse-adjacent flicker spell. The adventure half being instant is a lot more my flicker playstyle, plus it draws you into a powerful late game threat. Making a 1/1 flier once a turn matters a lot more late game than it seems. Even without a flicker engine, this Pegasus will help your team force through damage in one way or another.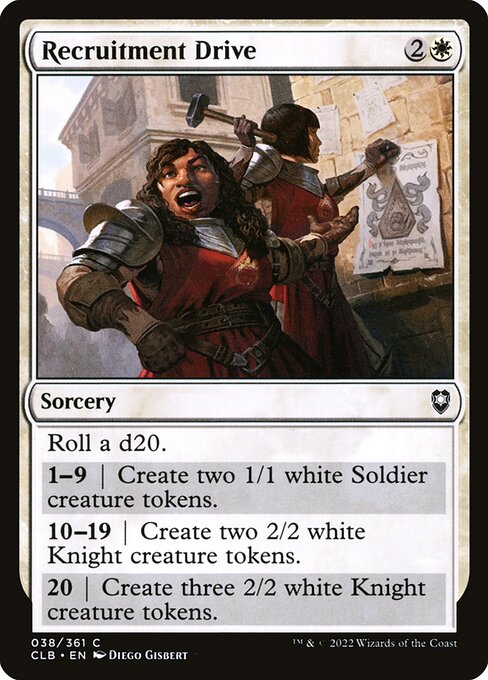 Solset: I am still worried about d20 cards which can drastically change the game in a one vs one matchup, but more often than not, this thing is creating more power than Hordeling Outburst. For mutations that don't mind the 5% of random games being decided by a natural 20 being rolled, this card is an interesting option for go wide.
Omniczech: We avoided Die rolling cards last time they were available, and this is just giving me the same feeling of "now you need a proper d20" arguments in the discord and rolling my eyes at putting even more variance in especially when this goes from fine to moderately backbreaking.
Usman: My main concern is that it just feels poor on-rate if I'm getting a low roll, and I'd be hesitant putting it in a deck because of it; it might just be best in matchups where you're fine with getting a couple of 1/1s as meat shields to block things or pick up pants, but I'm not big on this.
Omniczech: Well here's something we've seen a lot. Wizards seems to have found a new favorite mold for "White Phyrexian Rager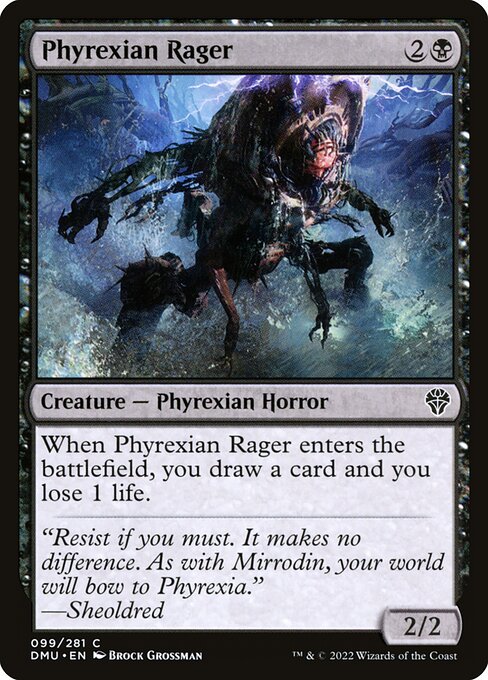 but better" and are gonna keep printing variants. The card is good, but I worry how many of these effects are worth playing before we simply hit saturation on them.
Neveron: Eventually, we'll have to stop putting these in the cube. We already skipped out on Spirited Companion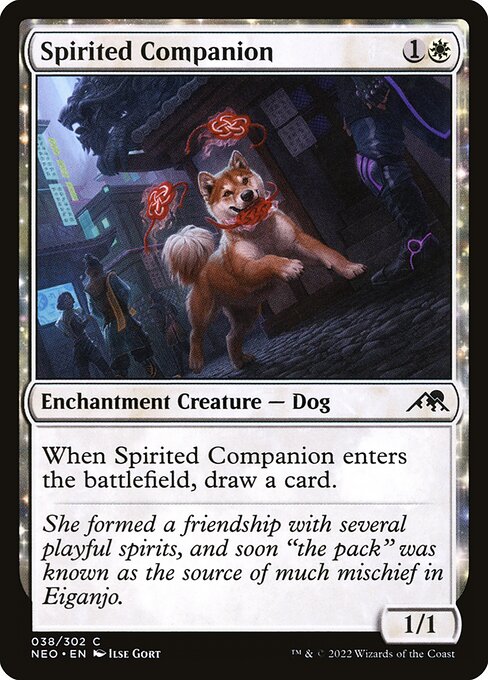 , after all. I think this one still gets in, though, as the two toughness is more attractive than Priest of Ancient Lore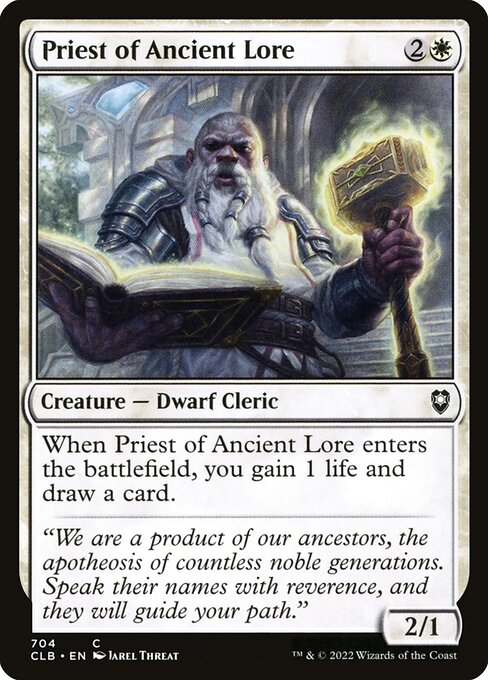 's one.
Solset: Wow, Wizards won't let off the gas on these 2/x's that draw a card in white. I am sad to see small life gain effects trickle out of the cube, like the gain lands and now potentially Priest of Ancient Lore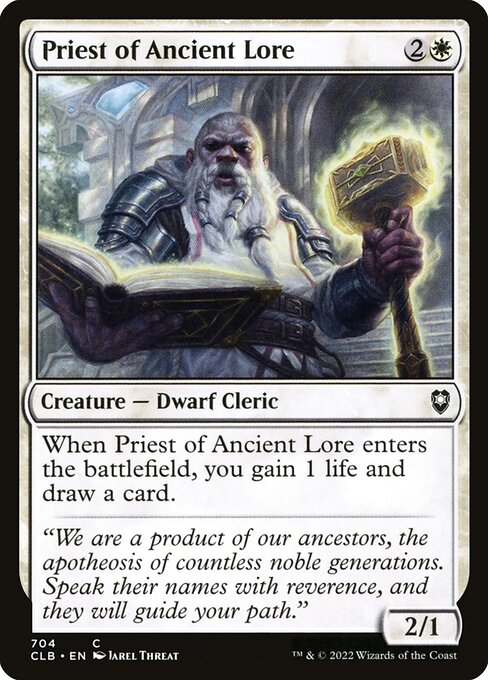 . Yet, until white/black gives us a reason to care, the extra toughness on the Harper is just better most of the time outside flicker shenanigans.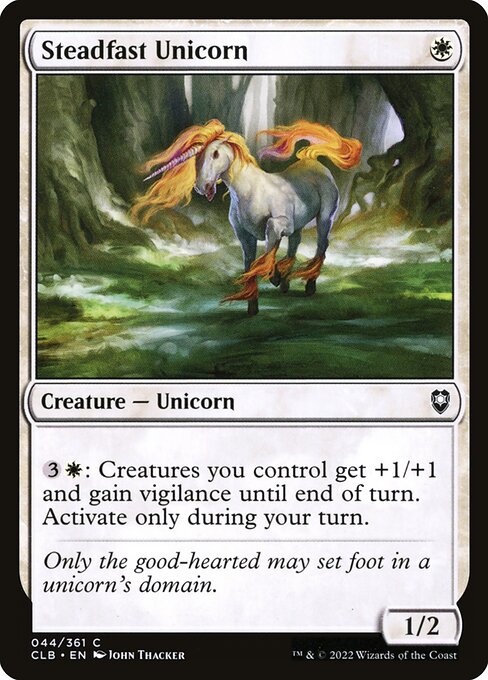 Omniczech: I think this one is sneaky good. The 1/2 body isn't driving me nuts here, but that activated, repeatable ability seems like it will turn the tide in a stalled out board position. I would be interested in this one at least getting in long enough to see how it winds up playing.
Neveron: When I first saw this, I zeroed in on how this was the cheapest Sea Gate Banneret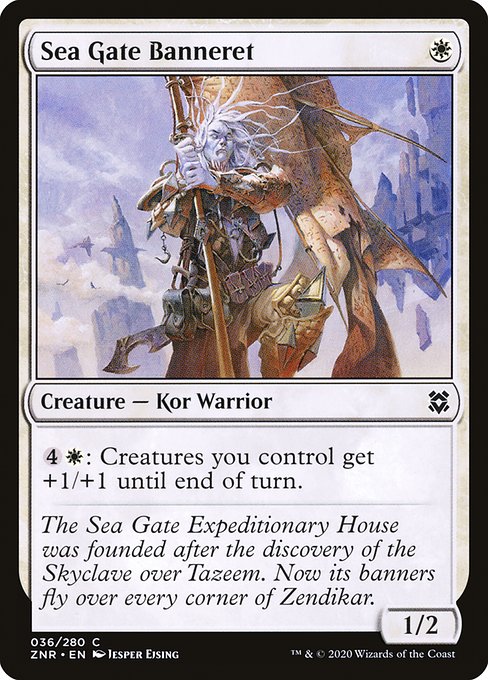 activation, to the point that it's a better Invoker than Encampment Keeper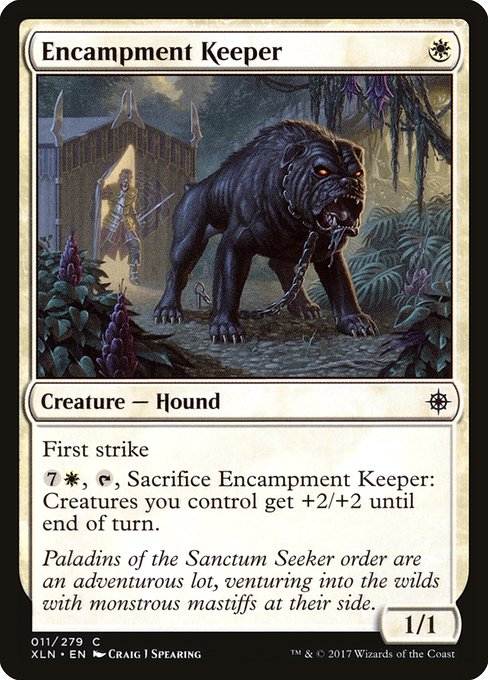 . I completely missed the fact that the unicorn also gives Vigilance.
Solset: I feel like I am the one who champions one drops lately, but I am just not feeling this one. Hopefully, I am wrong.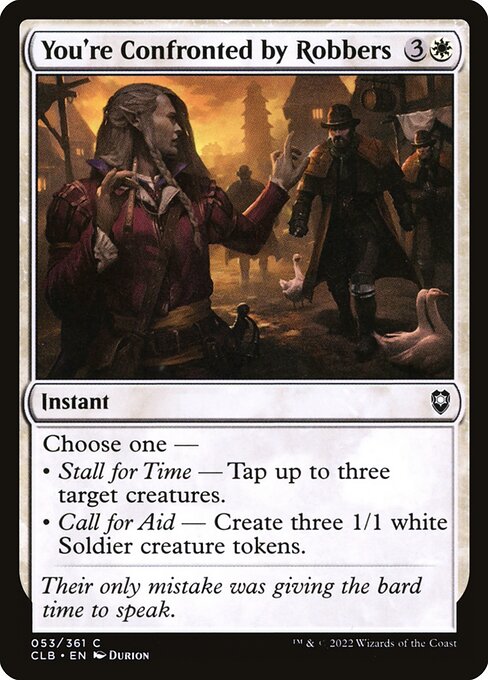 Solset: In a go wide Boros deck, this might see play as the top end of the curve, but ultimately 4 drops need to represent something wanted by more decks these days. Something like Gallant Cavalry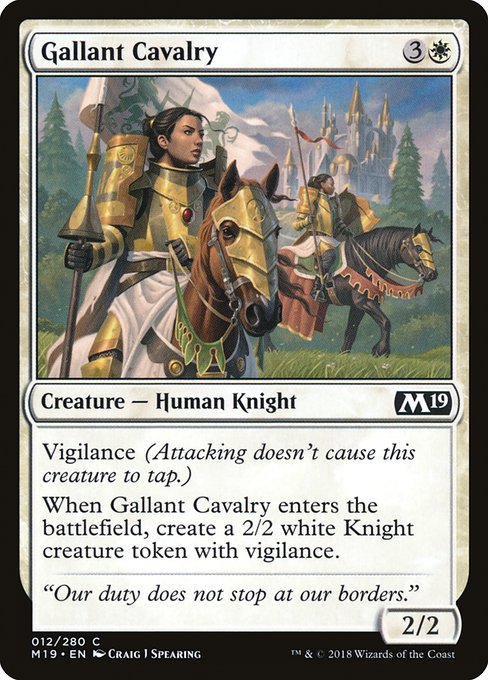 is just better in aggro a lot of time, better in midrange looking to stabilize, and better in decks looking to reabuse ETB triggers. If the community is feeling that low to the ground struggles to get the final points through too often, this might be worth a second look. Frankly, a Goblin War Party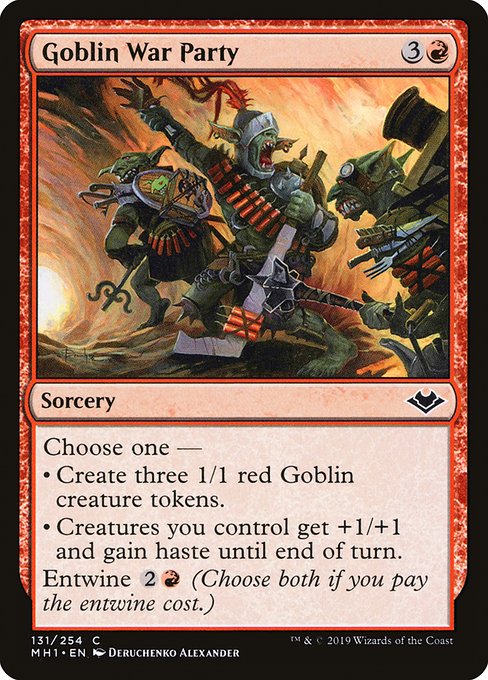 seems better most of the time, and no one is clamoring for that to be included. .
Blue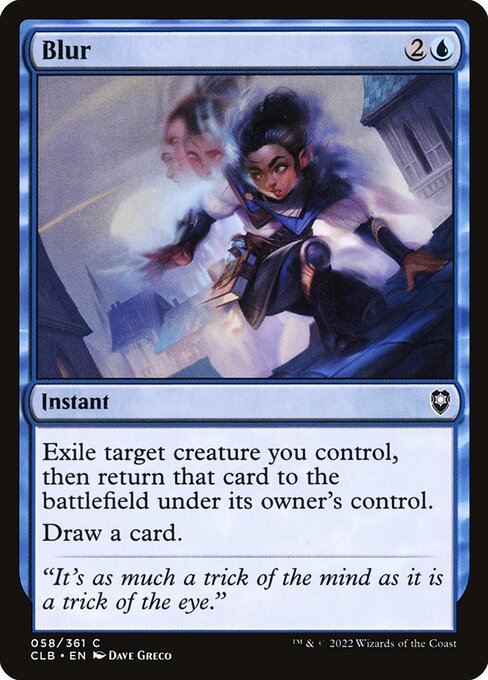 Solset: It wasn't good enough in white, and blue flicker is already loaded in the 3 drop slot with all the Man-O-War variants, Ghostly Flicker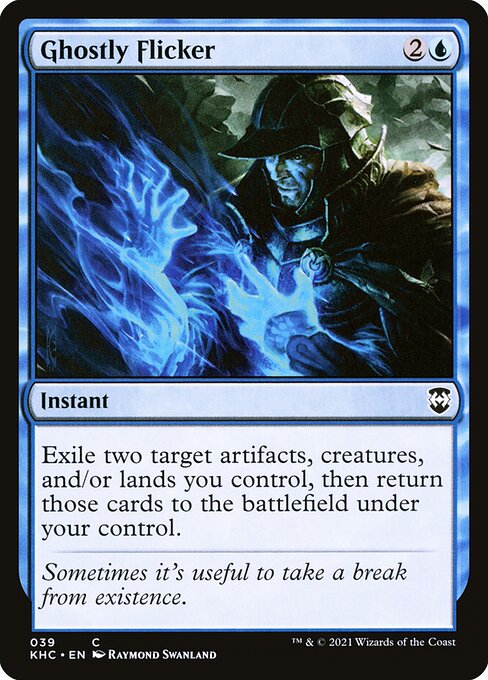 , and Displace
. This is only good enough in bloated mutations that need even more redundancy.
Phizzled: Roughly half the time, flickering two different creatures would be on par or better than drawing a card. I think if I needed critical mass of the blink effect, I could give this serious consideration. I think north of 540 this has a space, but I don't expect to see it in any pauper cubes any time soon.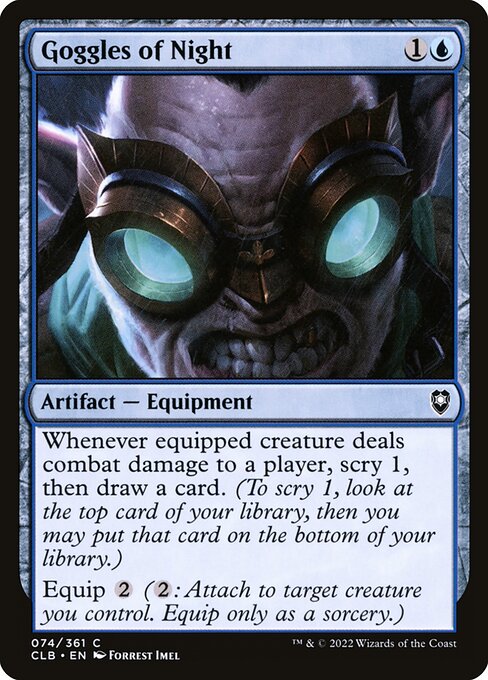 Omniczech: Here's one I'm a bit shocked didn't go over better in polling. I think while it's maybe a bit pricier than I'd like, slapping this on a flyer, even just a 1/1 in the air and casting a free opt every turn is pretty cool.
Neveron: As someone who gladly plays an Ophidian Eye every chance I get, I'd love a version that doesn't get disenchanted by a Lightning Bolt
.
Solset: In a variant that priorities a more aggressive Flying Men style for blue, I'd love this. I think our blue is better off playing the slow game, and this card doesn't fit there.
Phizzled: I'm one of the folks who was less thrilled. Needing to successfully deal combat damage means this doesn't necessarily keep cards flowing for a blue based control deck with big creatures. This reads like a "win more" card or a card that does surprisingly little a bit too often.
Usman: Hey, has someone on the interwebs done a "this does nothing" joke yet? Eh? I've played with a lot of saboteur types of effects and one constant is that they generally play worse than they look, since they get significantly worse without evasion, so this may just be a card that needs to be paired with evasive threats. It does give off some Mask of Memory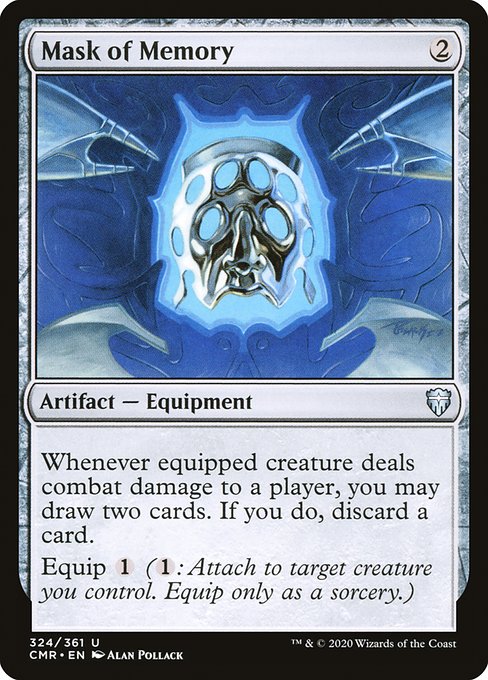 type vibes, but I may have just been burned too often by saboteur things, and moreso in formats like ours where playing to the board is how people play games.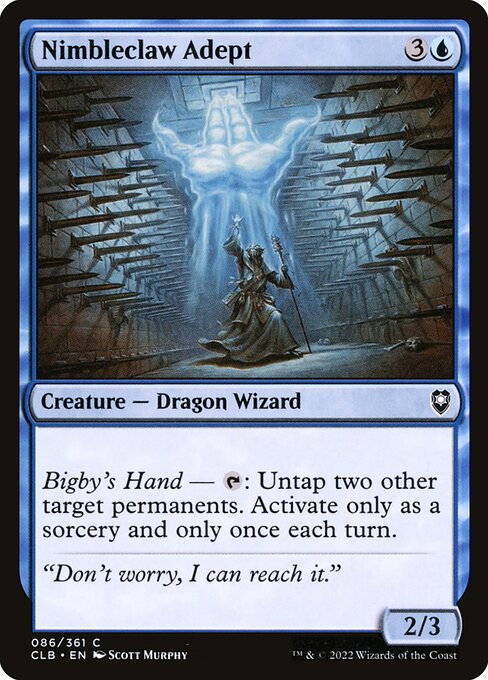 Omniczech: I know folks have talked about bringing back some of the simic ramp stuff, and this actually seems like a pretty decent option for that type of deck. It helps you ramp to a big thing, then giving that and something else pseudo-vigilance is kinda a rad little play pattern that has me at least interested in passing.
Solset: I like Simic ramp more than most, and this card is very powerful in theory if you are dropping a seven drop Striped Riverwinder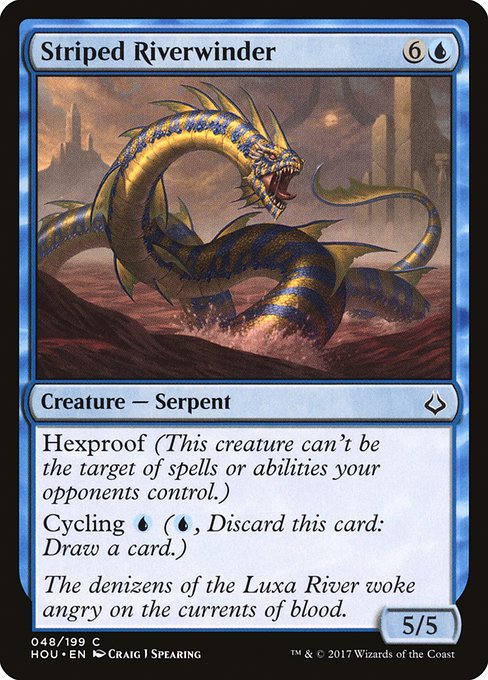 a few turns early. I just think that blue/green is more concerned with rushing its 5 drop slot and slamming those card advantage monsters again and again. At this point, I like Clever Conjurer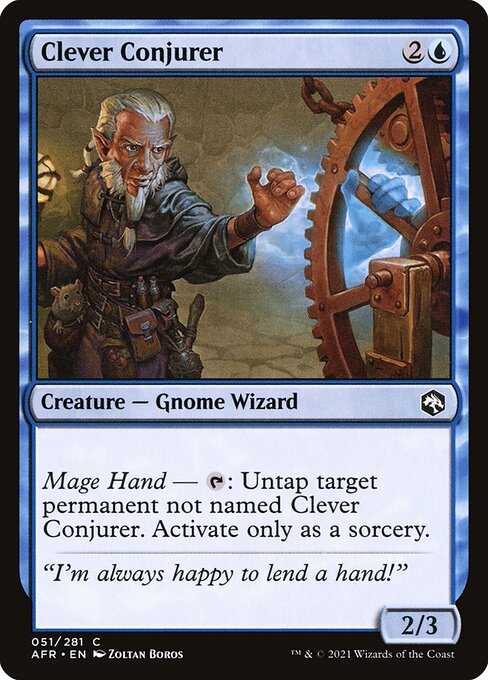 better for blocking bears early and ramping to Owlbear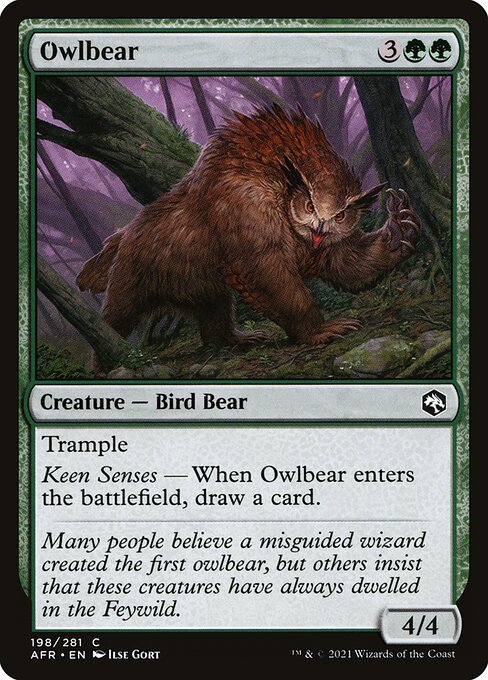 s late.
Phizzled: I had forgotten about Clever Conjurer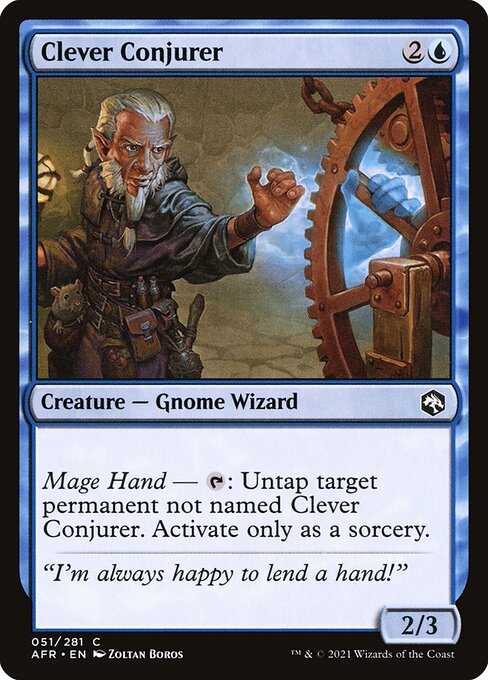 , but yeah, despite not ramping as forcefully, the 3 drop untapped is more appealing than the same body at the four. I'm not sure what either potentially replaces, lacking evasion. The sorcery speed requirement doesn't bother me all that much.
Omniczech: Man I really like this, early interaction that draws you into a hell of a finisher is pretty appealing. I'll take this over most of our big idiot style blue cards any day of the week.
Neveron: While this could replace one of our big blue control win conditions, being a 1U instant-speed bounce spell that also draws a card sure has me thinking about how Blink of an Eye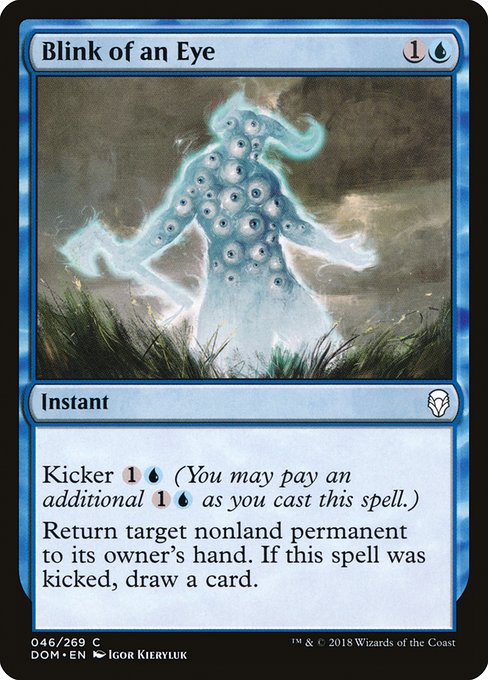 and Into the Roil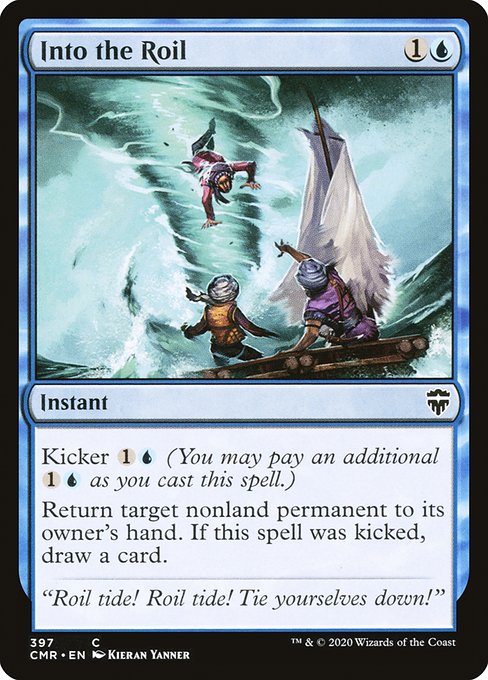 are functional duplicates in our cube.
Solset: I think this is exactly what I want in my big blue, and frankly, this plays more interestingly than duplicate bounce kicker spells. It is worth asking if non-land targets matters enough of the time over targeting that can only hit creatures. You are never going to use this adventure to reset your Serrated Arrows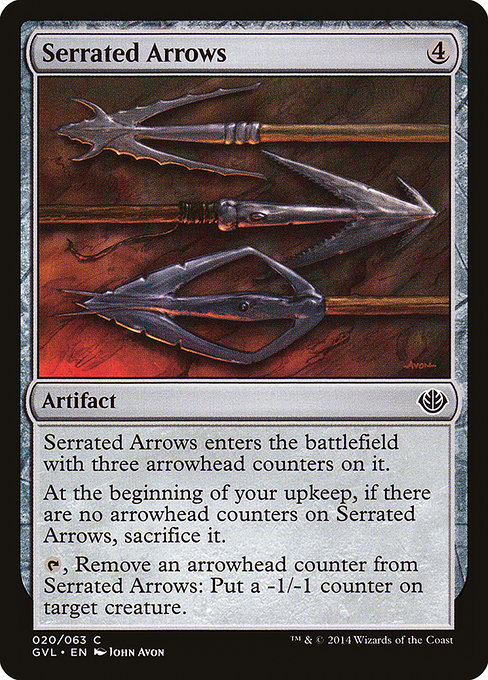 , but does that matter if you are attacking with an unblockable 6/6?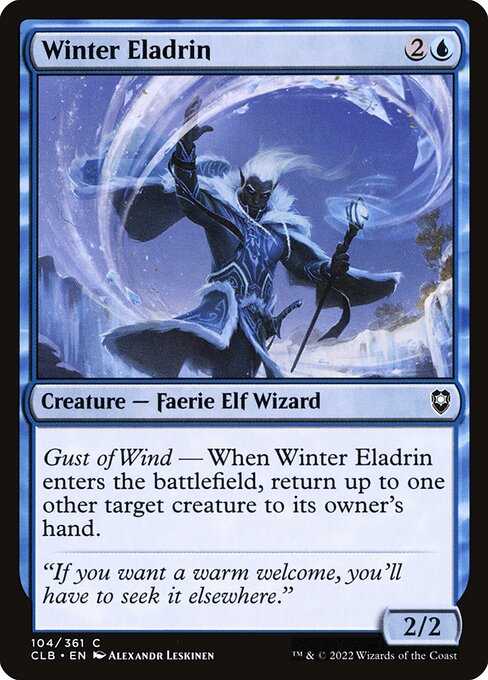 Omniczech: Oh hey, look, it's a boring but totally serviceable upgrade to cards we're running, neat! Sarcasm aside, this is just better than ol' Aether Adept and will likely either join or replace it.
Phizzled: Incidental upside versus humans still matters in the cube. We're definitely going to have to discuss how to slot this in, and how many man-o-wars we need.
Ommiczech: I've expressed as much in the server, but this didn't impress me, but realizing the front half is 1U: scry 1, draw 2, one of which is a slightly below rate flyer is actually pretty great. I'm a fan now, even if it's not mulldrifter, this will put in work.
Neveron: Drawing a Nimbus of the Isles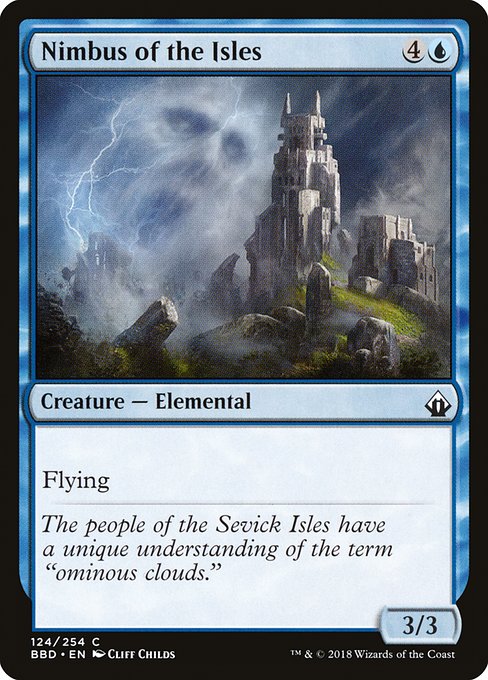 with your expensive Opt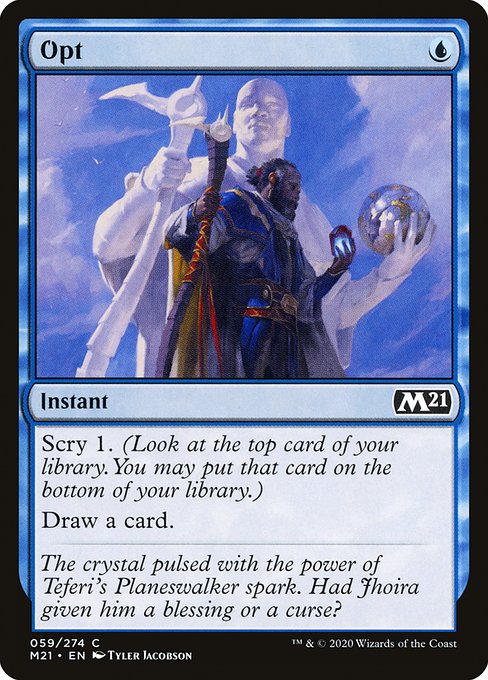 doesn't feel fantastic, but it'll still kill your opponent if they don't have answers and does a much better job at doing that in the late game than if you drew yet another Island. Being a Sorcery hurts a bit, though.
Solset: Unless the community is getting adventure fatigue, these cards provide so much value if you want to push a slower blue play style. These two effects look expensive for what they are, but if you have ever played against a Bonecrusher Giant // Stomp
and his "bad" Lightning Bolt
, you know how powerful these slightly overcosted adventures can be.
Phizzled: Neither half of this card excite me, as both feel about half a mana too expensive, but together they honestly might be okay enough? I wouldn't feel embarrassed playing this instead of Errant Ephemeron
or Watcher in the Mist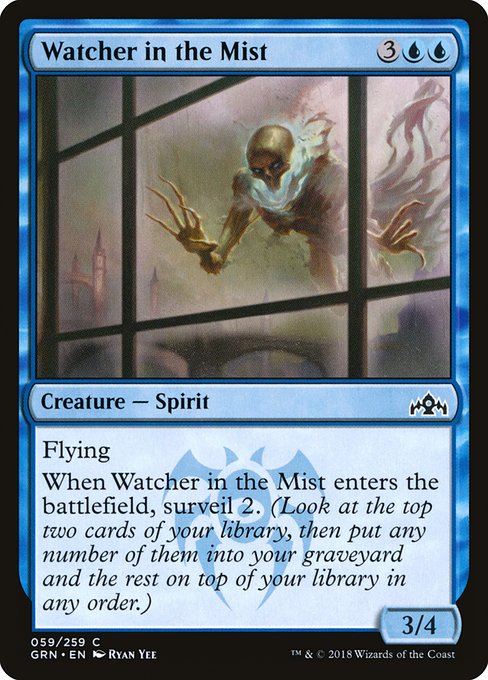 Black
Omniczech: Besides the dubious honor of one of the strangest names in the set, holy cow, this is a powerful common. I don't know why they decided that we needed a strictly better Eyeblight Massacre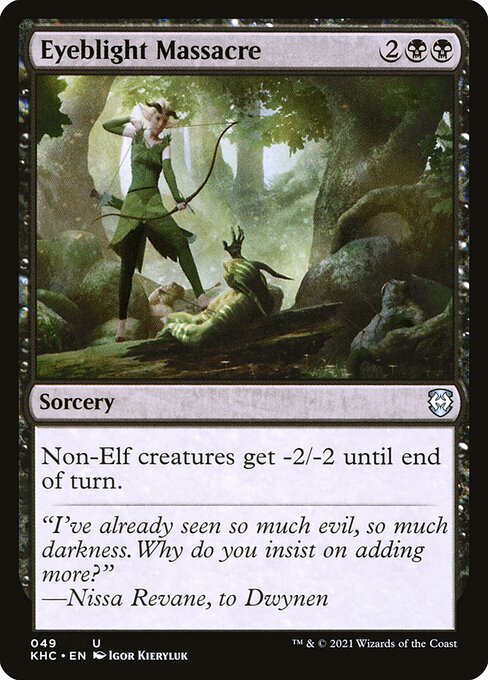 but here we are. General opinion on this one is good and only time and testing will tell if it's a bit too much for the cube to bear.
Neveron: When the main argument against a card is that it's too good, that's a sign that you should pay attention to it. I've also seen the argument that this is incredibly good both for and against aggro decks, which is fascinating and something to keep in mind if we decide to bring in more black aggro cards.
Solset: My argument is that this is incredibly good in any aggressive deck running black…
Phizzled: We cut Evincar's Justice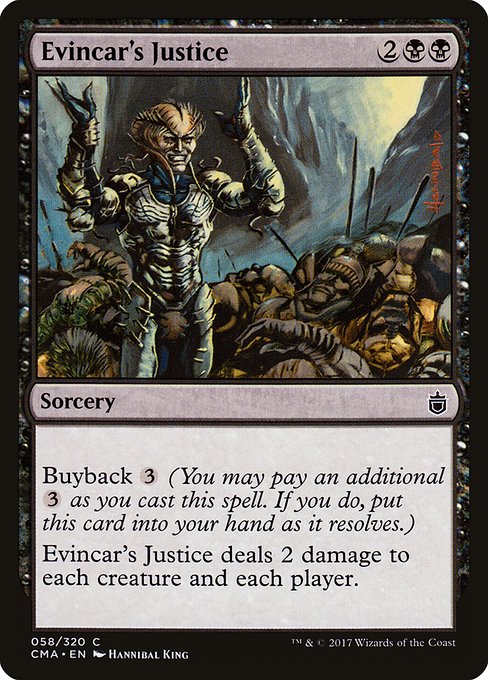 , which often was just a creature sweeper, and occasionally continue to look at ways to make Pestilence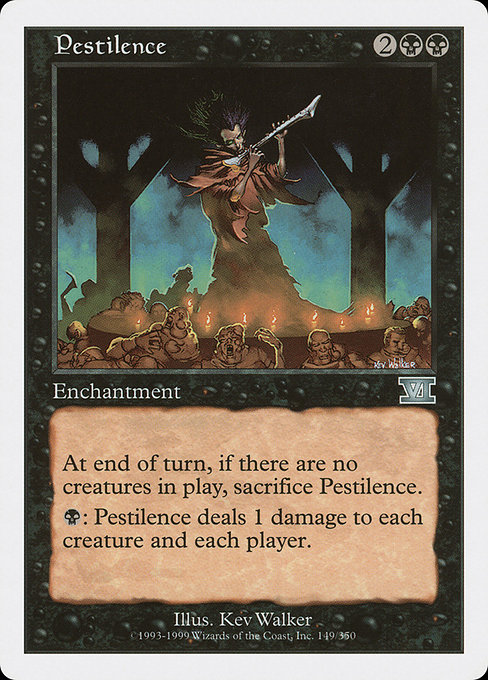 /Crypt Rats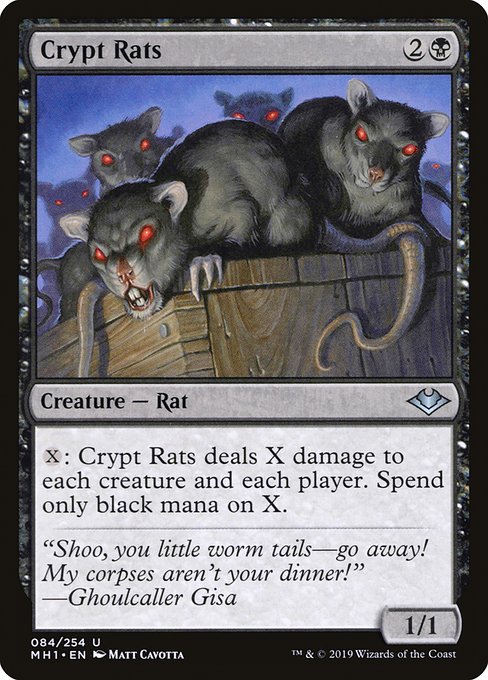 decks fairer and less inevitable. This could replace the former, if we're still worried about that particular control deck design.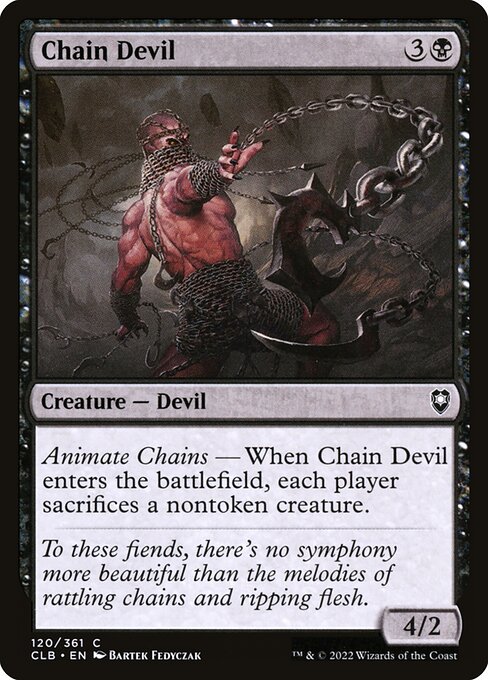 Omniczech: This is not an endorsement of this card, no matter how cool the monster it's based off is, but just a card worth noting for it's new riff on the double edict effect. This requiring both players to kill an actual real creature is a much different effect, but I'm not sure if it's where exactly we want to be.
Neveron: Forcing your opponent to kill a real creature rather than just a token is fantastic. Having to lose a real creature and not just a goblin token to pay for it is less fantastic. I think my biggest issue with it is the cost: if this was just a Fleshbag Marauder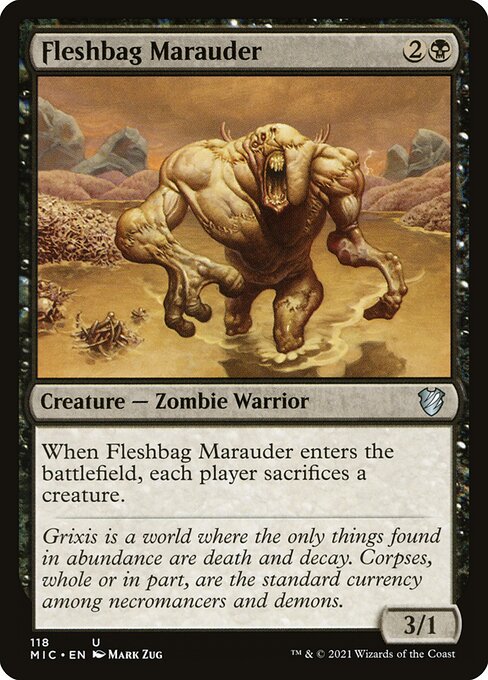 I'd be more positive on it, but at four mana?
Solset: Black has the most non-token fodder for this with all our various 2 drops that don't really mind dying, but this wording is too costly for our red black deck that most wants a Fleshbag Marauder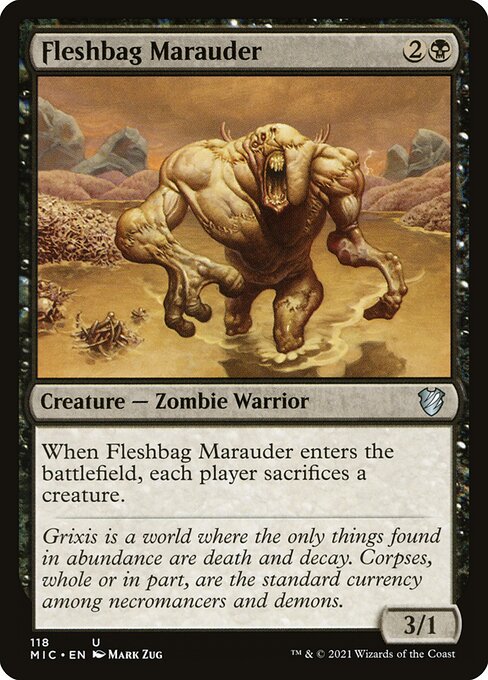 .
Phizzled: I love edicts as much as anyone, but I read this and felt like it was an immediate "pass" for the current cube philosophy. Black's targeted removal is still where you want to be, unless you're playing against green hexproof, and then you still want your own creature to tussle better in combat.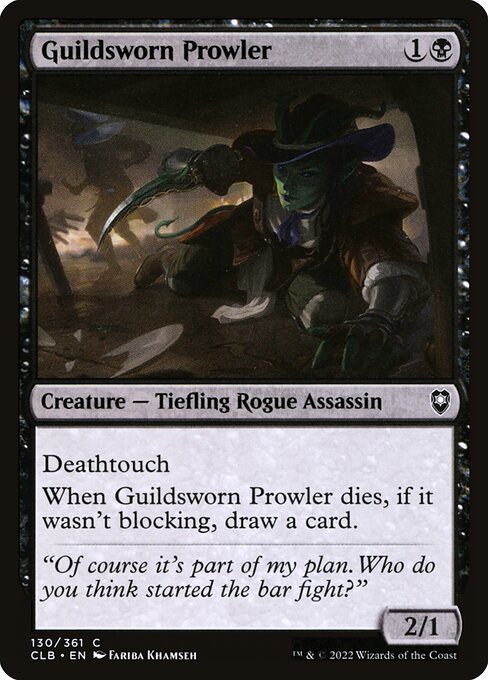 Omniczech: Well here's a way to make folks not want to remove your piker. I think this might legitimately just be a very solid card with minimal flashiness.
Neveron: Oh hey, cheap black aggro cards. If we ever want to make this an archetype the support for it is growing, but even if we don't this is just a good card. Even if it was blocking, you still killed their scary thing!
Solset: I know there are some players who love to turtle up. Yet, I think this set is showing a lot of innovation by putting this sort of "downside" on cards like the Prowler and the Greatsword of Tyr. While this is obviously best in an aggressive context, it's a fine clock for any midrange deck as well that can trade up when needed.
Phizzled: I have become quite fond of the unassuming Boot Nipper in the past year, and I think I select deathtouch more often than lifelink. I wouldn't find the incidental card draw option an upsetting upgrade.
Omniczech: I actually love this stinky frog demon. That front half will make folks real afraid of a questionable attack with a single black mana up as this can lead to some truly wild blowouts. Big fan personally, but we'll have to see where this finds a home.
Neveron: Black's getting a lot of one-sided boardwipes, and I love this Flanking demon.
Solset: Unless the community is getting adventure fatigue, these cards provide so much value if you want to push a more aggressive black playstyle. This gives the aggressive black deck a way to punish bad blocks early which will almost always be worth one card plus a brutal finisher if the game drags on to the point they flood out..
Phizzled: There is a lot of text, and it happens to do some nice things, but the seven mana gives me such pause, despite how powerful it reads in a slow game. I think the adventure is good enough for the cube on its own, and with a seven mana alternative cost, I think that's what you have to value.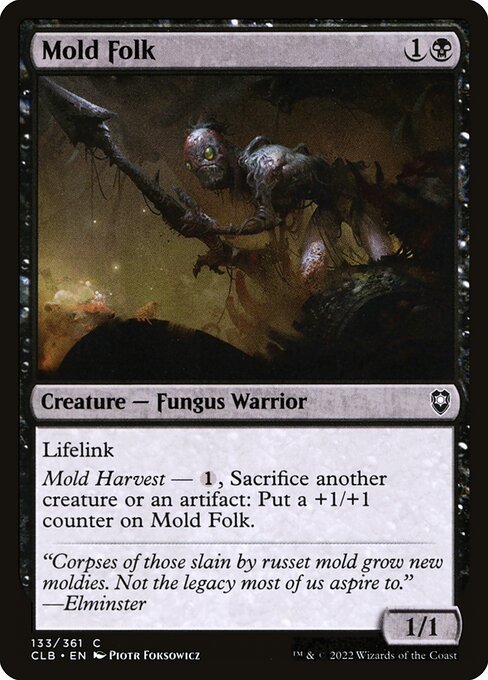 Solset: I know people flinch when they see a mana cost as part of their sacrifice activation. Yet, being cheaper than Bloodflow Connoisseur
while having some serious upside in lifelink or eating artifacts has me and my fellow aristocrats adjusting our monocles for a closer look.
Omniczech: I was down on this, but I'm also not a fan of bloodflow to begin with. I think this is definitely the better option, but I'd rather just drop the mediocre one we're already playing.
Phizzled: Being mana gated is a deterrent, but I think it's not insignificant. This would feel more powerful in any other color, but in black, I expect my sacrifice enablers to be free. I would like this more with a keyword like menace or a larger base toughness, I think.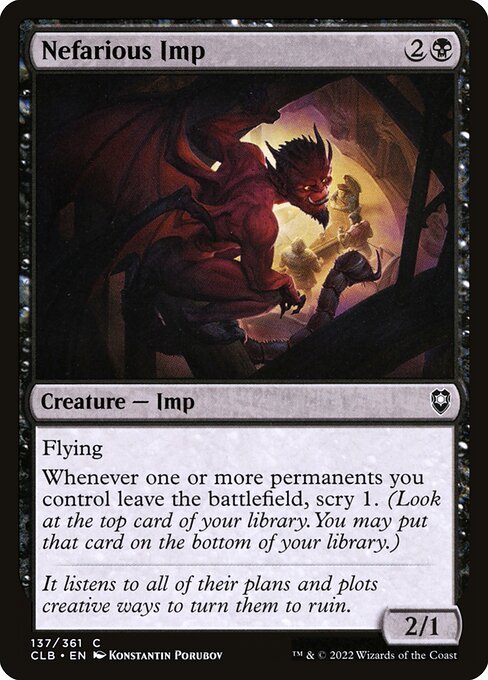 Omniczech: I've looked at this one over and over, and I still have no idea if I like it or not. It's not amazing for the body alone, but also not awful, the trigger is pretty minimal, but it also is really easy to have it trigger off of almost anything.
Neveron: This will trigger even on a blink or bounce, which is interesting. Adding "scry 1" to Evolving Wilds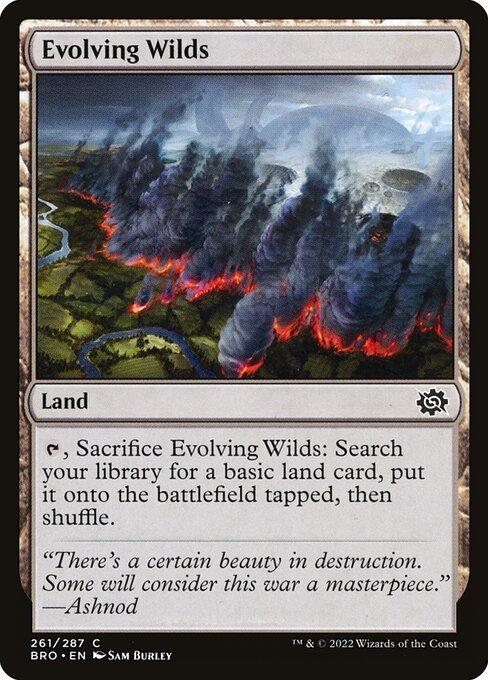 is fun, but anyone who's played Viscera Seer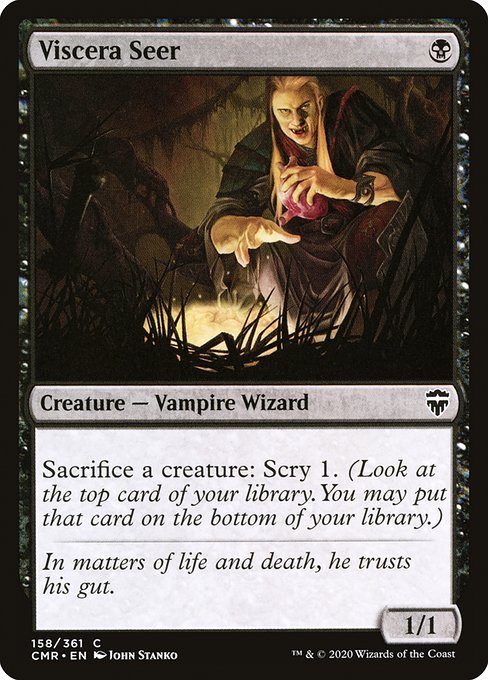 knows that there comes a point where "scry 1" just reads "look at the top card of your library and put it back yet again". You can, in fact, have too much of a good thing.
Solset: Maybe I am too much of a boomer to appreciate this type of repeatable scry that doesn't also happen when it enters the board. I can think of a dozen black 3 drops that seem more powerful and interesting..
Phizzled: There is a control deck in pauper that wants this extra scry, but I think it's the wrong kind of repeatable effect for a pauper cube. I'm interested but not enamored.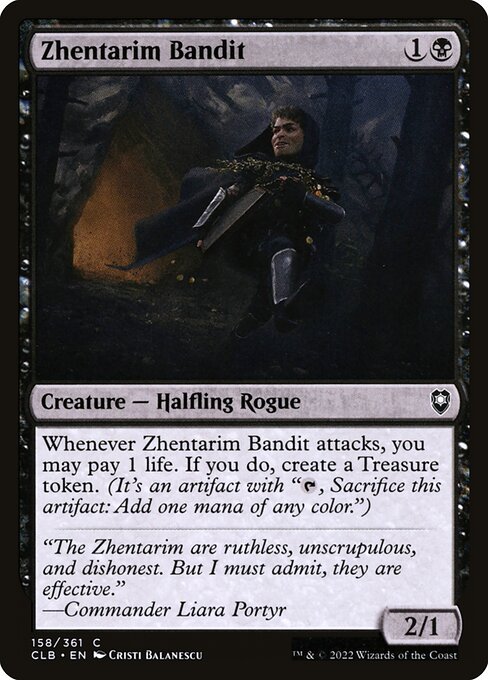 Omniczech: Again, this is one where I don't have anything clever to say, the body's reasonable and it ramps you. Card good.
Neveron: The chance that this pays for itself feels pretty high.
Solset: I might be wrong, but I think this card is bad in our context. When you have multiple opponents to swing at, plus a deck full of high impact expensive bombs, this can trigger often and accumulate treasures for a real purpose. For us, the vast majority of the time, I think this dies to anything, and you are left down a card and a life but up a mana. It's like the card Greed is evolving, but backwards. Black aggressive 2 drops need to hit harder, have evasion, or somehow trade up.
Phizzled: I agree, Solset. There are boring utility creatures (e.g. Boot Nipper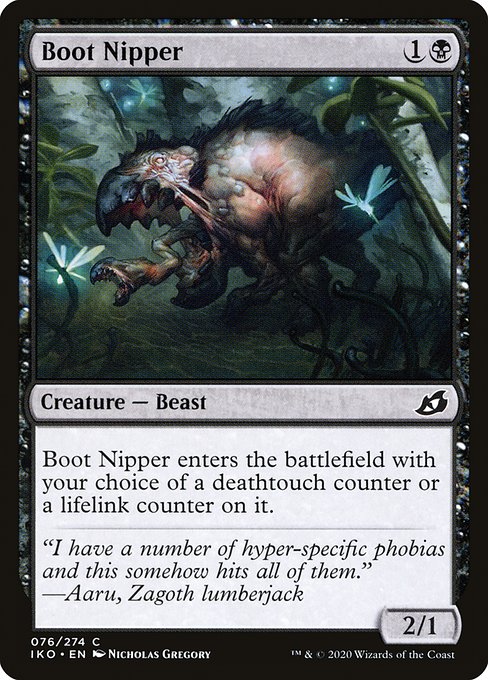 ) that stick around for multiple updates because they happen to fit what several archetypes or decks would desire. This does one thing, the turn after it comes into play, but doesn't feel like it guides someone playing down a path where winning is inevitable. Making the treasure token doesn't seem to be impactful enough.
Red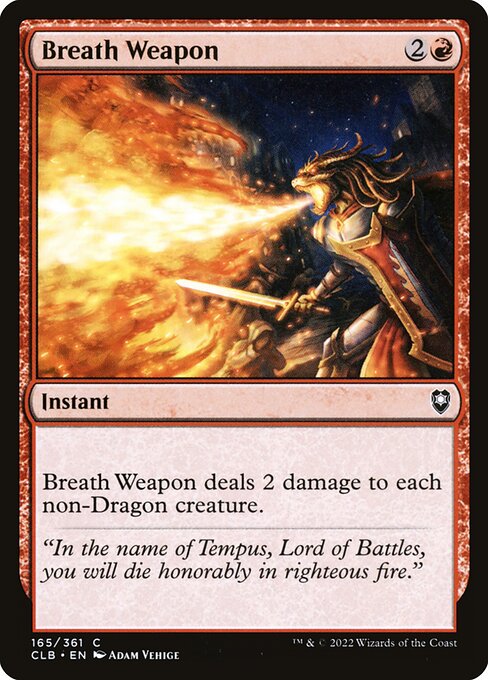 Omniczech: We know this card is good, we've already got Fiery Cannonade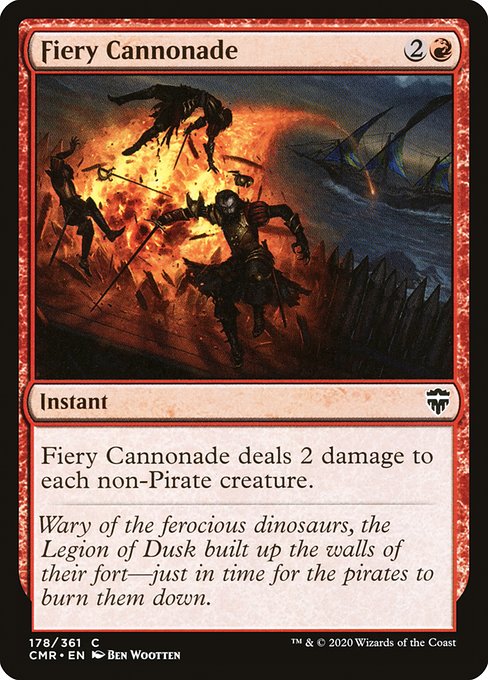 , the real question in my mind is do we want 2 or do we want to change what the one copy effects? Currently we have exactly 1 Pirate and no Dragons, but that latter part might well change with this update. Definitely an option, but merits discussion in the community.
Neveron: While we don't play Electrickery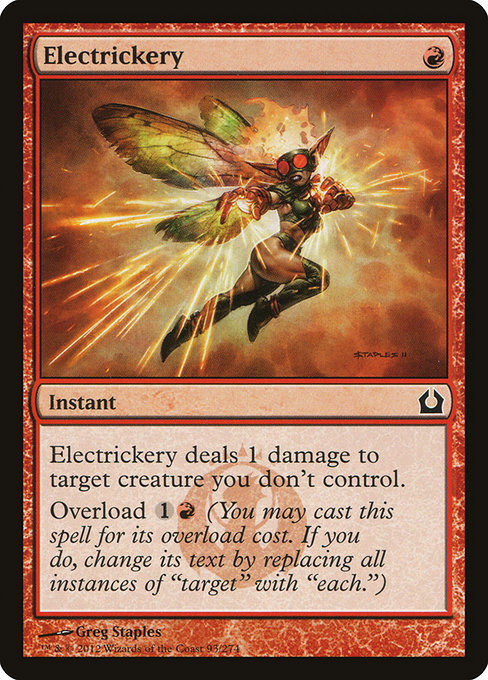 , this one also draws a 6-power flyer. While dying to a bolt is a shame, it's somewhat less of an issue when you're the color likely to draft that bolt. Given that this is seven mana, the same goes for Branching Bolt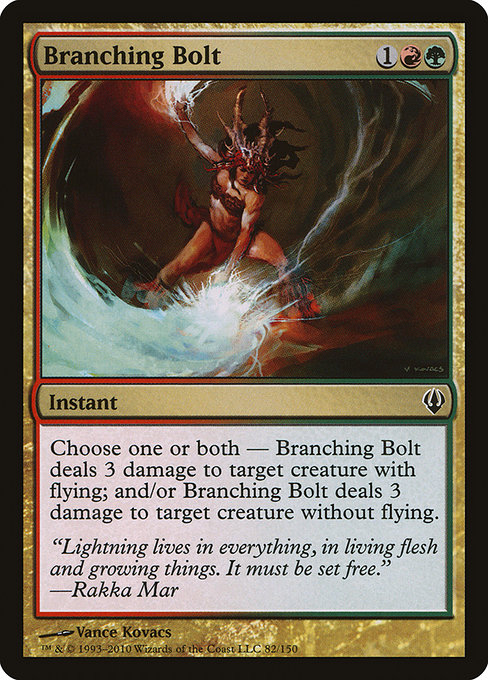 .
Solset: In a vacuum I do like this card. The adventure is going to be mediocre but often fine, and the creature is a heck of a finisher. However, like Boil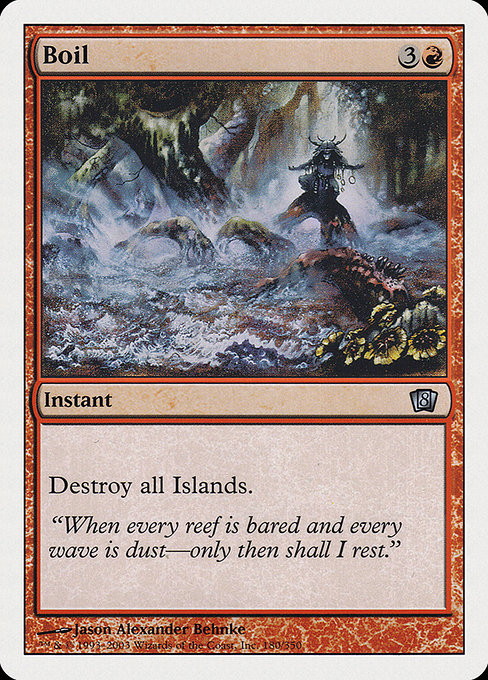 and Choke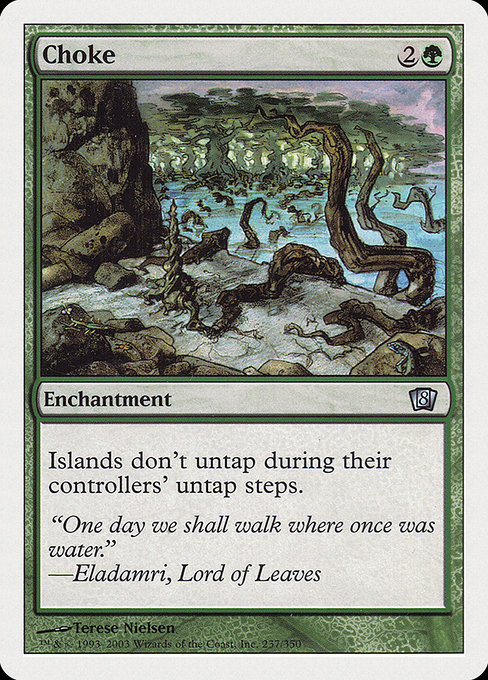 from yesterday's 8th edition drafts, a random hoser that just destroys a handful of decks is not good for a format. Any card that is fine most of the time, but can randomly destroy an archetype by accident is a dangerous inclusion.
Omniczech: I'm mostly torn on this one for the fact the body is strangely fragile for a 7 drop. Another pretty even split here makes this seem like a pass to me.
Phizzled: I like the play pattern of this more than Breath Weapon, but it's a bit wonky to have such an easily killed dragon with a lower powered sweeper. I like having a sorcery sweeper because I like encouraging proactive play, but I don't think this does enough.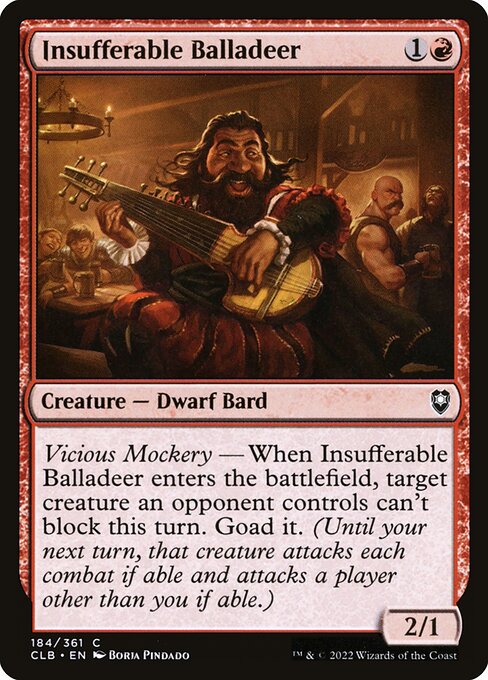 Omiczech: If you squint this card is a piker that causes something to not block for 2 turns, and honestly, I kinda like that. Community opinion isn't amazing but not abysmal, so I might push for this one to at least get in for a bit.
Solset: While this won't interact with Wildfire Elemental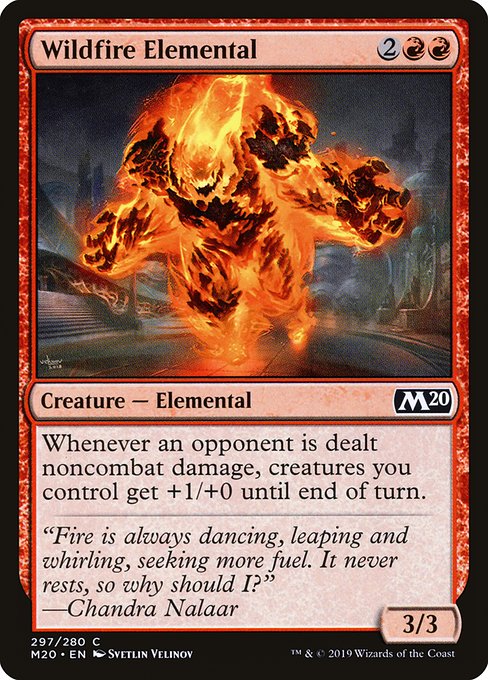 , I expect this card to do a lot more work than Viashino Pyromancer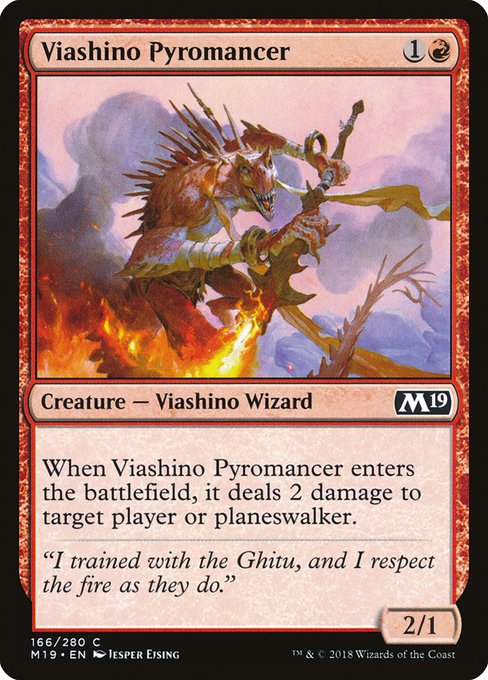 a lot of the time. I am not sure if that's the exact cut, but card is good.
Phizzled: Goad has some moments where it's awkward, for sure, but as long as you're able to "remove" your opponent's X/3 from combat in the early going you're potentially coming out ahead, in the short term. I could see this in a test slot, sure.
Green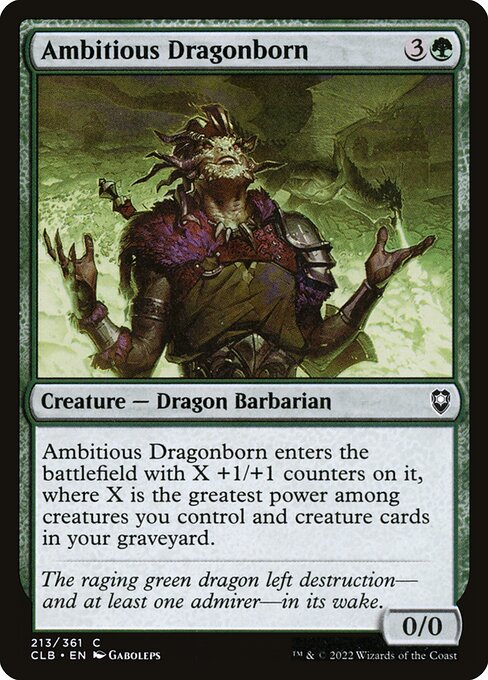 Neveron: While the community opinion on this seems fairly low, I like this green Resurrection. While it's probably just a 3/3 when curving out, the lines you can do with Krosan Tusker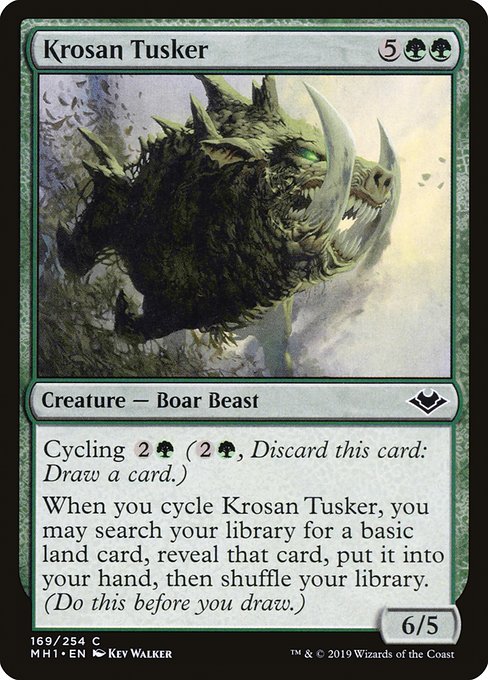 make me interested. This card bridges the black-green and white-green archetypes in a somewhat fascinating way.
Solset: I've had my eye on Undergrowth Scavenger
for a long time now as a graveyard payoff in green, but Dragonborn is going to be a more reliable play during the majority of the game outside the most dedicated graveyard decks. The fact that this plays well not only with graveyard decks but just dumb green monsters makes me want to give it a go.
Omniczech: I don't know how to feel about this, but I think it's generally better than a lot of these effects that care about volume of things in bin vs size. I think I'd rather have an OK 4 drop if they've killed one thing than a 4 drop that feels ok only if there's 4+ things in the bin. If we supported a more aggressively self-milling game plan I'd be more on board, but until then I think this is a miss for me.
Phizzled: This is a weird creature to evaluate. It has to end up at least a 4/4 to be above rate, or you want to have your counters matter enabler to feel above rate. Without extra copies of something like Bannerhide Krushok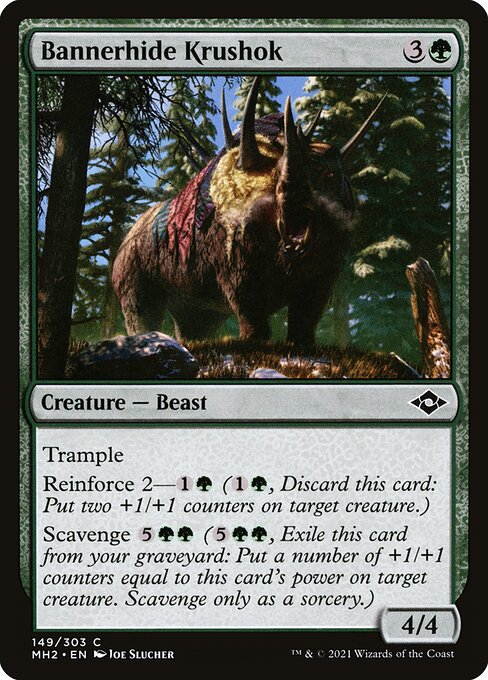 to enable this being at rate I think we're better off looking at the various 4/3s for 4 mana which already didn't make the cut.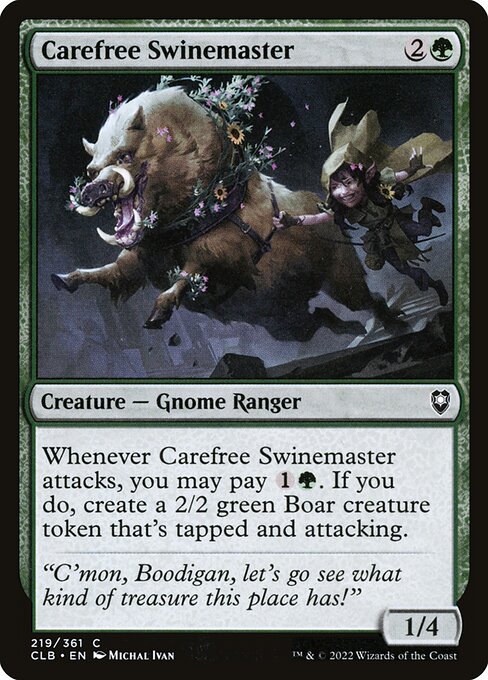 Omniczech: one of the things I love the most in magic is casting Goblin Rabblemaster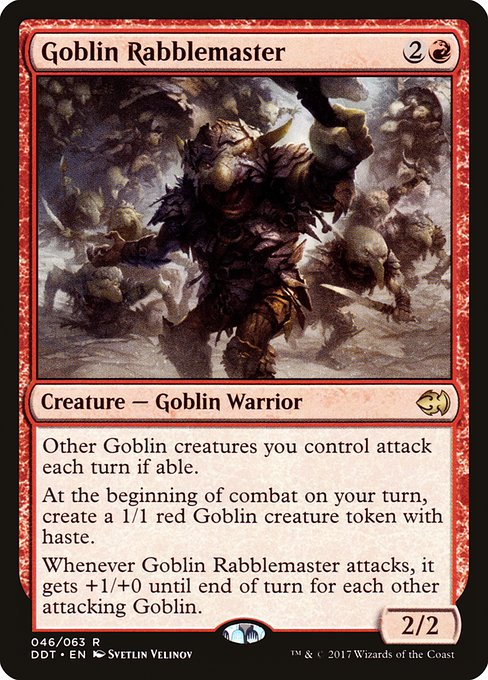 and cards like it. This isn't one but it also isn't way far away. The fact it can swing in with a relatively low likelihood of dying is really nice and being able to draw and cast a grizzly bears per turn is not awful by any means, so we'll see how opinions shake out.
Solset: Building an army with something like Centaur Glade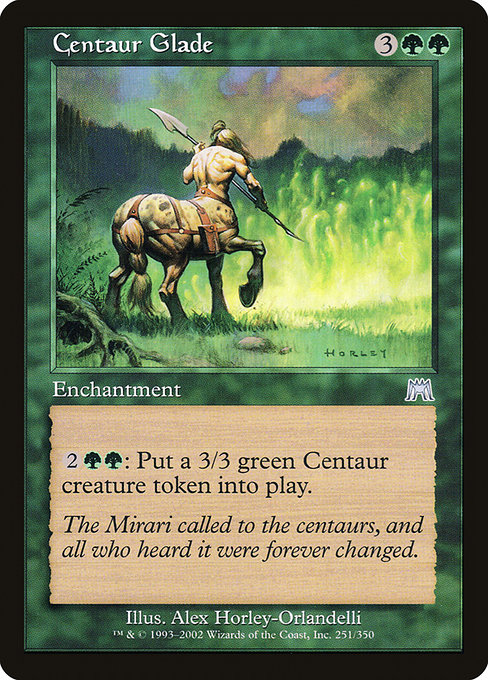 or Sprout Swarm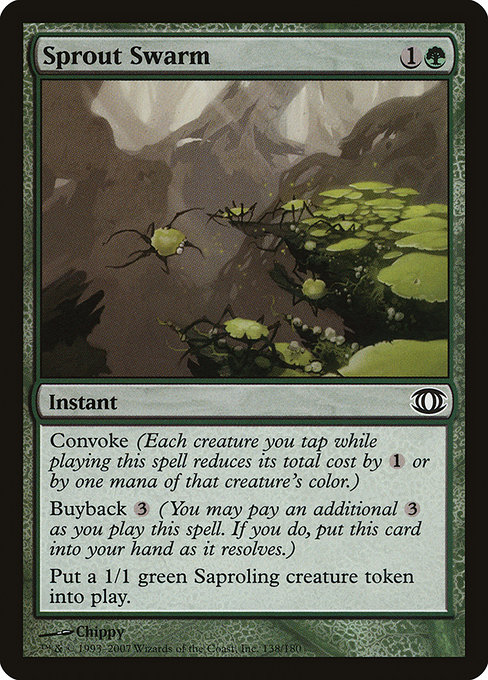 is one of the most dominating feelings in the game. At first, I thought an army of swines would be our pauper equivalent. Yet on a closer look, the "tapped and attacking" clause is really more of a liability than a benefit for this style of card. This might be good enough in a really controlling green/x deck, but I think the pigs will be crashing into bigger threats soon enough that you will never really be able to leverage the legion of swine.
Phizzled: Repeatable army creation is nothing to sneeze at, but, yeah, having to sink mana in at the beginning of your attack is limiting. I do appreciate that this is bolt-proof on its own, but I don't know that this creates such an overwhelming army that excites compared to green's beefier threats.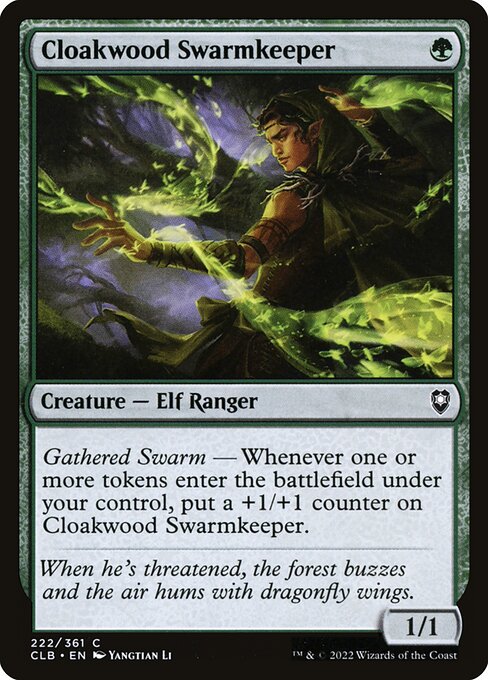 Neveron: This needs to trigger once to be worth it, making it a 2/2 for 1. Tokens include: 1/1 goblins, treasure, clues, food…
Solset: This likely plays better than it looks, but I am still struggling to get past how much of an anomaly it would be for our green's playstyle. An aggressive 1 drop in green, meh? If this was red though, I'd be nuts for it.
Omniczech: I'd love to hear community feedback on the idea of more aggro leaning green cards, cause stuff like this gets out of hand quickly in the right deck, but the base rate is nothing to write home about.
Phizzled: I don't dislike this, but I'm not excited to figure out how I would warp a draft around making this an impressive threat. We've trimmed enough incidental tokens in Selesnya that I'm not sure when anyone would be excited to draft it or put it in their hypothetical decks.
Neveron: While the adventure is probably just putting one or two counters on a creature, that's fine for two mana that draws you a Honey Mammoth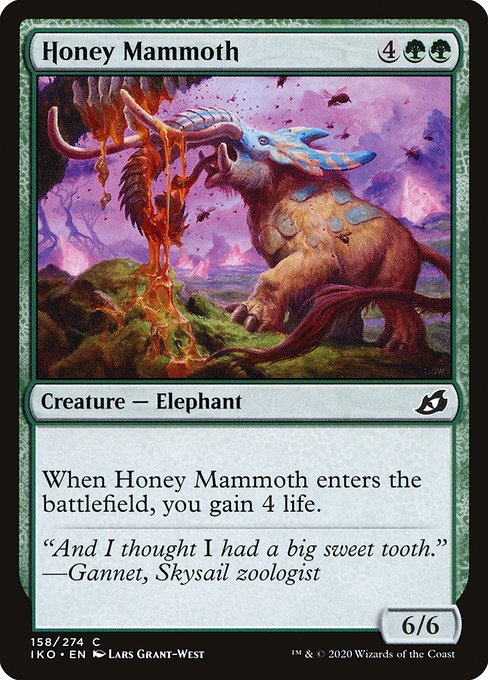 . This is another example of both sides of an adventure being somewhat medium but combining into something that feels somewhat strong. Tuinvale Treefolk // Oaken Boon
is in shambles, anyhow.
Solset: One of the things I liked about previous adventures is that most of the time the early half was worth just about a full card even if overcosted. I'm not sure if I have ever been happy playing a sorcery pump spell in my entire limited career, nor do I really think it's worth a full card. I will need some more convincing on this one though it does play well with some counter payoffs we have..
Omniczech: Sorcery speed and a pseudo-unknown amount of pump are both not appealing to me personally. The fact it's counters is really nice, but I'm still not on the "6 power 6 drop that gains life or similar trinket text" train.
Omniczech: This was one of the first adventures previewed and OH BOY. That first half is a lot of tricks stapled together. It makes a surprise blocker huge, counters removal, just lets something hit for more, that's a lot. Then for some reason the back side being a pretty much unblockable huge idiot, which is just a cherry on top, love this big snake.
Neveron: The adventure untaps! The creature can only be blocked by real creatures, and putting 4 power in front of a 7/6 will feel terrible for your opponent. Also, unlike the big expensive lizards in the other colors, Green doesn't mind the cost.
Solset: So I've been thinking that for Simic Ramp to be a thing, we need big powerful late game cards that aren't dead early game. Seriously, this thing plays very well with ramp dorks letting you eat a bear on turn 3 if you have nothing else to do, while making that elf a serious player once it's done the work of casting the dragon snake on turn 6.
Phizzled: As an instant, this seems to eat up your entire turn. I'm not sure it would be telegraphed, but 4 mana is a lot to hold up. The evasion is less exciting than trample would be, on the back half, but it's no more embarrassing than casting the big pig to try to win the game. If you're lucky, casting the adventure might draw out two pieces of premium removal. I think I've convinced myself to at least try this in my personal list.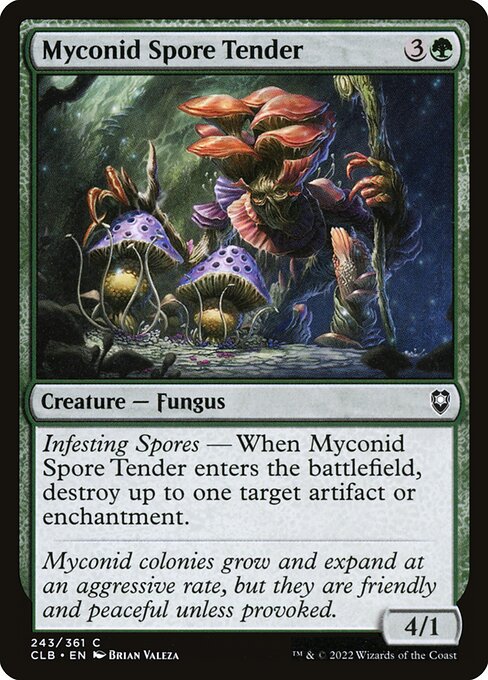 Omniczech: I just added this to post this publicly in the vague chance a Wizards employee sees it, just let us have Reclamation Sage at common, I promise, it's fine, we'll all be very happy.
Solset: We have enough of these variants in green sitting on the bench that I am not sure a 4/1 is strong enough to claim a spot over some interesting options. Anyone ever use their own Serrated Arrows on Wickerbough Elder to nuke multiple targets? Mold Shambler is expensive but looks a lot better on a board without targets plus it can hit Desert.
Phizzled: I'm not sure how many disenchant effects we want stapled to creatures, but I'm sure that, of the options I know of, I'm least excited by the 4/1 body that lacks evasion. I'm not sure when this is worth both halves of the card to put in a cube.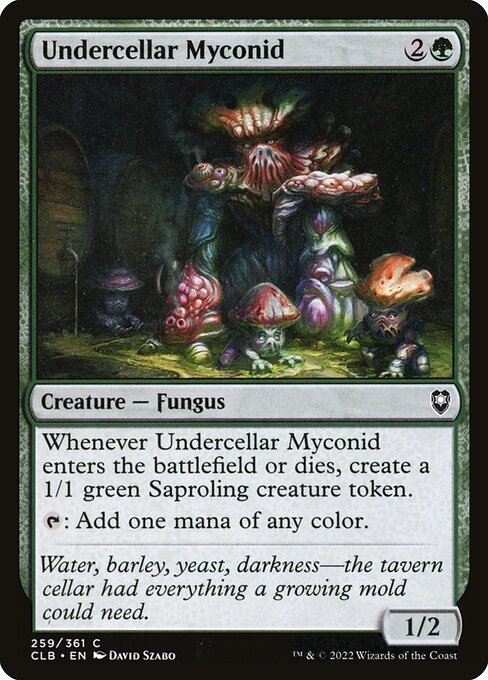 Omniczech: I am baffled by this card but intrigued. I have no idea where this fits (if at all) into our cube but it's a fun little riddle.
Neveron: When I look at this card, all I can think is: "Scion Summoner somehow survived our last update, huh."
Solset: If only this had the same templeting as a bunch of cards in this set where it could trigger on Ephemerate. This card does a lot, but I'm not sure it does any of it well enough for me.
Phizzled: I'm not amazed by the token, but well, there are two of them, aren't there? I am not amazed by the 1/2 body, but the ready splashability and five color nonsense tell me this is better than it looks at first glance. Scion Summoner does look a bit dated, here.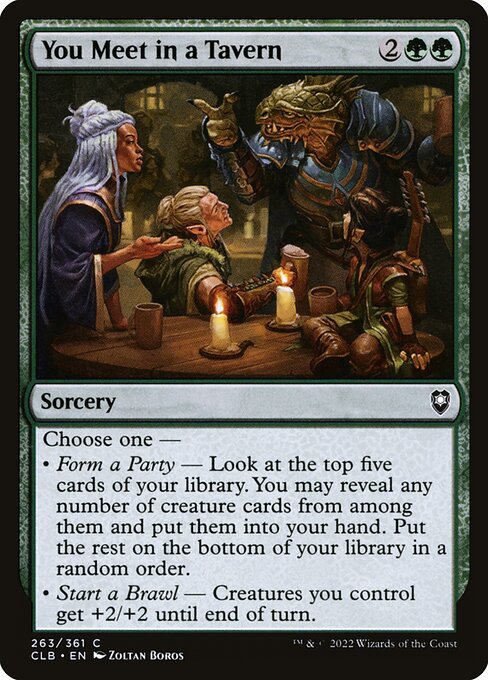 Omniczech: I've already bemoaned the fact that we JUST put in Lead the Stampede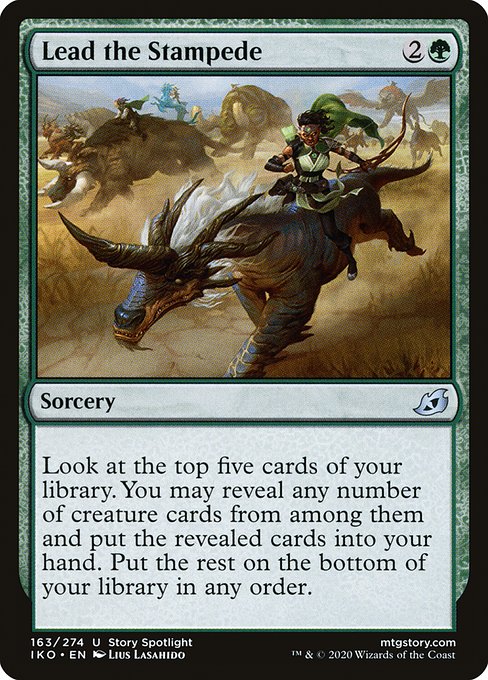 , but this is also just generally pretty sweet. Missing trample on the team pump is a bit rough, but this will just sometimes make a swing either lethal or impossible to profitably block, and if your board's either not as developed as you'd like or has been whittled away at, it can help refill your hand. Either way I think this is pretty rad.
Neveron: Long-time community members might recall that I've begrudgingly advocated for Graphic Violence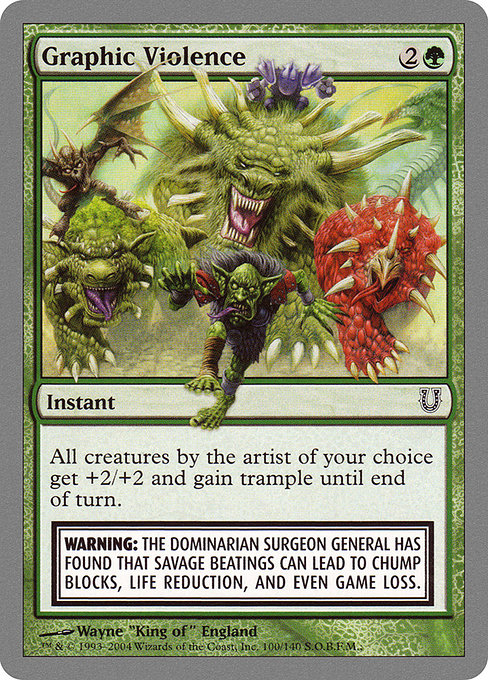 as the "best" Overrun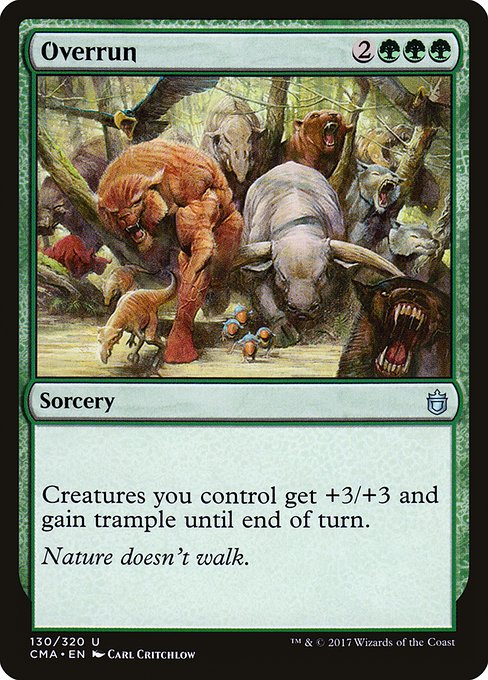 available at common. This card now takes that throne. To understand how bad the situation was, third place is Echoing Courage.
Solset: We have really prioritized trample in green, so I am a bit less worried about this being a "bad" overrun and more impressed by the versatility here.
Colorless/Land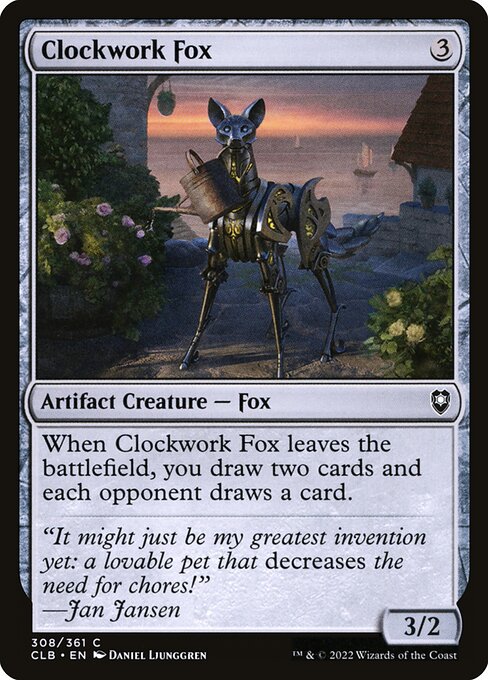 Solset: I think this card is real good. Unlike Filigree Familiar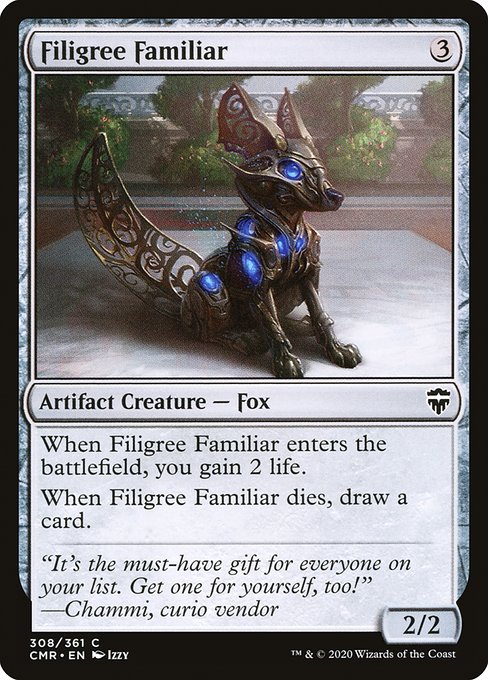 , this is going to tangle with some serious threats for control, threaten life totals at the top end of mono red, and even net you a card per blink. A colorless card which I see all three basic archetypes playing is stellar.
Omniczech: I might just be too risk adverse, but I check out pretty quickly the moment the card isn't nuts and provides my opponent card draw. That said there's a few pretty miserable colorless cards I'm pretty sure I'd take this over.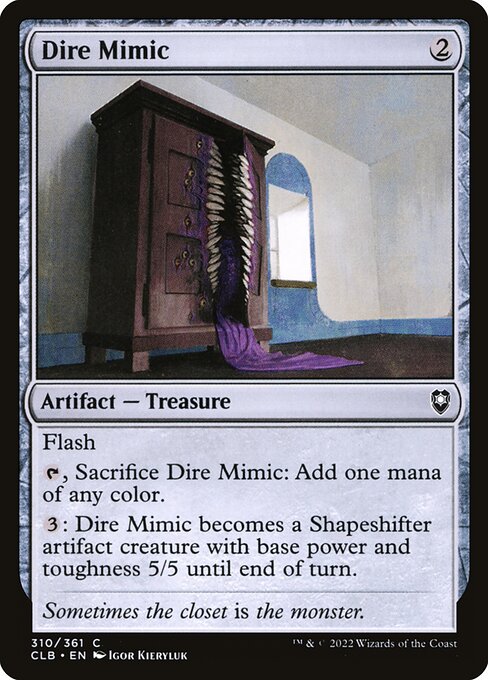 Omniczech: I missed this one on the first few passes, but I actually really like this. I think the treasure mode isn't gonna be great and it won't often get activated, but this as a thing you sneak in turn 2 then punch them for 5 turn 3 is nice, and late game a flash 5/5 blocker does a LOT.
Neveron: This thing kills people.
Solset: If the ramp was repeatable, I'd be in. I think this costs way too much for either mode to see serious play in our cube..
Phizzled: The sacrifice for fixing feels rough, but I like that we're seeing more treasures. 5/5 is nothing to sneeze at, and this seems affordable enough that it could actually be playable. Would it be enough to replace something like Sickleslicer?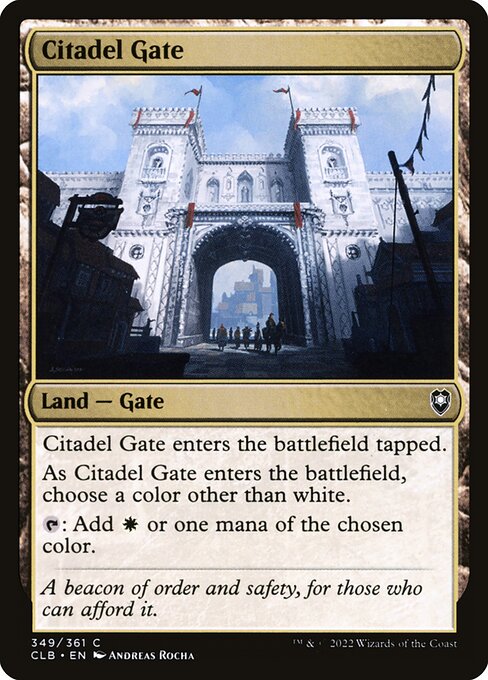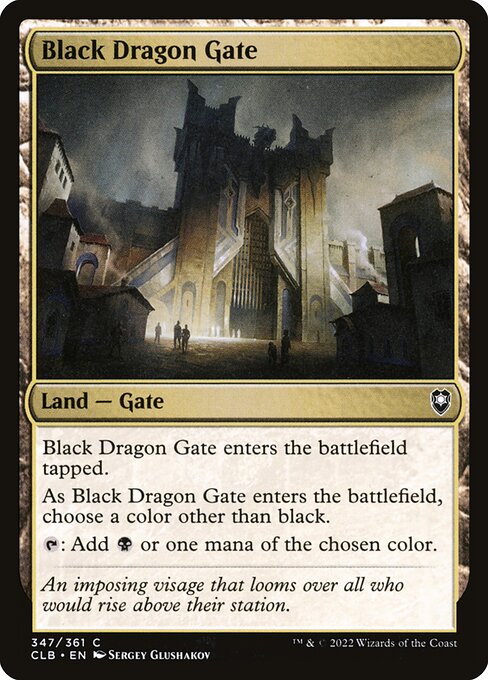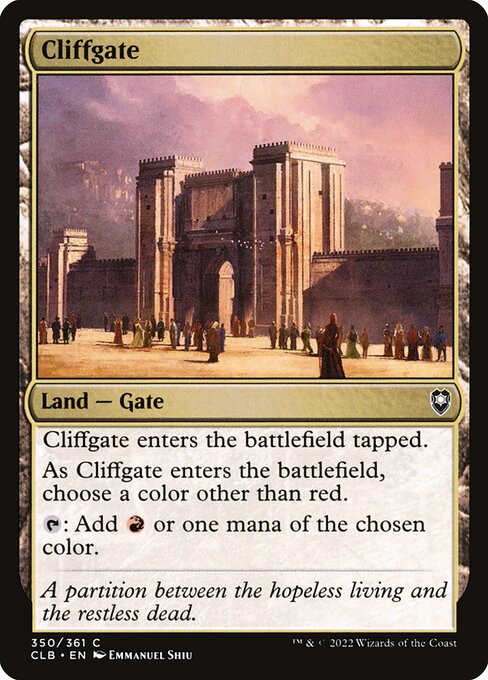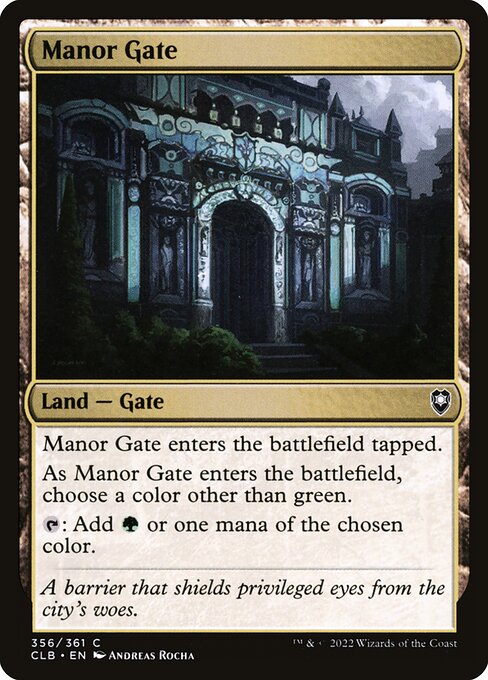 Omniczech: these are good, we know they're good, we've had thriving lands long enough to know this. That said we are at a bit of a crossroads for this style of effect, Mana has never been better for pauper before and at some point I do think unless we push more aggressive options into the cube, 3+ color piles will start becoming an issue.
Neveron: Worth noting with these gates is that Battle for Baldur's Gate did not, in fact, print much in the way of new Gates payoffs. While we might go up to five gates, we're a long way from going to fifteen or even eighteen. Don't get your hopes up.
Solset: We really are at a crossroads. Ten lands, which are strictly better than Uncharted Haven, is a ton of flexible fixing. I am not opposed to the experiment, but this will be a volatile situation to watch closely if these go in with the previous thriving lands.
Phizzled: I don't think that the land type line matters to this cube, since Nature's Lore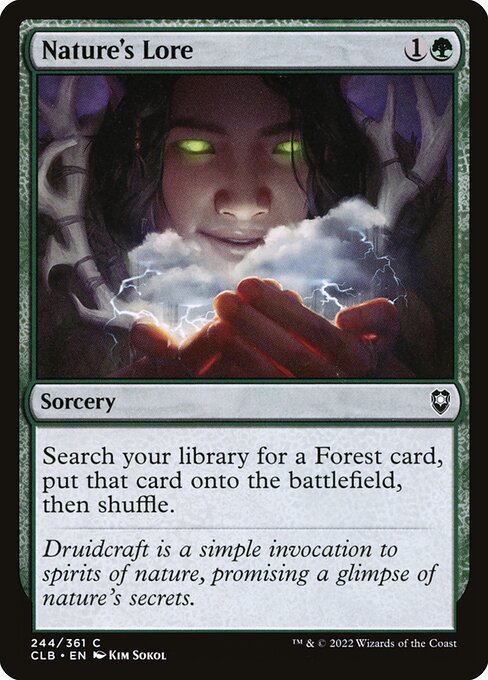 is more exciting than Gatecreeper Vine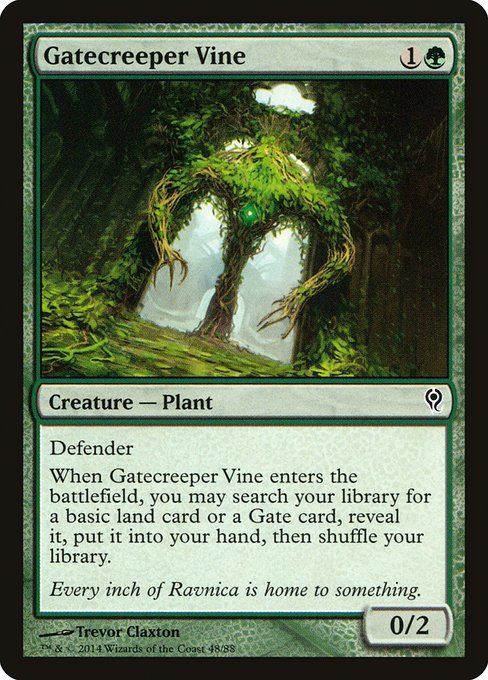 , but having ten Thriving type lands could allow us to drop the total lands from 35 to, say, 30, if we were willing to chop the snow lands and leave only the scry and card-drawing lands as dual utility lands. That feels a bit greedy, to me, but I haven't run a hypergeometric calculator on it.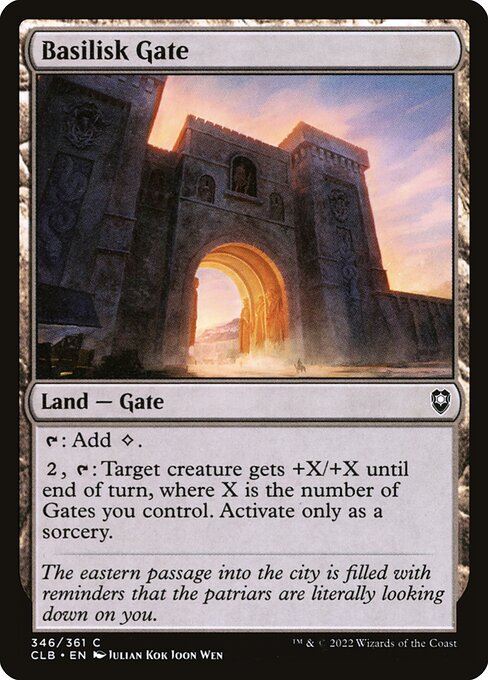 Neveron: I'm not arguing for this as a Gates Deck payoff, but rather just as a common Daru Encampment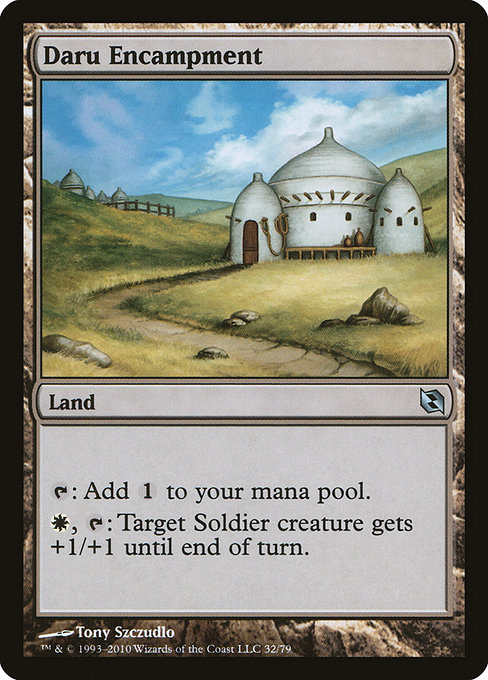 . It's kind of interesting, I think, although the sorcery speed obviously hurts it.
Solset: Daru Encampment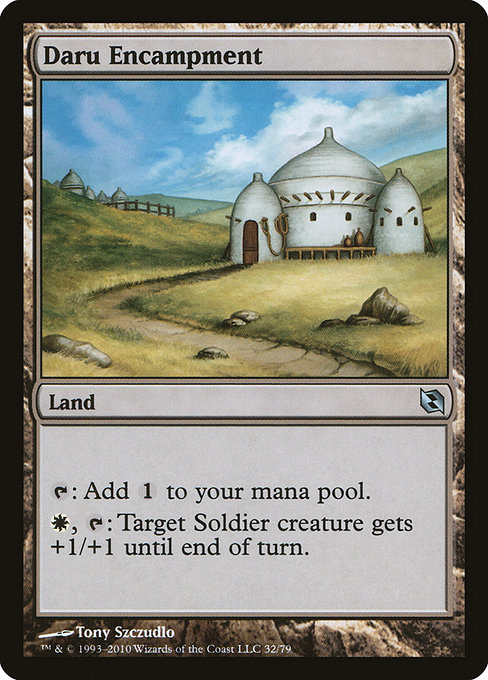 is great. The power level differential per card in our cube is relatively slim compared to a standard set. Getting enough playables is never a challenge, and the last cut is always hard. Any pick that is a free include for most decks, while giving you something to do late game is a strong pick. Even if we only run 5 thriving lands, the Baldur's Gate versions will be more readily available and will come in foil. So this utility land pumping for 2 is reasonable and will be hard to beat late game
Omniczech: I really expected to get some middling creatureland in this slot, but I think I like this as an actually interesting utility land.
Phizzled: I'm sure if this is fitting into hypothetical cube decks and being activated, it's going to behave as a very expensive equipment. Is being mana gated (but producing mana when not buffing a creature) enough of a deterrent where we don't play something like Weapon Rack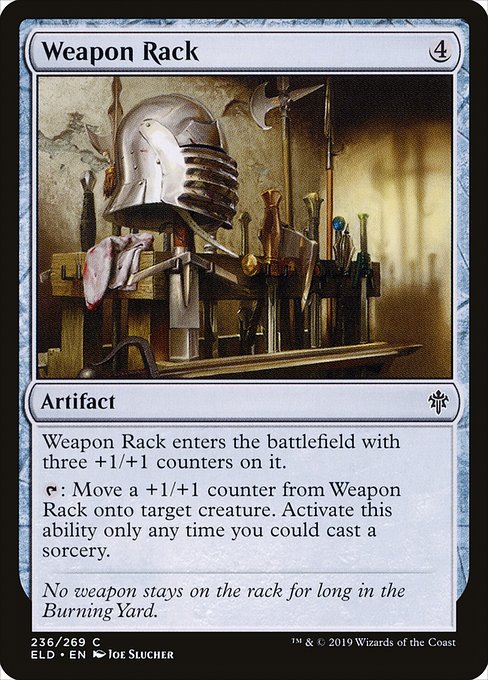 or Tooth of Chiss-Goria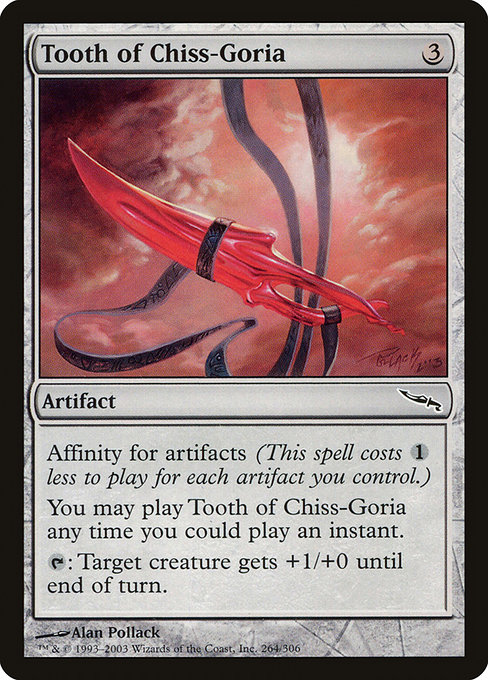 ? I think this is likely better than it looks, especially in low to the grown decks hoping to push those last few points of damage through, even at sorcery speed. If we do add the new Thriving lands, we have a very logical place to cut, in Uncharted Haven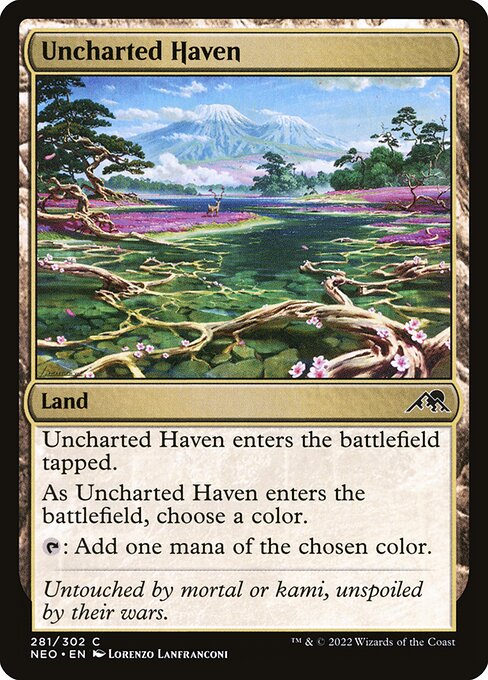 .