White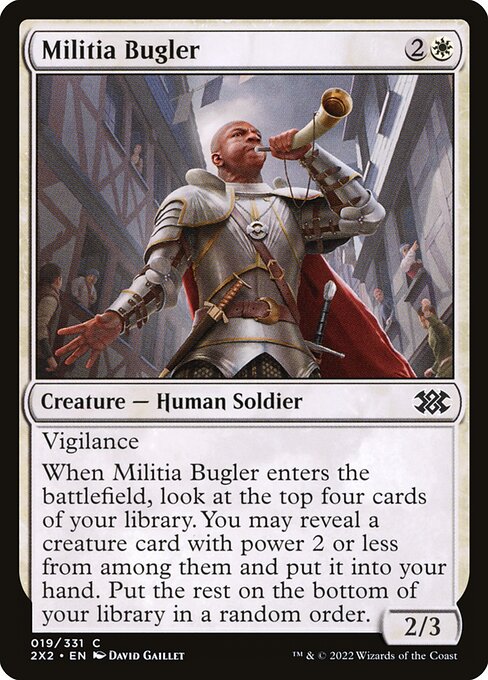 Omniczech: well the trend of 3 mana 2 power white cards that draw has found its ultimate variation for now. While this is definitely limited in what it can get, the body is nicer and I expect this will be well enough liked.
Neveron: In the Baldur's Gate review, I wrote that they kept printing this type of card and at some point we would have to stop putting them in. I think we're at the point where there's enough of them that we'll have to choose the best and cut the rest – in this case that means keeping this card and Inspiring Overseer, I think. Unless Dominaria United decides to push things even further before the next update.
Solset: Vigilance is a fantastic keyword that has been mostly missing from our cube to date, and this card plays nicer when you have a high density of smaller creatures. A high power card that helps aggressive creature decks a bit more than control is exactly the type of addition I'd like to see.
Usman: When I saw this and a few other cards (Swiftspear, Izzet Charm), I was very surprised. These types of effects tend to play worse than they look in limited (and, to an extent, pauper cube) but the small size of creatures in the format and the relatively decent size makes whiffing a whole lot better than whiffing with something like Warm Welcome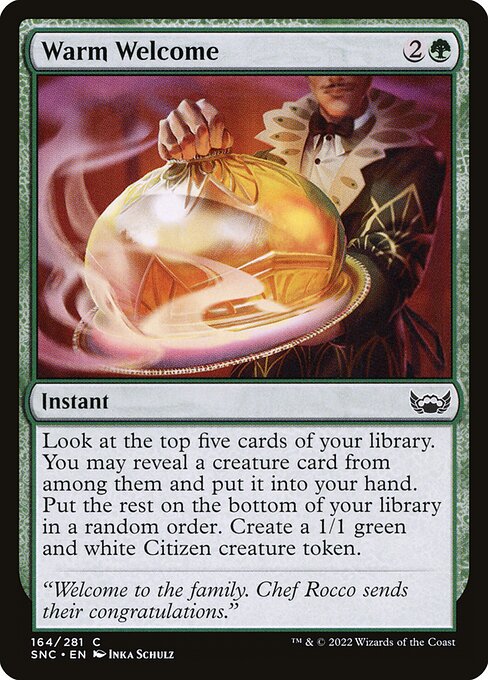 . A welcome addition indeed.
Phizzled: In my mind, this card says cmc 2 or less, but power is a bigger subset of the cube, and a much easier hurdle to overcome. I'm sure this can whiff, but scryfall claims the cube currently has 154 hits, so I'm guessing not too often. I would like a more aggressive keyword, but this reads very much like a control card and I'm interested to see how this looks when the next Standard set comes out.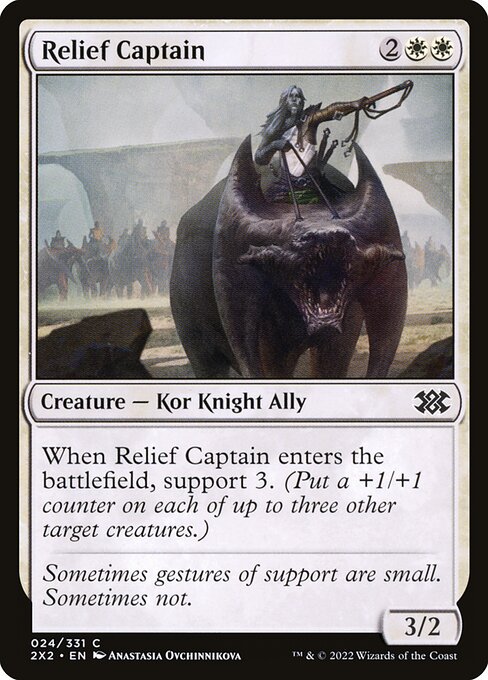 Omniczech: Oh hey, it's another one of these, but now even trickier to get full value out of! I think that this would be fine in a go wide deck but does muddy up some amount of ease of use for the cube. The card's counters scream Selesnya, but the trigger needing a whole 3 creatures screams Boros. Bit of a sticky situation, I'm probably not for putting this in.
Neveron: Basri's Acolyte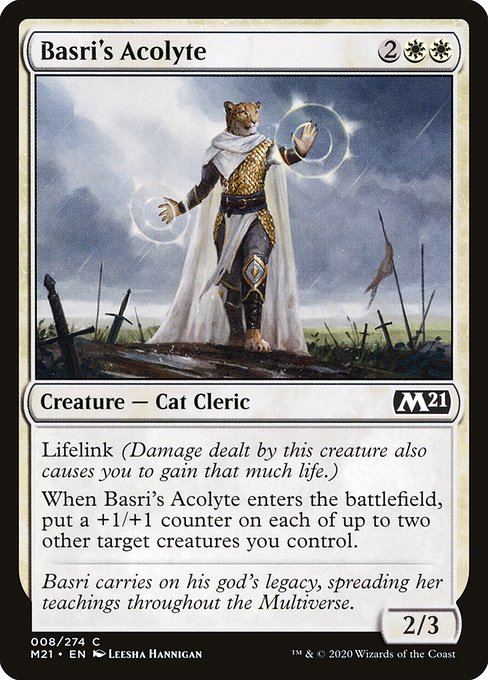 has Lifelink, Gavony Silversmith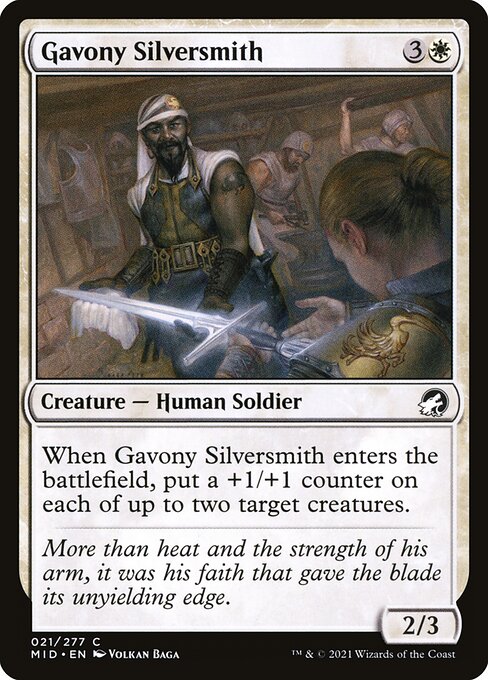 can grow itself in a pinch, and this one has a more aggressive statline and requires an extra creature to really pop off. To be honest, though, I'm not sure any of them are worth it at this point.
Solset: This card has the highest ceiling of the lot, adding 6 power on turn 4, with 3 of that being hasty. These are phenomenal stats in white, but how often will you have 3 creatures already in play on turn 4? I tend to prefer higher risk-higher reward includes, as it makes the drafting process more dynamic.  Hopefully a few of our mutations can test this first and give some feedback.
Usman: With the relative lack of wraths in the format, using this to buff a team doesn't walk into the blowouts of a follow-up wrath and the body isn't too terrible either. This may just be fine if it's buffing two creatures, where 3 is the dream. I'm just unsure if the aggro decks need more curve toppers, ya know?
Phizzled: I feel greedy saying this, but I generally want to see the four and five drop game ending threats to have a keyword. This with evasion would feel like something I couldn't easily pass up. The 3/2 body on the Captain is designed to trade in combat, and, as Solset points out, we're probably not consistently curving into this with three other bodies on the board.
Blue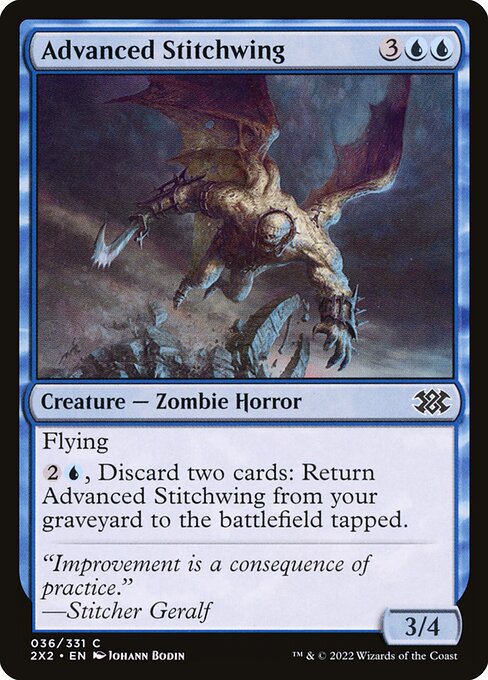 Omniczech: I really want to love this one. It's really cool to give more decks semi-self recursive threats, the catch here is that 3 mana and 2 cards for a 3/4 flier is just a bit rough for me to stomach even if it's eaten their removal spell or blocker.
Neveron: Really, this is just spending one card to turn your other card into a 3/4 flyer for 2U. That's a pretty decent card, so the question is whether or not discarding a card is worth it – and that's something that depends heavily on the amount of graveyard interaction in the format, something that both Eldritch Moon and Double Masters 2022 have in spades but we have somewhat less of.
Solset: Until we support more self mill in blue, I think this is a red herring. Great for some bloated mutations, but a strong pass for our more curated cube.
Usman: I may just be a sucker for 5 mana ¾ fliers, like this and Shimmerscale Drake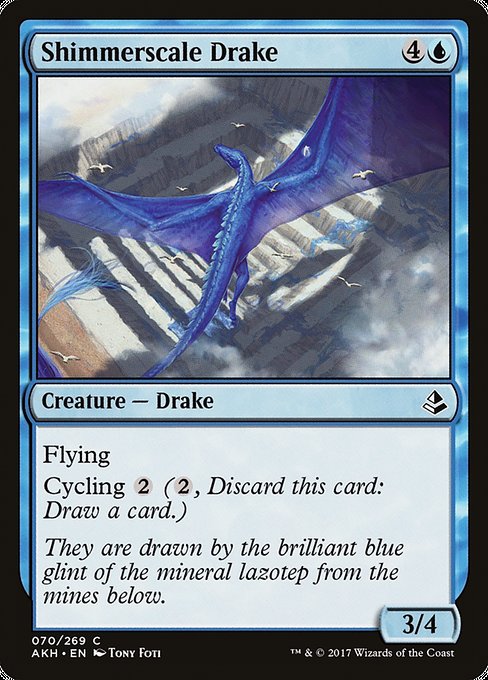 . I do like how this has some inevitability for lands that lose value in the late game, but I don't think this is really all that powerful unless there are more incentives to dump things in the grave.
Phizzled: I quite like this in constructed magic, and the rate is actually not too shabby for five mana. "Cheating" it into play is viable, but we have relatively few ways to get it into the graveyard by itself. I can't imagine not picking up a foil copy for my binder, but I don't know how the cube has to change to warrant its inclusion in the short term.
Omniczech: So I do like this, but we're not on Jhessian Thief
OR Looter il-Kor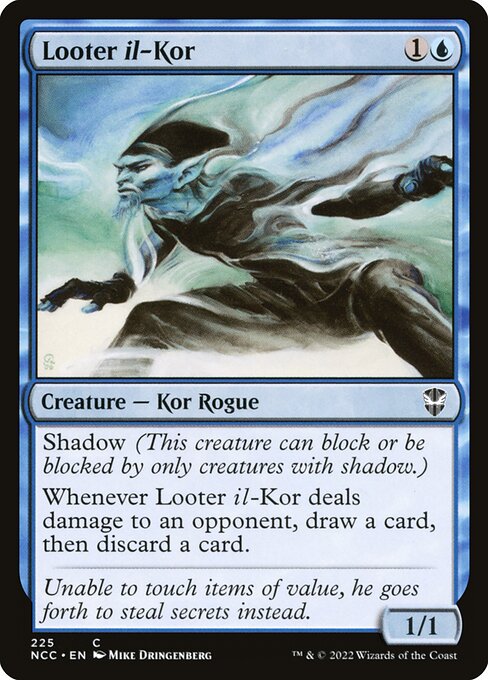 and I'm more interested in playing either of those before this, which really just leads to the question of, do people generally want those first and then, do we want this as well.
Neveron: Looter il-Kor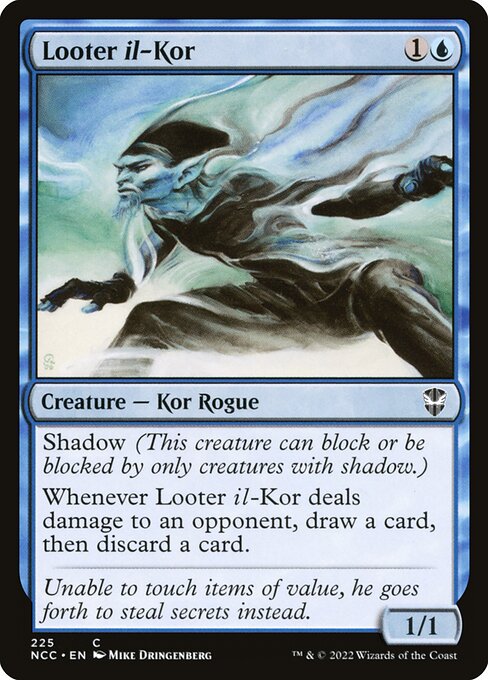 is a better looter. For the Elder to shine, it really needs to be able to take advantage of the Prowess – if you can't do that, it's not worth it. And spell density is infamously tricky to achieve in pauper cubes, hence why we don't run Delver of Secrets // Insectile Aberration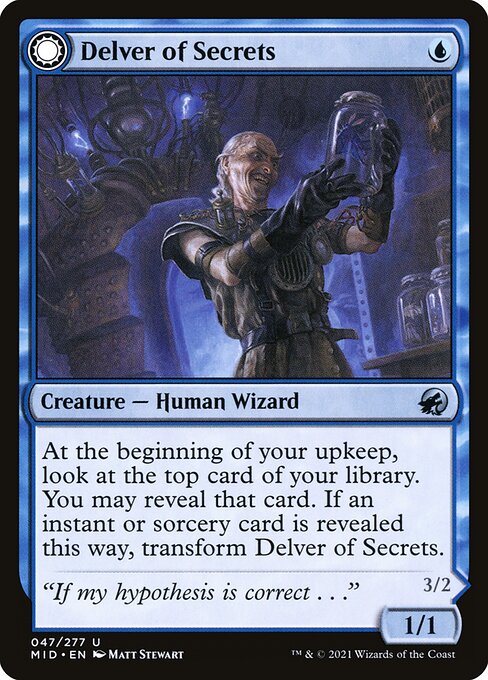 . Still, though, maybe there's some inkling of an Izzet Prowess archetype?
Solset: If blue red Izzet Spells is considering a prowess addition, I can heartily recommend Jhessian Thief
. I also like our card advantage color to be a bit shallow in its early plays, with stronger but slower cards to give control its leverage vs midrange.  This curation allows aggro a window to force through some damage. If you feel Jeskai Elder is missing from my evaluation, you know what I think about the card.
Usman: Saboteurs without evasion tend to play much worse than they look, but the rate is… ok. Arguably, prowess could be seen as a form of evasion, since you generally won't want to block a 2/2 with a swinging Jeskai Elder
and arguably not even a 3/3, so that could work out. It does seem very good for low-to-the-ground Izzet style decks that could reliably cast a few spells in a turn and/or can run on fewer lands (and thus are fine with dumping lands into the grave.)
Phizzled: I remain a sucker for prowess, especially prowess creatures that happen to draw their own fuel. I don't even mind that the body is fragile, but I'm picturing this drawing premium removal less often than it might with evasion. A lot of creatures bounce a 1/2, and quite a few survive a 2/3, as well.
Black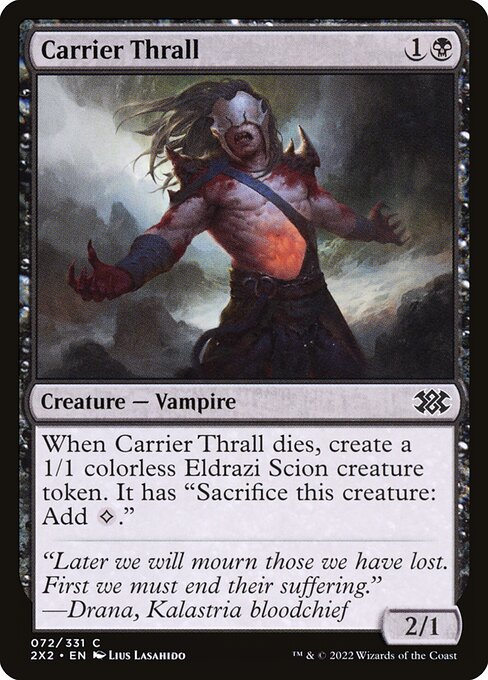 Omniczech: Vocal detestation of supporting aristocrats aside, I think this is at least better than Doomed Dissenter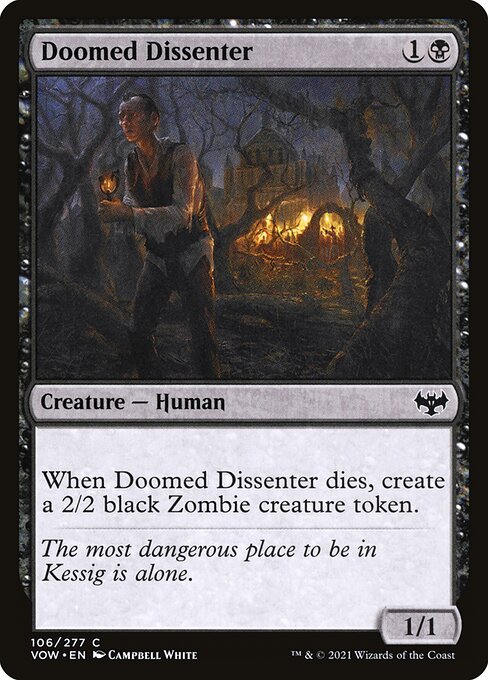 , so that alone has me interested if we're going to support that.
Neveron: We currently have five black two-drops that bring you two bodies either through ETB, death trigger, or one-time self-recursion. Doomed Dissenter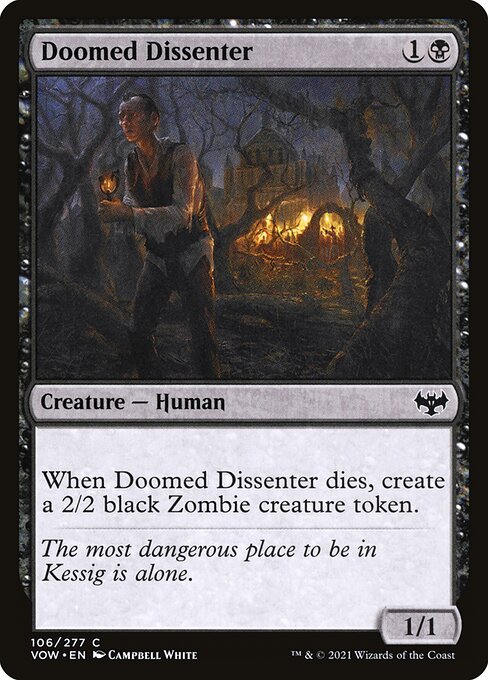 is probably the worst of that lot, so if anything's getting replaced I'd go for the one that doesn't even trade up on the front end.
Solset: I like synergistic decks like Red Black Aristocrats more than most, but archtype cards are best for the cube when they  are included by most but abused only by some.  A few of our aristocrat inclusions currently are ignored by most decks but only wanted by the Red Black sacrifice player. I think Carrier Thrall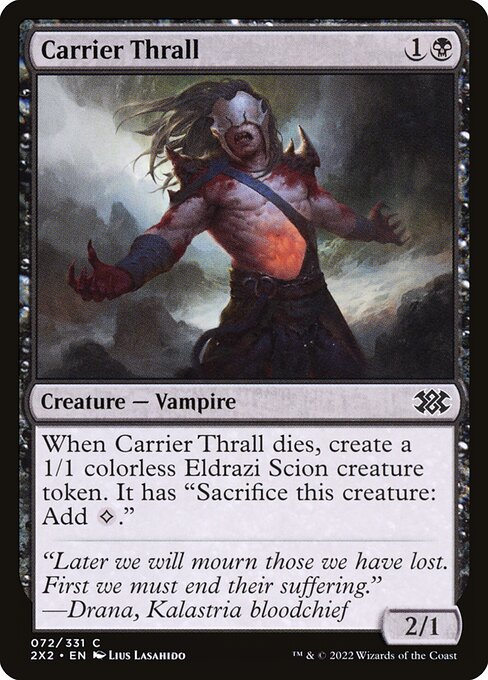 , however, raises the bar by being a respectable road block for control giving some value or ramp, while also being a 2 power 2 drop with upside that any aggressive deck will gladly run. Certainly there is a cut for this one.
Usman: Definitely better than Doomed Dissenter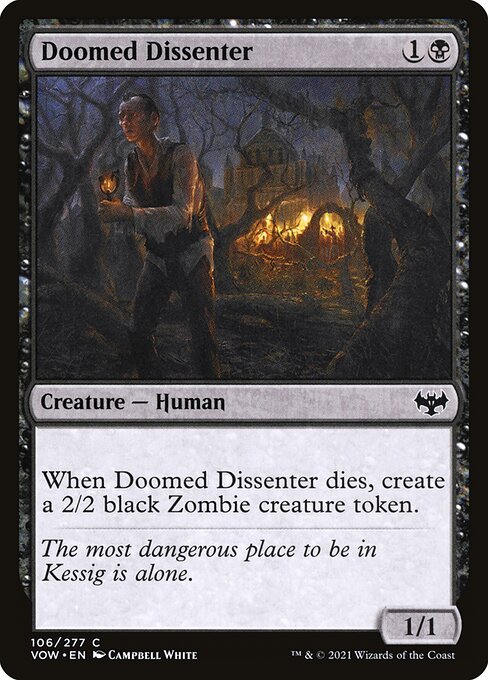 – and I like that it can enable big turns if it dies. I feel like it won't be a Moat but it'll be nice incidental value if it does act like one.
Phizzled: I tend to keep my Orzhov and Rakdos sacrifice decks low to the ground, but the potential of a Scion appeals to the mana-greedy secret heart that wants to play Golgari. I'm generally in favor.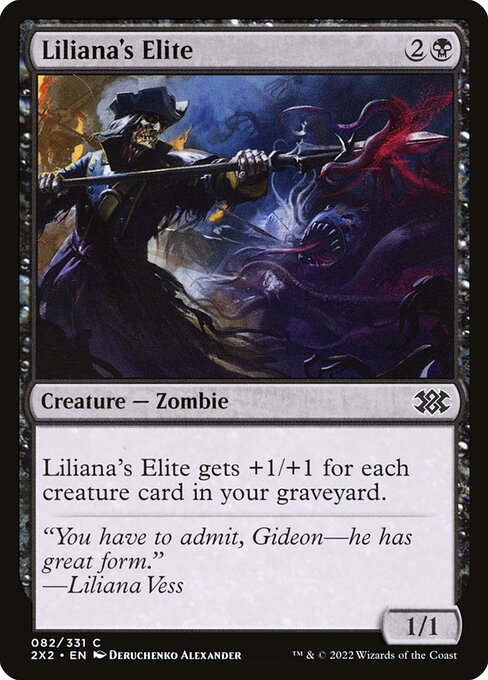 Omniczech: We've had access to Wight of Precinct Six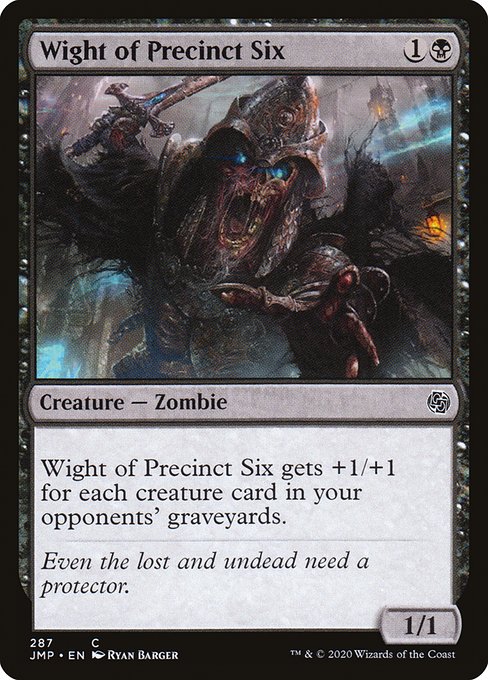 for a minute now and this set brings us the inverse. I think this is a decently cool effect but the total lack of evasion and the fact I'm only really happy with 3 things in the bin has me pretty iffy on this one. If it was only 2 creatures to feel decent I'd be much happier, but this is what we've got.
Neveron: The big thing here is that getting creatures into your own yard is a lot easier than getting them into your opponent's. I wouldn't run this card outside a dedicated graveyard deck, but it is somewhat of a payoff for those?
Solset: Again, I like my synergies, but this card is barely good enough with a bunch of self mill and actively gets worse when you delve or start a recursion engine with something like Custodi Squire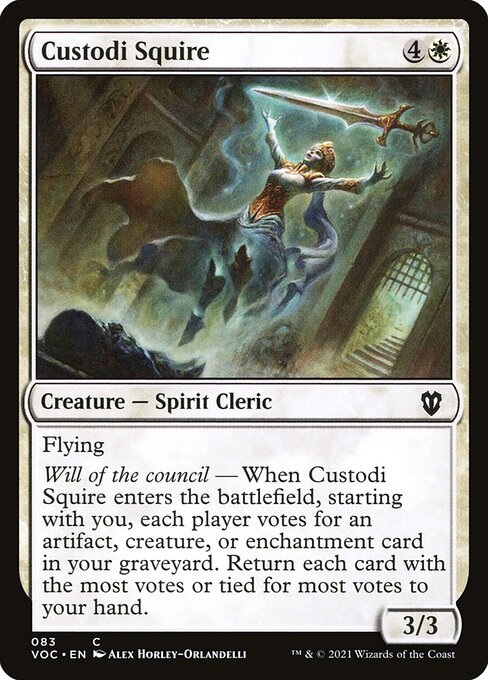 and Blood Fountain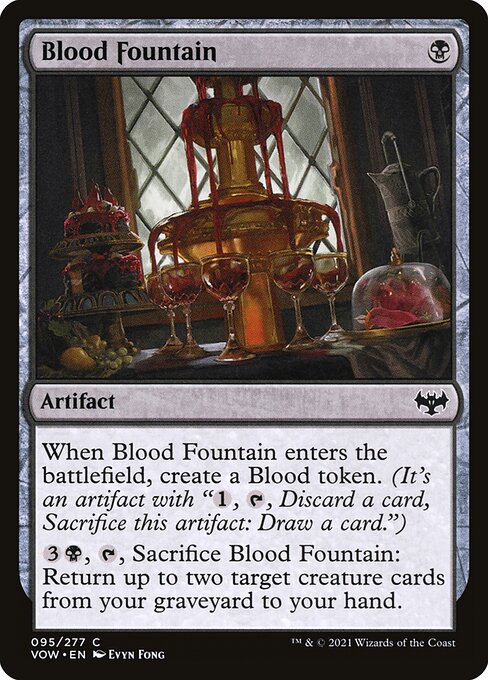 . A low cost beater is really not the payoff we are looking for in our attrition based green black Golgari deck.
Usman: I guess the question is – how big on average does a player feel good playing this? Maybe a 3/3? I ain't feeling this.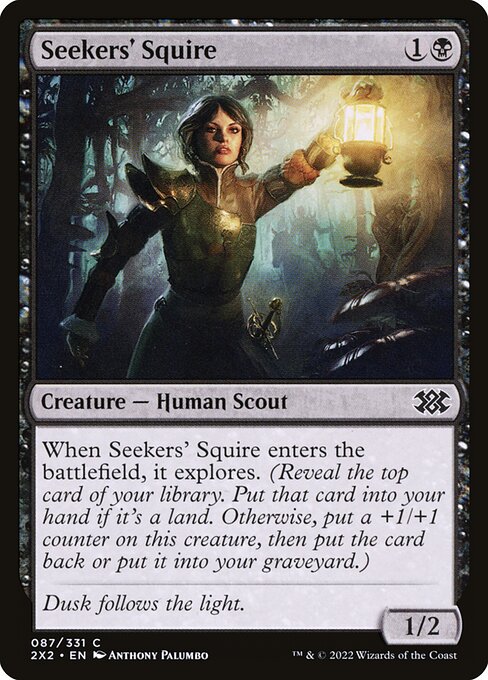 Omniczech: I think this is much better than it looks or the community opinion on it. It is not just a Phyrexian Rager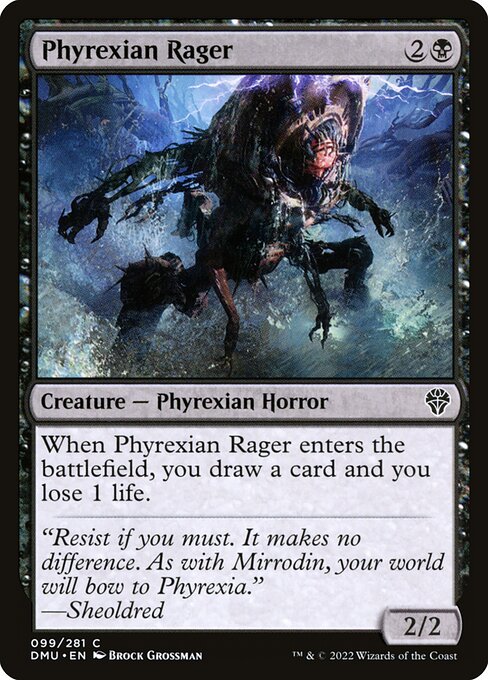 for 2 but it plays in that space. I'm not gonna scream and shout if this doesn't make it in, but I think this is deceptive in power level.
Neveron: It's got two modes: either it's a 2/3 for 2, which is pretty alright, or it's a 1/2 that draws you a land. Both cases also make it more likely for your next draw to be gas, but I'm unsure how relevant that is. If all you want is a beatstick, though, black has outright 3/3s for 2 available (with downside).
Solset: If the caster had the choice of a 2/3 that mills a card or a 1/2 that seeks a land, I would be interested for how well this could play in both aggressive and controlling shells. Without that choice, I think this card looks more frustrating than fruitful.
Usman: It may be the boomer in me that remembers playing with Erg Raiders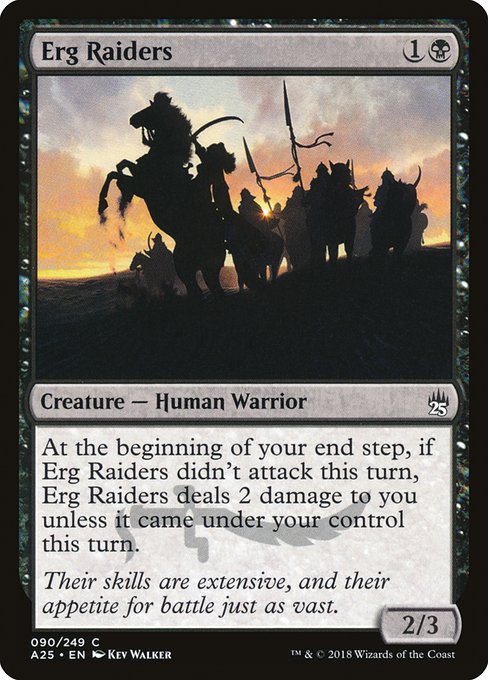 in the early 1990s, but the rate definitely piqued my interest when I saw Seekers' Squire downshifted to common. Since black aggro isn't as much of a thing here, it's mainly looking to either be a ½ that gets a land or a ⅔ that blocks 2/2s, albeit, without a choice attached. I like it but I don't think it's a staple or anything.
Phizzled: I don't have impressed memories of playing with this in Ixalan block (we were still doing blocks, then, right?) but I struggled to hit with explore when i needed the lands in the early game. A recent conversation with a friend reminded me how much more I like learn and connive than explore, and I prefer Hunt for Specimens if given the choice.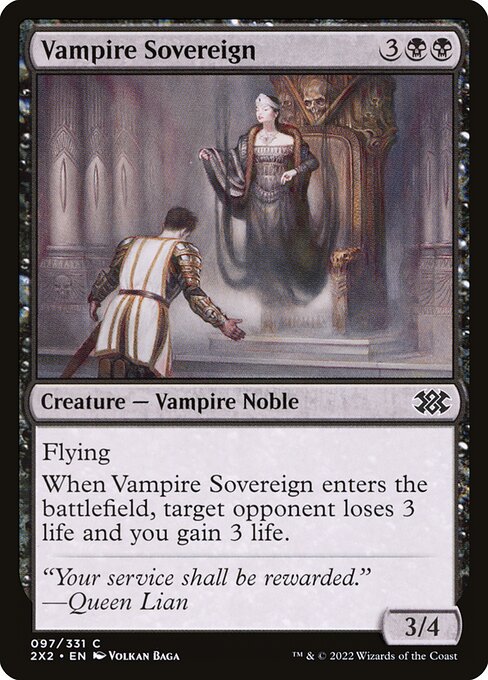 Omniczech: Oh cool, siege rhino! I really like this as a curve topper for black decks with the ability to be a huge roadblock for some decks.
Neveron: Oh hey, it's a flying Gray Merchant of Asphodel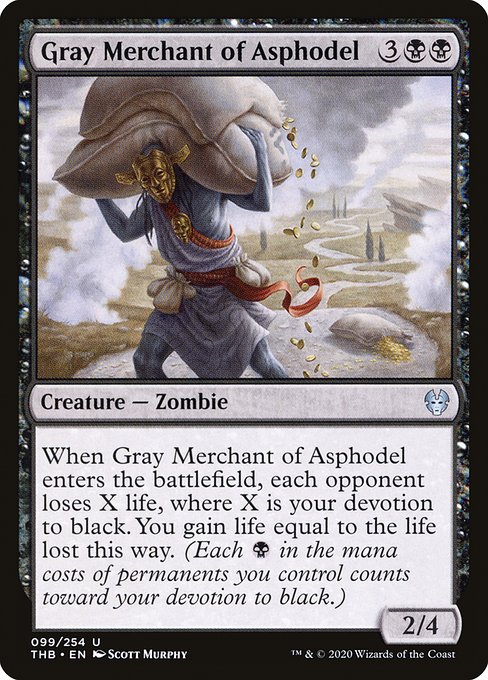 that doesn't rely on Devotion to Black. It lacks the explosive potential of Gary but, well, it's a better body if your board isn't littered with black mana symbols.
Solset: This is a slam dunk for any mutation that runs life or bleed as an archetype and easily replaces a number of less reliable threats like the Merchant or Bloodhunter Bat. While we don't officially run those for our White Black Orzhov, this remains a powerful threat with an abusable trigger that wants to be flickered or recurred as much as possible.
Usman: This is a 5 mana ¾ flier that I like. Kinda supports aggro but playable in non-aggro too. Nice.
Phizzled: This is a heck of a finisher, and not embarrassing as a stabilizer. I'm certainly going to test it.
Red
Omniczech: Let me be the first to say it. I think this card kinda sucks. I think the most exciting part of this is the fact it's a 2/2 for 2 that might kinda draw a card when you chump attack with it. While rare to common downshifts are exciting, we've already seen 2 come and go from the cube, and I'm not a fan here.
Neveron: Not a big fan of this bear with upside, sadly. Impulsive draw is not actual draw, and "this turn" means that you probably don't want to activate this sac engine multiple times in one turn. Is there blowout potential? Sure. But turning Krenko's Command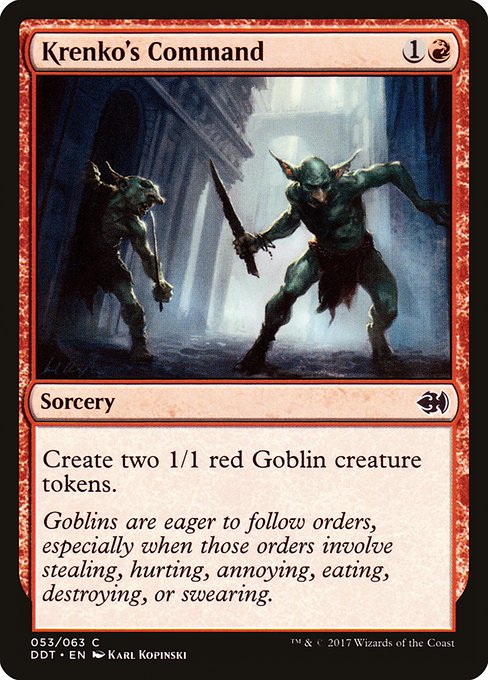 into a worse Touch of Brilliance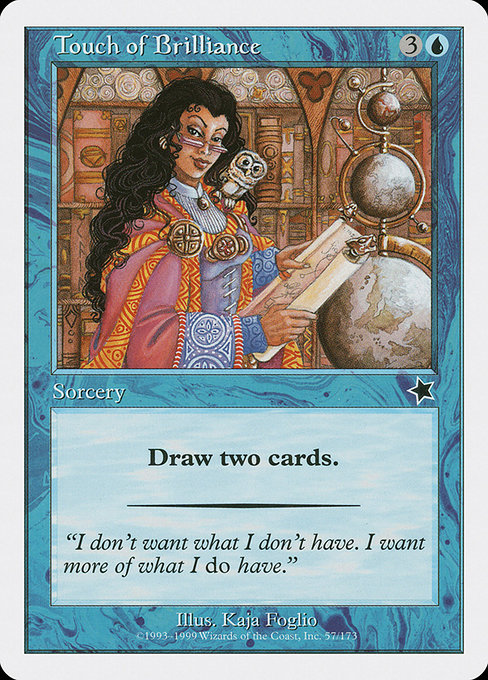 isn't it. I'd be glad to be proven wrong, though, and maybe this is just an all-star winner.
Solset: Against the tide, I am very interested. I know I am a sucker for a gold to black downshift, but really our red sacrifice outlets are quite thin for the aristocrat package to be self-contained in red. This lets low to the ground red continue to crash in midgame to force through damage, without completely falling behind on board by sacrificing something that would die anyways. While this isn't a slam dunk pick, I can't ever imagine cutting this in my red based decks, which is something I can't say about a few of our other red 2 drops.
Usman: I'm a big fan of Scorched Rusalka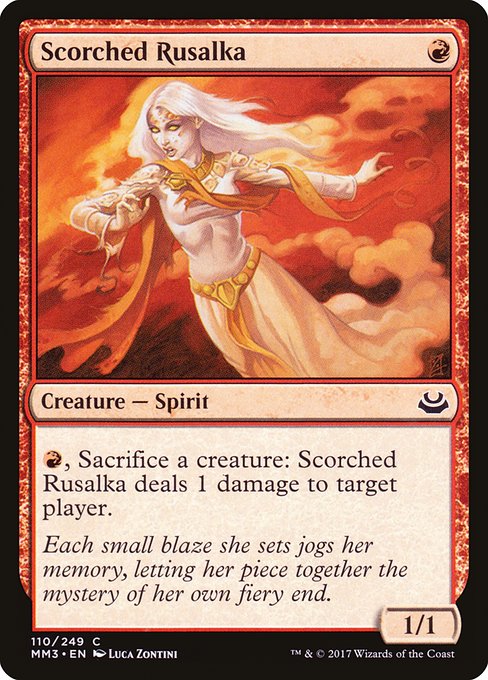 since it operates on the axis of red aggro decks by being able to use dead resources (creatures that aren't doing anything) to end the game – sometimes, you just need to chuck a bolt and a few bodies at someone to win the game. In theory, operates similarly, by trading dead resources for something that can be proactively used; red aggro decks shouldn't be playing high-cost whiffs which are blanks to reveal off of this, but you can't pull the "end of turn, sac my goblin for proactive use" trick either, but that may just mean that you have to be more careful with your sequencing, although another strike it is that it may also take some time to convert those resources into something tangible – sacrificing a goblin token to reveal a Lightning Strike requires 3 mana to be used on your main phase – and that's assuming you hit something useful with DDO (although that's more of a certainty when you sacrifice multiple bodies) and have the time to deploy those resources, but it's at least something to do when your 1/1 is stonewalled.
That said I'm very cautiously optimistic, but wouldn't be surprised if those aforementioned strikes make it not work out.
Phizzled: We've trimmed a lot of the token generators, but not all of them. The bear rate will never truly feel obsolete, but is less of a selling point on its own than years past. This gives you something to do with your pacfiism-ed goblins and digs for gas. The fail case is impactful after something like Viashino Pyromancer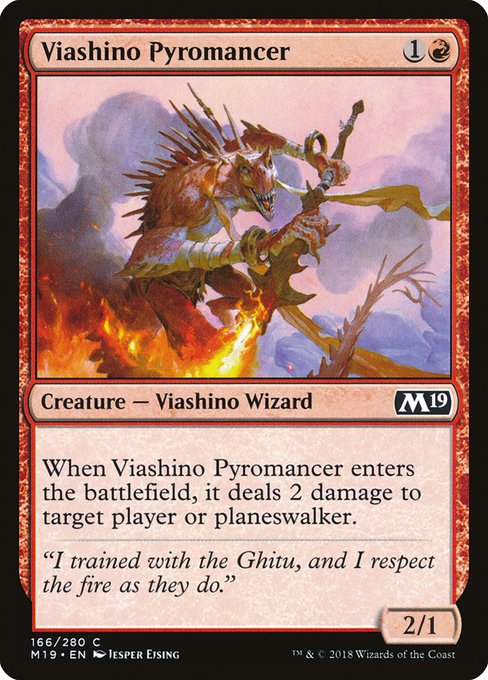 becomes vanilla. This is the high ceiling/mid-level floor that is appealing to me without being thrilling. I can imagine some great cube games with this and picture a bunch where it does, well, nothing.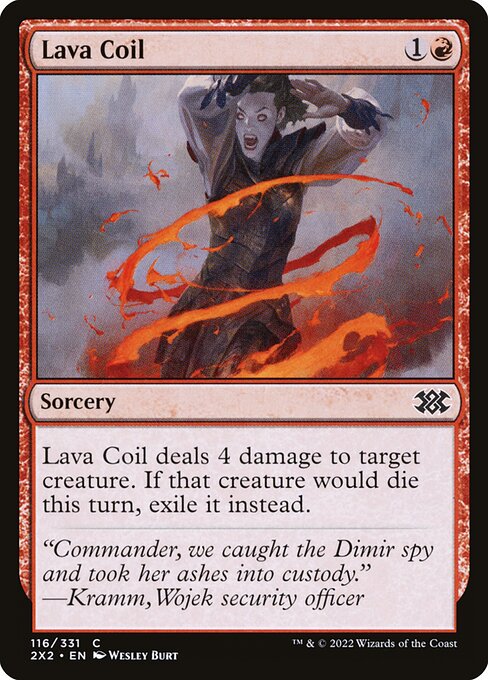 Omniczech: I know burn that doesn't go face isn't the best, but I do feel like this might be the point where I argue giving red some removal that gets blockers out of the way is a good call. I think I still want flame slash and maybe even strangle over this for mana efficiency, but this was a spicy little include.
Neveron: While this is one of the few commons to deal 4 damage to a creature for less than 3 mana without making you jump through a bunch of hoops… I dunno, I feel like I'd probably run Flame Slash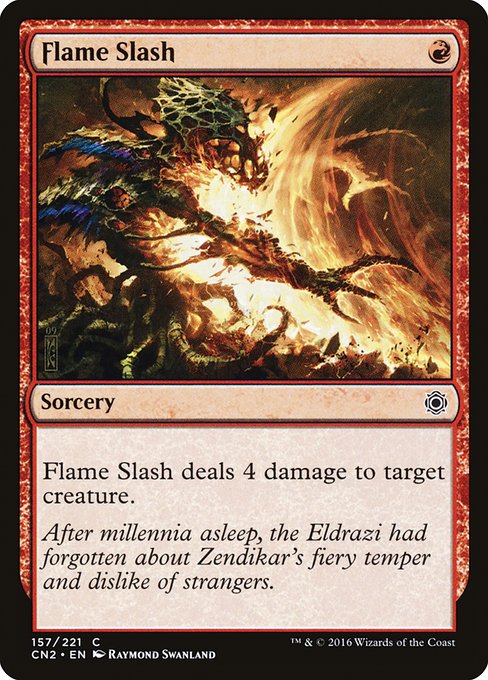 or even Mine Collapse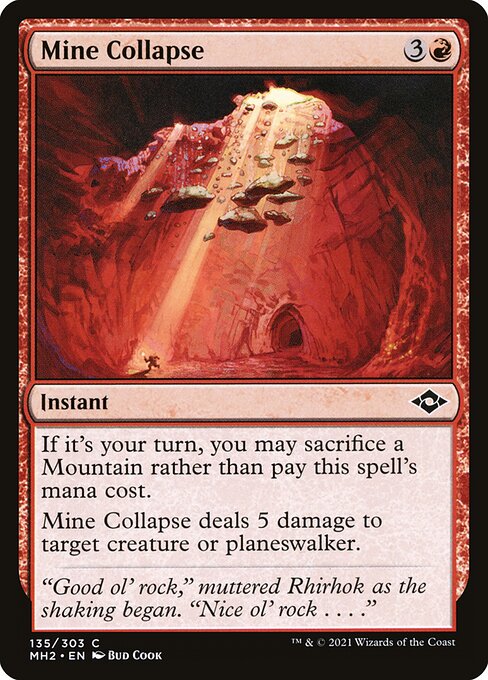 over this? The exile clause is nice but not incredibly relevant in the cube.
Solset: The exile clause cannot matter enough to include this over Flame Slash. If graveyard recursion is causing enough headaches there are other solutions besides slowing down red removal. Relic of Progenitus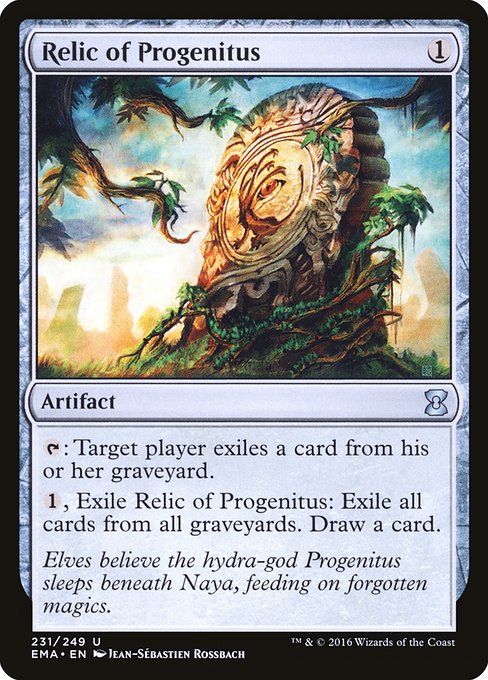 draws a card, can be picked up my most decks, and answers a bunch of cards at once.
Usman: Essentially, this is a sorcery speed Doom Blade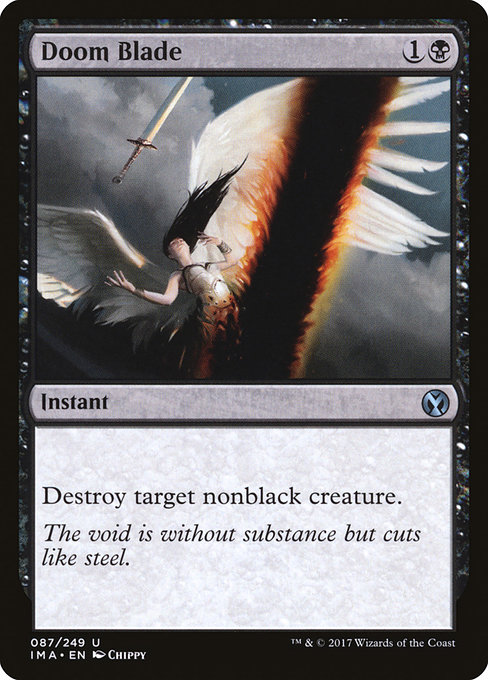 with an occasionally relevant upside. Flame Slash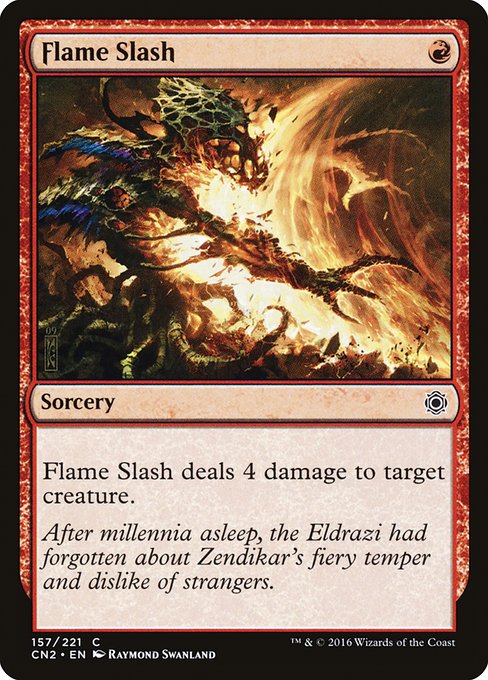 is much better, though, for playing that role by having the strength of being only 1 mana.
Phizzled: Losing instant speed is just too much for me to be excited. We have Flame Slash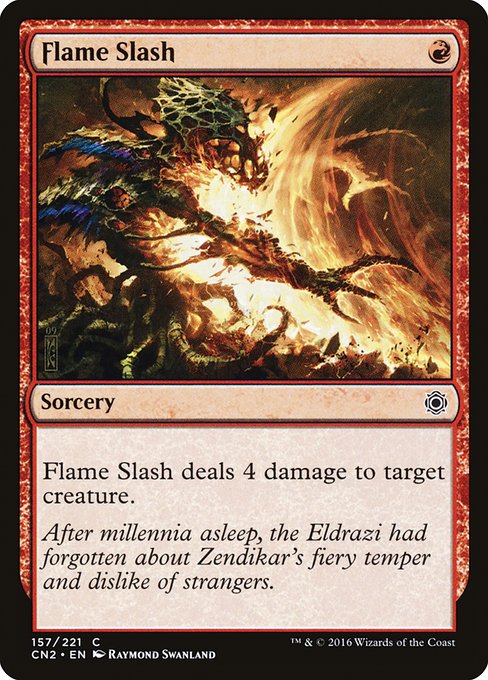 , the difficult to maximize Unholy Heat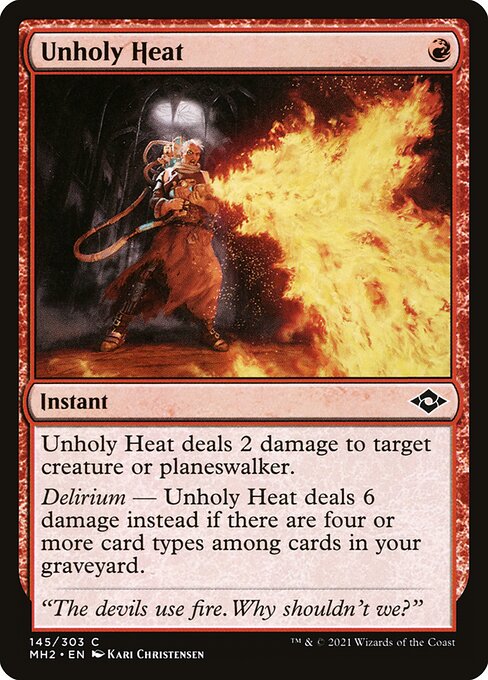 , and a plethora of 3 damage, two mana instants with upside. The difference between three and four damage is substantial, especially playing against a base-green opponent, but, as noted above by multiple committee members, we need to value the exile in a way I'm struggling to do in the abstract.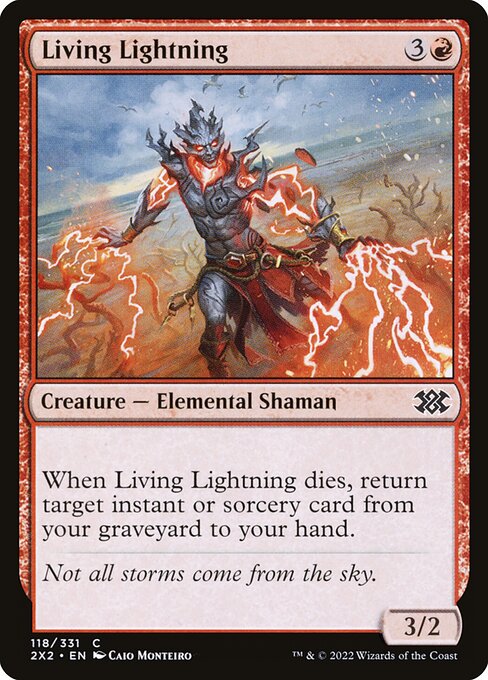 Omniczech: Nah, I don't like this. The body isn't enough to make up for this being the oh so awkward dies trigger, if this had ANY evasion I'd be on board to hear more but I think this is just bad.
Solset: Our cube is too tight to include this but maybe in a bigger mutation that cares about spells in red.
Phizzled: Ardent Elementalist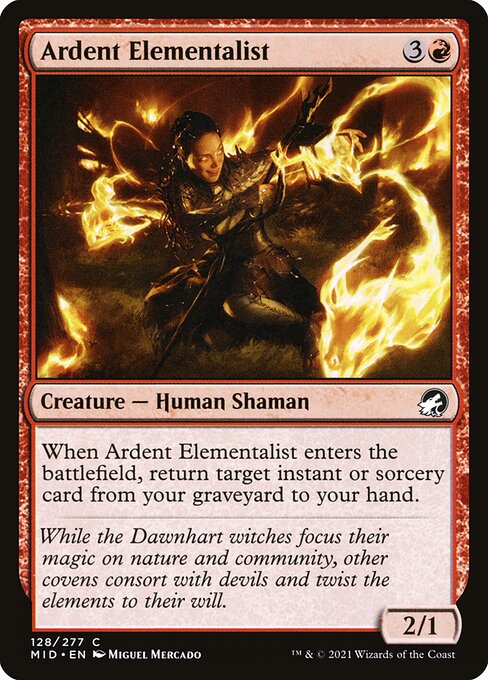 lets you choose when to put that sorcery in your hand. We're low enough on discard that maybe it's not a big deal, but when you need to close out a game as a mana-flooded aggro deck, you probably care that this is a death trigger.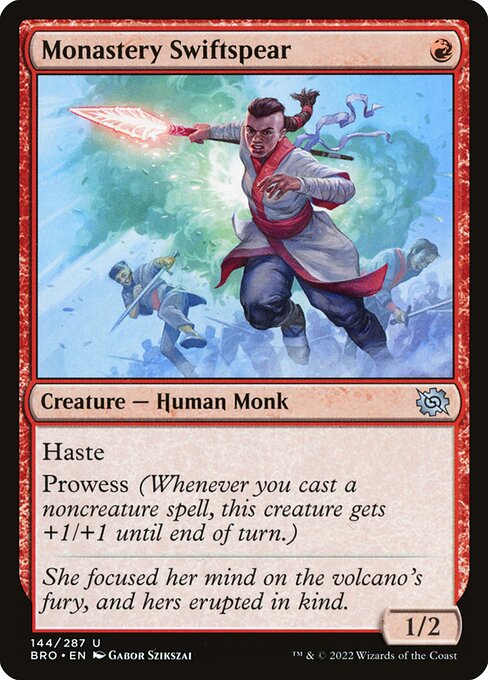 Omniczech: Well this is a card I never thought I'd talk about here. A-plus downshift and a real contender for one of the best cards this year for the format
Neveron: Goodbye, Ghitu Lavarunner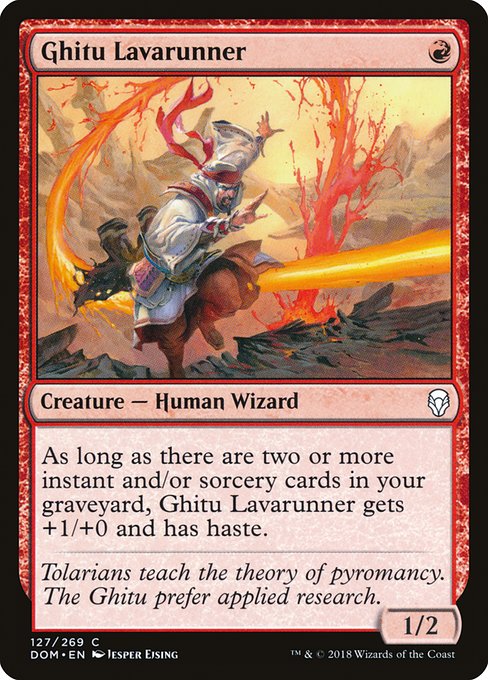 . I honestly didn't care for you much.
Solset: I think this is good enough considering how scarce our red 1 drops are, but I expect this to disappoint a lot of drafters who are used to this being a monster in constructed. If we are thinking this is great, is it time to reconsider Delver even if just to give Ninja of the Deep Hours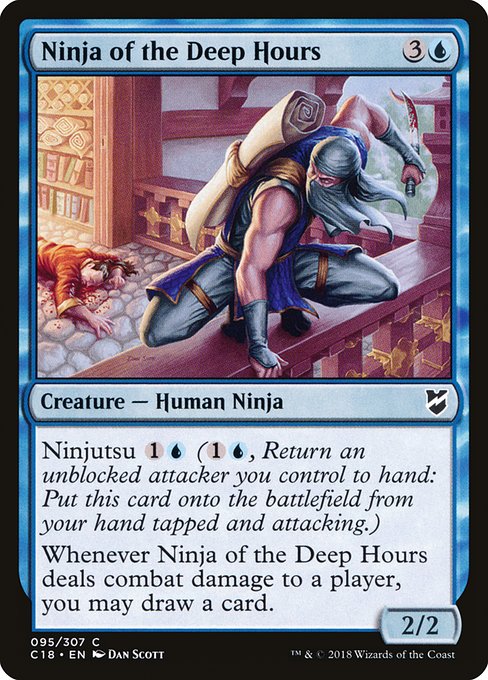 a buddy?
Usman: Oh my.
Phizzled: Are we just doing platitudes here? I'm not sure how Wizards could reasonably give us a better* pauper aggro one drop in the near future.
Green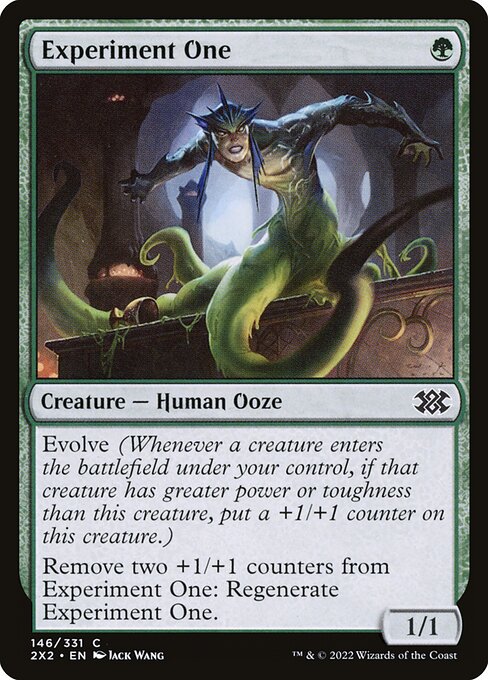 Omniczech: now this one is pretty rad, I've been a huge fan of this in peasant cubes and even past that when the power level's reasonable, I think this is a really strong candidate.
Neveron: I've always liked this dude. Evolve triggers are fairly reliable on a 1/1 for 1, as anyone who's tried Cloudfin Raptor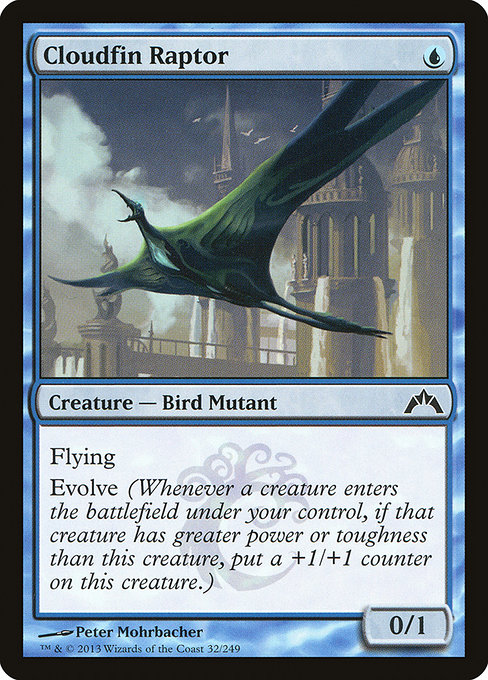 likely has found, and having the emergency button of "resetting" the counters to null removal is pretty tasty. Casting a Grizzly Bears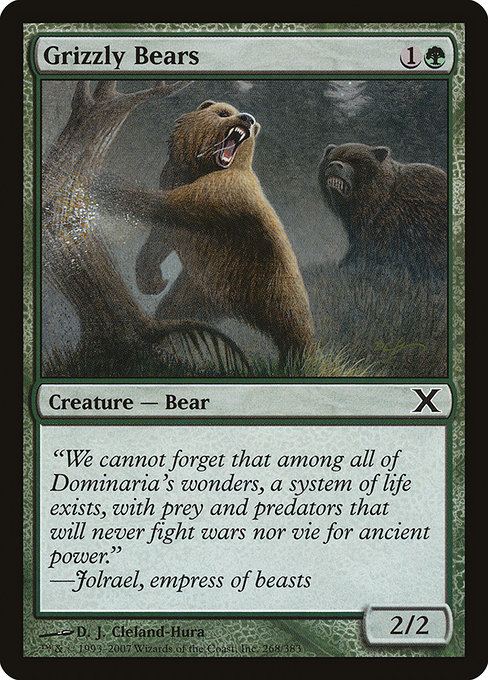 turn 2 makes this into a 2/2 for 1, which is fantastic.
Solset: This is the best Savannah Lions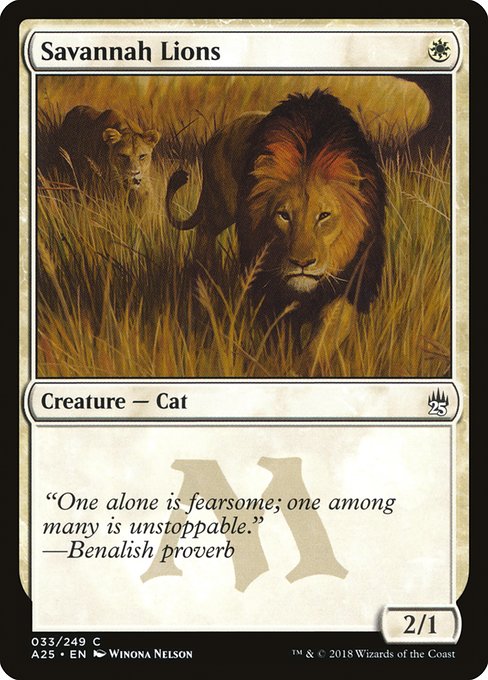 we have seen, though unfortunately it's in a color where aggo is less supported. Still, I expect this to grow almost every turn into an unbeatable threat while providing its own form of protection. While this is weak to bounce and enchantment removal, it plays so well into the green plan of curving out into big dummies plus the recent shift to Green White +1/+1 counters. How much more can you expect of a common 1 drop?
Phizzled: I think it's interesting how few one-drops green currently has and this is a reasonable one that never seems truly obviated as the game runs long. I think we need to make some changes to Green's two drops to feel better about this, but generally I already feel pretty good.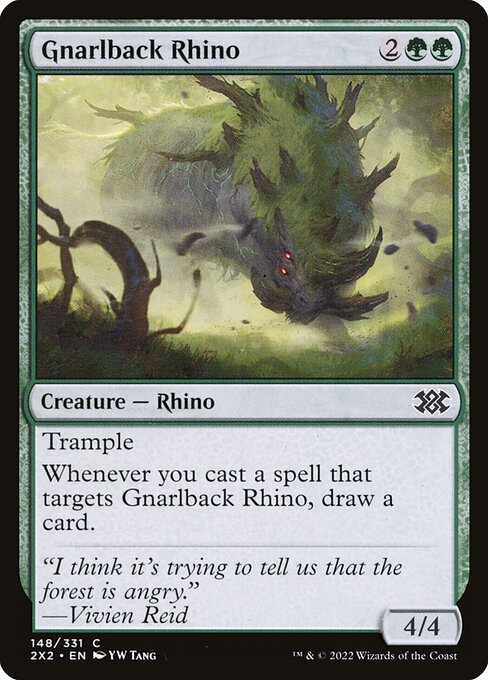 Omniczech: I begrudgingly think this is fine. The fact the faux-heroic trigger isn't just buffing it means that even if they've got the removal spell you're not just getting 2 for 1'd but this one is just so bland that I think I'm just a little low on it.
Neveron: Our green four-drop slot is bloated, to say the least, and I'm not entirely convinced that our self-targeting options are good enough. There are options, though, most of them fight/bite spells.
Solset: If we had built our cube differently, say with more auras and hexproof in green, this might be an interesting build around threat. In our current configuration, I cannot imagine this finds room in an already bloated spot on the curve. For mutations that have pushed buffs into one of their green pairs, it is likely worth a spot though.
Phizzled: The lack of a bunch of boons for your own creatures is a bummer. This has a home in a pauper variant cube, but not here, not now.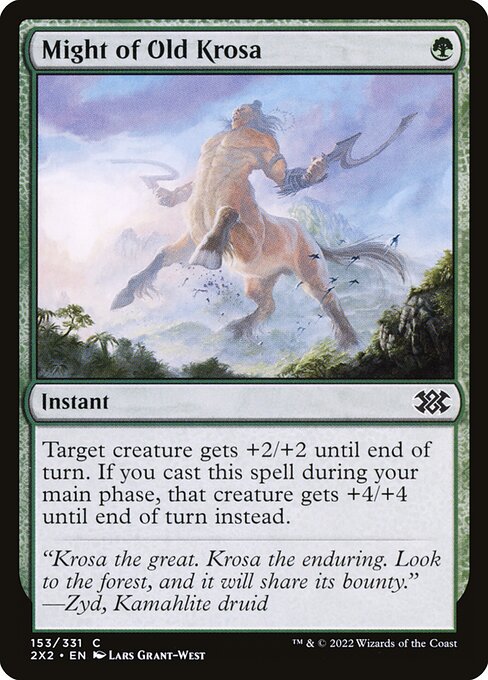 Omniczech: Ok, I know this is an infect card, but I keep looking at this and seeing a way to force really awful decisions or push in those last few points. I might just be sleep deprived though.
Neveron: When you've got Trample, sometimes main phase Giant Growth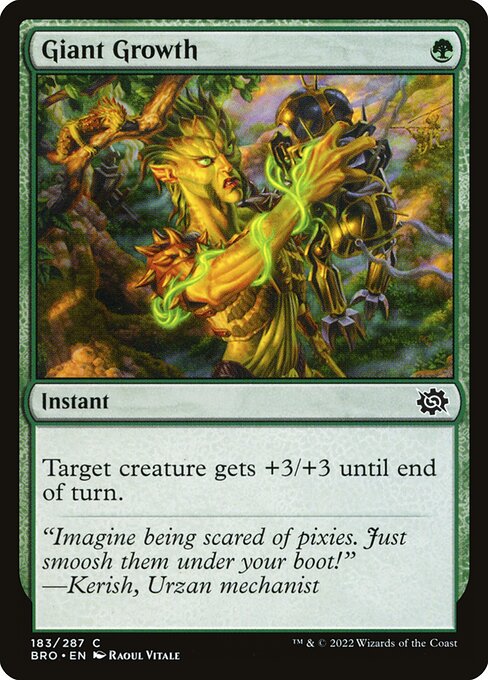 can work out. Consider, however, Groundswell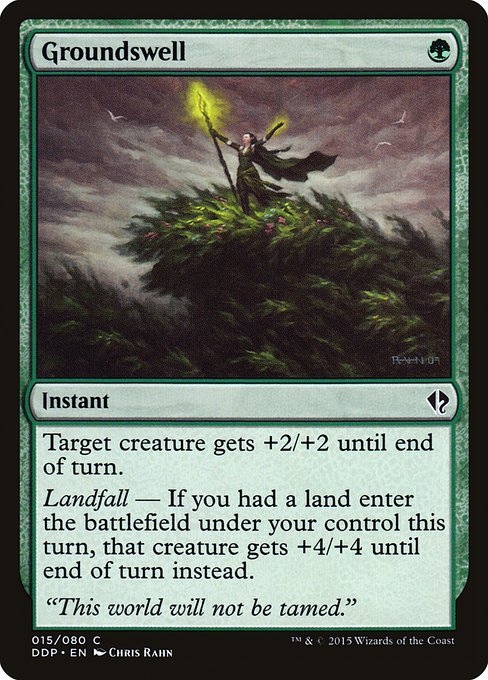 , For the Family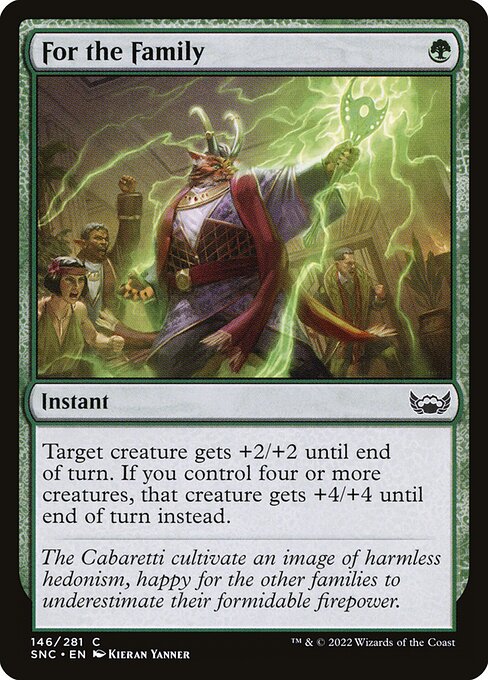 , and Vines of Vastwood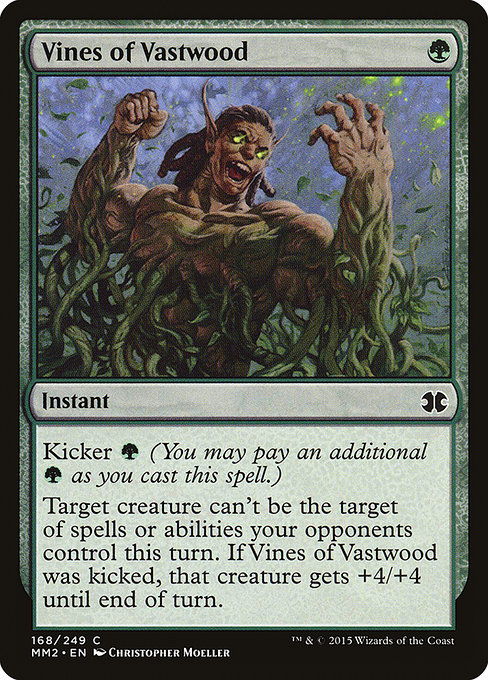 . Personally I prefer all of those to this one.
Solset: If we had pushed buffs in Green, maybe. The amount of times this will be played on a big green monster in the main phase resulting in the opponent using bounce or removal is just too high to even estimate. Please pass on this one.
Usman: Without doing a dive, I'm unsure what the significant difference between 3 and 4 is, since growths generally are best at messing up combat math and going for lethal. Might of Old Krosa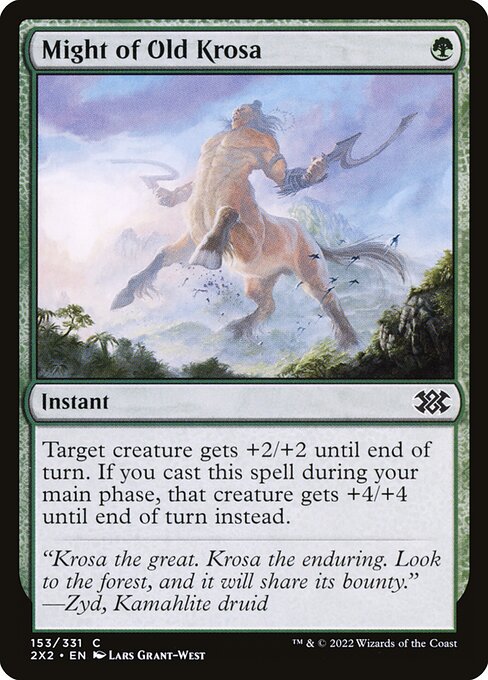 's +4/+4 mode gives up combat trickiness for being able to alpha strike or make trampler combat math weird, but I'm just not sure that it's enough. Arguably, there isn't that much of a difference between 2 and 3 either for combat math, but I don't see this working out over something even like Slaughterhorn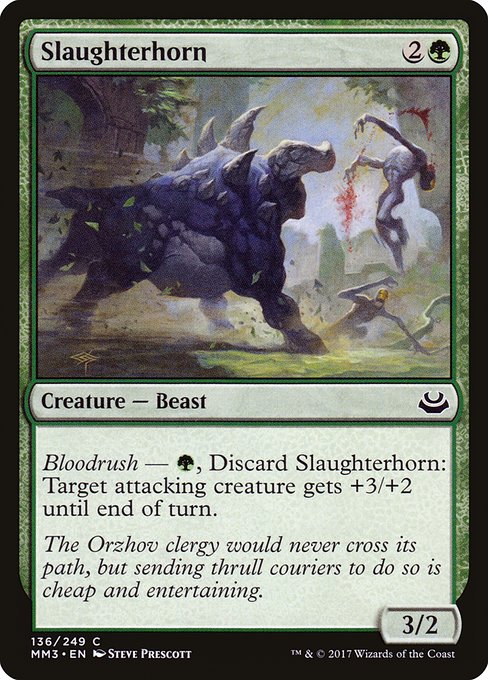 .
Phizzled: It's been quite a while since I've played with Might, and I'm unsure this does enough in the current era of this cube. We've trimmed some removal and given a few hexproof threats, but sometimes this is still going to end with a blow out.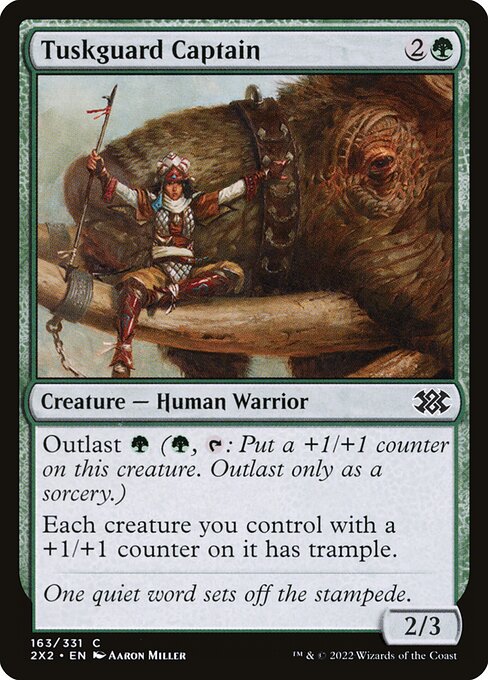 Omniczech: We just got done complaining about the quality of green 3 drops at common, and this one's pretty ok, I'd be down to reduce the curve for the "counters lord" style of creatures, especially since this has a pretty reasonable body
Neveron: Honestly, I'd consider just swapping this in over Crowned Ceratok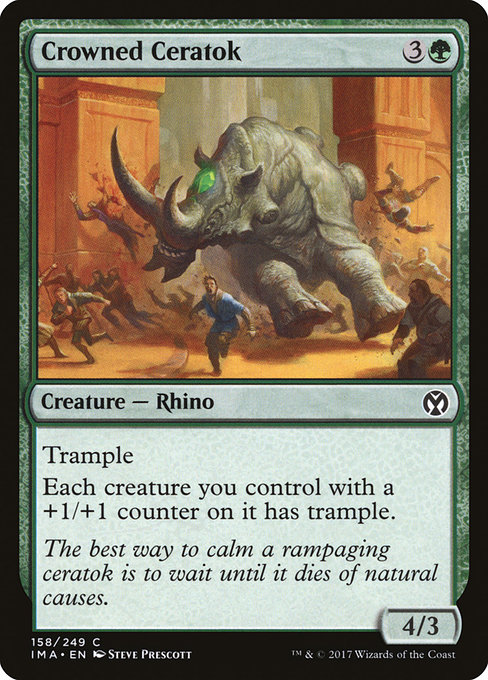 .
Solset: Crowned Ceratok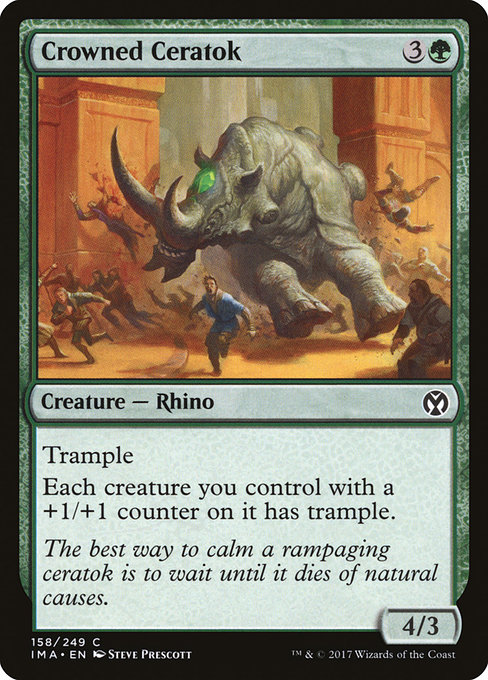 helps counter creatures but doesn't benefit itself from other cards that care about counters like Unbounded Potential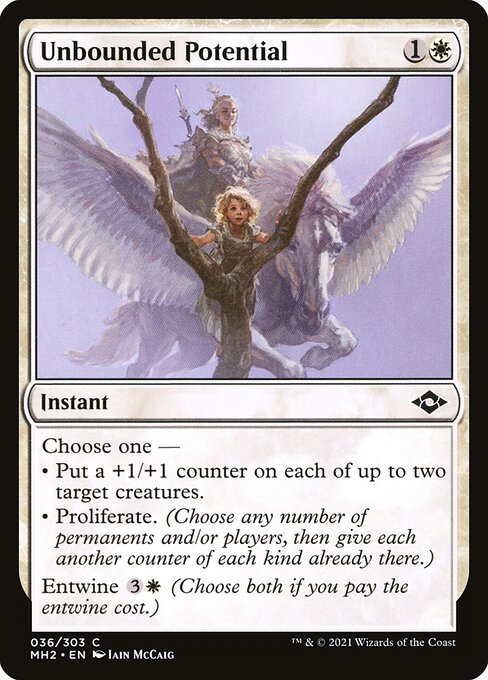 or Ainok Bond-Kin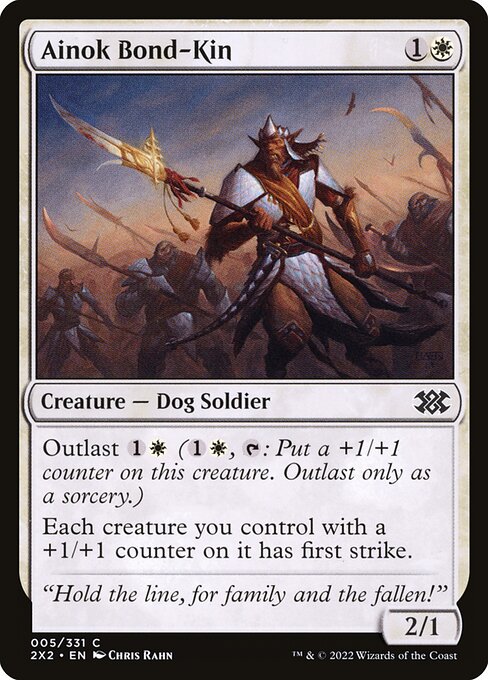 . They are a bit of a wash in terms of base function, but the Tuskguard Captain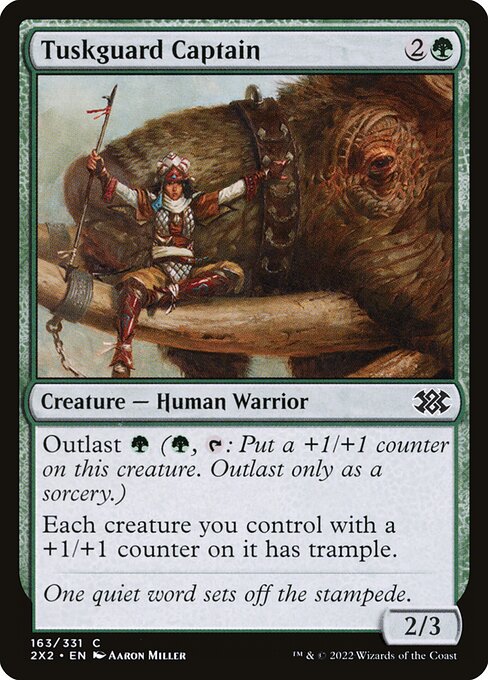 has a few more counter synergies itself.  I think it's an easy swap.
Usman: My gut thinks this may be more Blind Phantasm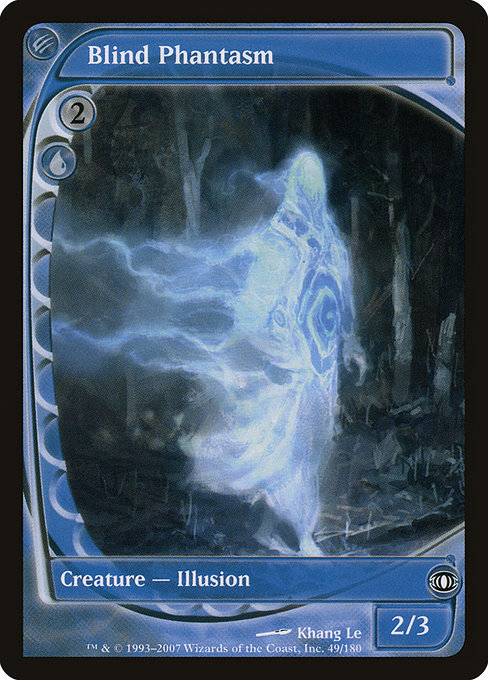 than a big trampler or something that enables trampling damage, but I do like that it can break ground stalls if need be or something to hold the fort and to solo a game, although it can't effectively do both because of outlast being at sorcery speed. Kind of like Seekers' Squire, I'm mostly an eh out of 10 on it.
Phizzled: This is a serviceable lord. I'm not super excited to see the downshift, but I wouldn't feel embarrassed to test it for a while.
Multicolor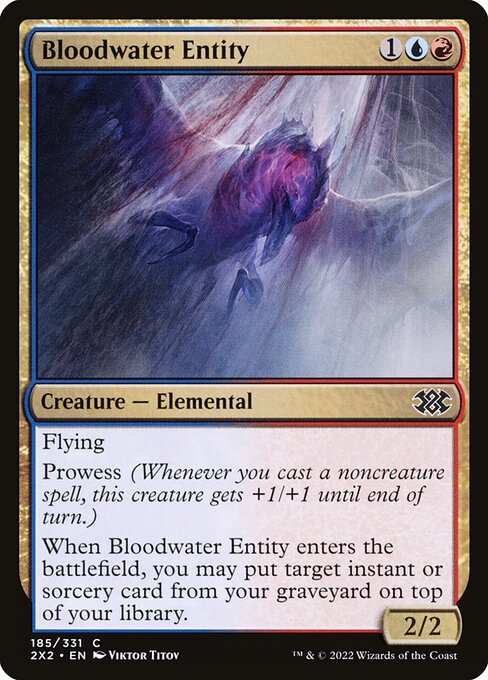 Omniczech: This one is pretty solid. Its base rate is a Wind Drake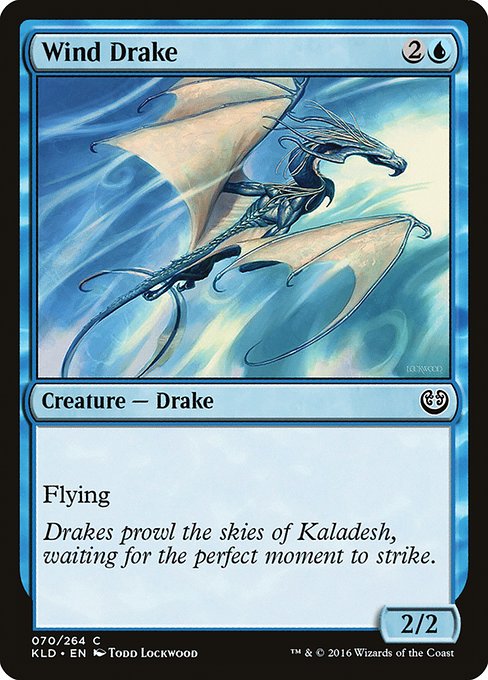 that fixes your next draw if you want it to and can set itself up for at least one prowess trigger. I think I'm for this being included.
Neveron: Top of your library means that this can't get into the obscene loops Archaeomancer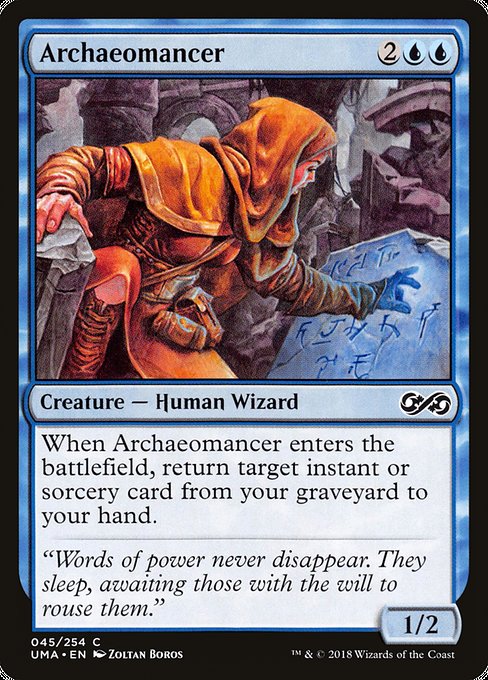 can, but anyone who's played with Mystic Sanctuary can tell you that the mechanic is still powerful. The body is also somewhat relevant, which is more than can be said for Izzet Chronarch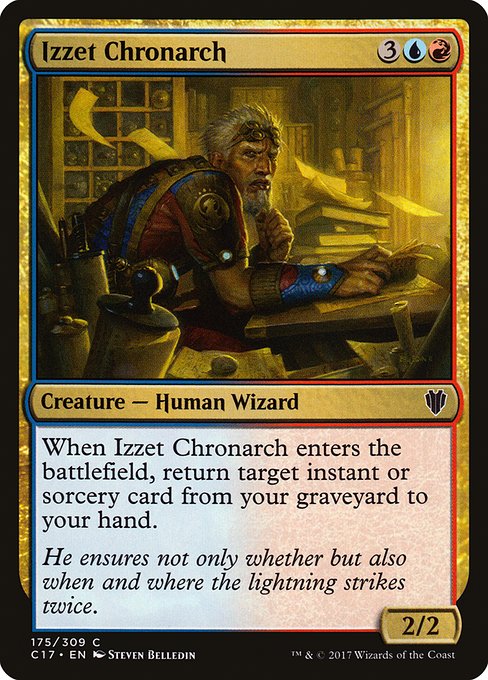 .
Solset: I am always glad for gold cards that more clearly signal a color pair's strengths. This card is not a bomb but it is good and it rewards Red Blue for playing a higher density of "spells" in a way that other Izzet gold cards do not.
Usman: I've played a decent amount of Wandering Mind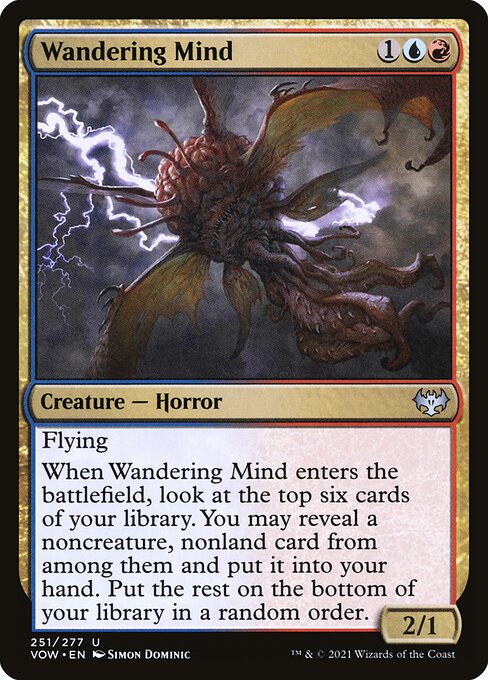 in Standard and this has some vibes of it, being a decent on-rate evasive threat unlike the Archaeomancer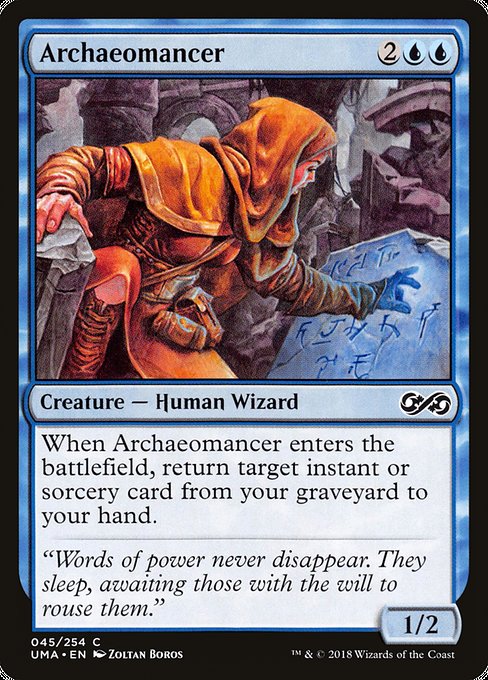 type of cards which are, essentially, warm bodies/roadblocks. Reclaim effects are significantly worse than Regrowth ones, but blue (and red, somewhat) are the right colors to play that kind of thing, especially if Bloodwater Entity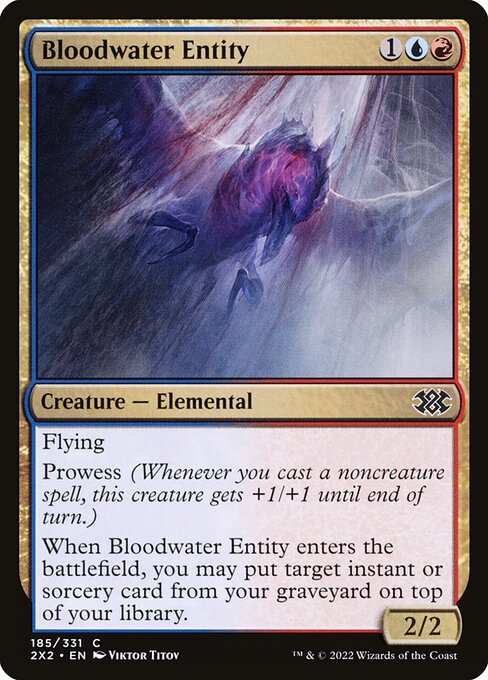 is reclaiming a 2-for-1.
Phizzled: Izzet is one of the color pairs where I don't mind that this is slightly weaker than it could be.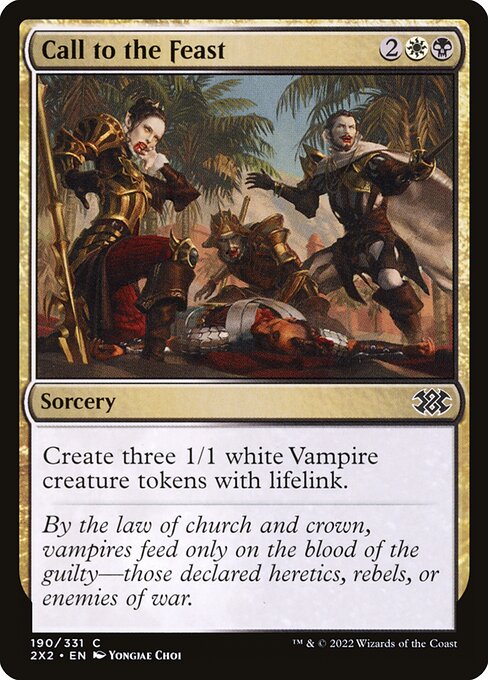 Omniczech: I usually am not huge on the token generators when they're not busted, and I'm not sure if 4 mana for 3/3 lifelink worth of board presence is what I'd call busted, but it's not shabby either.
Solset: There are faster or stronger things to do with black and white gold cards. Unless we push the guild to significantly care about life gain triggers or having sacrifice fodder, this card is just too mild for my tastes.
Usman: Unless we're planning on using the bodies for a purpose in a deck, I just don't see how this is worth including for a mediocre rate since lifelink is best when on large bodies. In theory, it can help to race when you're attacking with 2 of the vampires and chump blocking with one, but I don't think that's great either.
Phizzled: This feels like a generic "good stuff" card that doesn't imply exciting draft or deckbuilding considerations. I'm in favor of passing.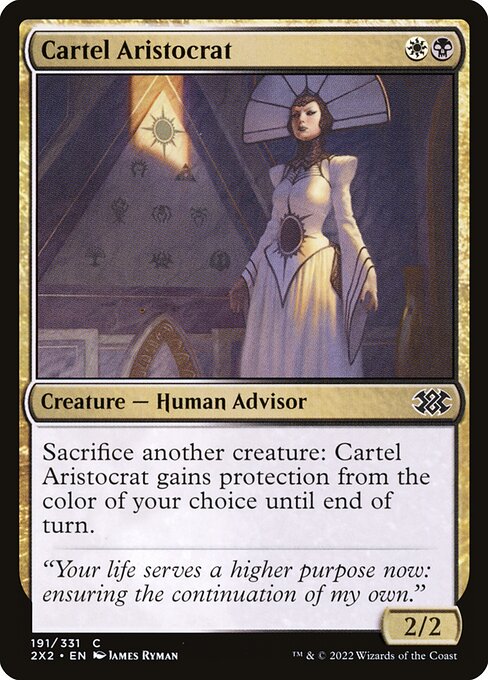 Omniczech: We don't really support WB aristocrats, but this feels reasonable if unexciting? I do generally think that aristocrats is a more "cool" than "good" archetype a lot of the times, and this one isn't exactly dissuading that notion for me.
Neveron: Honestly, it's kind of disappointing that the titular Aristocrat doesn't fit all that well with what our cube is doing in Orzhov. That's just how things worked out, though, and if you really want to include it then both colors have plenty of spare bodies.
Solset: I like that there exists the possibility in the Pauper Cube for a Black White aggro deck that can have a nice mix of white's Go-Wide Boros package with black's Rakdos Aristocrat support. It's like running a red deck without any reach and worse mana, but still I like that it exists. Still, I think cards like Imperious Oligarch bridge the gap better between the typical controlling role that Orzhov takes with the rarer aggro possibility than Cartel Aristocrat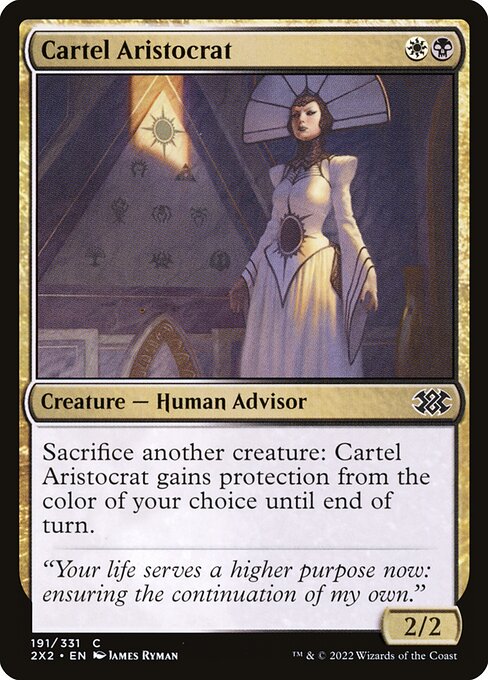 does.  It really only wants to see play in a go-wide deck. Perhaps if we get a bit more Black aggro, we can keep this one on the back burner to support the Mardu aggro wedge.
Usman: Funnily, I think that this plays the role of utilizing small bodies much better than Call to the Feast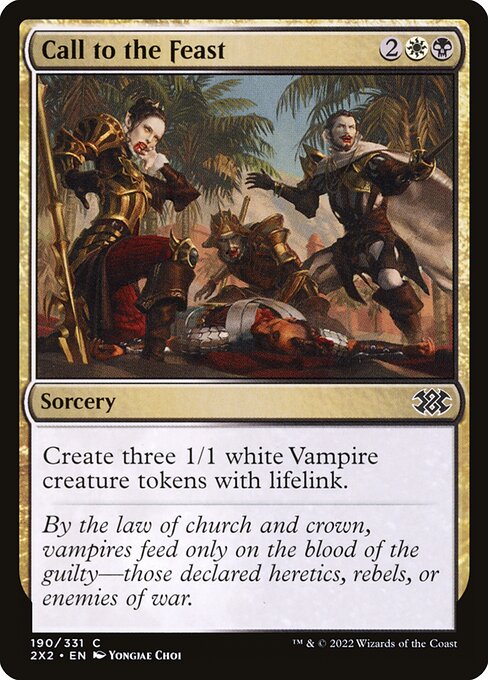 , since it's an on-board trick to trade a body for blanking a removal spell. I guess the question is – in this format, is the 2/2 worth going out of the way to protect it? (ie are there enough ways to buff this as a threat to make it worth protecting?)
Phizzled: This feels more interesting than some of the historic options in Orzhov, which offers flexible removal without pointing a clear direction as a reward for playing both colors.  This offers a reward in a technically efficient body with resilience, but isn't as exciting as it might be in constructed pauper.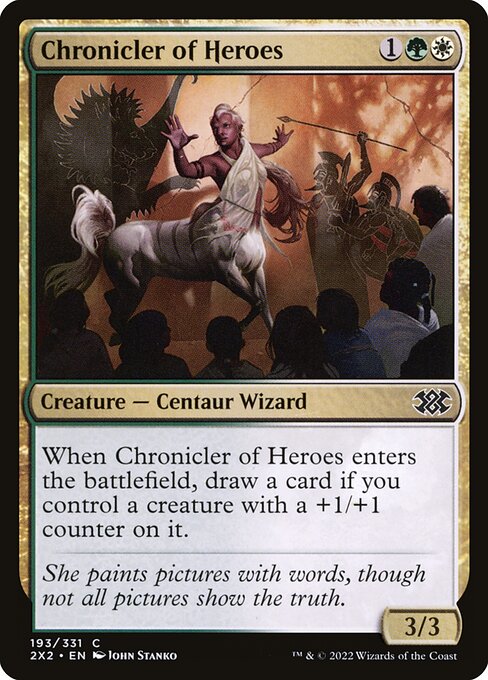 Omniczech: I think this one's pretty middling but still better than things like Sigil Blessing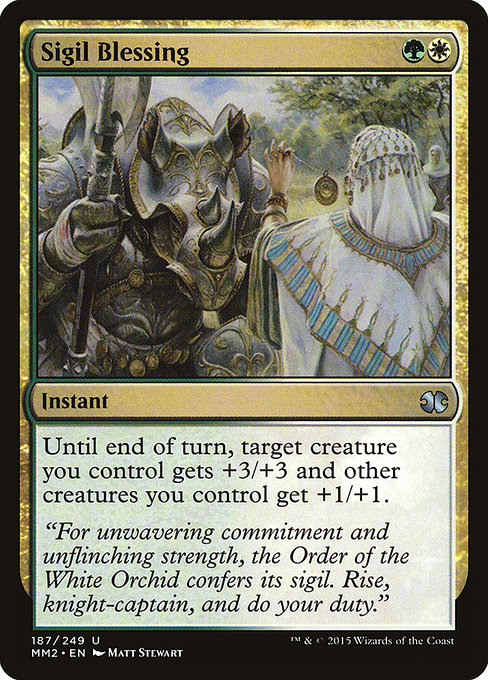 and more on theme. I won't use too much space to rant about cutting gold slots, but if we want to keep the count the same, I'm happy to carve some space for this.
Neveron: If we cut down to four gold slots, I'm not sure this gets in. For five, though, this archetype signal probably works out. "3/3 for 3, ETB draw a card" is alright.
Solset: I am always glad for gold cards that more clearly signal a color pair's strengths, and the trigger plays nicely when Green White counters dips into the flicker aspects of white.
Phizzled: I can remember being excited that Selesnya got to add [scylink]Centaur Healer[/scrylink] a few years back.  Two fifth's of the current Selesnya inclusions already provide +1/+1 counters, and I've generally enjoyed the theme since we've made the shift.
Omniczech: Alright, here's the big point, do we want to shift BG to a more dedicated graveyard synergy deck? I love Dreg Mangler
to death and really want to include this but it feels like Golgari's identity has gotten a bit fuzzy over the years.
Neveron: Golgari's definitely one of those weirder archetypes as far as gold sections go, but Dreg Mangler
's a fairly solid card even by itself.
Solset: So my point is that Black Green should be a more dedicated graveyard synergy deck. Even without dedicated mill support, the Mangler is a solid tempo based card that provides some late game value. Since Green has some counter payoffs as well, the reasonable scavenge cost will play all the better in our cube.
Phizzled: Scavenge was a mechanic I never quite managed to love outside the Varolz deck I haven't played in years.  But even without clear support like self mill, green and black getting to reuse their creatures is kind of enough to make a deck.  I don't  think either color quite has enough graveyard support to make this intuitive to a drafter, but value Golgari with incidental synergy is sometimes a cube trope.  Consider me interested in revisiting this when Dominaria comes around, and ask me if I've come up with a graveyard reuse package yet.
Neveron: The near-universal acclaim for this card makes me think people probably want it in our somewhat lackluster Rakdos section. While it can't threaten Planeswalker in Pauper unless WotC do something wild later this year, this does let you cash in 1/1 goblins for something if the opponent has blockers. Beyond that it's just a hasty bear, and I suspect that its popularity is mostly just linked to how bad our current options are.
Omniczech: I really like this, these are the kinds of cards that make me happy to include sac outlets. This pushing through extra damage with your outclassed or soft removed creatures is sweet and the body is very very reasonably priced. Great include for me.
Solset: My mutation has been an unintentional guinea pig for a lot of these gold uncommons, and Fireblade Artist
has been a fantastic inclusion up to this point. Even without direct sacrifice support, it's an aggressive 2 drop that gives an aggro deck some late game reach. Once you start having cards that want to die, it goes from fantastic to bomb tier.
Phizzled: I know this is a hot take, but I like having a 2/2 haste in Rakdos more than I like having a 3/1 in the same gold slot.  If this happens to survive but is unable to punch through Green's fatties come turn 4 or later, this can still sacrifice itself to give our hypothetical aggressive deck a touch of reach.  I think this was the first card during preview season I was sure I wanted to add.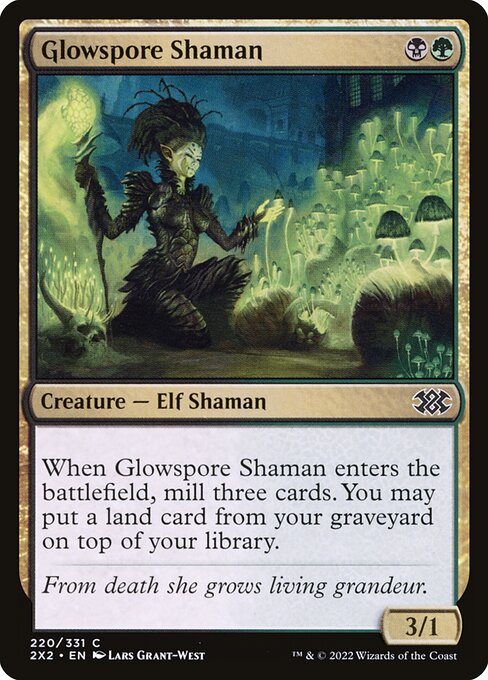 Omniczech: We don't go super hard on the self mill plan, but if we wanted to, I'm happier to jam this over the approximately 11 billion riffs on Commune with the Gods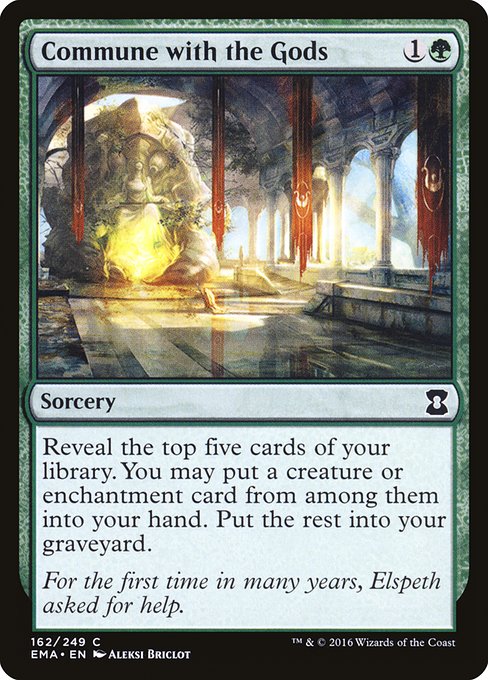 so that your self mill actually impacts the board now rather than next turn. Nothing super exciting but completely decent.
Solset: I'll take a team player that supports a guild's theme over raw power most days. Note how this card trades with Guardian of the Guildpact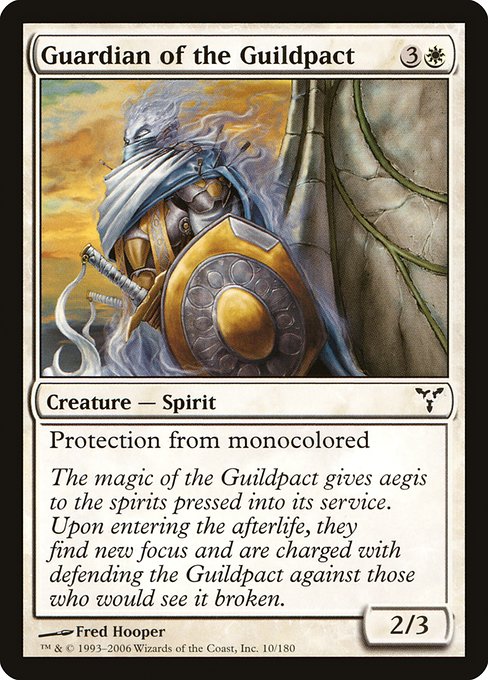 while Consume Strength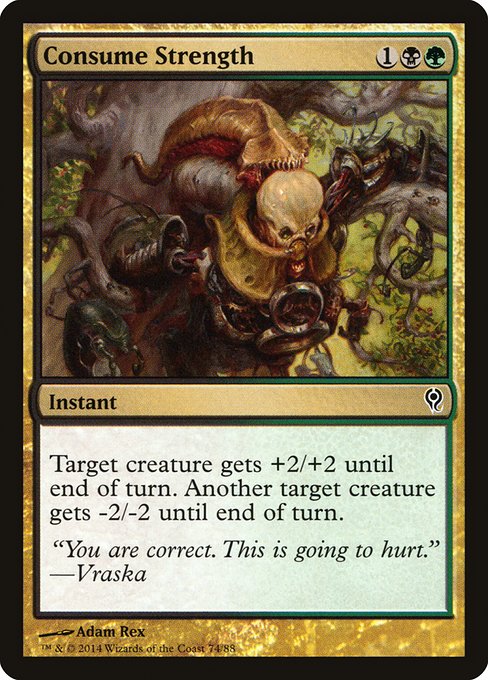 and Drey Keeper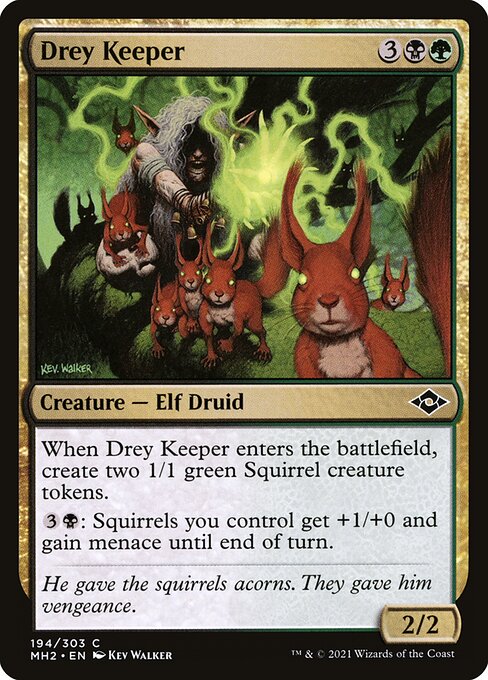 do not.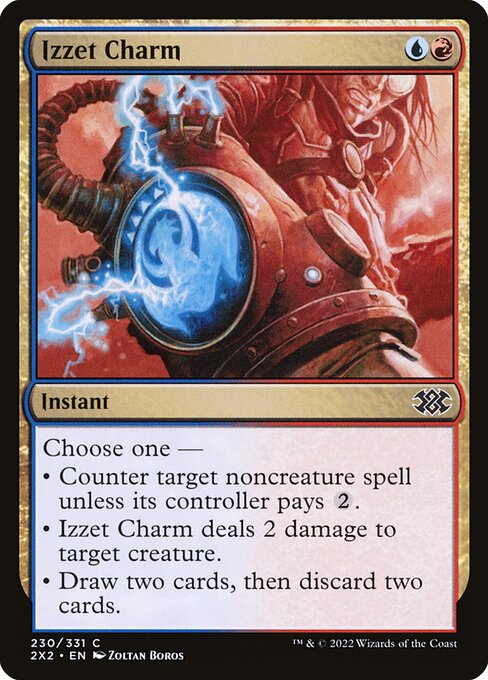 Omniczech: Modal spells rule, some of our izzet slots kinda honk, this seems like an easy include at the end of the day.
Neveron: This deals damage to creatures and loots. If you squint a bit, it's basically already Hypothesizzle
. Just, you know, relevant earlier in the game and without taking your entire turn.
Solset: This is a solid card that will almost never get cut from a Blue Red deck. While this signals Izzet spells a bit less than Bloodwater Entity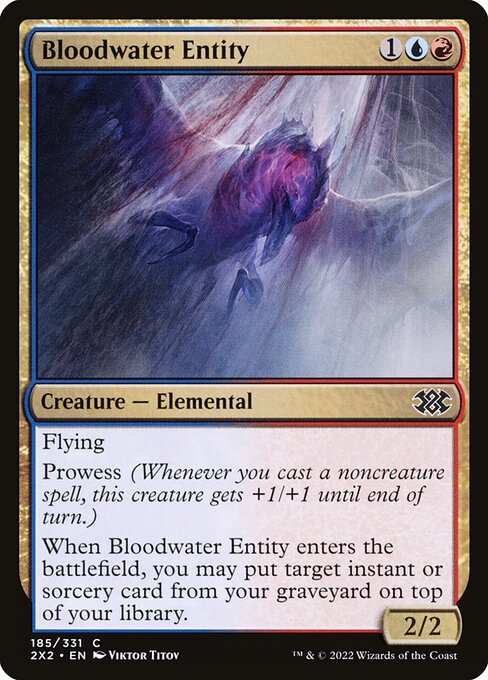 , it's clearly a strong pick most of the time. Do we have two gold cards in Izzet that are past their prime?
Usman: …oh my. 😮
Phizzled: Izzet and Dimir having so many options that the gold sections feel unbalanced even when they are technically balanced is the theme of Masters set downshifts, aren't they?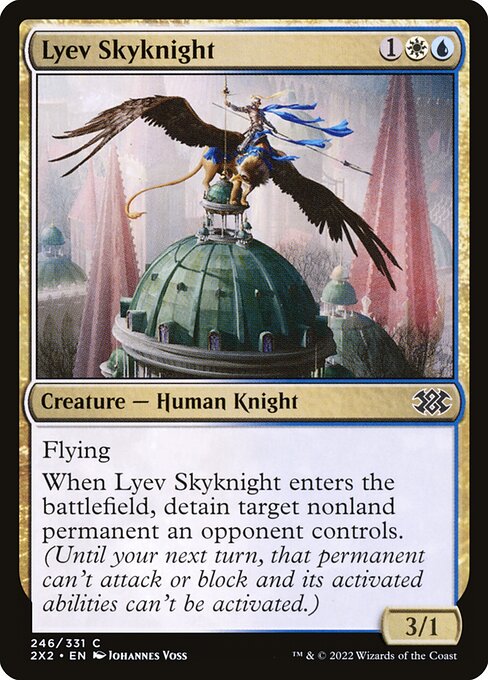 Omniczech: I think this is a pretty reasonable indicator that Azorius wants to flicker things while still being a solid body in the air. It'll occasionally get absolutely punished by one of the many ways to make piles of flyers, but I think this does enough work that you're likely happy with it.
Neveron: There's less 1/1 flying tokens around than you'd think these days, but they do exist. In the matchups where they don't, though, this requires an answer. 3/1 flyers are annoying enough when they don't lock down your blockers.
Solset: Blue White is officially flicker, but sometimes Azorius just wins with wings after casting an early Warden of Evos Isle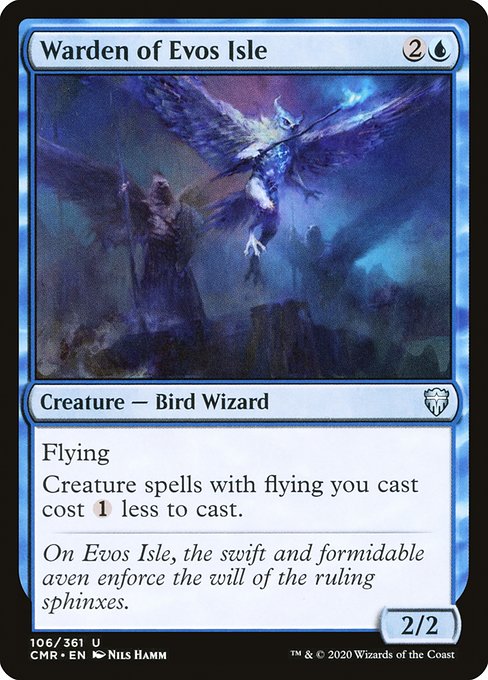 . Either way, Lyev Skyknight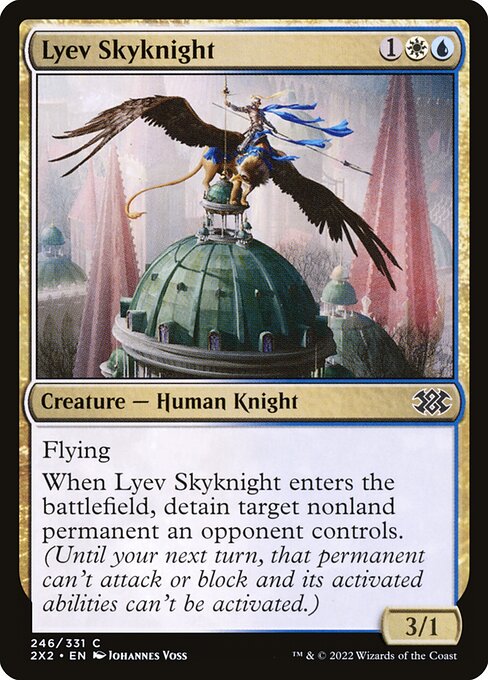 should be a strong pick and splashable just like it was in Return to Ravnica. Even if this one trades poorly with flying tokens, it still slows down the opponent's side with detain while trading with a bigger threat on defense when needed. It's a rare boardstate where the Knight is a bad play.
Phizzled: I'm a long time supporter of the fliers deck in the cube.  As a low toughness control "finisher" this feels fair to play against, and detain pushes through damage or slows the bleeding for the control player.  There aren't even that many non-creatures I'm worried about right now, but downshifting a gold detainer means we get to stop a non-land instead of only a creature.  I'm generally in favor, even though i don't know what to propose as a cut.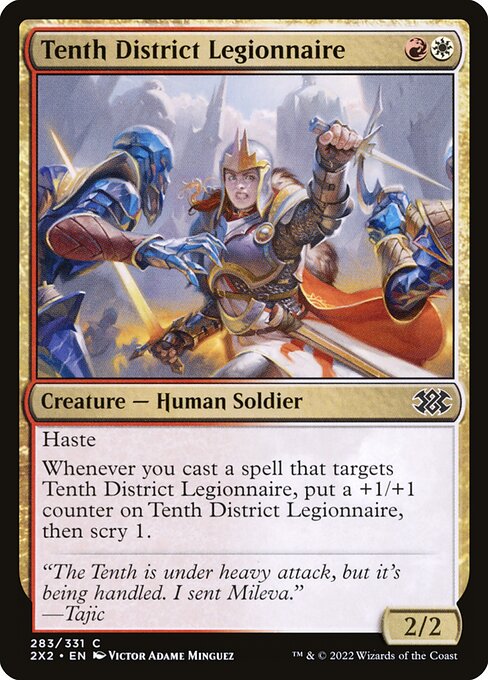 Omniczech: I know some community members are SUPER high on heroic. I am not and never will be, that combined with the fact we run relatively few combat tricks that target mean this would require a pretty large restructure to happen. That being said, maybe just being a 2 mana 2/2 haster with the occasional trigger is enough here?
Neveron: In a cube that supports Heroic, this is an all-star. This is not that cube, however.
Solset: Relic Sloth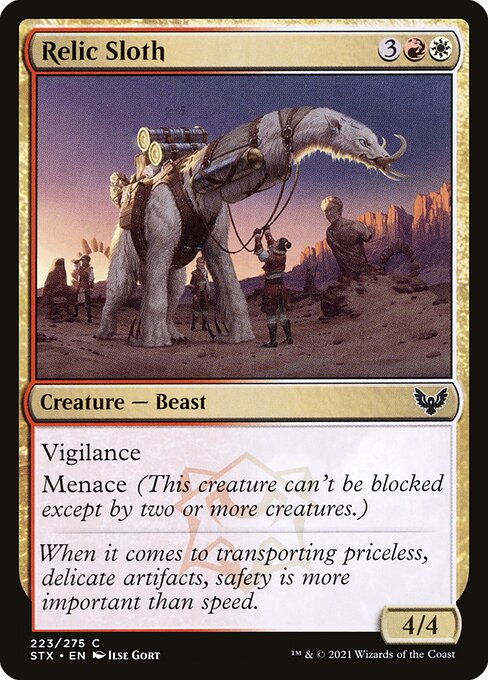 doesn't really play into the Red White go-wide identity, but it can undeniably win games. Without the incidental support for heroic that is woven into both Theoros and Double Masters 2022, there are just too few incentives to play these Legionnaires when it is unlikely to take over. If your mutation runs a number of spells that include the phrase "any number of targets" on spells like Embolden, this might work.
Phizzled: I'm one of those community members who was excited to see the Legionnaire.  Then I realized how most of my Boros/Lorehold decks are casting untargeted team buffs and I was reminded I'm only likely to get a scry every third or fourth game.  Alas.
Lands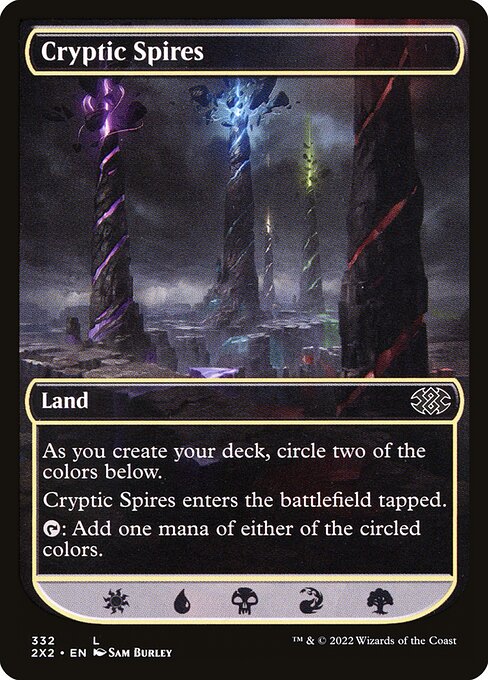 Omniczech: Absolutely not. There's too much baggage for some folks with thriving lands and frankly this is a step too far. I don't even want to think about this much longer. These are really cool for retail limited, but there's just too much going on here for me to want to parse it all out.
Neveron: Is this a strictly better Uncharted Haven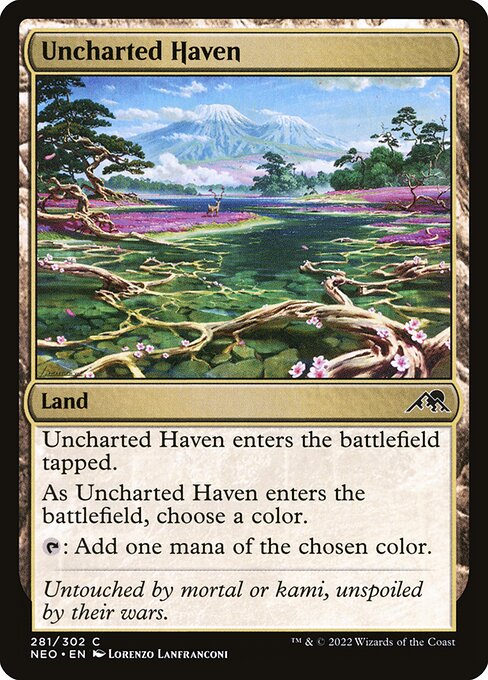 ? Technically no, but in most cases yes. Is this the card that requires the most accessories? No, but only because silver border is absurd. At minimum, this is going to require you to pack a dry-erase marker into your box for a single card, and that's not something that we can ask from all the people looking towards The Pauper Cube as a starting point for pauper cubing. It's in the same realm as dice-rolling cards and dungeons, except at least Recruitment Drive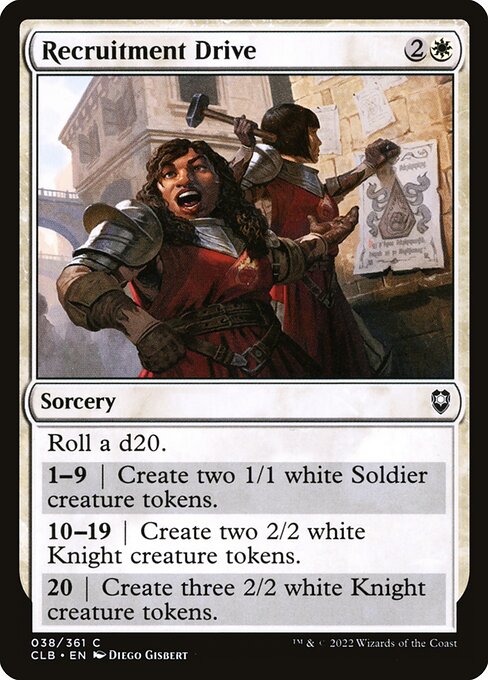 is mildly exciting. This is just a voucher for a free Woodland Stream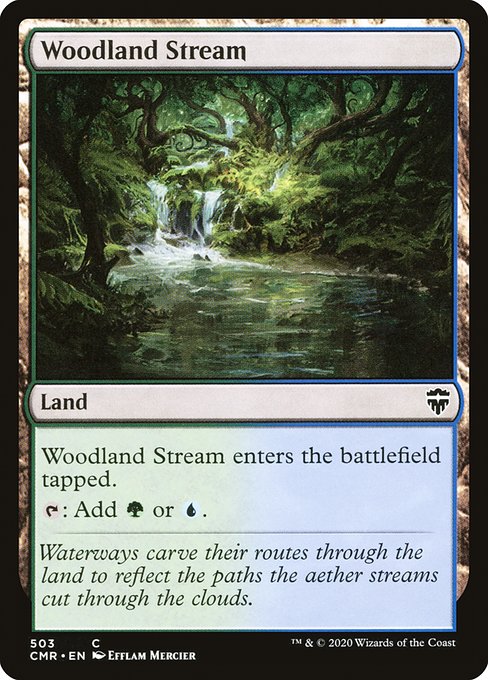 , which is something that's possibly a first pick while also somehow being the most boring thing imaginable.
Solset: Currently, we have potentially ten "thriving" lands which are better, I think, for the type of deck that wants to take flexible fixing early. When "building" a deck, it is almost certainly correct with Cryptic Spires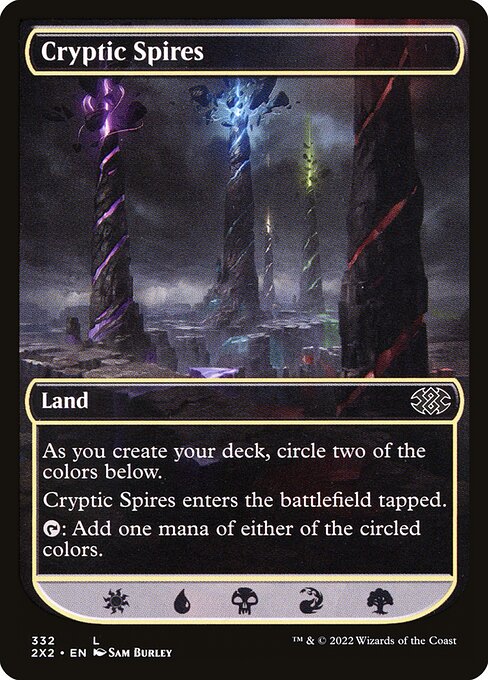 to pick your two primary colors, let's say green and blue in our example. Yet, when I am in Green Blue Plus, I rarely want to pick the opposite color when I actually play a Thriving Grove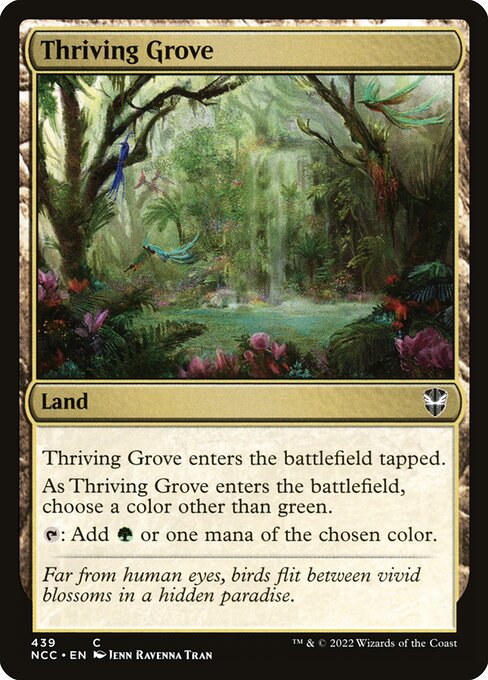 or Thriving Isle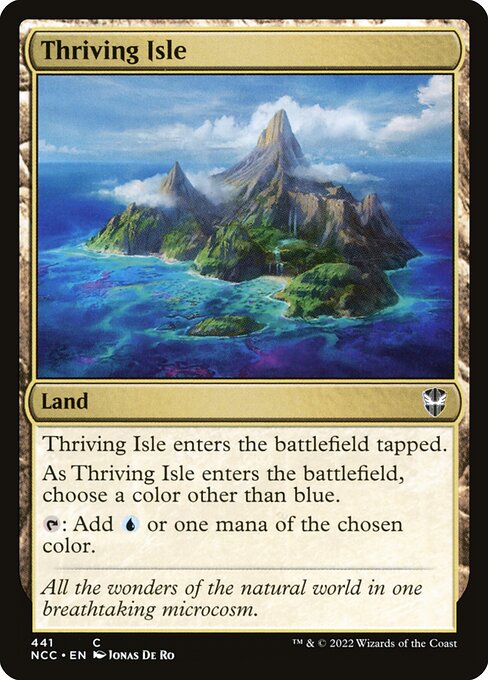 . In a pinch, yes of course, they can become a Rimewood Falls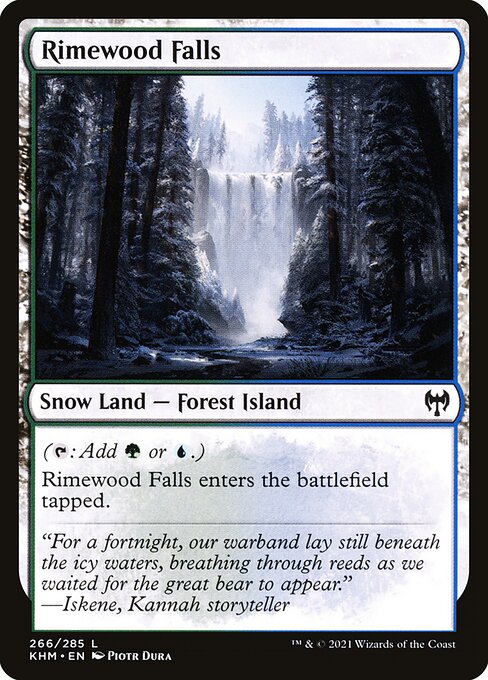 . But much more often, I am already happy with my Island and Forest counts. Instead, my thriving lands can be used to set up that crucial Fireball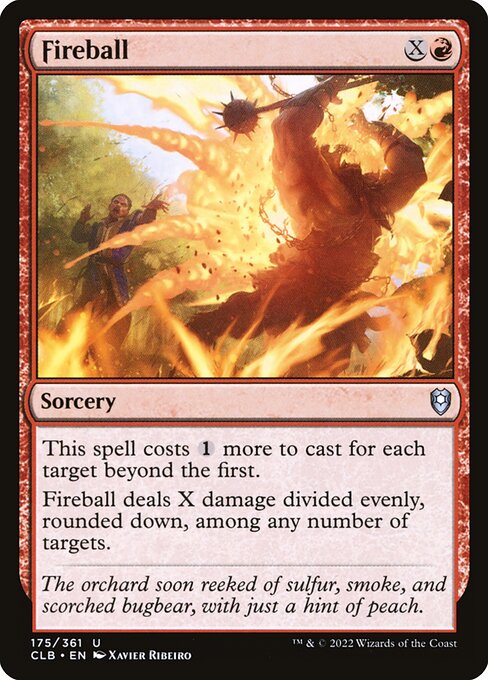 or Agony Warp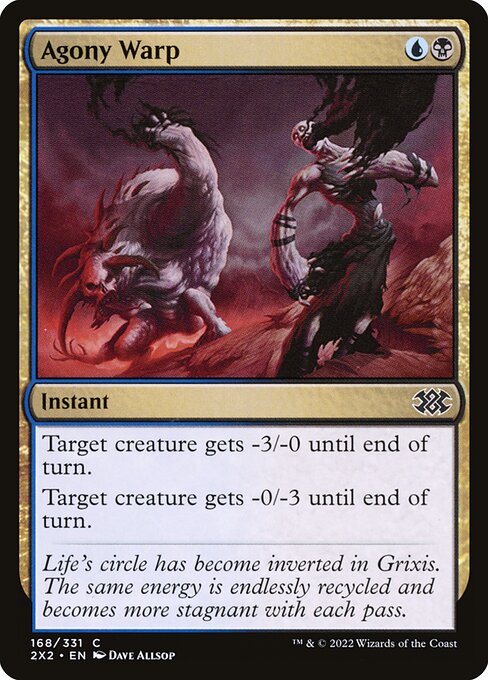 based on my draw. While I get the appeal for some, this card adds way too much "woe" with its tracking without nearly enough "wow" with its play patterns.
Phizzled: I've spoke to other cubers who are absolutely putting ten copies of this card in their token section in their cube box, and I respect that dedication.  I might do that myself, honestly.  I like this more than Shimmerdrift et al. in a true two color deck, for sure.  My preference, however, would be to slightly drop our land count and play ten thriving lands and a smattering of reasonable utility lands.  This, sadly, doesn't feel like a utility land I'm excited to cube long term.