The long awaited update for three whole very interesting sets is here!
Initiative
The new mechanic introduced in Commander Legends: Battle at Baldur's Gate, the initiative was looked at for inclusion but voting data and follow up questions lead us to conclude that the ability is just too powerful as well as adding complexity that was unwanted. The fact that these were mostly banned from pauper constructed in one fell swoop also points to the issues they present in a 1v1 format. At this time the committee has made the decision to exclude these cards from the cube, but remain open to re-evaluating them in the future if general opinion concerning them changes.
Lands Update
This update brings with it an overhaul of the lands section for the cube. For years the karoos/bouncelands have been excluded on the basis of power level as well as the fact said power level can be harder for new players to parse on a first pass. It turns out that per polling, community opinion on them is swinging positive. With this update, we're returning them to their home in the cube, and making some more updates. After this update, the land base stands as the following:
10x Karoos/Buoncelands
10x Draw/Campuses
10x Thriving/Gates
10x Typed Duals
5x Utility lands
Now the observant amongst you might have noticed the fact that the list here has 45 lands, where prior to this, we've had 35. In order to make space in the cube, we will be removing one gold card per color pair, bringing the cube more in line with general wisdom of roughly 10% of the cube being gold/"gold".
Finally, since the Karoos are known to benefit from a lack of strong aggro decks, we will over the course of the next few updates be adding more and more support for aggressive decks in the form of efficient if not flashy cards.
White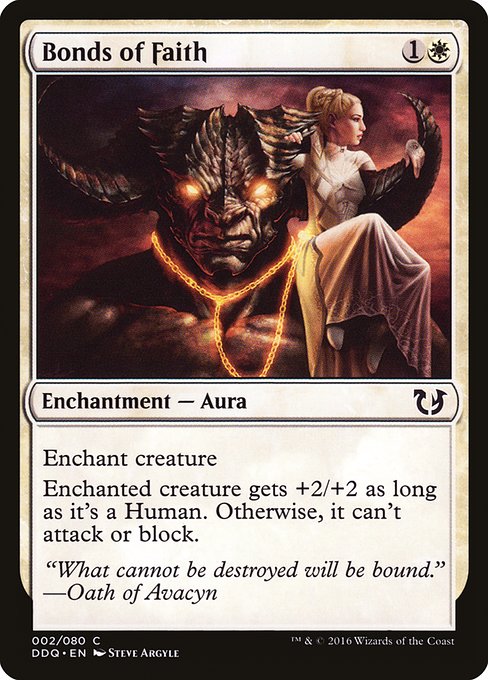 Bonds of faith is a neat card, it really is. That said, it has weird rules baggage regarding cards that have type line errata, and greatsword fills a somewhat similar role of both sides of bonds, both growing the creature wielding it and also getting blockers out of the way.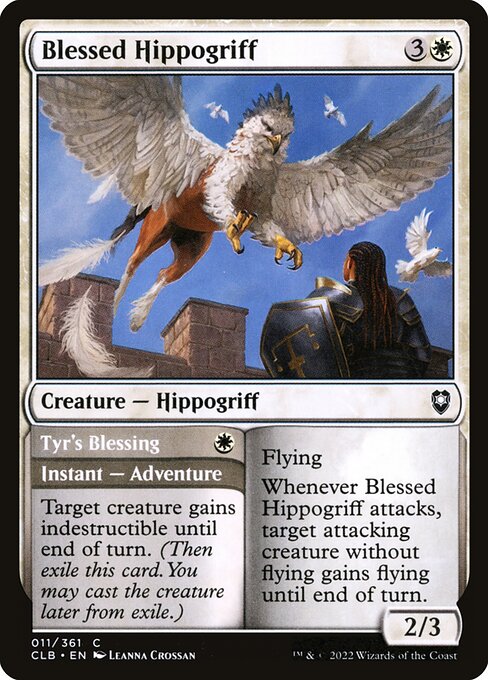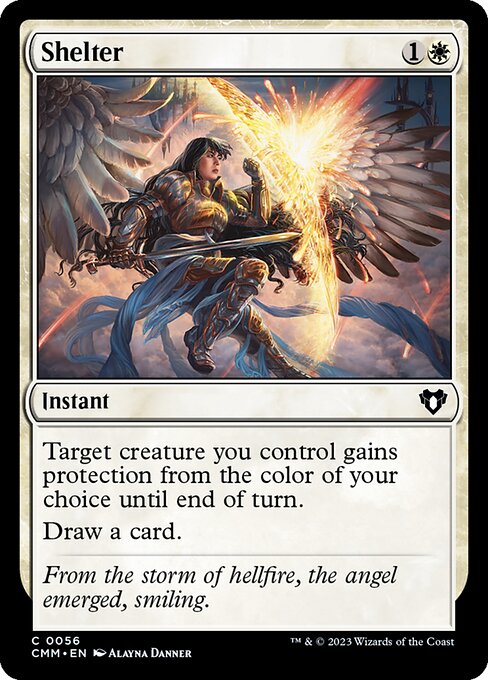 A like-for-like swap, here we're making the trick cheaper with the sidegrade of always drawing the same card.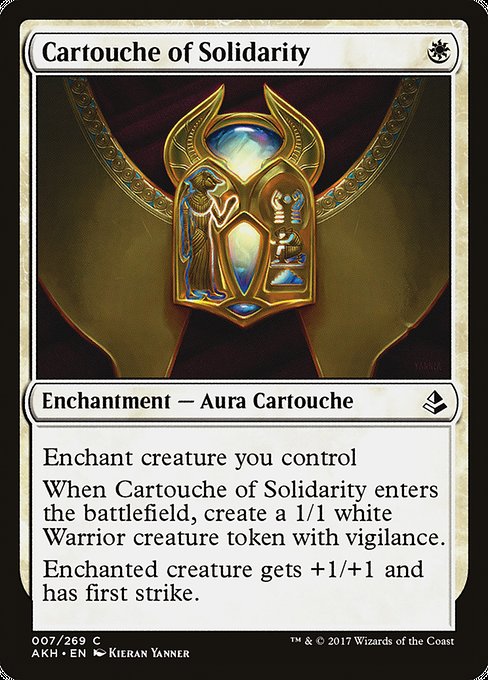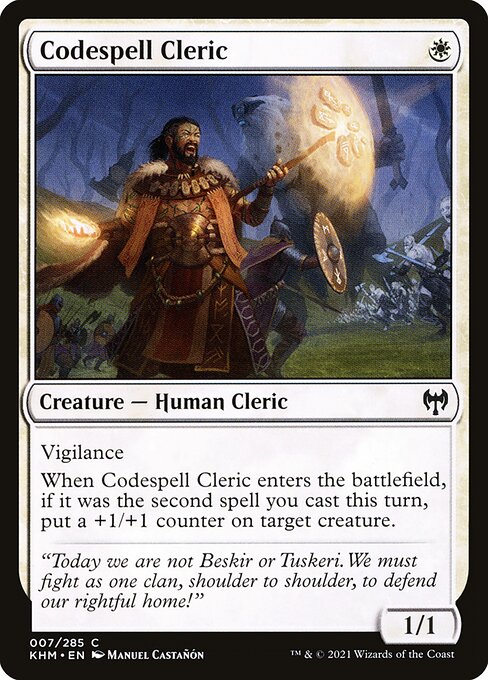 Codespell Cleric was always more of a test card than a permanent addition and opinion bears out that it was not a good test. We're swapping in Cartouche as a well liked community card that still adds 2 power to the board with only one mana spent. This one will be monitored closely.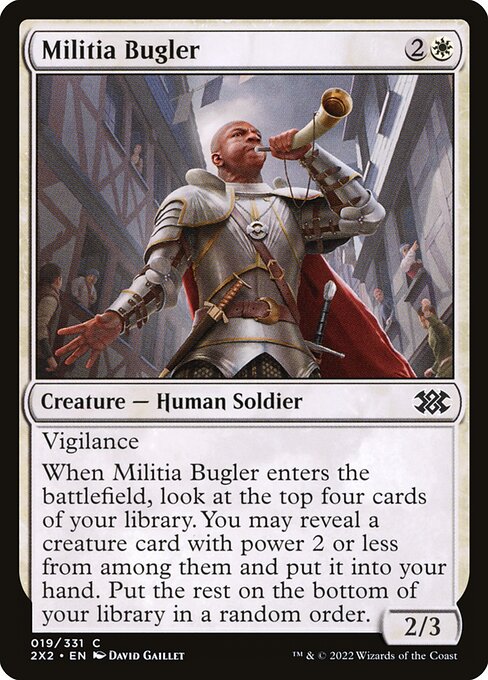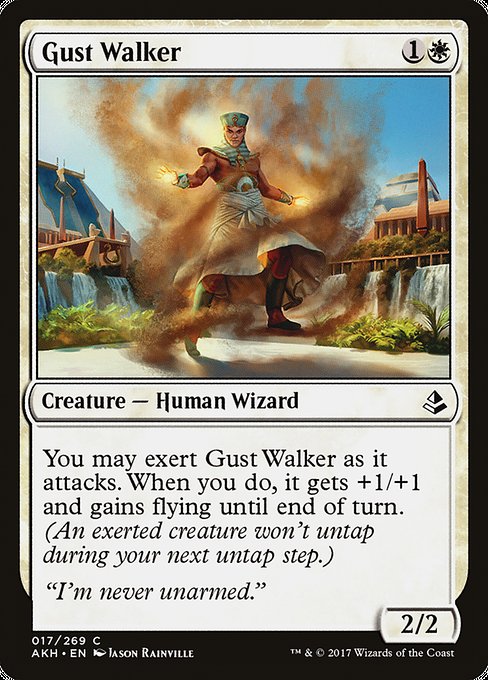 We've been getting a bunch of ways to let white draw a card, and while bugler isn't a guaranteed card, the selection is pretty valuable. Bugler also breaks the mold we've seen on this genre of creatures with three tougness making it a bit more durable than most. Gust Walker was added as a way to push through damage in the late game, but community opinion on it has slowly declined.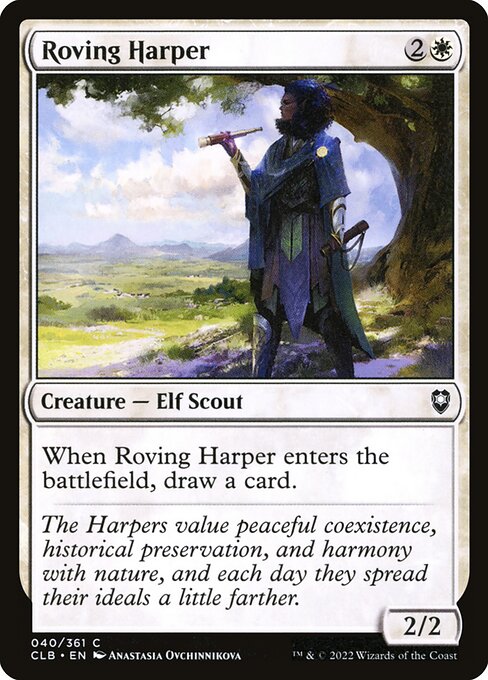 This one was a simple quality of life (pun intended) swap. The single life that the priest included was deemed less valuable than not trading with random one power things. Not an exciting swap to say the least but a generally good one.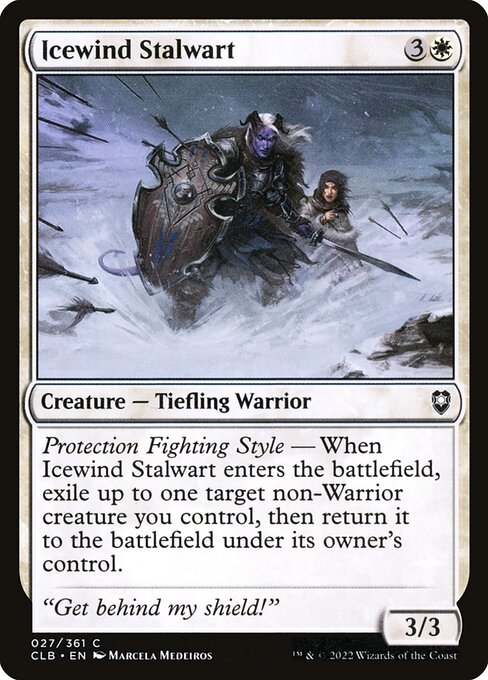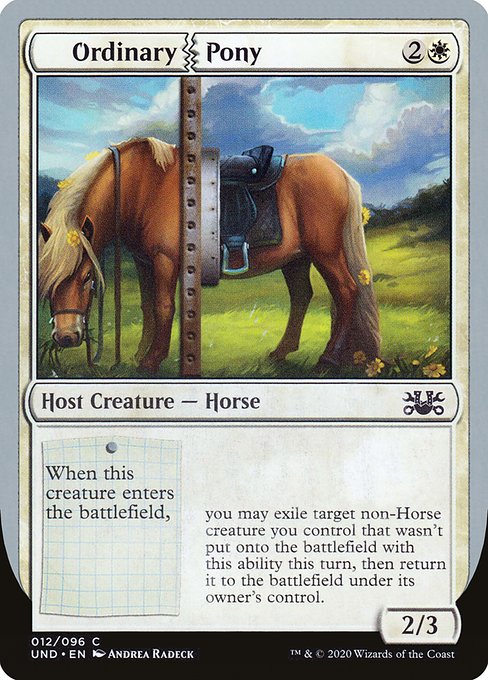 Stalwart has two upsides over the Pony that lead to this swap. First and foremost, we know, folks are down on silver bordered cards, that's totally fine. Second, being a higher Mana cost is secretly a decent way to get better flicker targets down before it on curve.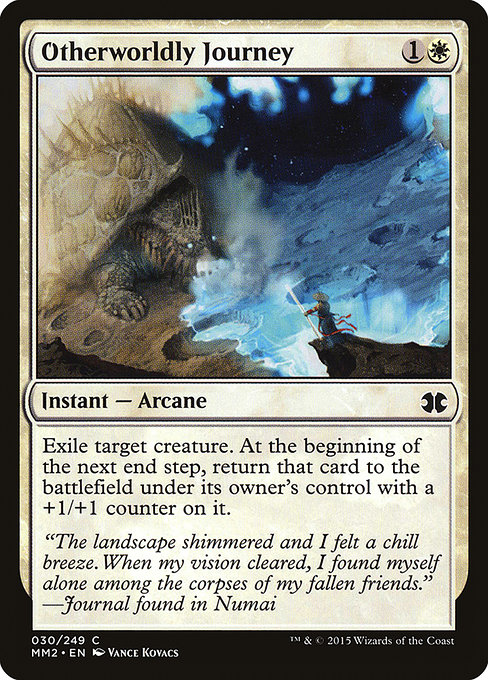 Otherworldly Journey has been in the awkward position of being a really odd flicker spell that has a niche mode of removing a blocker for a turn. Guardian in contrast both plays the protective role well while also being an engine card for the later game. We hope that we get more interesting archetype support like this in the future.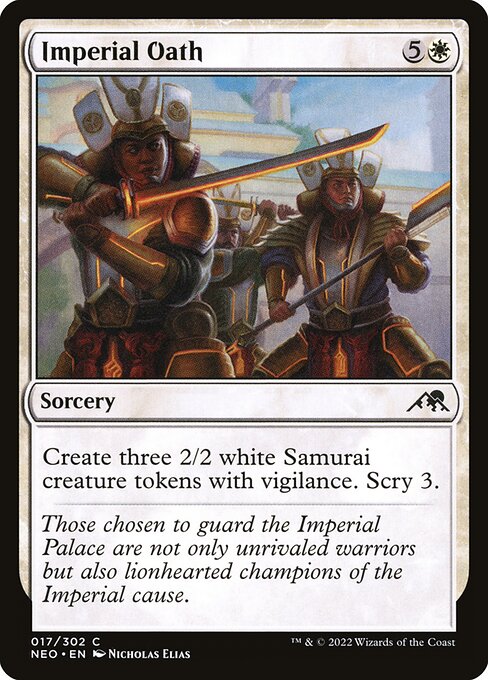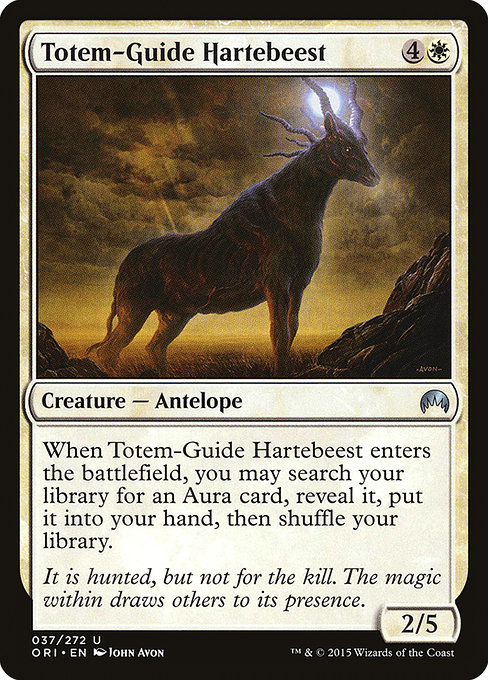 We hear you on this one, it's a hell of a top end and while not every white deck is going to want to play this one, it has its own home within the color. Hartebeast is just a very strange mulldrifter that doesn't fly. Swapping out the Hartebeast allows us to value White's efficient removal a little more even where those spells aren't auras.  (Yes, we know Pilgrim is still there.)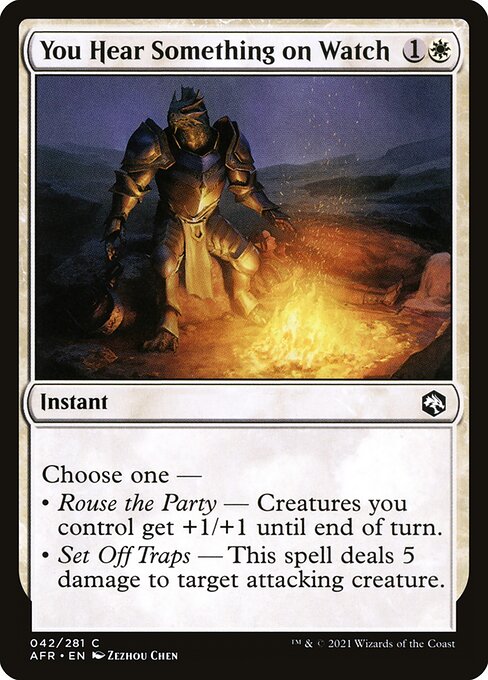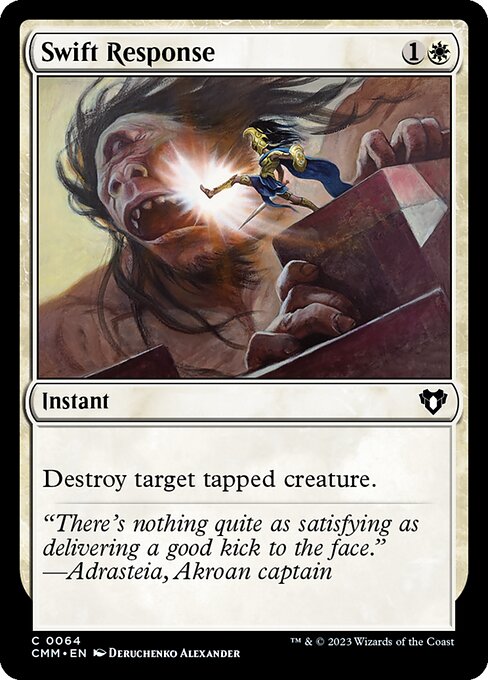 This one didn't make it in during the AFR update and we've talked about it on and off and it's finally getting in. While we lose some utility re: removing dorks and other tappers, the fact this has a secondary mode that works well to push through damage in your go wide deck or make combat a bit better should offset that.
Blue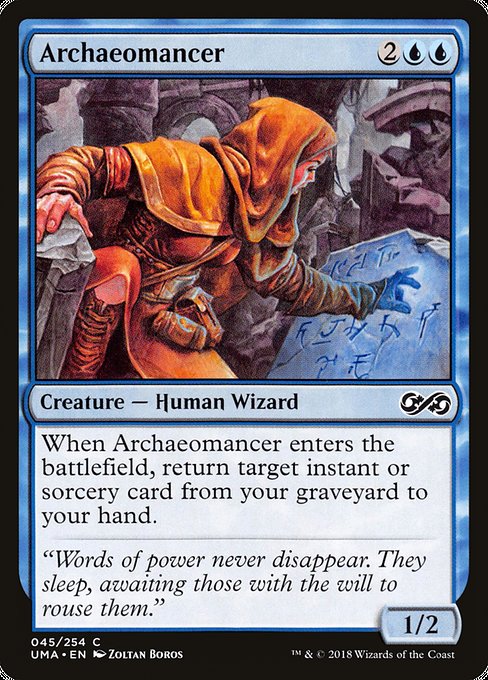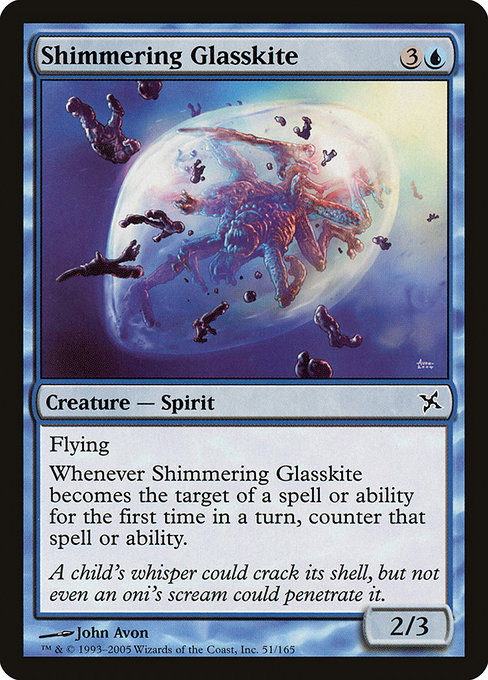 Another fan favorite, Archaeomancer is getting in. Glasskite was just not keeping up with modern cards and is leaving as a result.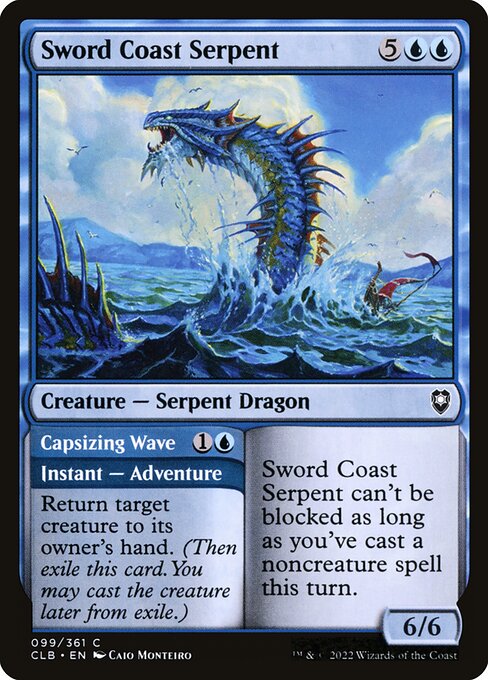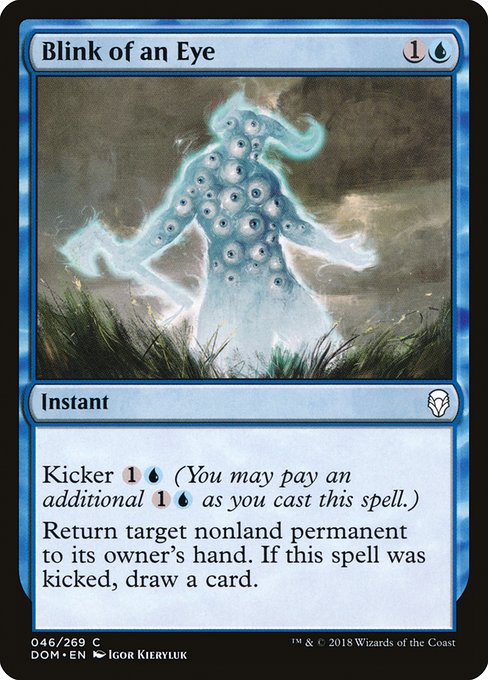 Blink of an eye is a bounce spell you can cast for 4 and cantrip. Serpent is a 2 mana bounce spell that always draws a big idiot finisher.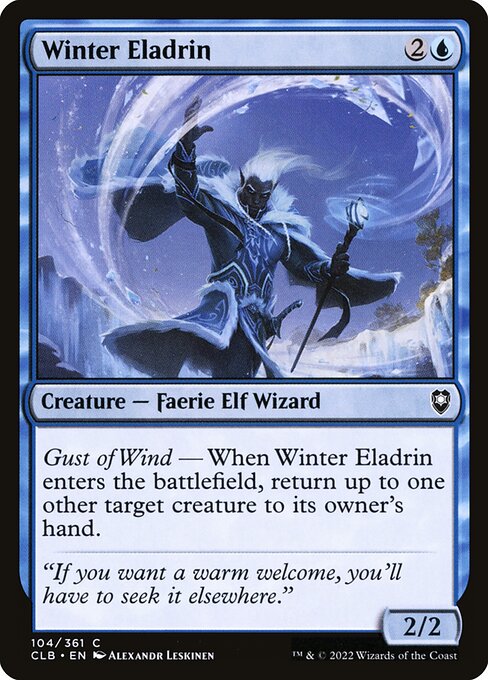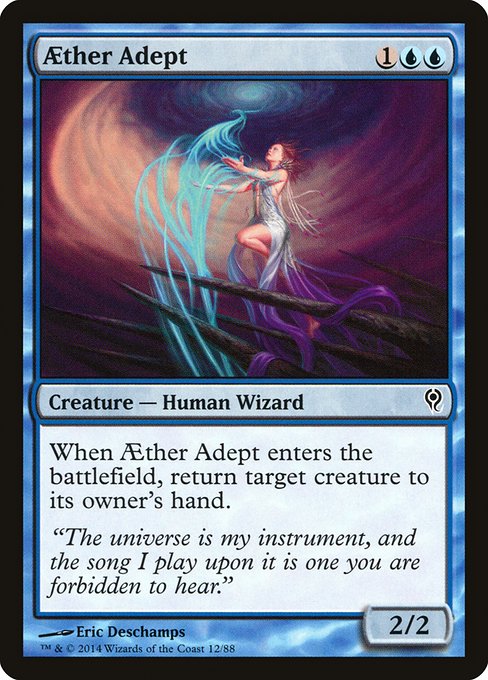 A super boring but good change. This is mostly a like for like where one has a slightly easier to hit mana cost, that's it.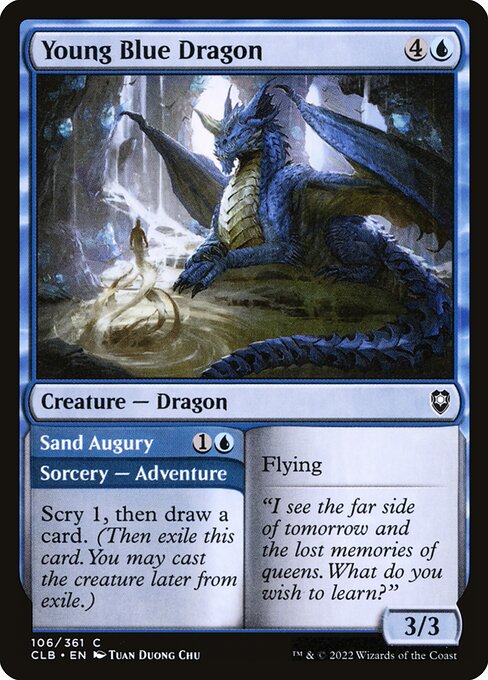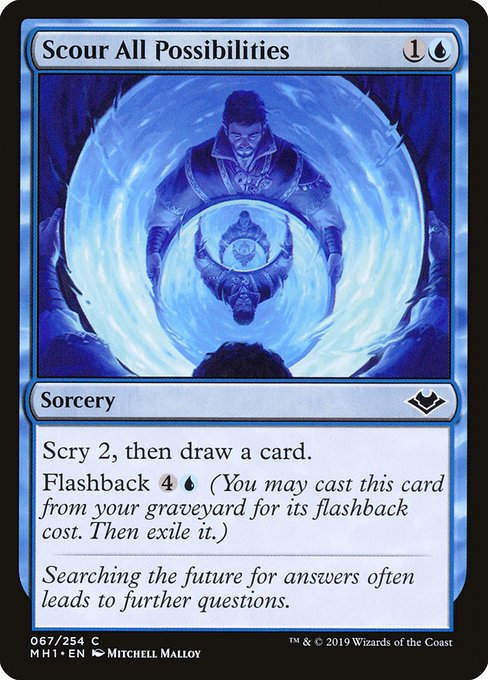 Scour was an interesting option for alternate cantrips, but with dragon you're not just getting to dig but also getting a reasonable body. Not the second coming of mulldrifter by any means but a very solid addition.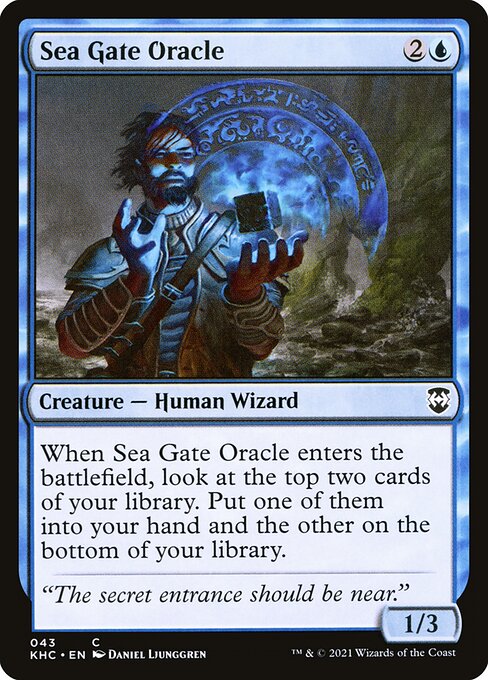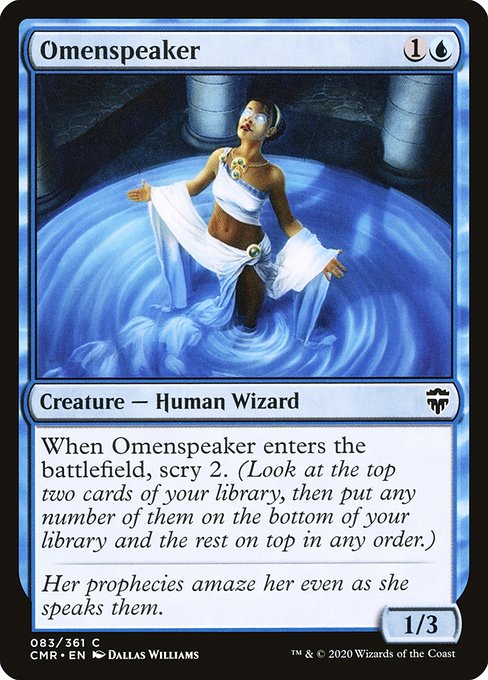 Omenspeaker has never been amazing and with oracle being well enough liked, it makes more sense to run the one that actually gets better as the game goes along, actually getting you a card vs just setting one up on top while also making slower decks wait one more turn for their roadblock body.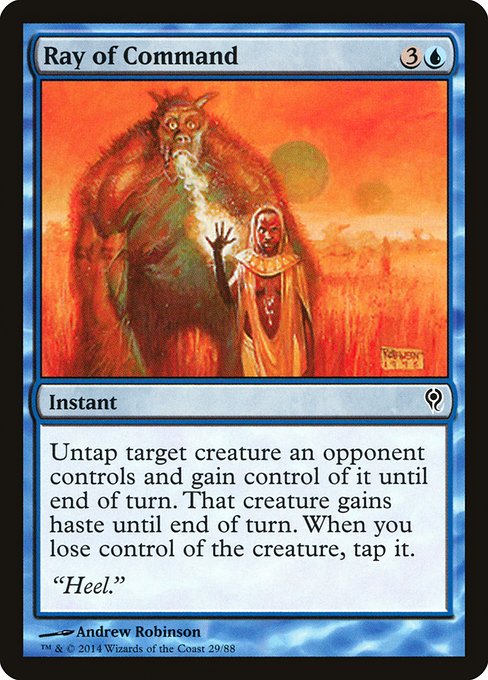 Not all common counterspells answer any of an opponent's best threats, but Condescend is flexible, scales, and can smooth card draws early or help dig for your own haymaker in the late game.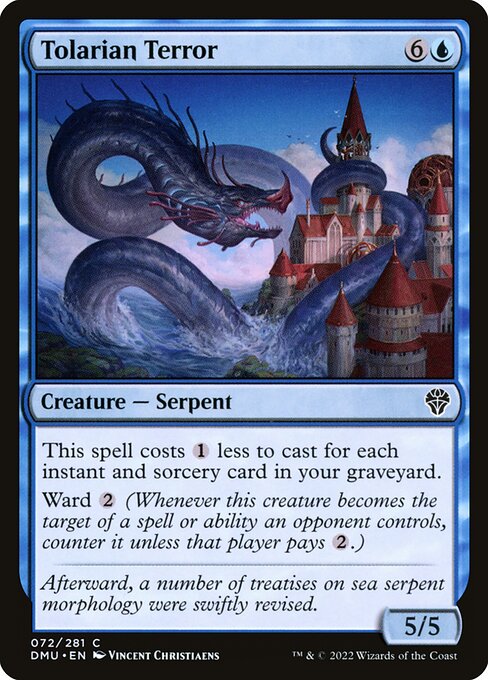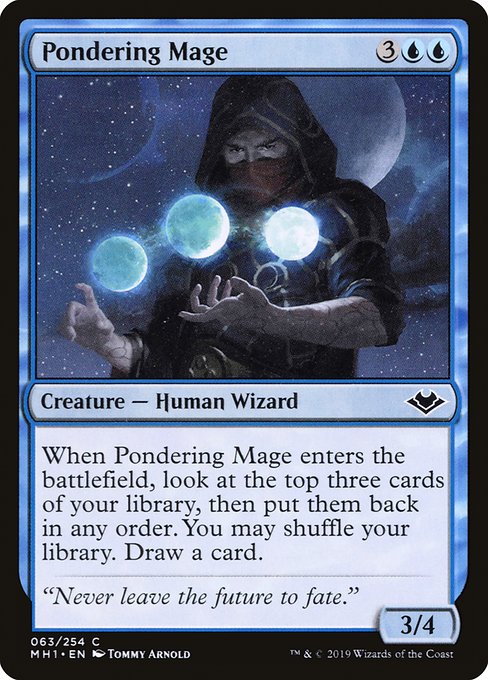 Terror does a good impression of cards that are popular elsewhere in magic, and while being a big dumb creature isn't perhaps the most exciting option it's a bit more interesting than a very slow and large cantrip creature.
Black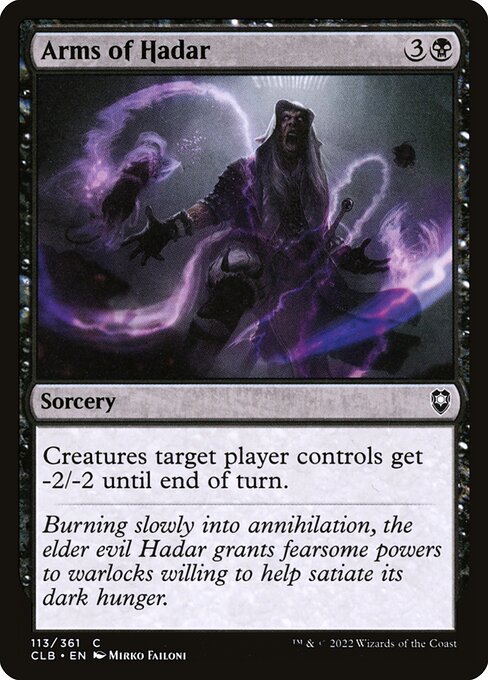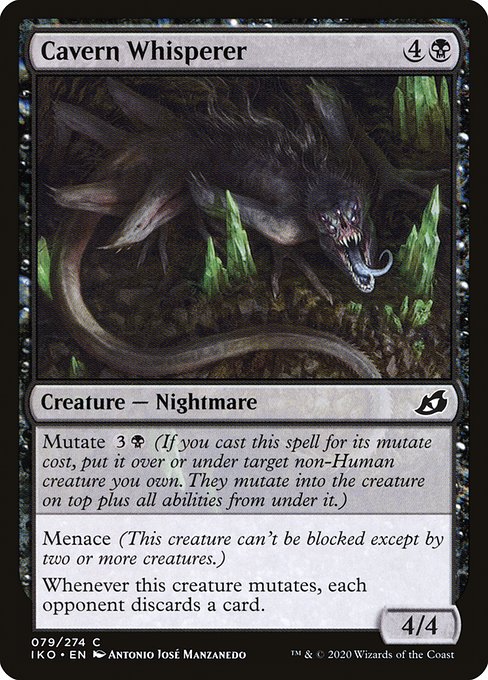 Whisperer will always hold a place in the committee's hearts as it was one of the first cards we got a very impassioned plea for from a fan of the cube. Arms is a card that's equal parts exciting and scary. The fact this is one sided and highly splashable means this will be closely monitored and cut if it turns out that it's too much for the cube to bear.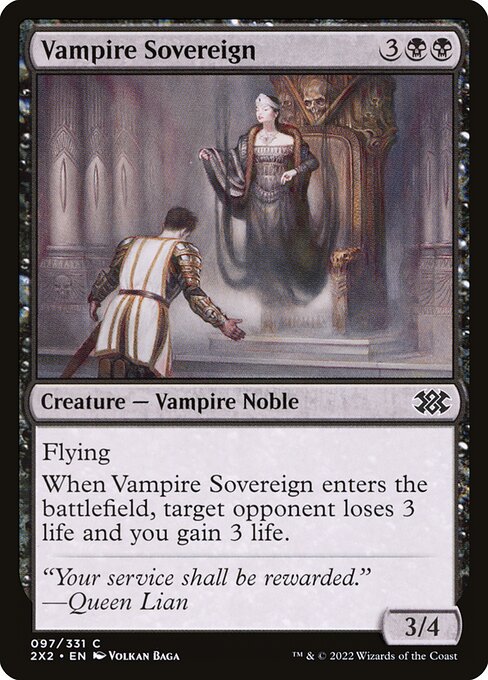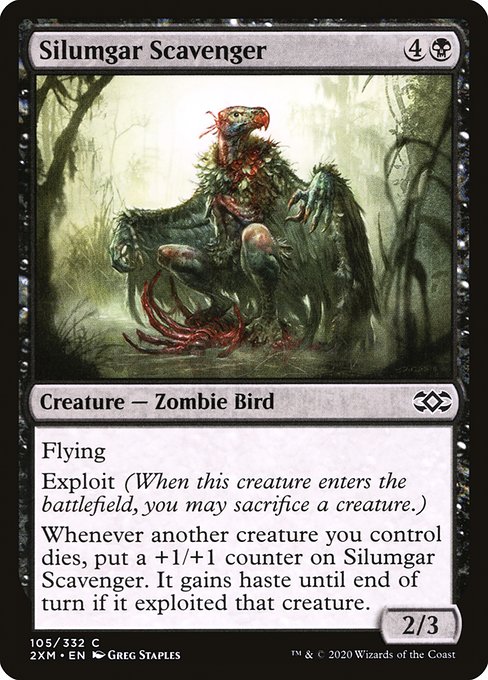 Scavenger has been an interesting support piece for aristocrats but the committee at the end of the day decided that the sure thing that always hits the turn it comes down and leaves up a blocker was better on the whole.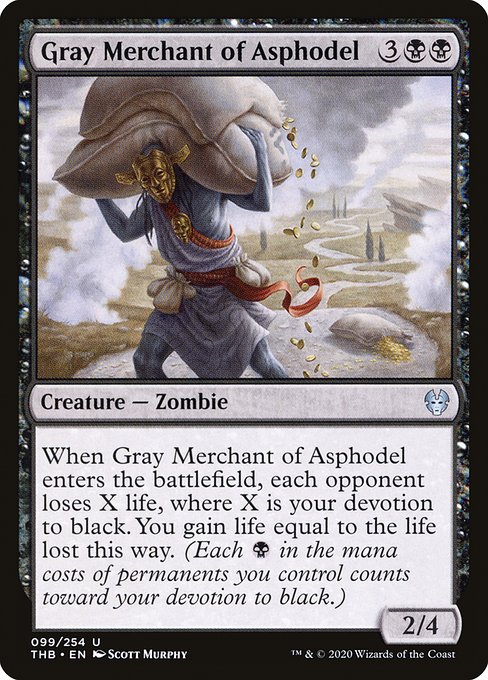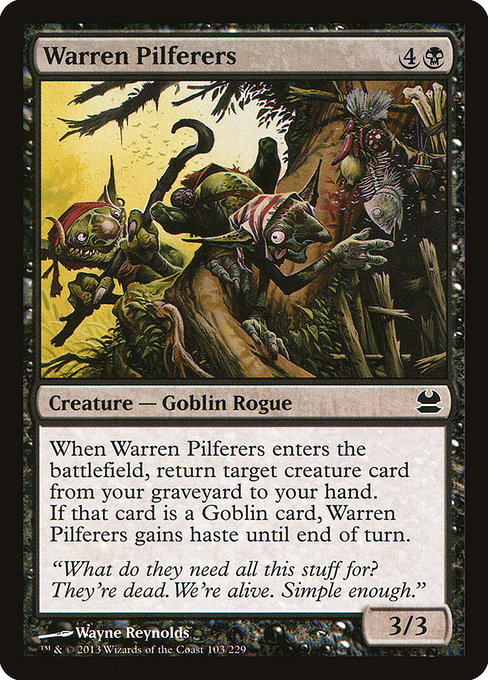 Gary is a long time fan favorite, and while this shouldn't be taken as a sign that we're supporting devotion any time soon, it is generally just a good card. Pilferers on the other hand has been confusing for its inclusion since it's got tribal stuff baked into the card and is getting the ax here.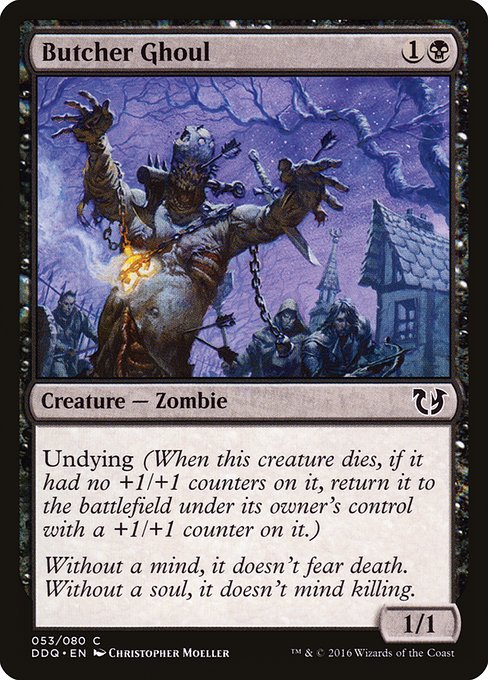 We went back and forth on the various versions of this mold of cards, the 2 mana creature that leaves another body. In the end we opted for the version that was small to big and doesn't have the ability to be reset or be recurred via a gravedigger.
Red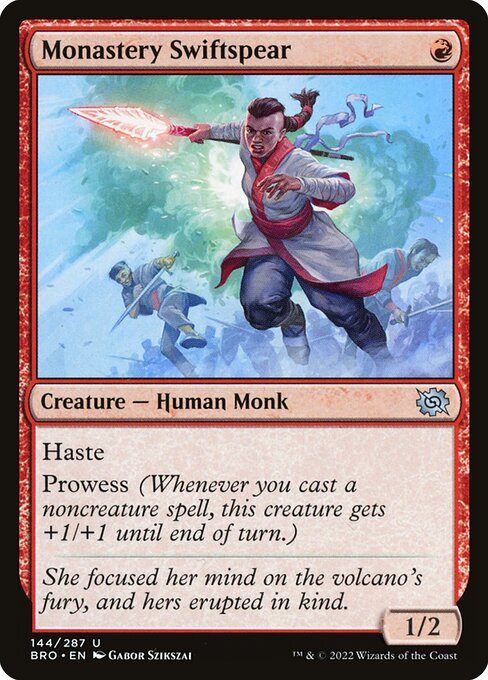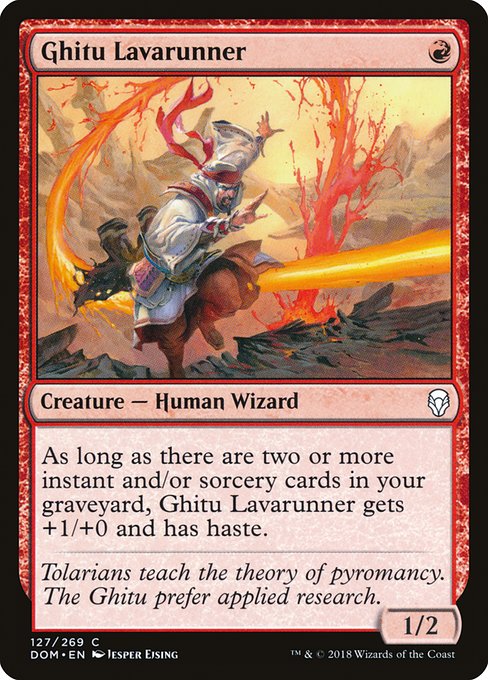 We finally got the thing we wished that lavarunner was all along! Swiftspear is an incredible addition that we feel will only get better in coming months as we upgrade other aggro options,
Dark Dweller was an instant hit with the community when it was revealed, and of course it's getting in. Burning prophet has a fine track record but nothing that blows anyone's socks off.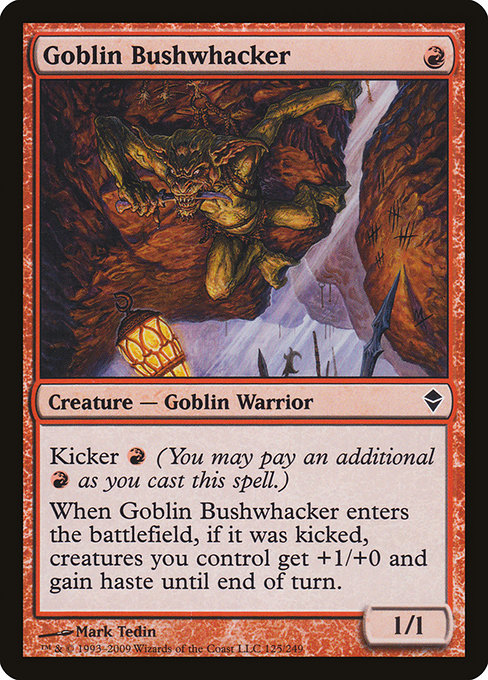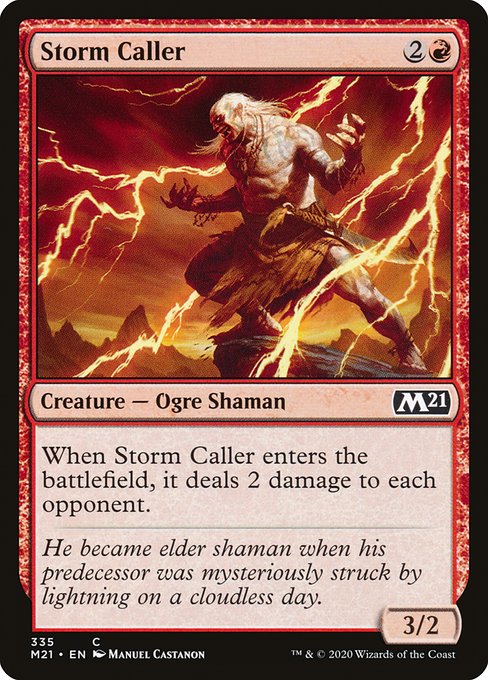 Storm caller is fine, and that's about as much as we can say that's kind to it. Bushwhacker on the other hand can help push through damage, grant haste to other cards, generally applicable somewhere for most red decks looking to attack.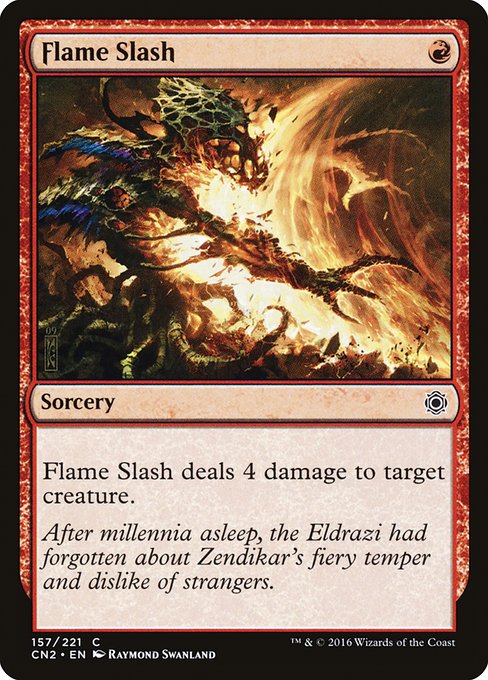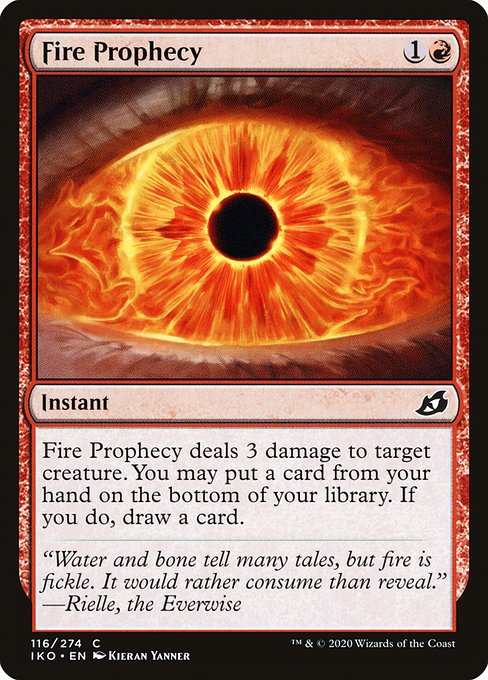 Flame Slash breaks one of the unspoken rules of effects that red gets, it's over the 3 to 1 ratio that marks the gold standard of damage to mana. We're culling one of the few burn spells that doesn't go face to try this one out and see if it works well in the cube.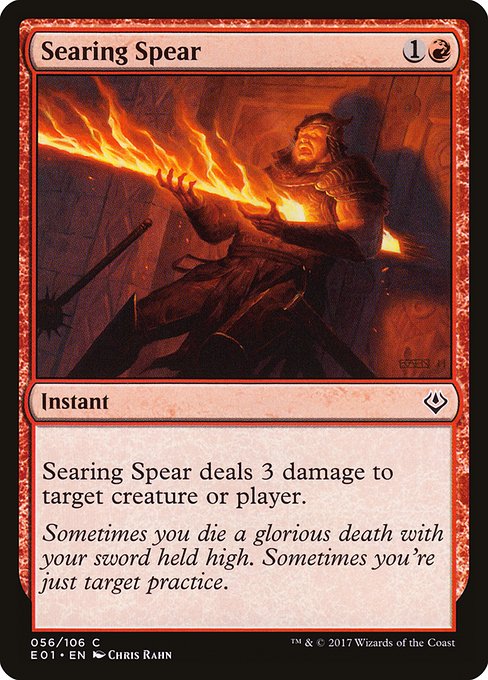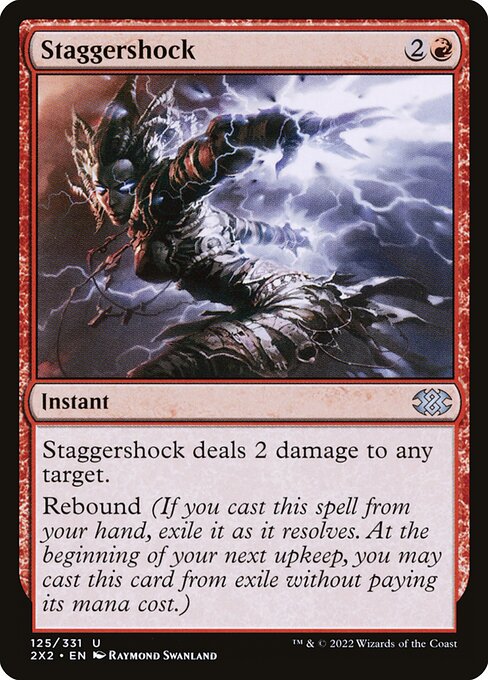 While Staggershock could get the occasional two-for-one, being able to hit that critical three damage for one less mana means that Searing Spear can deal with more threats.
Green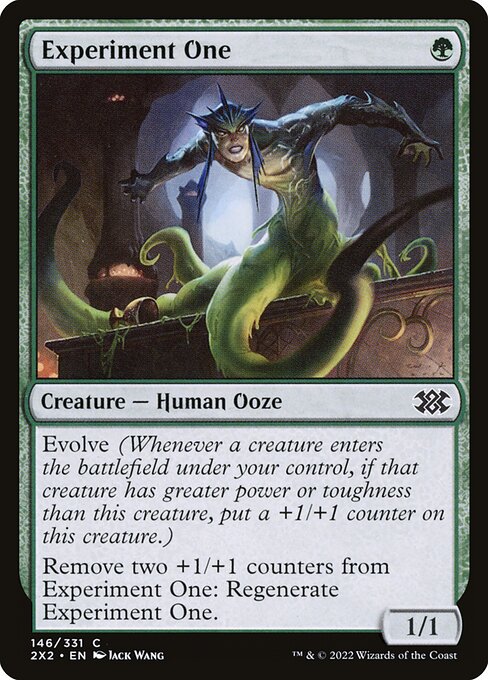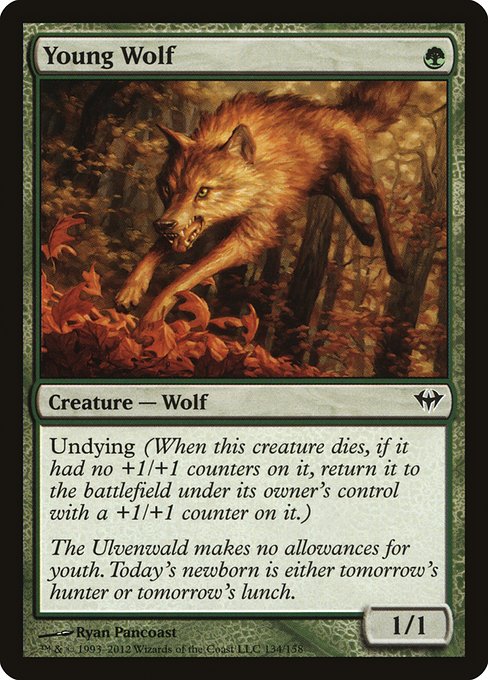 Having access to an aggressive and resilient green threat that encourages you to play other, bigger creatures later feels more in line with what Green wants to do than setting yourself back a turn by killing your own wolf before you can start getting aggressive.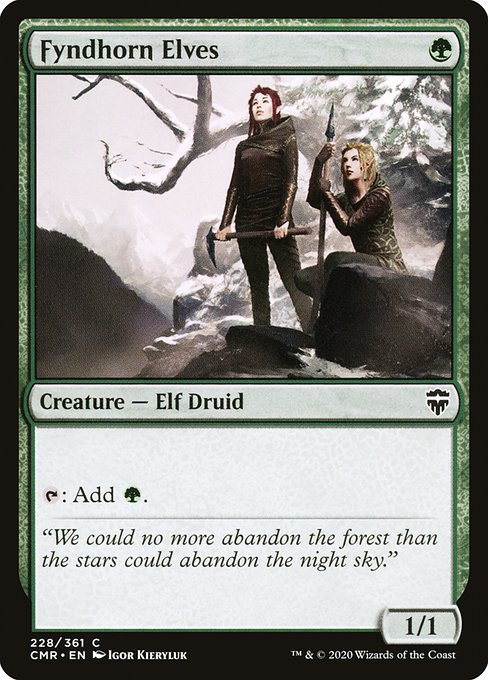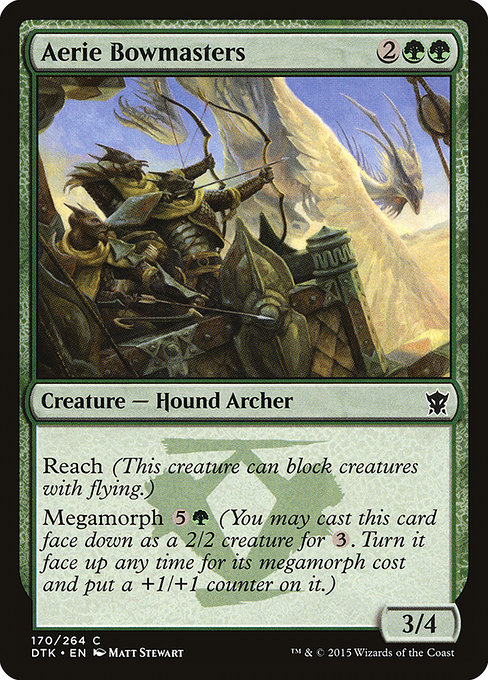 We've added a lot of one drop accelerants and we're finally completing the trio of the best ones we've got in pauper. Bowmasters needed to get out of the cube because generally it's not that good and voting from the community reflects that.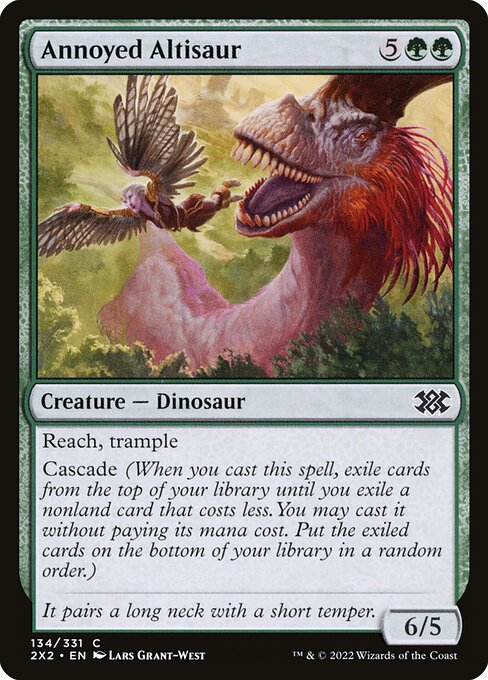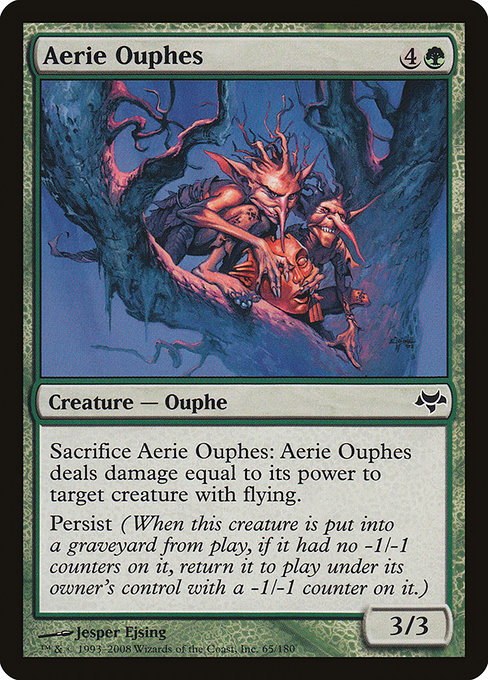 Another Aerie related card booted out is the ouphes. We've now got plenty of ways for green to interact with creatures and the altisaur at least gives green a payoff for going incredibly tall.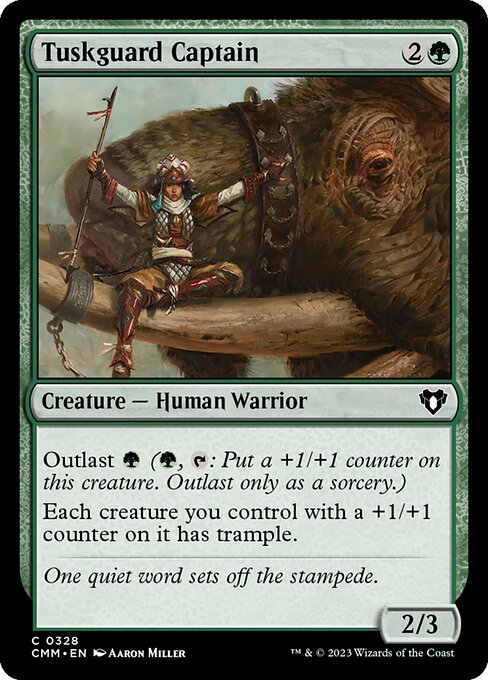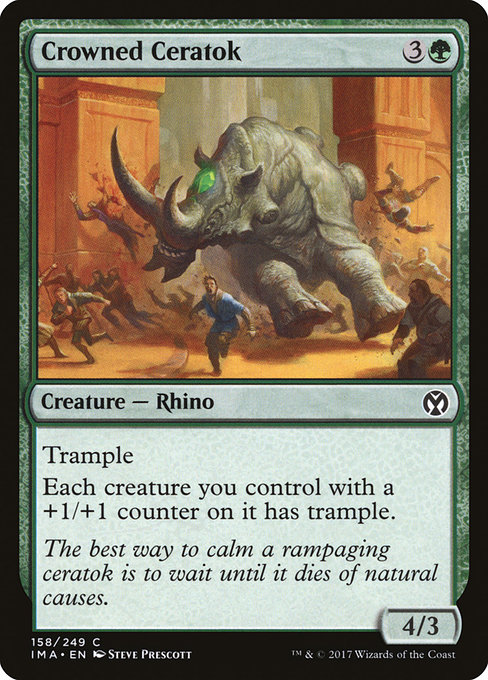 Captain is a less well costed body but fits into the curve a bit better, given the lack of super appealing 3 drops available to green at common.
Colorless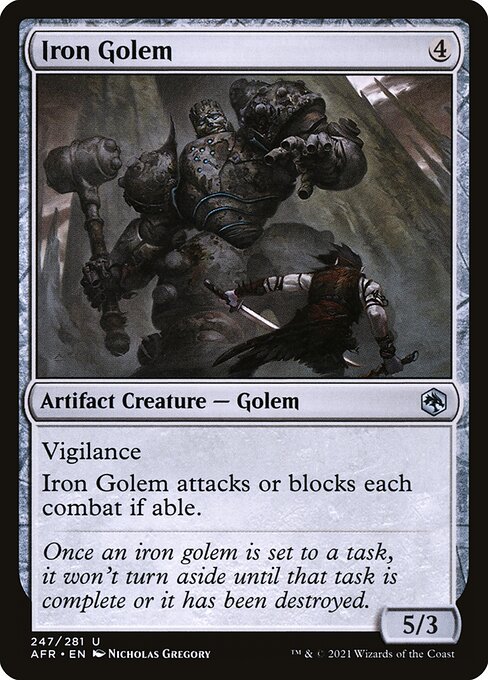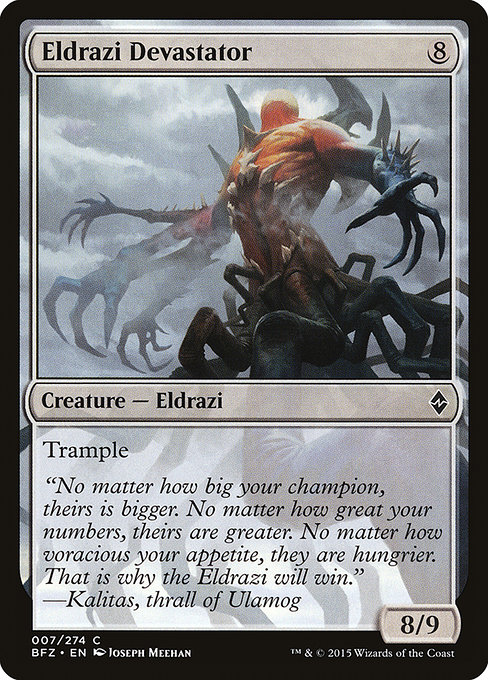 Devastator is routinely brought up as one of the most disliked cards in the cube, and Iron Golem, while not being exactly a Juggernaut, does a decent impression of one. This isn't a hard and fast change, but we do want to give it a try.
Gold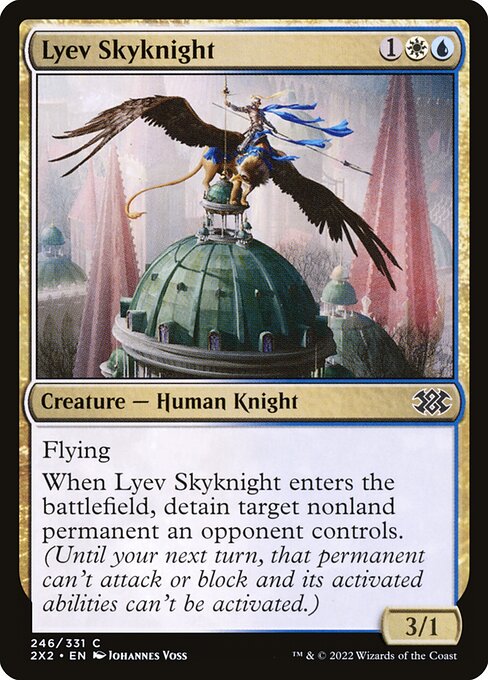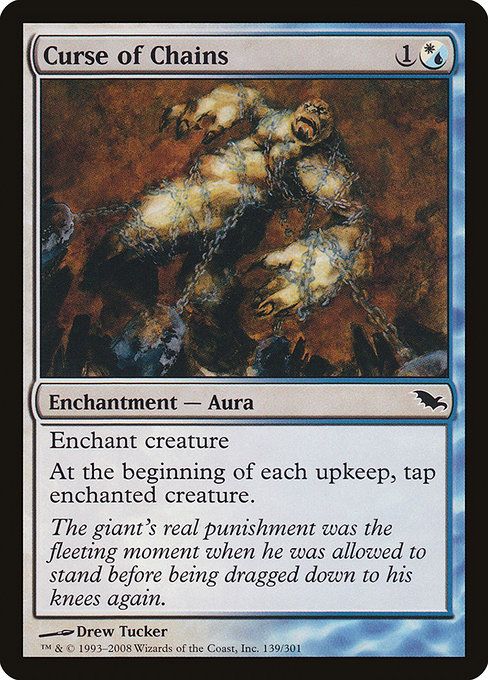 Skyknight was an interesting one to see downshifted in Double Masters 2022. While not the most amazing flicker target, opinions both within and outside the committee were high enough to merit inclusion.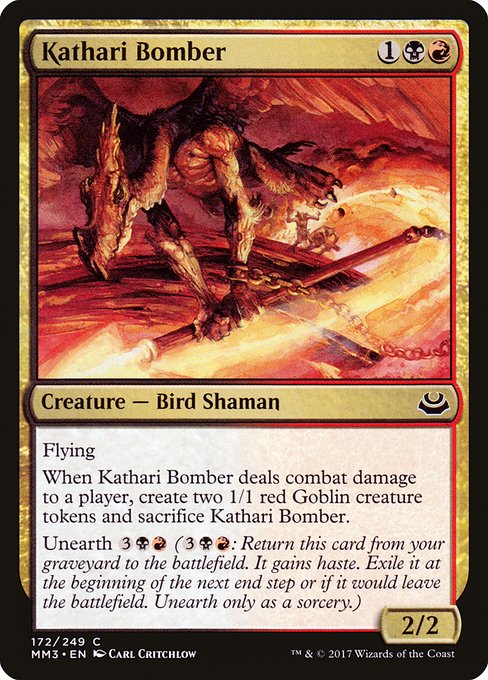 Fireblade artist manages to both be an aristocrats synergy card and a generically solid aggro card and was always making it in. Bomber on the other hand has been disappointing to say the least for a while, and was an easy cut.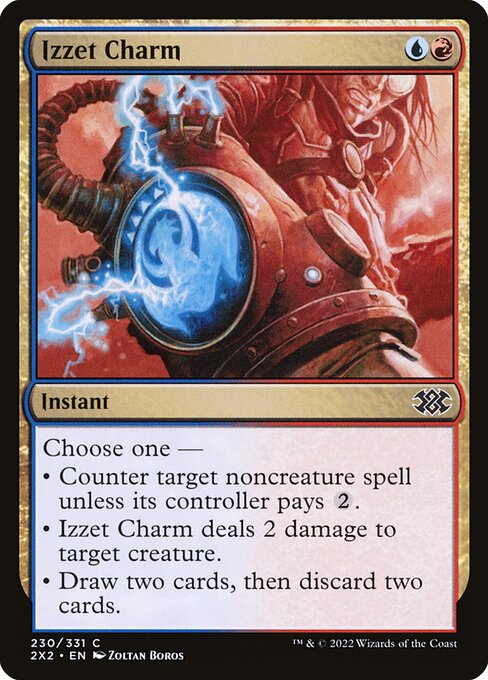 Hypothesizzle has needed to leave the cube for while on account of it being more interesting than good, the fact it gets to be replaced with a card like Izzet Charm is just icing on the cake.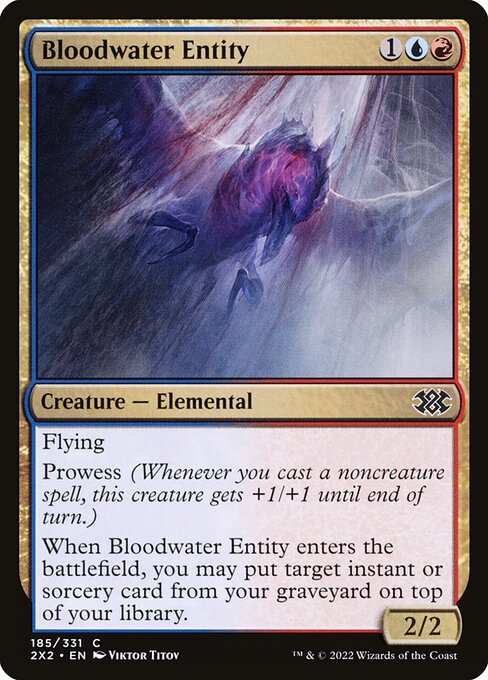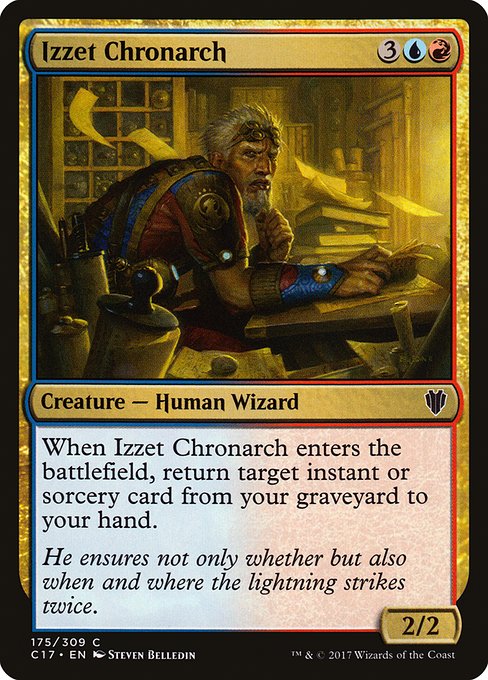 Another often complained about lingerer in the cube, chronarch is finally departing the cube in favor of a much more modern and enjoyable card.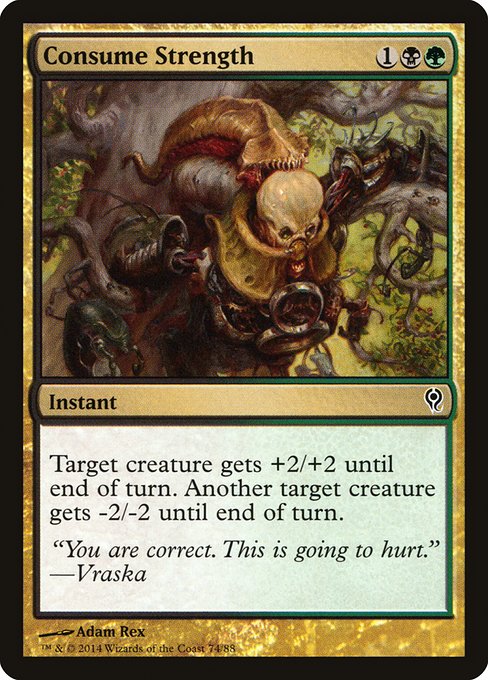 Mangler is a powerful downshift that will make life rough for some opponents, the fact it's got post mortem utility is just great. Consume Strength is still a fine card, it's just the one least members were interested in keeping around.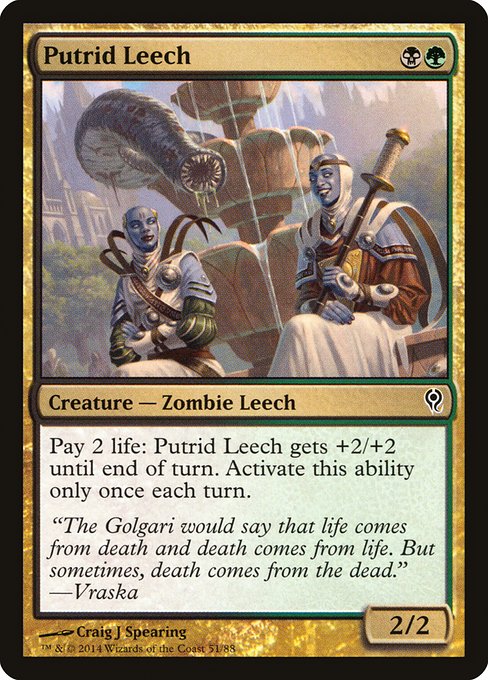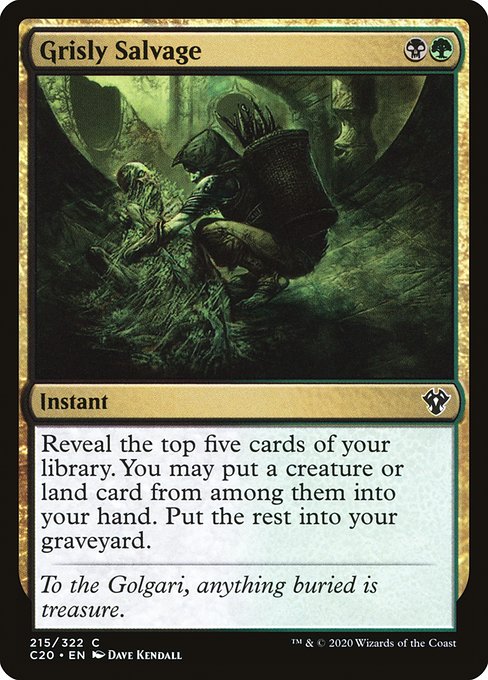 Leech used to be in the cube, and left for the purpose of unifying gold sections on theme more than overall power level, but polling shows it as popular regardless and frankly golgari could use the power level boost.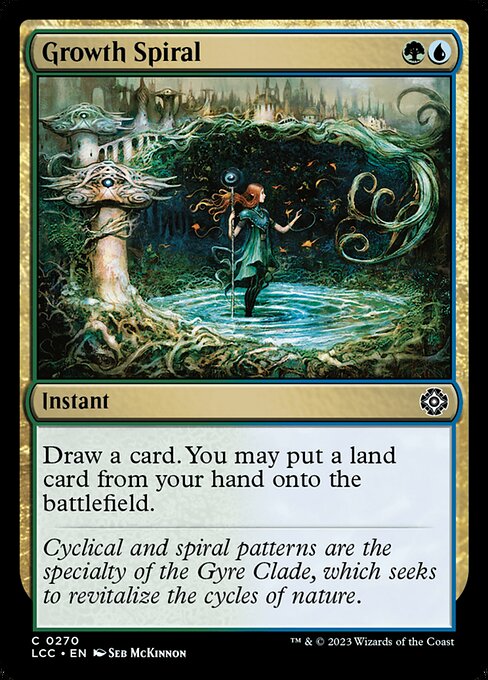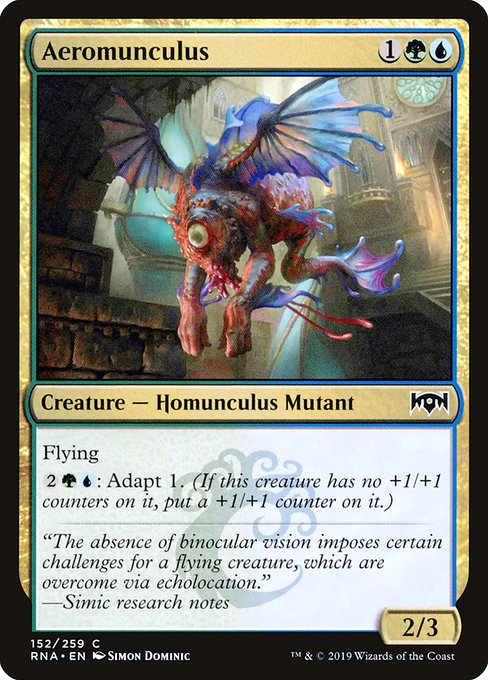 We're slowly planning to swap Simic back to a more ramp oriented color pair, and Aeromunculus wasn't putting up incredible numbers, so we're swapping this one in for the time being.
Lands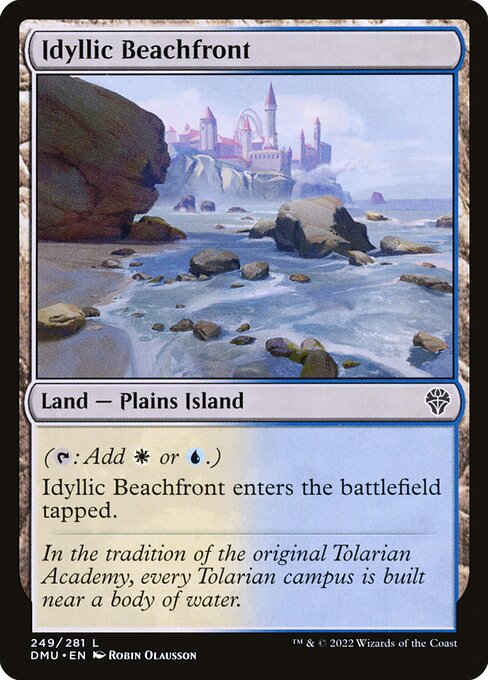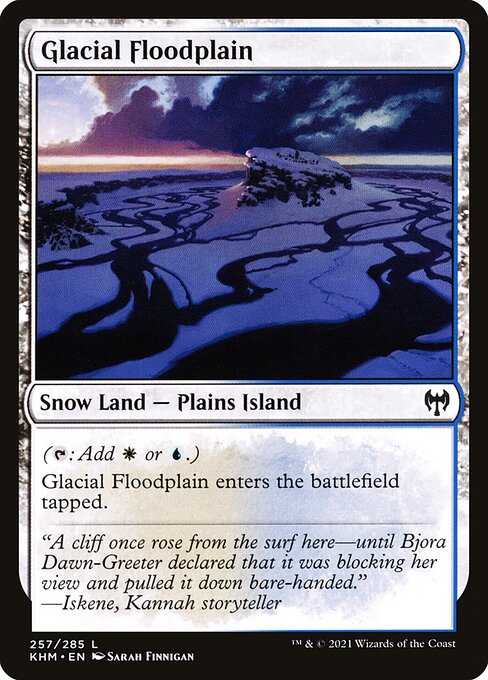 This swap is being made for the sake of clarity, while this functionally changes nothing, it does clear up that the snow portion of these lands are not relevant to the overall cube.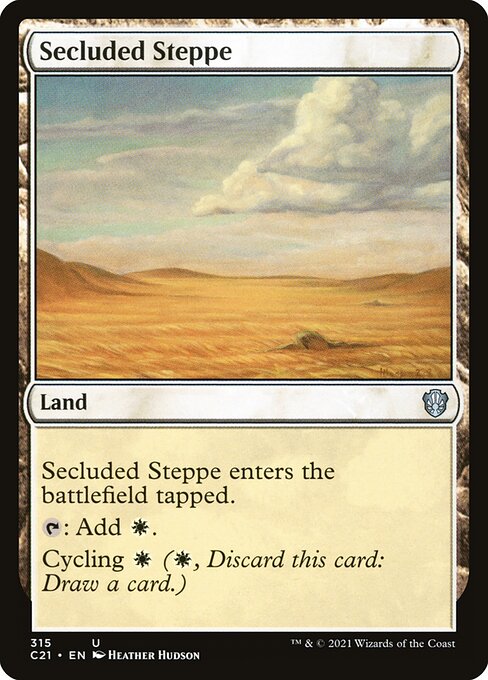 As part of the land update, we're swapping to the "thriving" gates from CLB to unify what our land base looks like. This will make splashing things and building 3 color decks better, but we hope that upcoming aggro improvements will make this not an issue.
Cuts
The following cuts were all made to account for 10 more slots being shifted to the lands section. These were generally the least well liked, or cards that didn't fit the theme as well or cards that simply don't fit the definition of a gold card strictly speaking.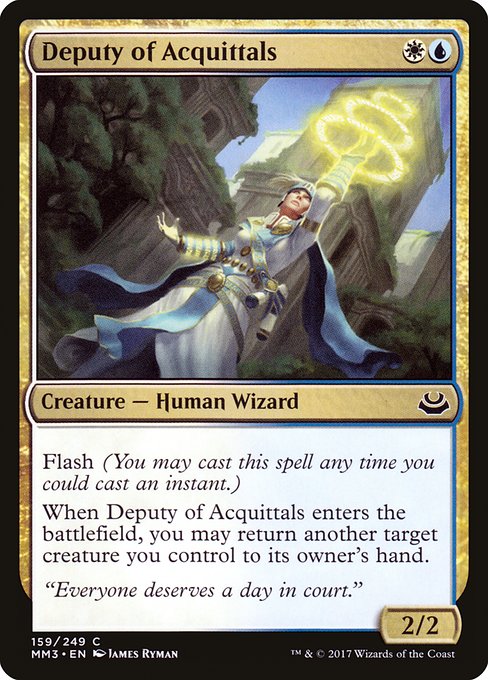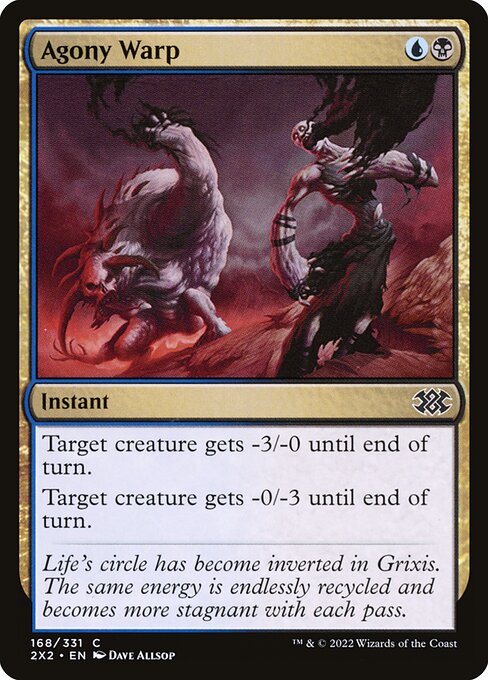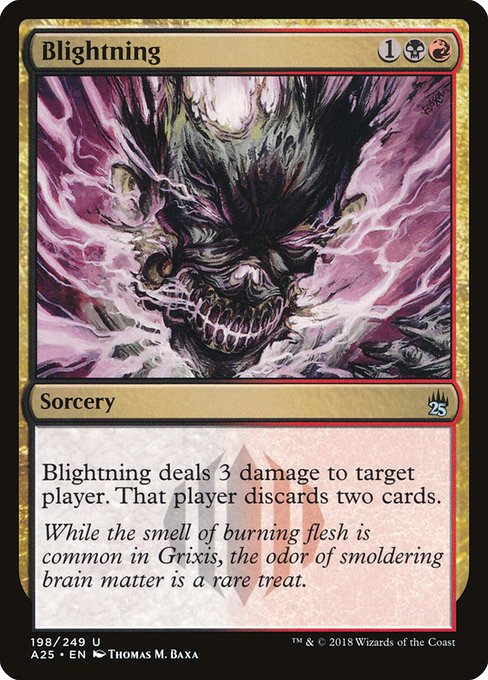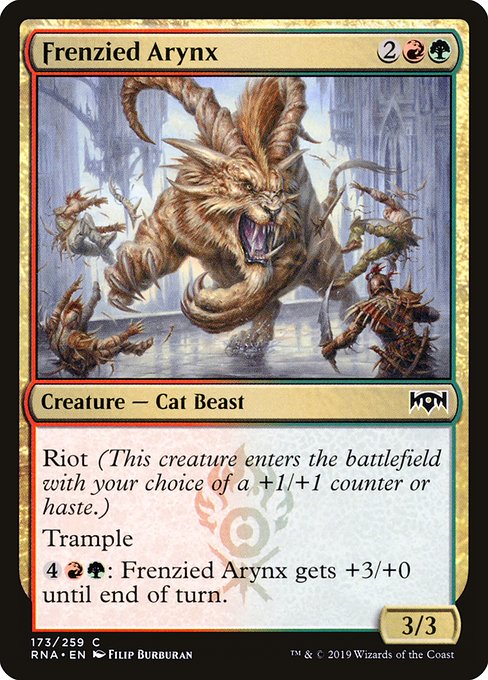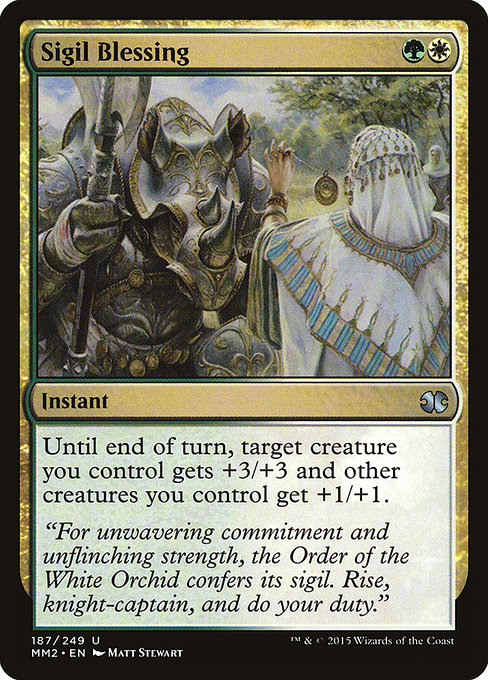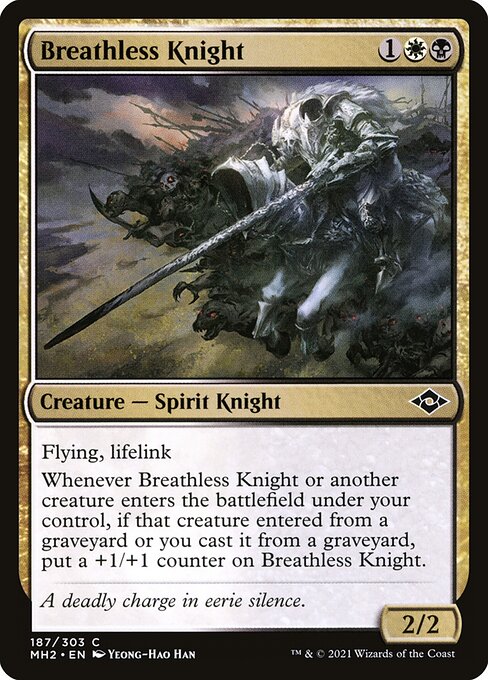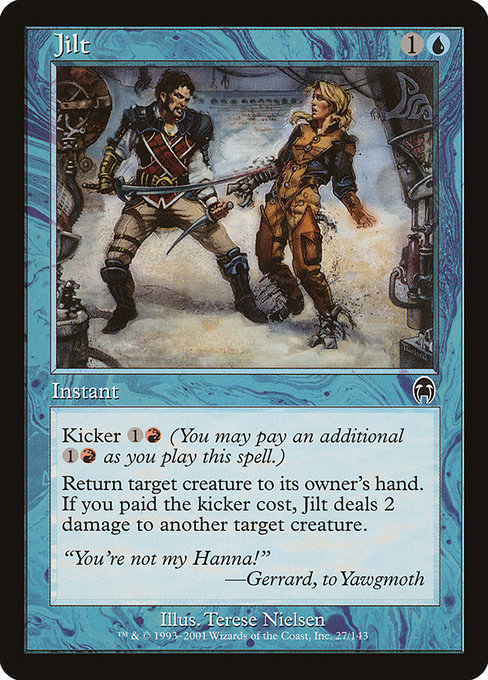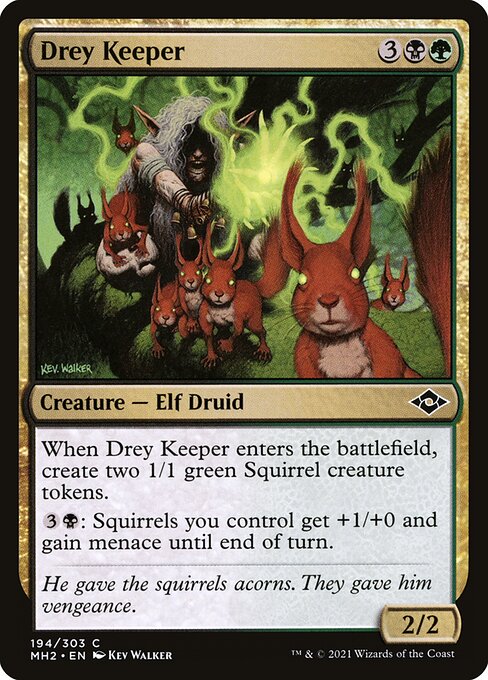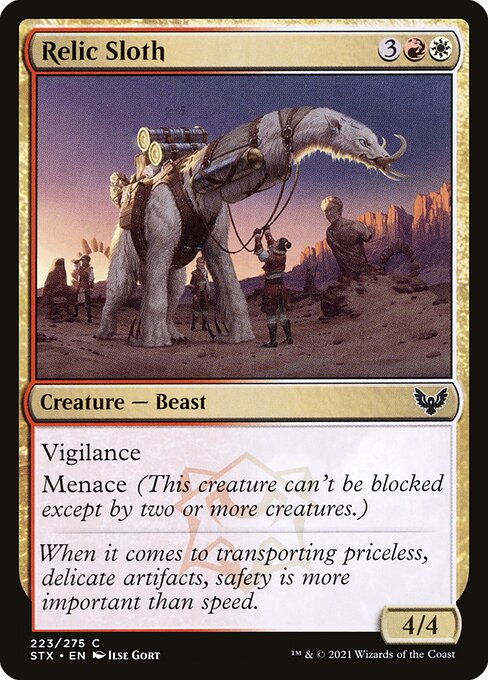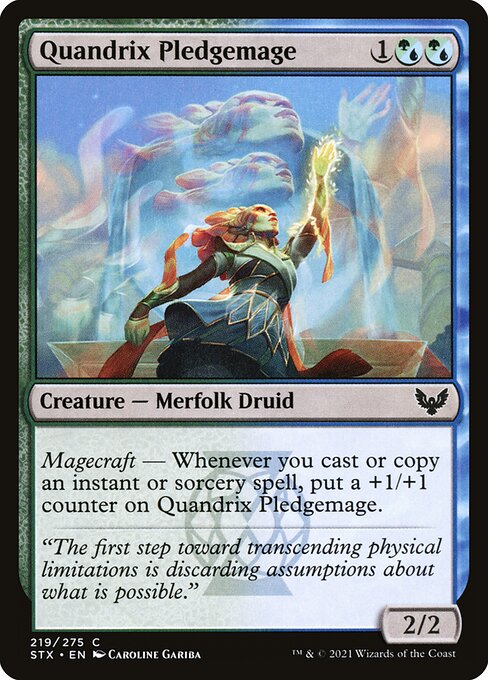 Next Steps
Glad you asked, the most helpful thing you can do is provide feedback on these new cards, that can either happen via the discord or by voting on cards on our handy card polling site.