"Until morale improves the previews WILL continue" – Wizards of the Coast apparently.
This one's pretty nuts folks, let's get into it.
White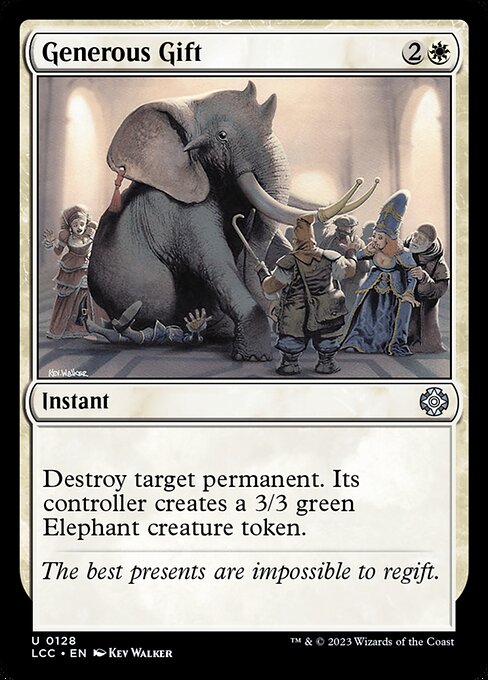 Phizzled: I have been enamored of Generous Gift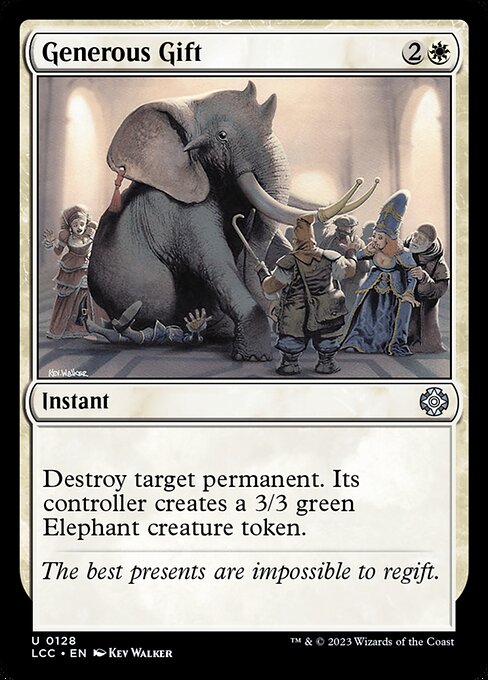 for quite a while now.  I don't think it's a perfect answer, but like Bound in Gold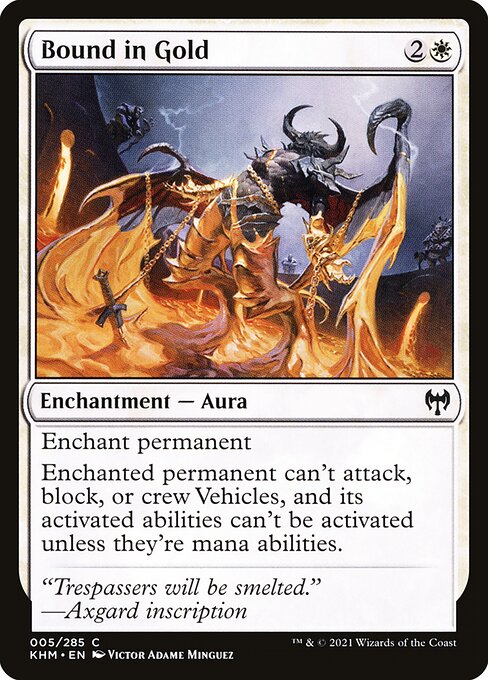 and Oblivion Ring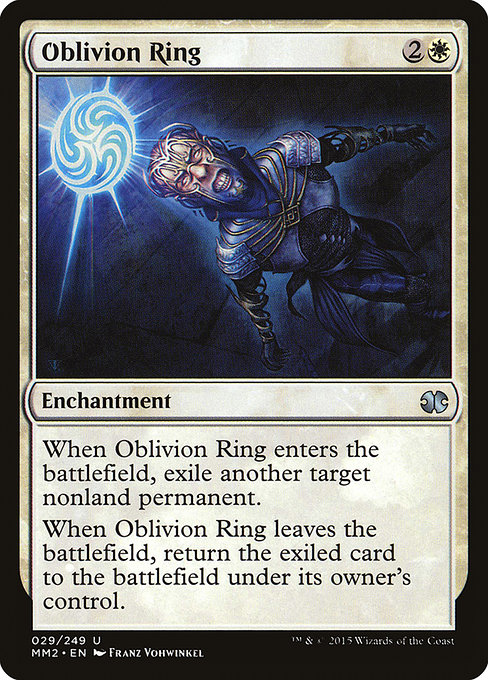 , it offers future proofing for many questions the Cube could be asking down the line. I'll be keeping a copy in my On Deck binder even if no one else does.
Solset: People love this sort of card in big swingy formats where you can answer planeswalkers or legendary swords.  Those are pretty good trades to get a 3/3.  For our cube, with so many value creatures, this is going to be a very steep downside to shrink something and turn off an ability.  An easy pass for me. 
Omni: I think Solset and I are of one mind here. I can think of only a few cards that I want to exchange for a 3/3 that my opponent might have, and I think the best use case is to treat this as "sacrifice a permanent, make a 3/3 at instant speed".
Neveron: Generally I think giving your opponent a 3/3 in pauper isn't going to be solving as many problems as you'd want.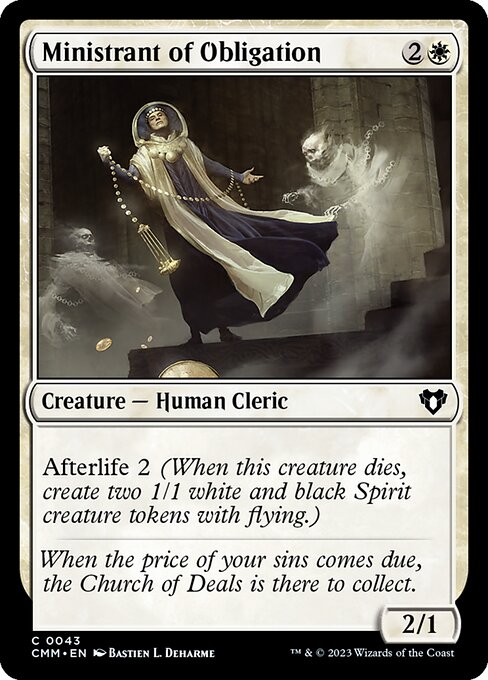 Neveron: I could see this over Sandsteppe Outcast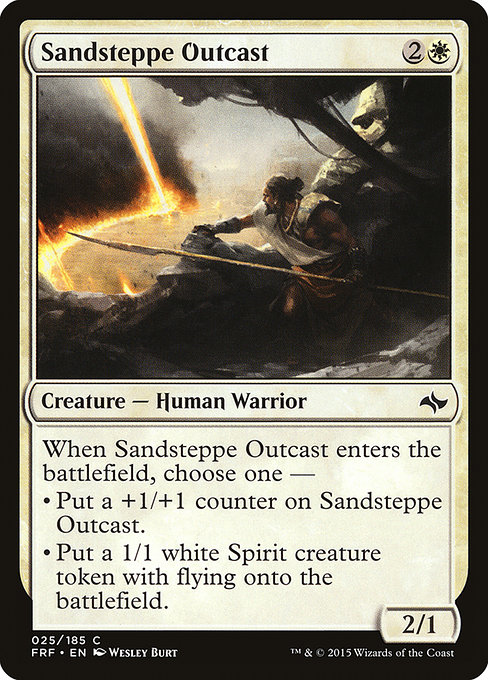 , maybe? While it's designed for (literal) Cartel Aristocrat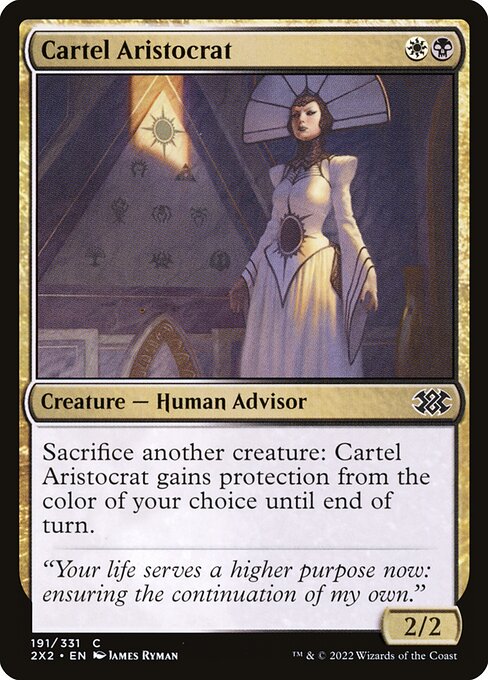 s, the ability is also just removal protection and extremely annoying when making combat decisions.
Usman: I think I like our current 3s more since they're more focused on immediate impact, although this is pretty annoying to have to face off against, especially if the opponent has to trade a creature for it.  Might be more sidegrade than upgrade.
Phizzled: The "front" side having no evasion is disappointing.  I think losing the immediate creature token is a downside for White-X decks hoping to be aggressive.  I struggle to convince myself that the resilience is a net improvement over the three drops that exist.  
Solset: This card is fine but not exciting.  It doesn't play into any real white archetypes, so I think it is a pass.  For any mutations supporting white graveyard or aristocrats, this could be better. 
Omni: I think this might be ok just as a lot of material, but without much archetypal reasoning here I'm not 100% on board.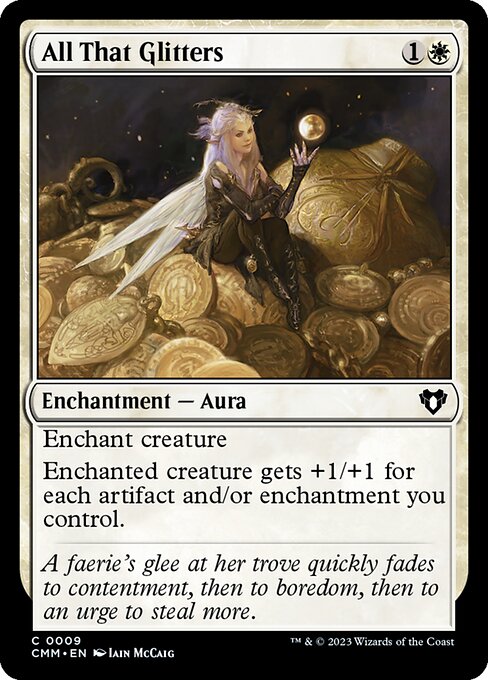 Neveron: This is a strong aura, but it requires an environment that supports it. Unfortunately, our cube might not have quite the density to do so – even if white's suite of Pacifism
s does put it close. Anyone looking to make Artifacts Matter in their mutation should take note, though.
Phizzled: As scaling buffs go, this isn't too shabby, especially with incidental food and treasure tokens being added all the time. I'm not sure how much more interesting this is than a static buff or piece of equipment, though.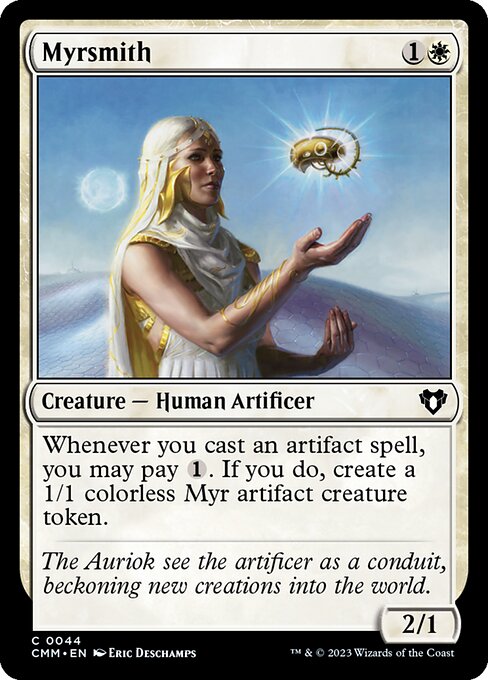 Neveron: With thirty-something hits in the cube, most in the colorless section, this could work if you tried. I think that it's probably in the same category as All That Glitters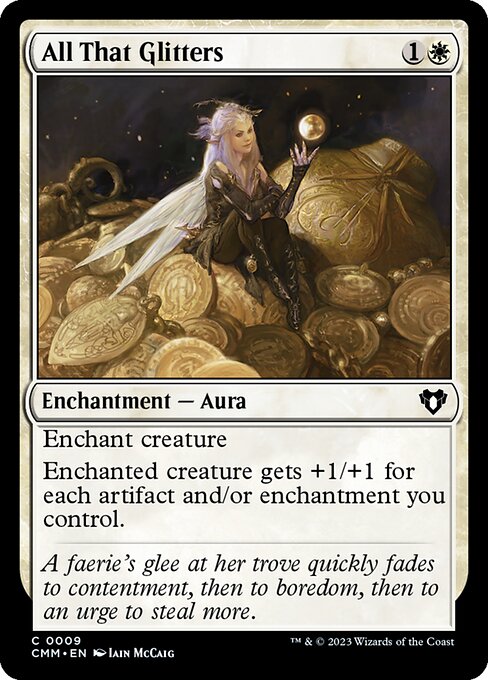 , though, and that we'll just keep it in mind for if we ever want to reinvent White/Red (or White/Blue?) in the cube.
Solset: With Piker stats in an aggressive color, repeatable value is worth a look. In our cube, this is never going to be great, but it does give you a chance to have a single card to build around with just enough support to change up the draft.  If we ever want cards that are more draft dependent, this could be an interesting experiment, and in any artifact themed cube this would obviously be great.  Still, with our current philosophy of having all around good cards or archetype support, a single card build around is not a priority.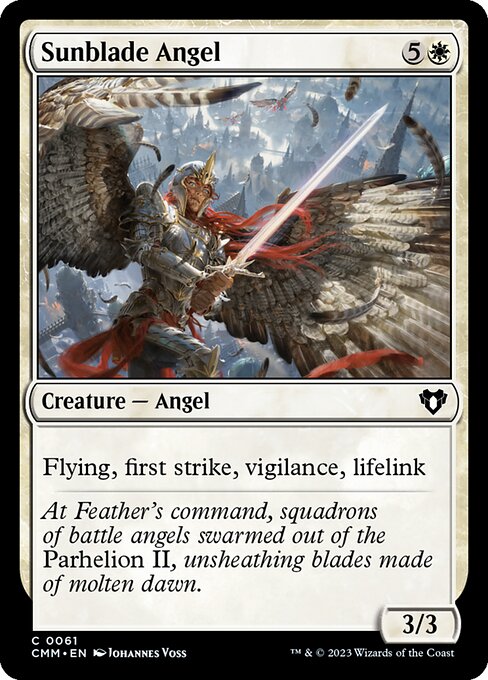 Neveron: It's a Baneslayer Angel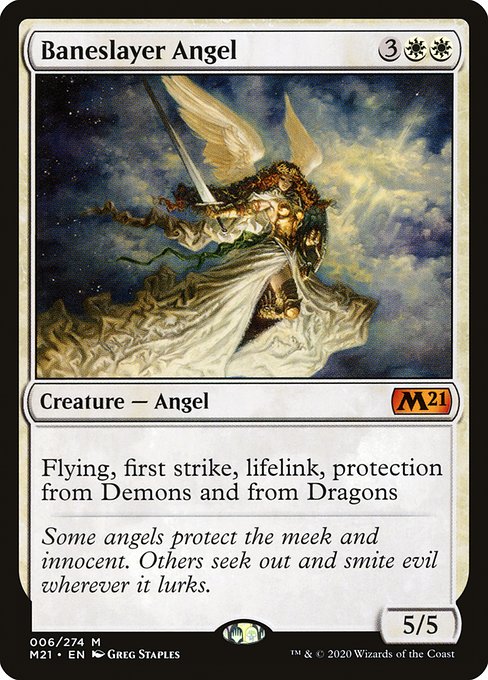 that dies to Lightning Bolt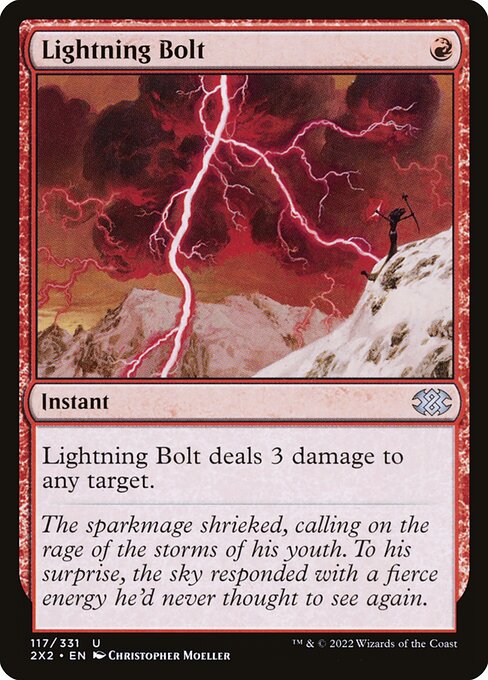 . If it sticks, it's a huge problem that probably slowly wins you the game… but it's big, expensive, and fragile. The general vibe I got during the spoiler season was that this card would probably lead to some unfun, drawn-out games.
Phizzled: There are a lot of keywords, which can mean it will draw premium removal.  I think when this doesn't get destroyed on sight, the caster was going to win anyway.  I would be surprised if this was the sort of creature we needed.
Solset: If this amount of keyword soup was in a color with ramp or in a more controlling one that needed a win condition, I could see this being an interesting option for the cube. Our white is usually trying to win by going wide before this point.   More importantly, dying to most of our burn puts it out of my interest.  
Omni: Not to get way too mid-10s magic discourse, but this is a pretty harsh "dies to doom blade" example.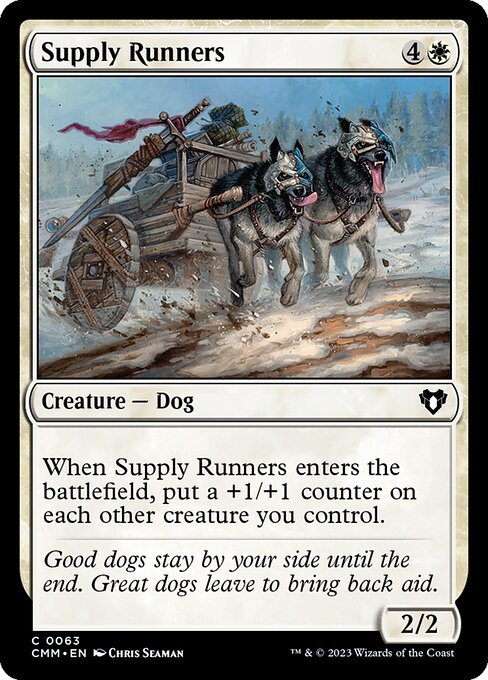 Neveron: Oh hey, it's one of these. Is getting a body better than being one mana cheaper and giving Vigilance? (e.g. Silverflame Ritual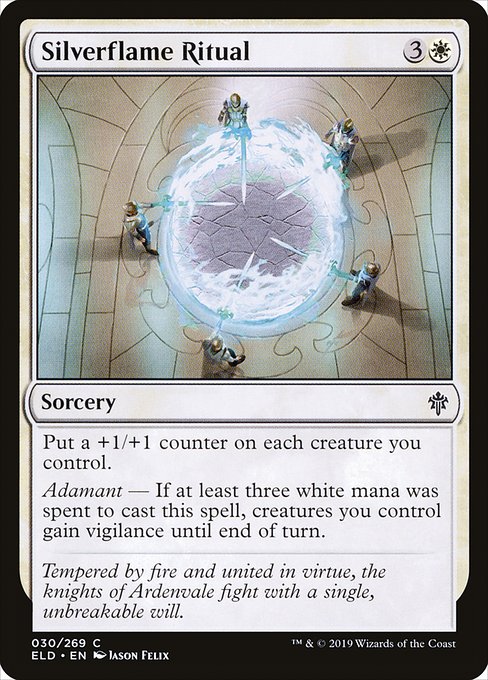 & Now for Wrath, Now for Ruin!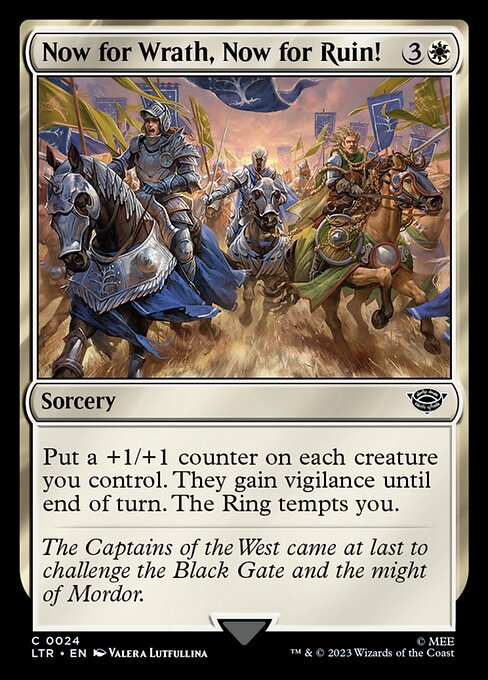 ) How often is this just going to be worse than Relief Captain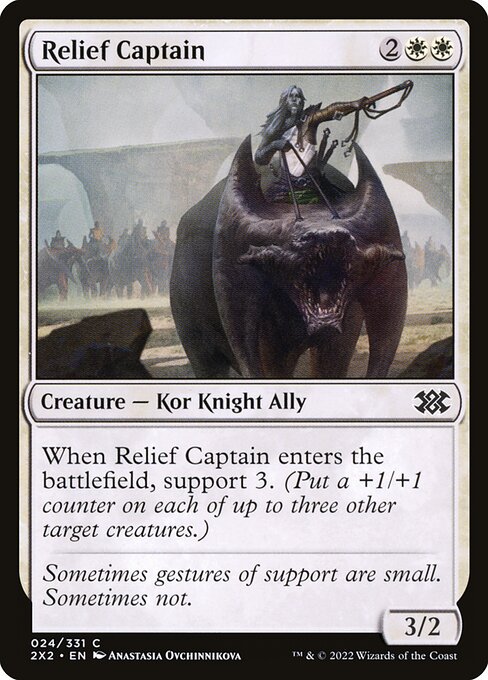 ? We've gotten a lot of this type of card by this point, and personally I'm still leaning towards the lifelink on Basri's Acolyte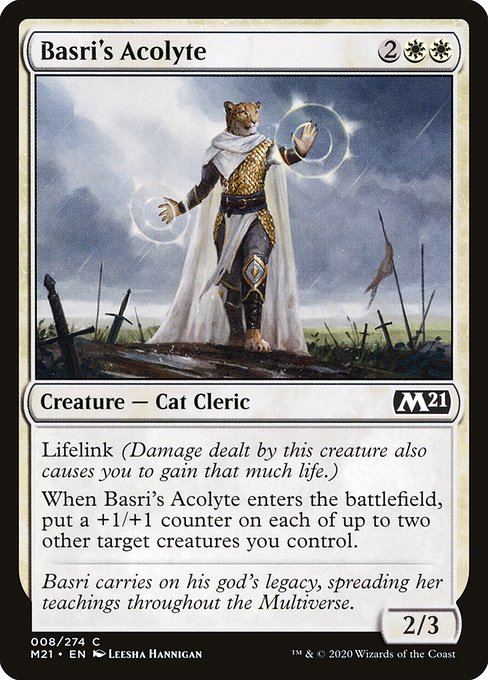 .
Phizzled: Vigilance always feels like the wrong ability when I want to play aggressively, and the body never seems big enough when I'm on the defensive.  Basri's Acolyte and lifelink motivate attacking as preservation.  If the team buff is what we need, that's the better fit.
Solset:  I think this card reads better than it will play in our go wide WR and in our counters matters WG. It fits our themes but is just too slow in most game states. While there are game situations this could be good in, I think Neveron is "right on" that there are more efficient options that are more reliable which we have skipped on. 
Blue
Neveron: Now, don't get me wrong. This is a french vanilla card, literally just a big beater with flying. But it's also very big, and if you can drop this on turn 10 in your blue control deck then you're probably going to win. There's almost definitely better options, but my internal Timmy is kind of excited even as they're overruled by the rest of me.
Phizzled: I'm old enough to remember when Mahamoti Djinn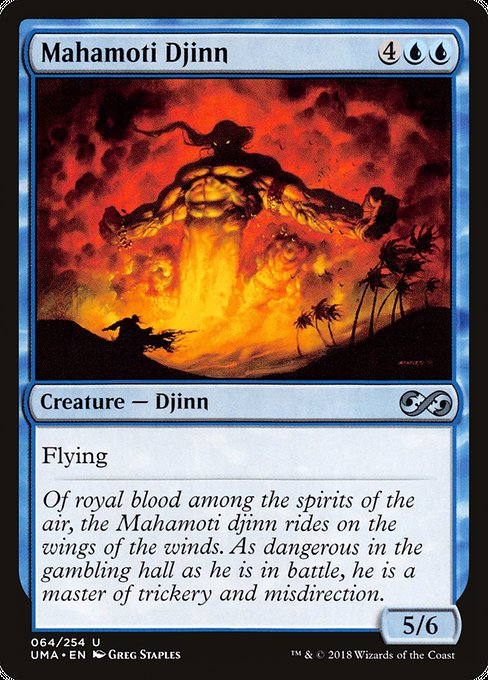 was a credible finisher in control decks in constructed, and this feels both of a kind and of an age with that.  I'm not thrilled by the idea of adding it to the cube, but I like, in the abstract, what the downshift suggests is possible.
Solset: At some point you need something to cast with all the good mana acceleration in pauper.  Obviously, any sort of resilience or protection would be nice, but this is pretty much a common dragon.  As we look to position Simic more clearly, I could see the argument for this as a finisher alongside the big hexproof ones.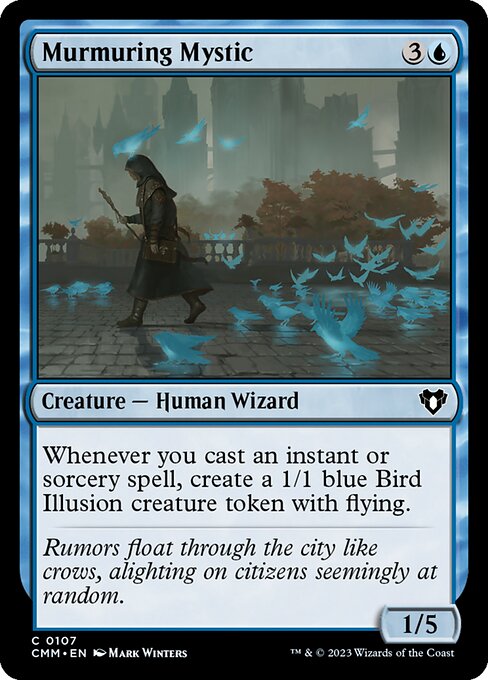 Omni: I feel the amount I want to play this card indicates it might not be healthy. I love this archetype of creature in a lot of formats, but I weirdly wish we had just gotten Young Pyromancer instead of this? It would better fit into more aggressive looking decks where this just says "oh, I'm not doing ANYTHING this draft". Regardless, very solid powerlevel.
Neveron: Mystic's one of those classic draft powerhouses. It feels like a shoe-in.
Usman: One of those main phase 4 mana cards, but tapping out for it doesn't feel as much of a risk as it does in other formats, and this is one of the better payoffs for just playing it, protecting it and winning.  
Phizzled: As a secret* five drop, the wizard is harder to kill than Cruel Witness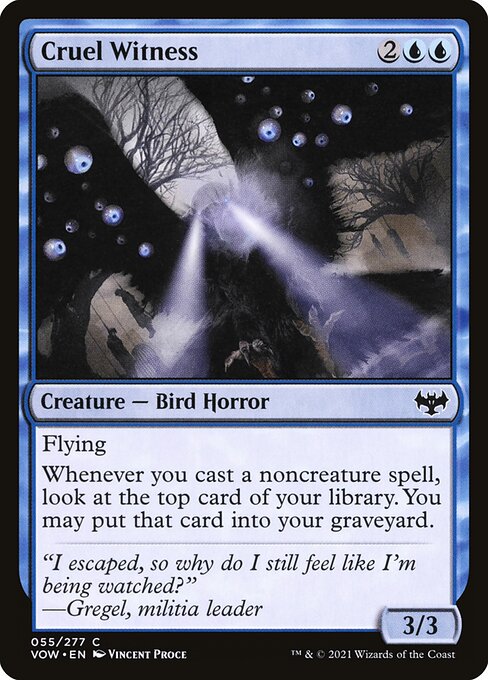 or Watcher in the Mist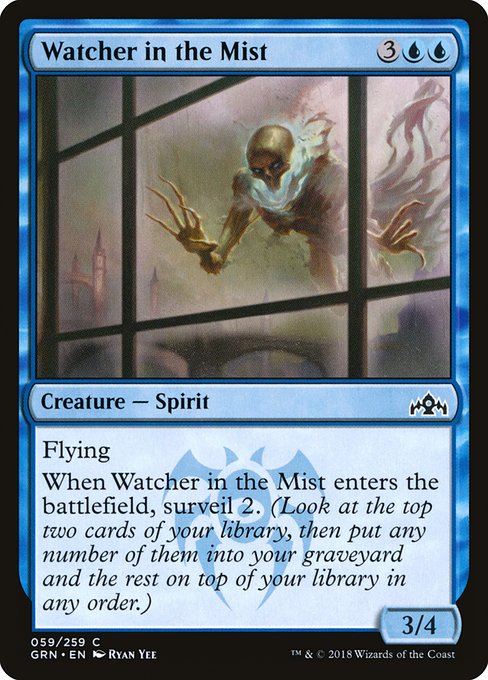 .  Without other cards, this takes longer to end the game, but it should always end the game.  The only reason not to put it in the Cube is that it's possible that Blue doesn't need the help.
Solset: I have seen this thing go off in Pauper commander, and it is sick.  Even in a non-dedicated deck, it will be decent if it gets a few triggers and blocks up hill giants. As a build around, this a new mythic common.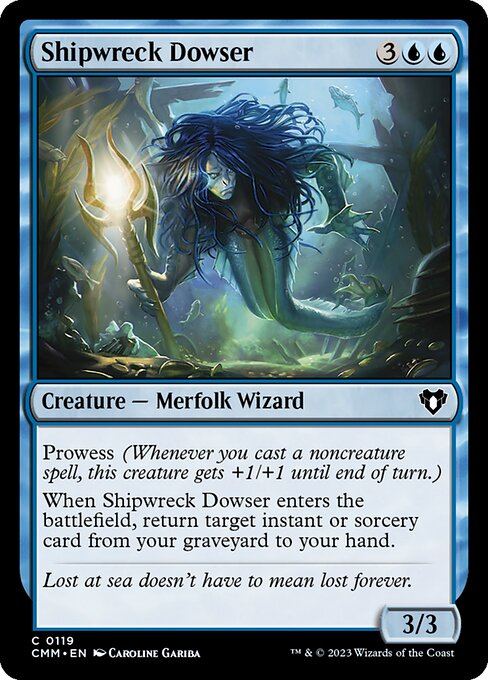 Omni: I really like this. We've had a handful of creatures with the ETB half of this, but tacking on prowess to make this a really nice threat to help actually end the game as well as mitigating that magic 3 toughness issue are all really nice factors here.
Neveron: There's been some arguments about whether this replaces Archaeomancer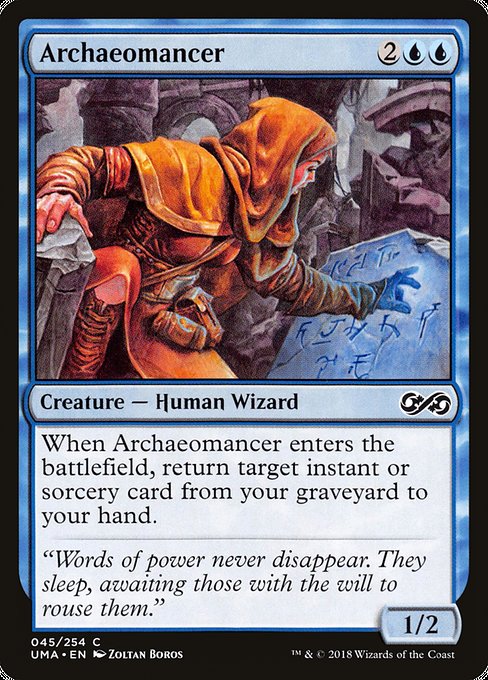 or Mnemonic Wall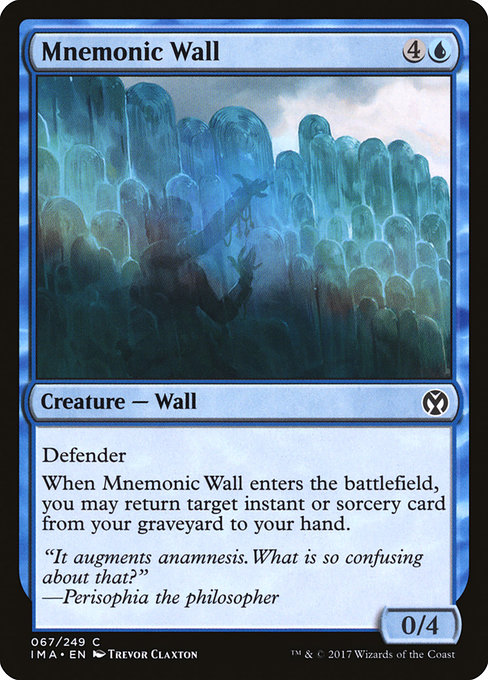 , but either way I feel this merfolk's getting in.
Usman: I really like this for our format – decently big, gets back a thing, all great things for mid-sized blue threats.
Phizzled: While not technically a "strict" upgrade, it's better at what two other similar cards do, and has prowess.  What's not to love?
Solset: While Blue's curve can be a concern, this is again a great centerpiece for the spells matters archetype.   Any bigger mutations running Salvager of Secrets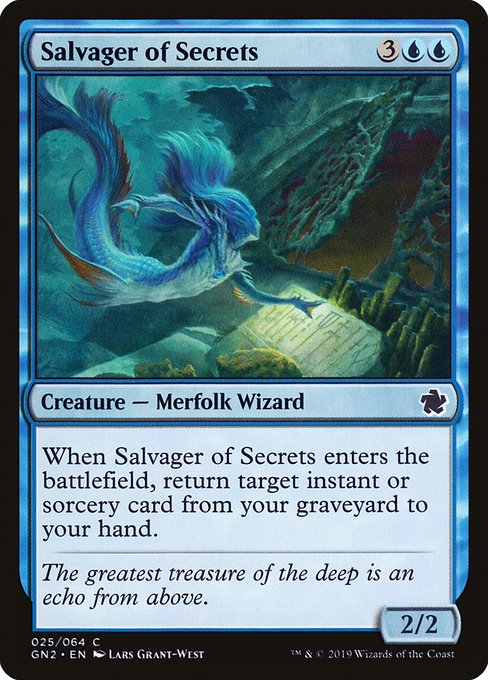 got a huge upgrade. As others have said, I don't think our 450 needs 3 of these in blue, so I expect a cut.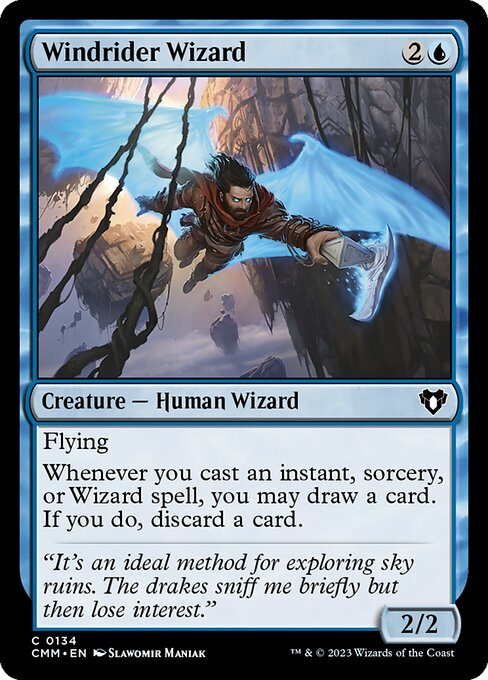 Omni: I don't like this one. I get that it's probably fine but I really do not like typal cards like this that require their typal interaction to actually do something past being a wind drake.
Neveron: Wizards are one of those types that are surprisingly common in the cube (seven in blue, fifteen total), but I think that might just be additive distraction over the "loot when you cast an Opt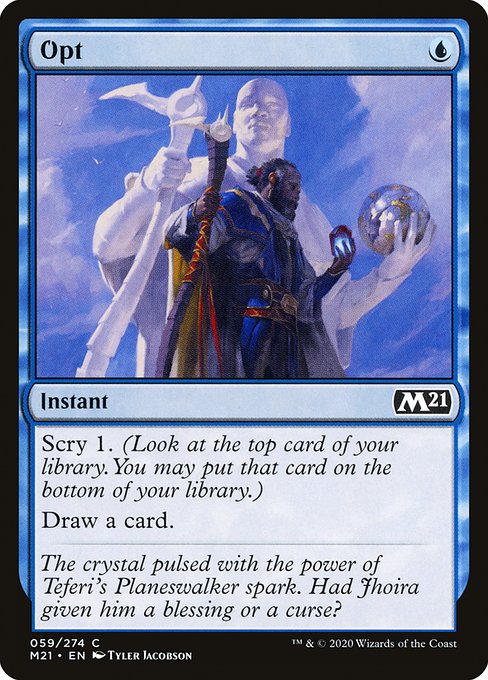 " bit. That said, if this encourages drafters to lean into the one-card archetype then I'm all for that stuff.
Usman: One of those things that I always ask myself is how many hits you have to have in the deck to be worth using (and agree that the Wizard text is likely just additional bonus, rather than payoff, since blue decks aren't lacking for instants/sorceries.)  I think the minimum number is something like 7 which… I think is doable?
Phizzled: If I hadn't just proposed Cruel Witness above as a potential cut, I would be proposing it here.  There is enough to trigger the occasional looting, but the Wind Drake body is still technically acceptable when you can't get bonuses.  I imagine I'll find myself making a case for this to be added, but I don't be especially disappointed if the rest of the committee says "no."
Solset: Windrake with upside is likely fine, but the 3 drop blue is so full.  I imagine that the ETB ones are stronger in an average deck, and I am not sure if spells need extra card selection over all the cantrips they should be playing already. At least Cruel Witness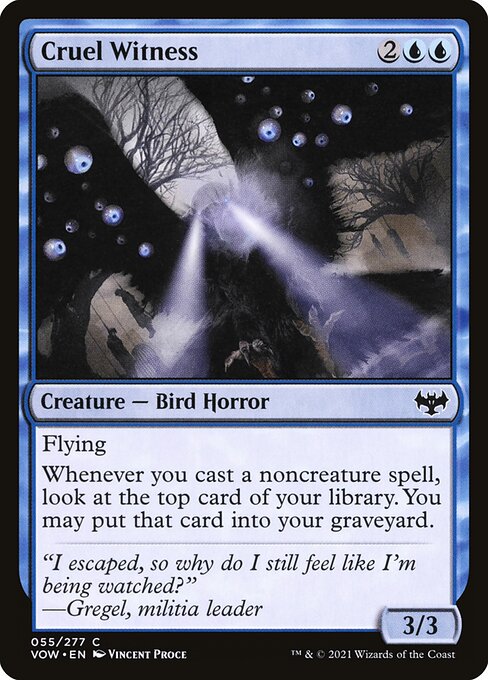 wins most air battles.  Windrider is good enough, but unneeded.  
Black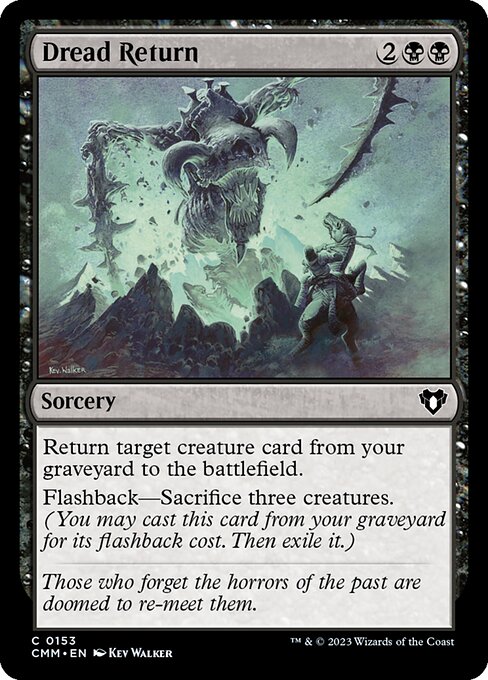 Omni: OH BABY! I've beaten the drum for Zombify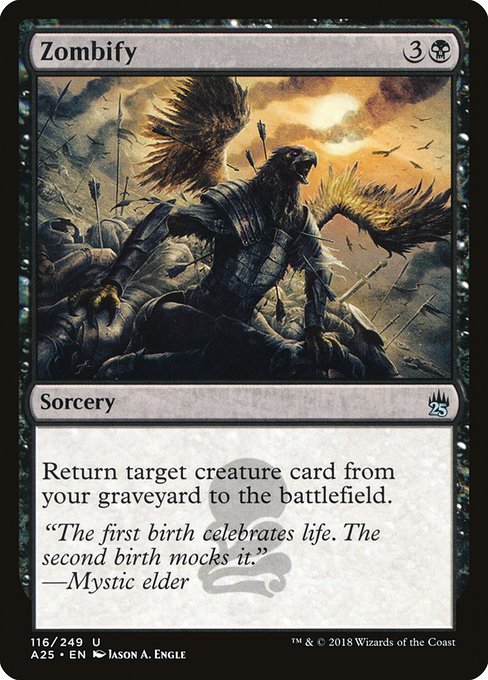 to be a common, but Wizards decided to step over the reasonable to the just plain silly. Now this isn't doing the oops all spells tricks it's known for in constructed formats, but oh man, this is a nice get. Easy include for me.
Neveron: I've been arguing in favor of Exhume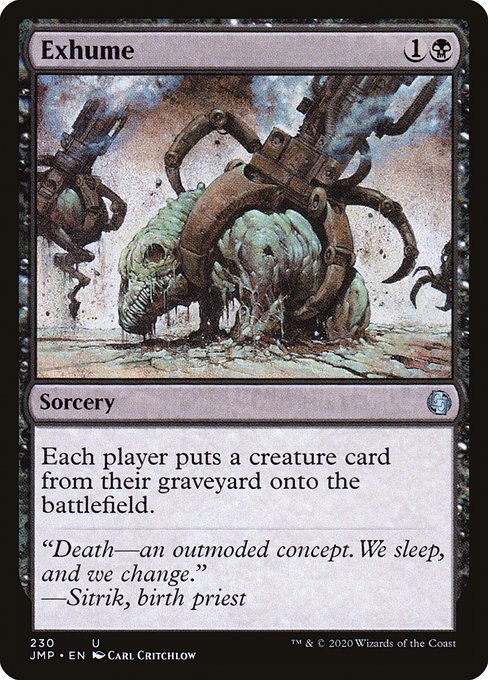 for a while now, and had almost resigned myself to suggesting that we just leaned into White's much more plentiful four-mana reanimation. In the future I'll probably keep arguing for Exhume, but only so it can join this card for a proper reanimator mini-archetype.
Usman: Zombify in the right color!  Also I really like this to boost GB and/or token heavy decks, if they have something to dump into the grave (like Generous Ent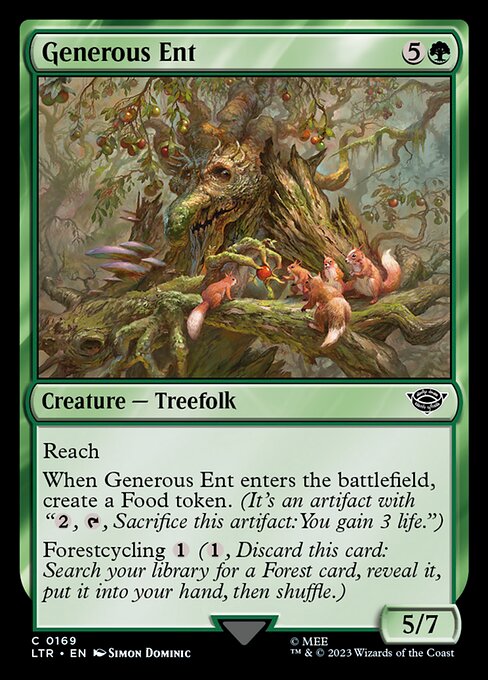 .)  
Phizzled: The day this was previewed my yell of triumph woke two cats out of their midday  naps.  I am thrilled that this is downshifted and excited to cycle and reanimate TwistA, just like the old days.
Solset:  I don't want to mill this often, but the fact that it could still be useful aftewards is just gravy on our first true black zombify.  This needs to find a spot for sure. I am so happy for Omni!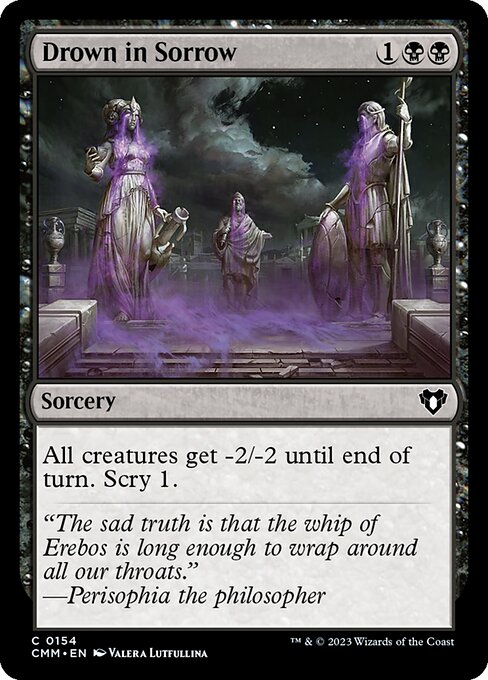 Omni: Another odd barrier for commons broken. I was expecting Infest as a when not an if, but again, we skipped right by that to infest with upside. Love it.
Neveron: Goodbye, Eyeblight Massacre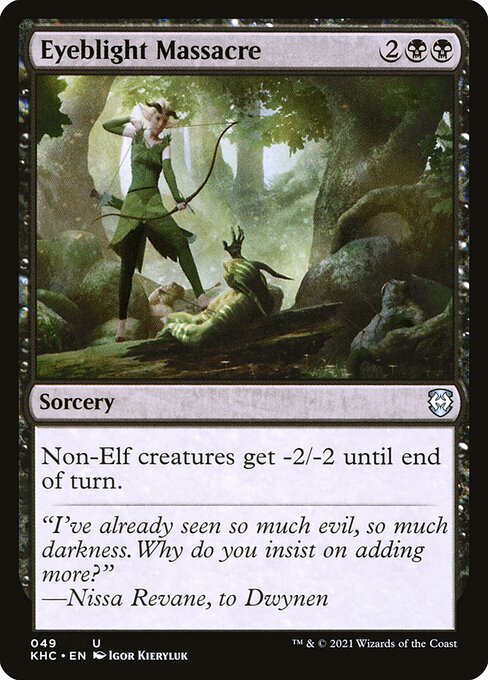 . Black didn't run a ton of elves anyhow.
Usman: Oh hey, more cheap wraths!  Easy peasy.
Phizzled: Not a strict upgrade (the theme of the downshifts) but better in 99% of the decks you'd draft in the Cube.  Welcome, Sorrow.
Solset: Giving tokens one less turn to go off, is giving me one more thing to worry about.  Still, this should go in over eye-blight.  It is both stronger most of the time, and it removes a false signal for tribal elf.   If we find aggro decks are too oppressed, we can figure out the right number of sweepers later.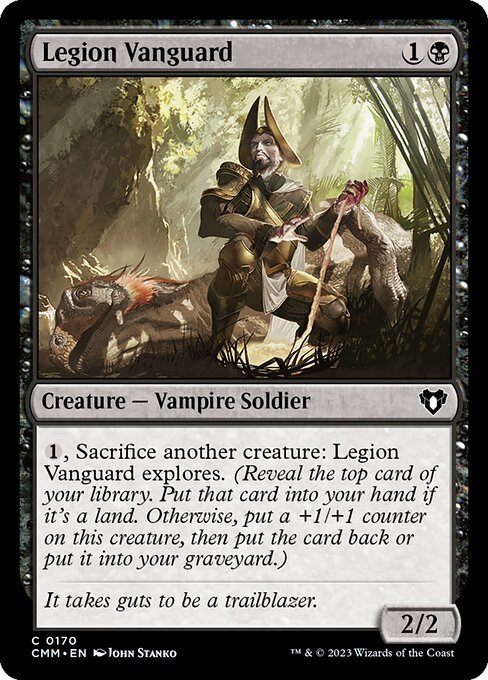 Neveron: We literally just added Mold Folk
, but this card's not quite the same. The Vanguard's card advantage and uncertain +1/+1 counters vs. the Folk's guaranteed counters, lifelink, and ability to eat treasure. It definitely could have a home in this cube, I think, it's just a matter of finding a cut.
Usman: I think I like this, but less than Mire Triton, by being a weird Nantuko Husk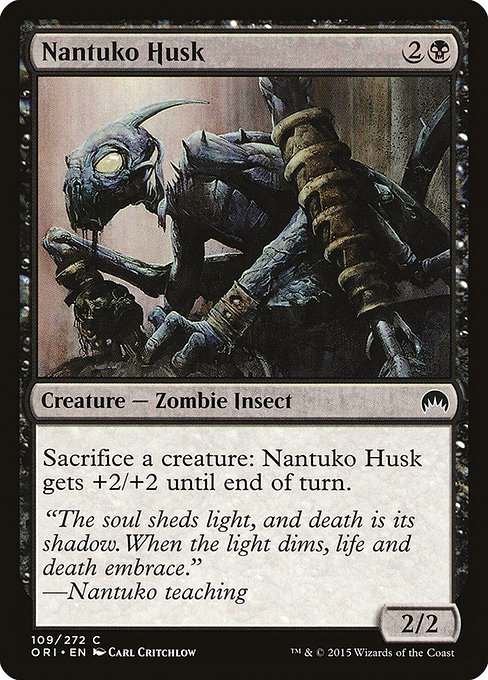 -adjacent thing, and love that explore is a real upside.  Not super excited but not bad.
Phizzled: The mana gate frustrated me in retail draft at time, but competing against the rest of Modern Horizons cards is not competing against only commons, even if some are the best commons ever printed.  This occasionally "draws" lands, which isn't nothing.  
Solset: I am fond of the moldfolk but being a base 2/2 might just win out here.  I don't think I'll enjoy this card as explore is too unpredictable for my taste, but it is likely an upgrade to most of our voters.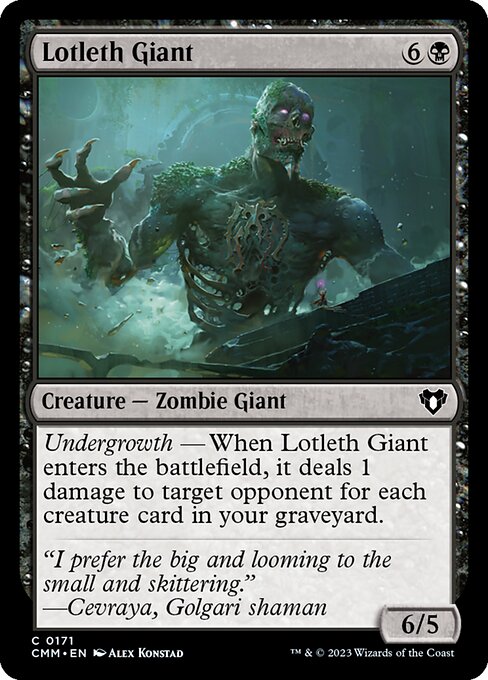 Neveron: If we do end up with making self-mill reanimation a thing, this guy could probably work well as a finisher. Here's the burning question, though: how many creatures do you need to get in your yard before Lotleth Giant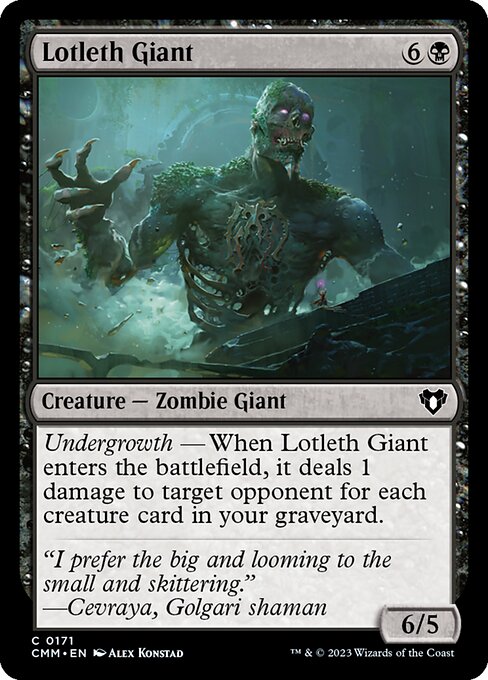 is worth it?
Usman: Yeah, I think that's the big thing – when am I happy casting this as a threat?  And do most decks outside of GB really even care, if they're casting this thing?  I dunno.
Phizzled: This is fine in dredge decks, but there aren't many in our cube.  At seven mana, I probably want to feel like I'm either ending the game or saving the game I was about to lose.  I don't know how often this does either.
Solset: While this might be cute in a dedicated deck, it is just too expensive for what it  leaves behind.  Perhaps if it had some evasion. There are just too many other interesting options for this to tempt me. 
Omni: I'm not stoked here. Casting this fairly feels rough, even if it comes with a free lava axe attached. That said there's probably an undergrowth value where this is just good enough. With community opinions not super high on this one, it's a pass for me.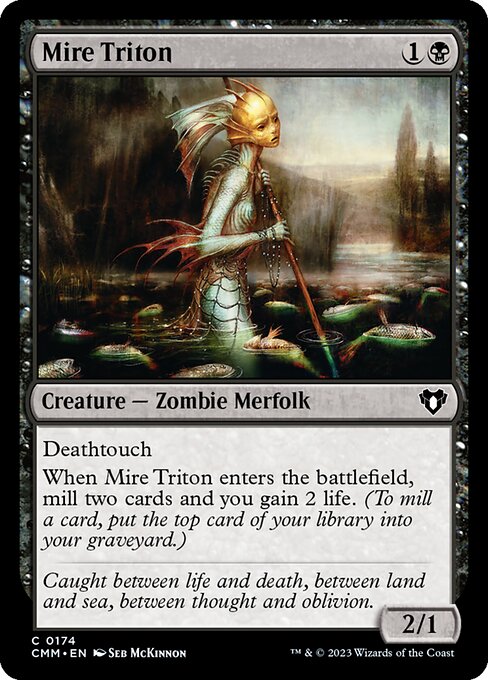 Omni: This is a card that I've loved in constructed formats as a role-filler, and I do think that adding in cards like this to amplify Golgari's GY based strats could be a good call where the card is just fine on it's own but also does some self milling.
Neveron: I loved this card in THB draft. It slices, it dices–it works on aggro, works on the defensive, sets up your graveyard while also stabilizing you a bit.
Usman: Real nice role-filler which does a lot, and even helps enable ninjas via deathtouch!  So good.
Phizzled: The deathtouch and lifegain honestly make this is a great card.  If i weren't convinced we were adding a stellar reanimator card, this would still be good at everything Black-X decks do.
Solset:  This is a pretty strong "glue card" that gives incidental support to really every black deck and holds the color together.  Coming in alongside a reanimate spell just makes sense. Boot nipper tried it and failed, but I think Mire Triton will stick around.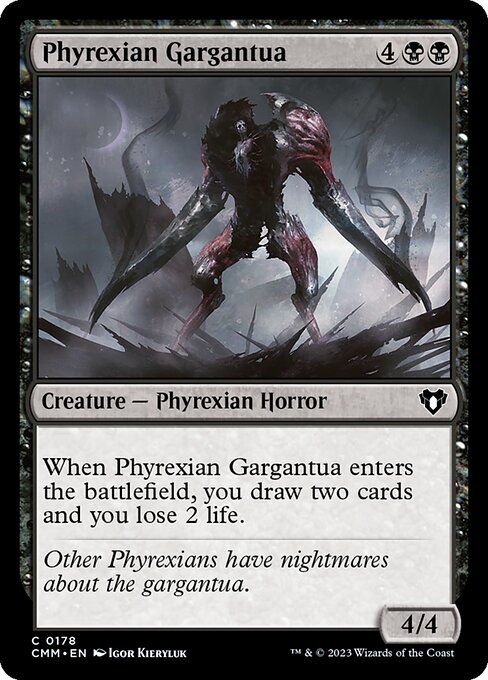 Neveron: A proud ancestor in the "literally just staple two creatures together" genre, this oversized Phyrexian Rager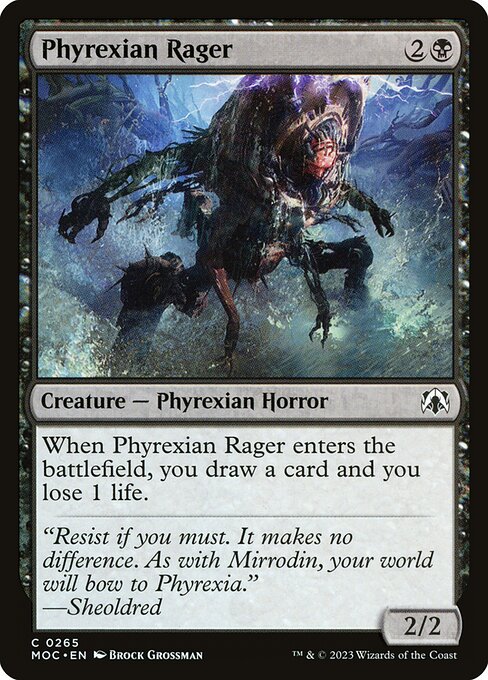 could probably do a lot of good in our cube. Anything that draws two cards on ETB obviously draws some glances. Here's the question, though: does it replace First-Sphere Gargantua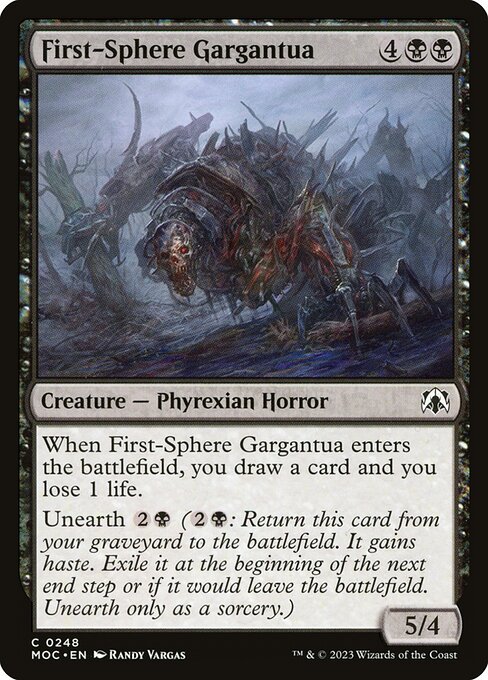 or do we want to double up on big card-drawing Phyrexians?
Usman: I think our format likely is fine with doubling up, for giving some bigger mana payoffs, if that's something we're looking for.  Nifty with blink too, which tends to be a fan fave.
Phizzled: I don't know where I come down on this, actually.  One moment I think "yes, more card drawing phyrexians" and the next I think "we should preserve the concept of the singleton cube."  I wouldn't mind reanimating this with Dread Return, but I can say that about many creatures that cost more than 4 mana.
Solset: Since pauper can't be a "baneslayer" cube as it is missing the high impact rares, this card does a nice black Mulldrifter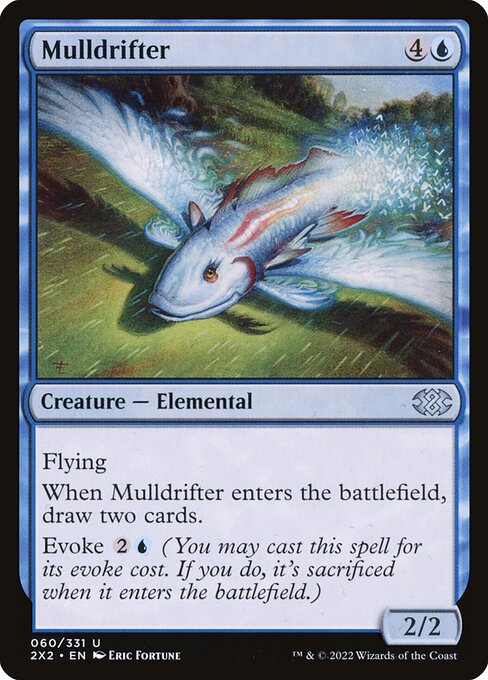 impression.  Definitely a great top end card to mill with Mire Triton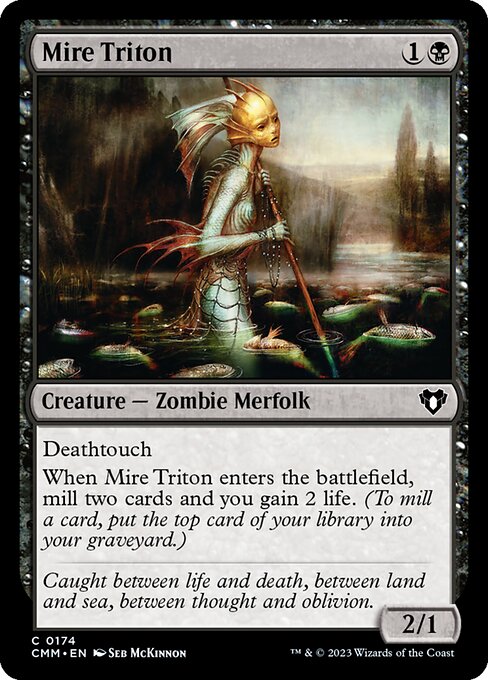 then bring back with Dread Return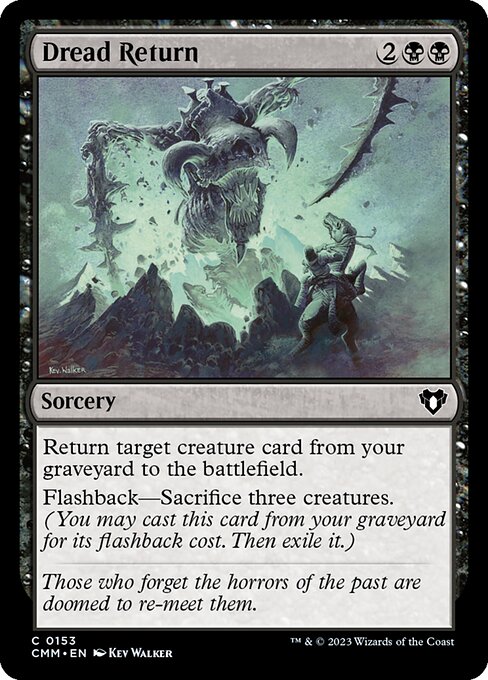 . Our black top end is getting full, so it will be hard cuts soon.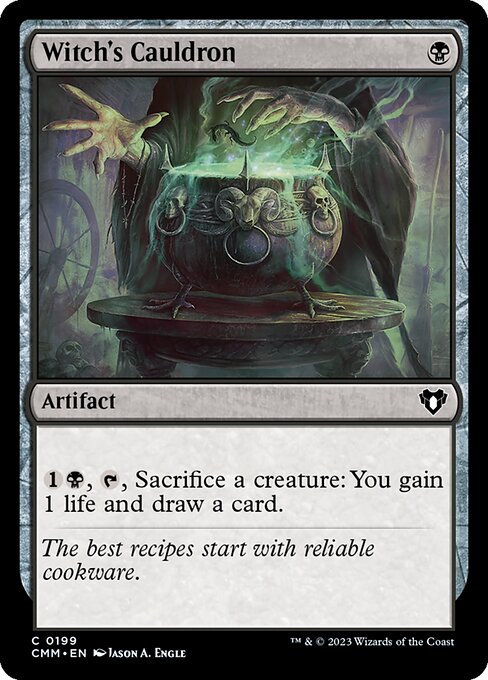 Neveron: It's a cheap sacrifice outlet that draws cards. It's harder to remove than a Spark Reaper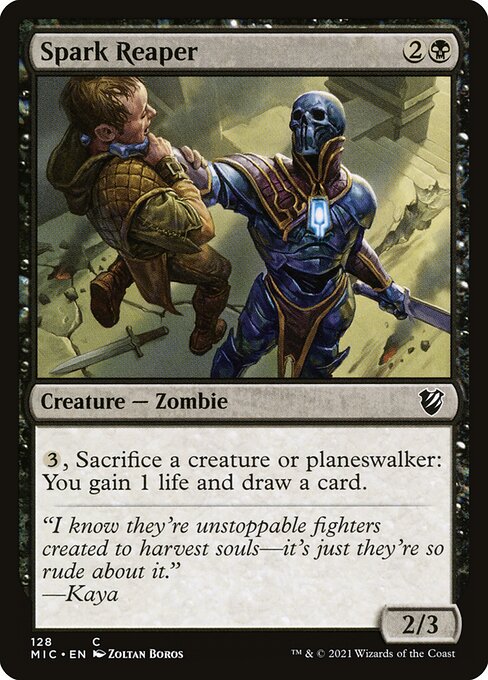 , and the activated ability is cheaper to boot… but I also have to wonder if this is something our black section actually needs?
Phizzled: Engine cards can be hard to evaluate, sometimes. This is clearly less explosive than Village Rites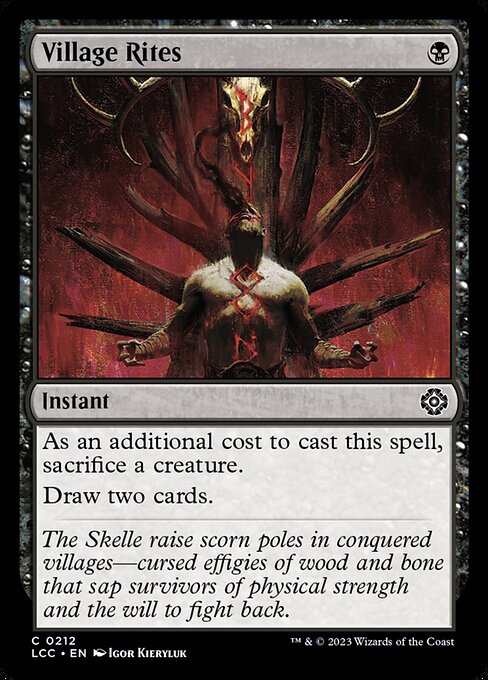 but there are absolutely some token-rich cube decks that will block with chumps and ride the card draw until they find a way to win.  This would allow those decks inevitability, which isn't necessarily a bad thing.  We also (recently) gave them Tortured Existence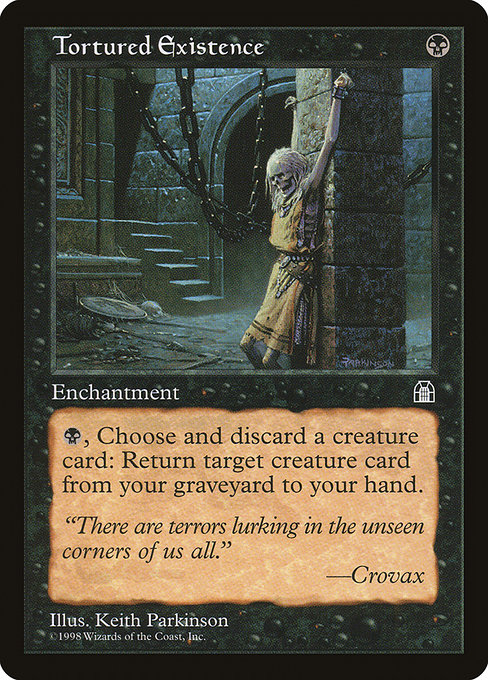 and it's possible one grindy engine is enough.  
Solset: Not sure why black gets all the engine cards, but this is a new Tortured Existence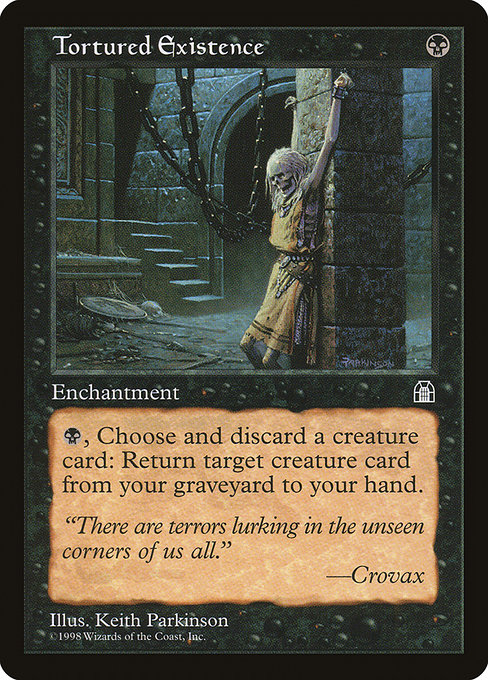 .  This lets aggressive aristocrat decks win the long game.  I love the sort of card that lets you switch play styles when need be.  
Red
Omni: I really don't know what to think about this one, on one hand, this does the aristocrats thing, and has the nice any permanent wording. On the other hand, the two halves seem at odds with one another, they're both solid but I can just see situations where this is big and you want to get in for damage, but your only way to do so is tapping this so something can't block. I'd be on board if this was a 2/1 though.
Neveron: Another Theros: Beyond Death classic, this guy actually does a ton. The tap ability is more of a safety valve in my experience in case you've got no other sacrifice outlets, but occasionally being able to lob a goblin token at an elf (or at their big life-linking blocker!) feels pretty great. One play pattern here is to spend a couple turns pinging away at your opponent's creatures before swinging in with your big satyr.
Usman: A decent beater, but agreed with Omni that its starting body is just so eh.
Solset: I think in black, if this was giving -1/-1, I would be pretty excited,  Yet, red has so many great two drops to compete with that I am really torn.  Curious how this does in polls for folk who played with it in prior limited formats. 
Phizzled: I remember disliking how long it took to make this big enough to feel threatening in Theros 2 limited.  I don't mind grindy engine cards, but I think this one is likely too slow to be feel inevitable.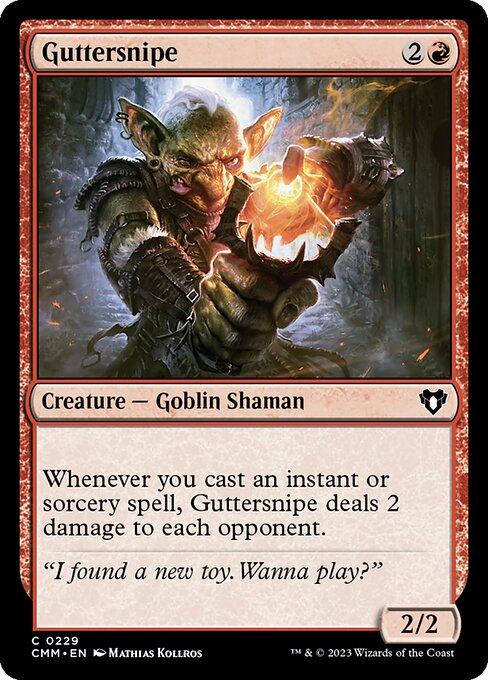 Omni: Well I don't think I really need to share opinions, this is a card that folks love, it's completely reasonable and it does the thing red likes to do.
Neveron: While some people have complained about it not being as aggressive as the two-drop ping-on-spell creatures, Guttersnipe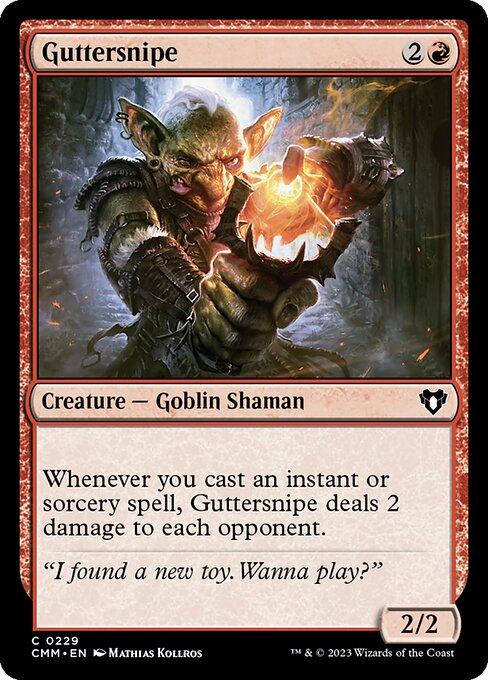 tossing a shock whenever you cantrip feels pretty great.
Usman: Fan fave is fave.
Solset: This gives aggro some reach and makes spells a true menace.  I hope they saved their bolt for this guy, because he is going to change the game. I honestly can't believe it took this long for Guttersnipe to be printed at common, but now that it has been, spells matters can have that more combo storm feel sometimes.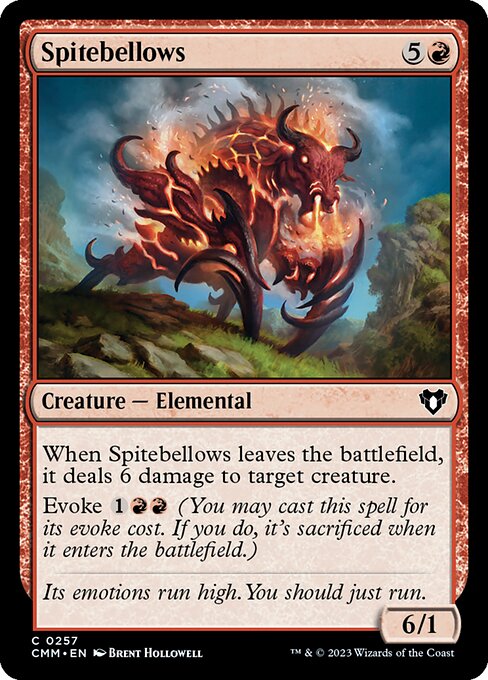 Omni: Look, I love Flametongue Kavu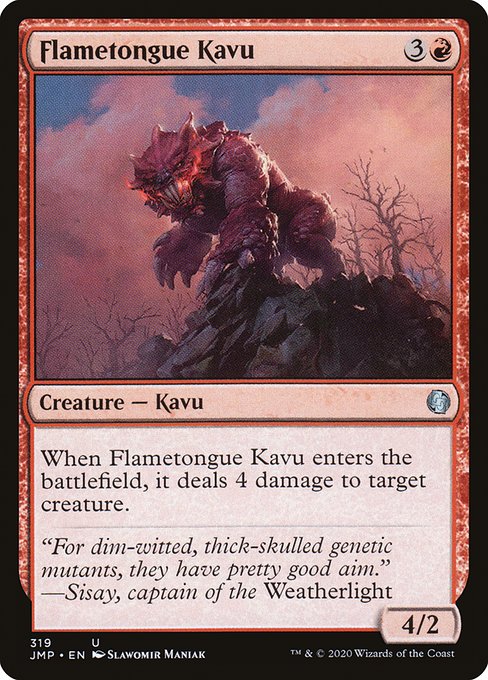 as much as the next 30-something, we all remember it being a menace in standard, but I'm not entirely sure this is where we want to be. 
Neveron: Keep in mind that this is a six-drop and only kills things when it leaves the battlefield–and sometimes those things might be your other creatures, much like with the Kavu. Still, though, this is also just a red Murder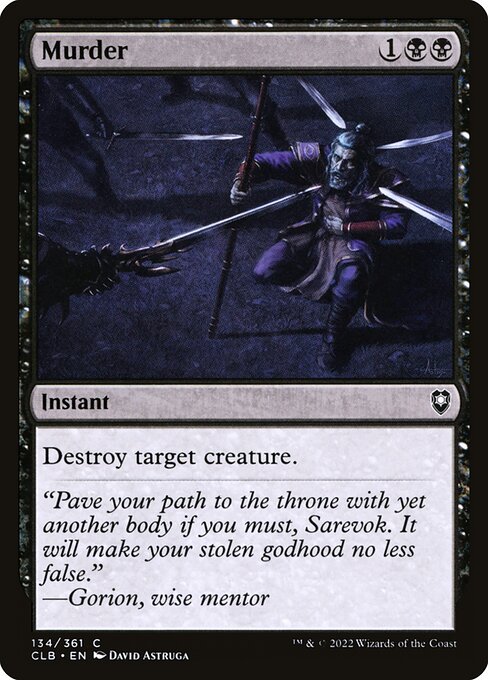 . That's good.
Usman: Yeah, this is definitely more a red 3-mana kill spell with the upside of potentially being a a big beefer that dies to a stiff wind, but generally taking something out on the way out.  I like it.
Solset: I have traumatic memories of this card card being terrible in a limited format with Bitterblossom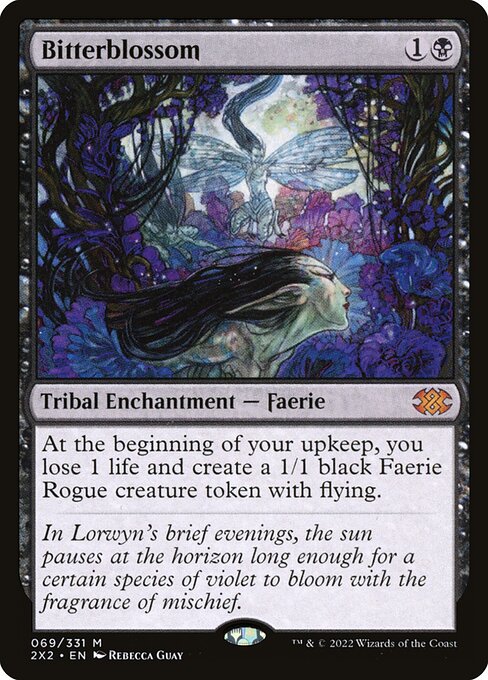 tokens, Cloudgoat Ranger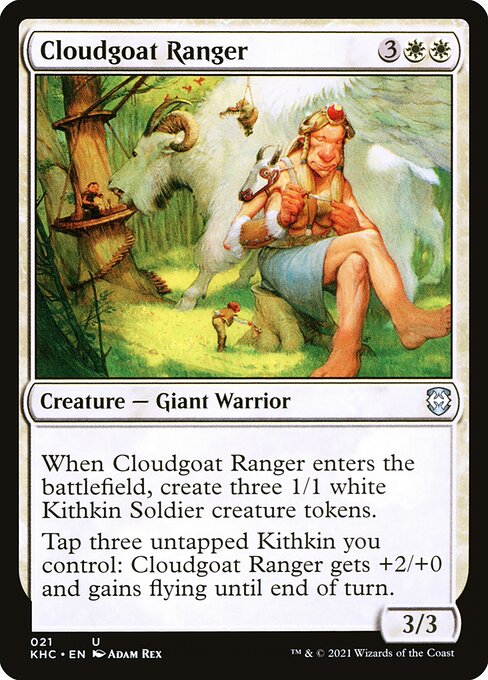 tokens, and even Marsh Flitter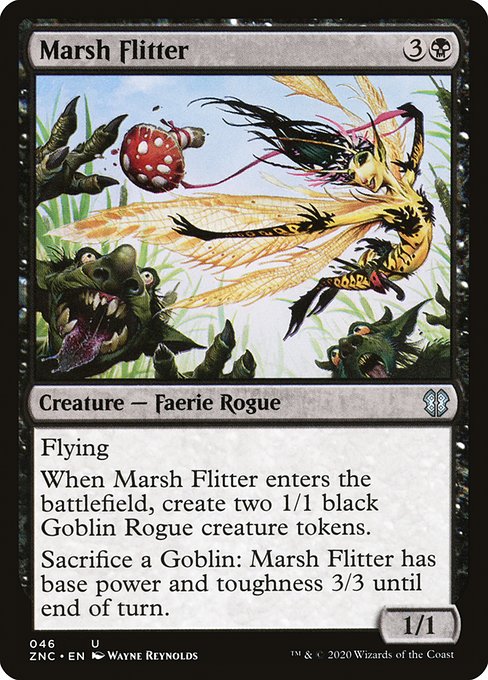 . I should not have drafted 3 in my deck.  Ignore, my PTSD and just move on. I do feel torn in red between bodies for aristocrafts and more spells to pair with blue, but this is likely worth a look. 
Phizzled: The efficiency of the evoke cost aside, there are few situations where I think a death trigger for this type of effect is better than an ETB trigger.  Consider me less than excited.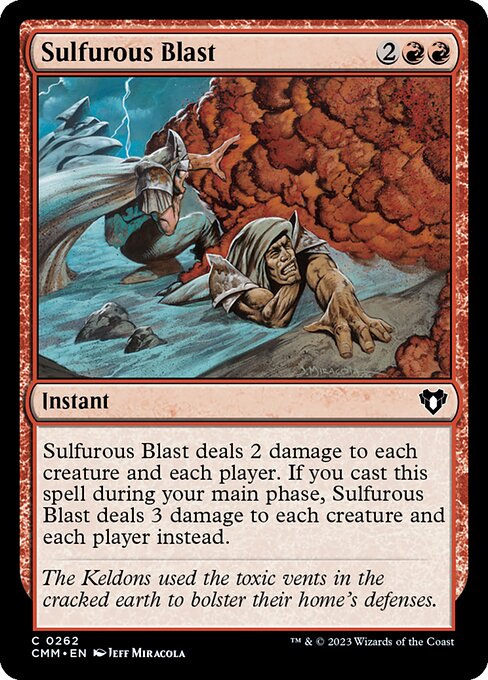 Omni: This is a neat little wrath effect and notably the first time that we've gotten 3 damage at common for one of these. I'm not sure what decks this fits into best, but the effect is definitely a powerful one and one that I'm interested in.
Neveron: If there's any color that likes bolting each player with their wrath, it's probably red. There's a handful of other cards that could bolt the board like this one can–e.g. Bloodfire Infusion
, Martyr of Ashes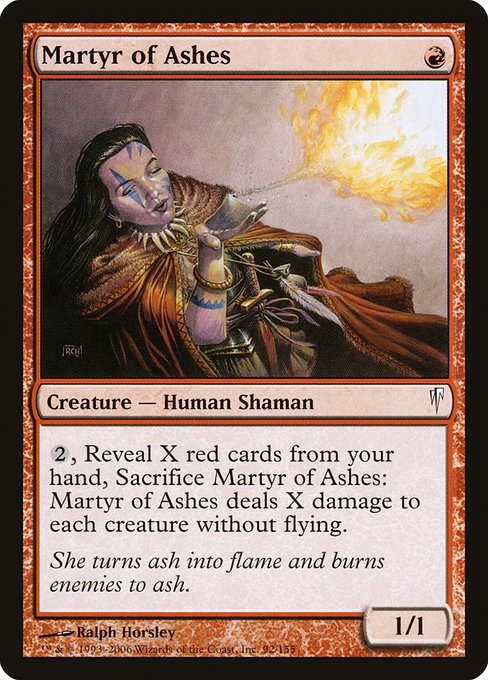 , Swirling Sandstorm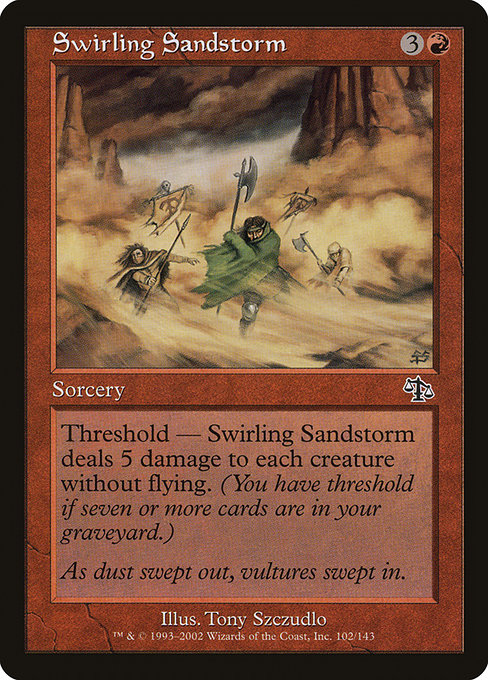 –but they all had big hoops to jump through. This is good.
Usman: ANOTHER good wrath!
Solset: I love this card.  I don't want our cube to become hostile to fast strategies that commit to the board, but the fact that this can hit for 3 is likely an upside in that way since there are less midrange creatures that are going to make it one sided. 
Phizzled: Sweepers with knobs are nice.  Incidentally giving red another direct damage spell is, as they say, gravy.
Green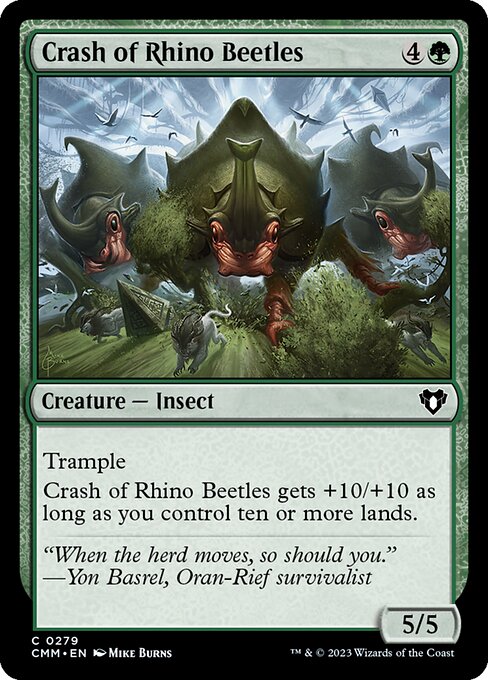 Omni: 10 lands is so many lands. That said this is a nice vanilla body, just a reasonable rate for the stats at base. Nothing to get worked up about, but fine. I truly don't know how often this is anything more than a 5/5 trample for 5.
Neveron: This definitely feels like a card that's just going to be a perfectly serviceable trampler 90% of the time but everyone who drafts it hopes to be that last 10% who get to live the 15/15 dream. I've heard some arguments for moving Simic into more of a land-ramp direction, in which case this might have a more solid home?
Usman: 5/5 for 5, mostly. (hey, that's 5 words!)
Solset: I think a few options that are just great on rate without any value triggers is a good thing for our Green. If this had reach, it would be an easy swap for Nessian Asp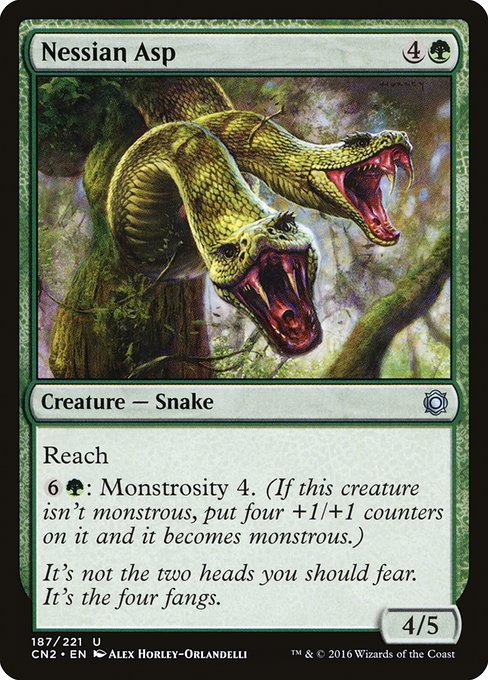 .  Still,they fill a similar role in being big bodies without the card advantage that win the late game. 7 mana is a lot easier than 10 lands, but a 15/15 is huge. I hope we can find a room to at least test this out.  
Phizzled: The mana cost and the the body are both still on rate if we never get to ten lands.  I imagine that there will be few times that a match includes one or both players reaching turn ten, but if so, the giant insects should stop the game from reaching turn 12. This is interesting if not necessarily flashy.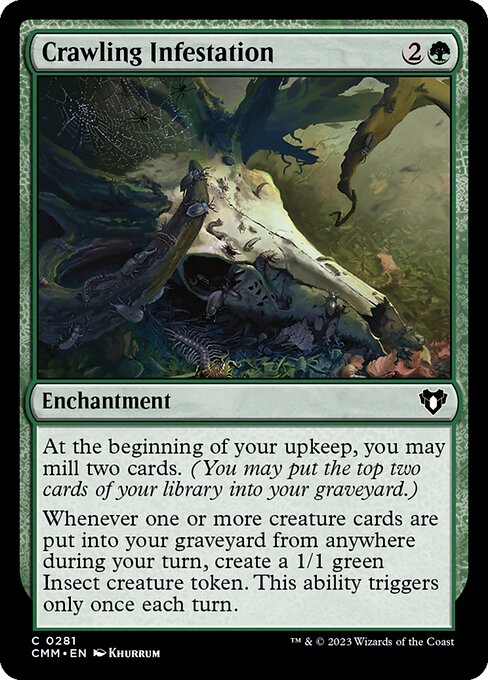 Omni: I was not in love with this to begin with, I'm still not but I kinda get it. This triggering off any creature going to the yard for any reason is neat. This works with its own self mill trigger, and tortured existence, and faithless looting, and and and. I still think this being limited to just your turn and only once per turn does lose me.
Neveron: I think you really need to be alright with the base case of mill 2 on upkeep. Note that you sadly can't trigger this by sacrificing the token–it cares about creature cards.
Usman: Another card that I'm not sure I like based on how often its upkeep trigger will geneally hit in our format, since even a 50% fail rate is just awful on rate for a 2G card. 🙁
Solset: Even in a dedicated graveyard deck, I am not fawning over this card.  For a card so niche, I think it needs to be a slam dunk in the archetype, and this is just serviceable.  
Phizzled: The language "during your turn" is going to be skipped over by some players who didn't play with it in limited. The potential is there for this to play like bitterblossom.  I think as an engine card it's too inconsistent to be great, but it's potentially still quite good.  I think the problem is that "good" is no longer good enough, with so many opportunities for sets to offer us exciting cards.
Colorless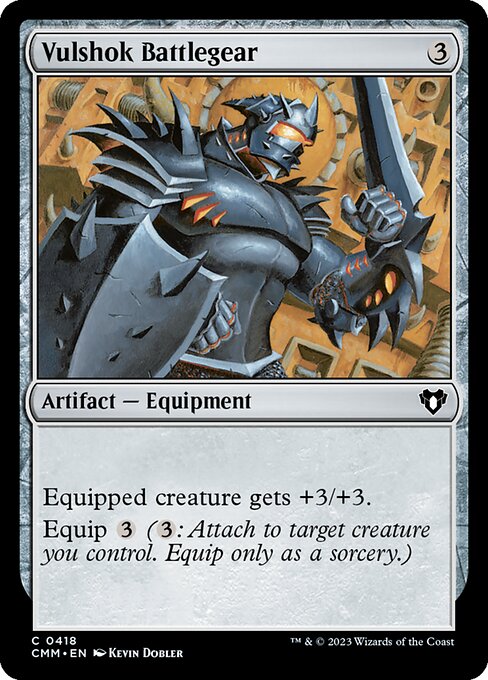 Neveron: Leonin Scimitar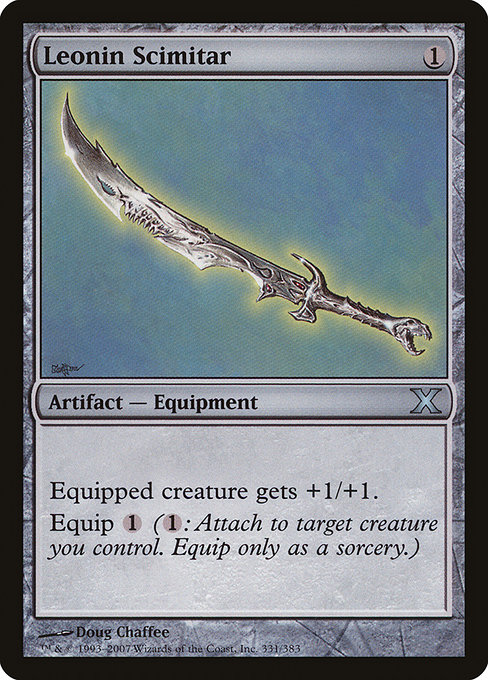 is generally not seen as a great card – +1/+1 for 1  that then equips for 1. That's just a counter. Vulshok Morningstar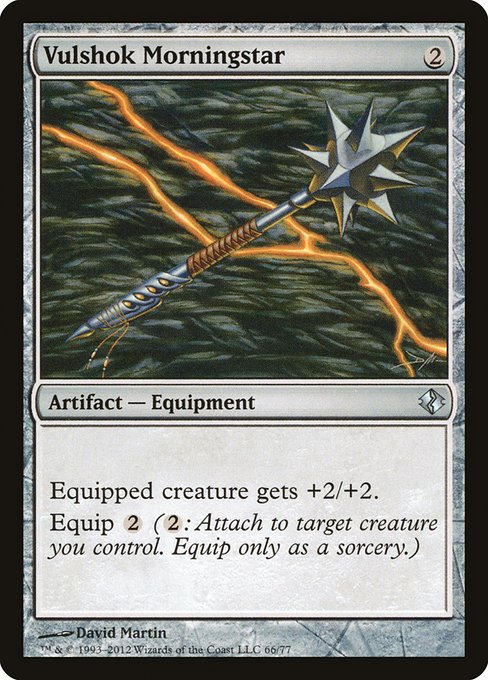 is a bit better: +2/+2 for 2+2 makes a creature noticeably beefier, and we run it in the cube! This, then, is the next step up: +3/+3 for 3+3. Three mana is a lot to spend – you're essentially taking two turns off to get this going. But making a 1/1 token into a 4/4, or giving any given four-drop +3/+3 on turn five? That's scary. It's not an aggressive card, but if it gets going it gets going.
Phizzled: I've used the word "inevitable" a lot in this Quick Hits. Part of why I like cards like Sickleslicer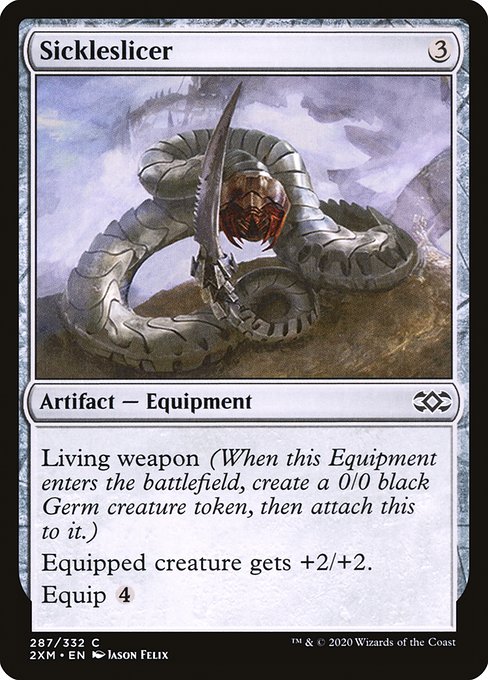 is that the buff is enough, even with such a high equip cost, that finishing the game can feel inevitable.  I wouldn't mind this in the right control deck, but I also might find myself playing it in decks where it isn't cohesive to my main game plan.  
Solset: I know I am an outlier most likely, but I love top end equipment. I have played opaline bracers in my mutation, and if you can get to +3/+3 it has been amazing.  This is another one of those cards that uses a single slot to let a deck pivot.  All of a sudden, the token deck becomes the midrange value deck.  When each 1/1 token takes 4 damage to tussle with, you can out attrition most decks.  I think this is going to be our common mythic sword.