Mechanics
Transforming Double Faced Cards – A returning mechanic, certain permanent cards have a castable front, and include an activated or triggered ability that causes the front face to transform into some other permanent.
Craft – Craft is an ability on certain artifacts in the set which allows them to transform.  Crafting includes exiling the card with the craft ability, and paying some additional crafting cost, usually including exiling other artifacts to allow the card to transform.
Discover – Discover all include a number. When the "Discover" ability triggers, exile cards from the top of your library until you exile a non-land card with mana value equal to or less than X.  You may either cast that card or put it into your hand, then put the remaining cards exiled on the bottom of your library in a random order.  This is a "fixed" version of cascade that feels better when you happen to hit combat tricks and counterspells.
Descended – Cards with "descended" refer to permanent cards going to the graveyard from anywhere that turn.  The cards will indicate what additional effect may be granted as the result descending. The rules update reminds players that tokens are not cards and thus are not "permanent cards" as referenced in the descended rules text.
Descend – Cards with "Descend" will include a number.  They reference a number of permanent cards in a graveyard, and the card will have a different effect or greater effect where the number has been met or exceeded.
Explore – A returning mechanic, explore simultaneously works as card selection and to buff creatures.  When a creature explores, reveal the top card of your library, and then put it on the battlefield if the card was a land.  If it was not a land, you may put the card back on top of your library or in your graveyard, and put a +1/+1 counter on the creature.
Map tokens – Map tokens are artifact tokens in the vein of blood, treasure, and food tokens.  The tokens may be sacrificed by paying 1 mana, tapping the Map, and sacrificing the Map token as a sorcery.  When Map tokens are sacrificed using their ability, target creature you control explores.  Maps support the Craft ability in the set.
Finality counters – some abilities cause creatures to return from the graveyard to the battlefield with finality counters on them.  When a creature with a finality counter would die, exile the creature instead.  There are no references to finality counters on common cards in the set.
White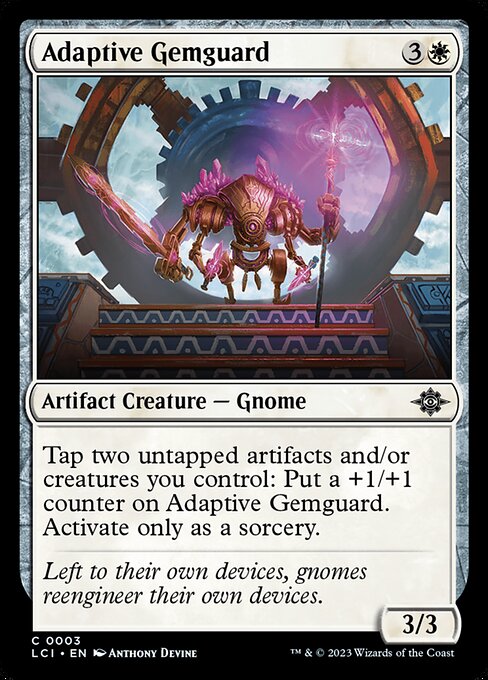 Solset: Sort of a convoke spell that you can convoke afterwards.  This is a bit slow, but it will bridge both Go Wide and counters nicely.  We currently have Sandsteppe Outcast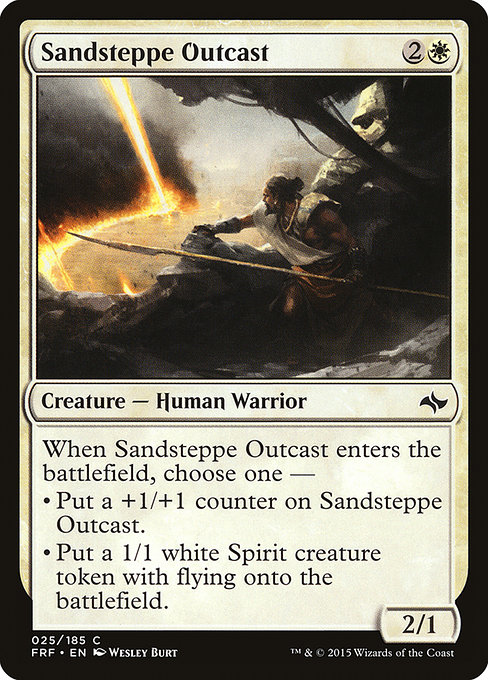 doing this, but it is a bit underwhelming these days in either mode. We have looked at a number of cards in the past that let you funnel a Go Wide army into a Go Tall threat, and this one might be the most reasonable.
Usman: My main issue is its starting rate as a Hill Giant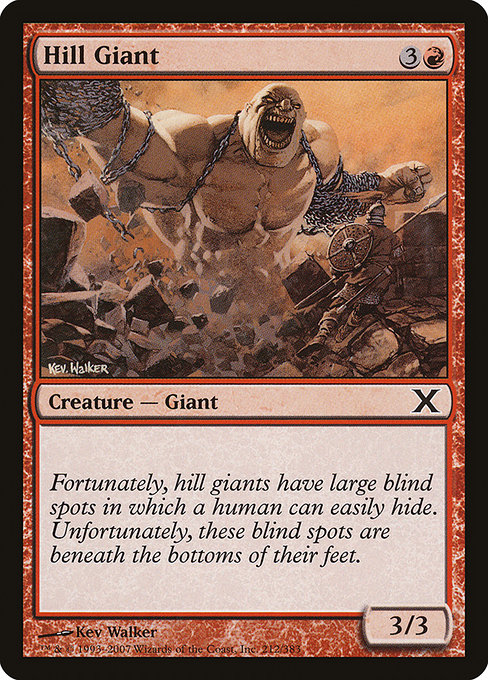 , and it taking a good amount of resources and time to get to a good rate.  I think the convoke analog is a fair one, but I'm just not a fan of how anemic its starting stats are, but may just be a big beater for wide strats.
Omniczech: I do like that this is fairly ambivalent as to what you tap to feed it, and the fact that it can tap itself the turn it hits is nice. The fact that this is just at sorcery speed and takes a bit to beat the vanilla rate while having no built in evasion makes me much less interested.
Phizzled: I guess I kept reading this as "other" creatures you control.  Being able to cover half the price of growing itself certainly helps, and tapping your own equipment is mostly free when that happens.  Artifacts are safer in our cube than in many others, but lacking evasion and being activated at sorcery speed (well before you know if you need it as a blocker) both really hurt.  I'm not excited about its potential in general White-X decks without modifying the cube, which means I can't see a path in for this in the short term.
Neveron: In the case where you have two artifacts lying around that you don't mind tapping, this starts to look like a white equivalent of Gixian Skullflayer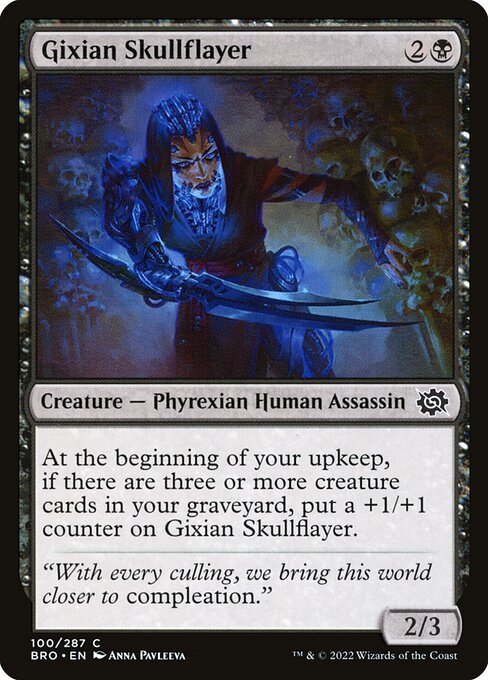 or Bulette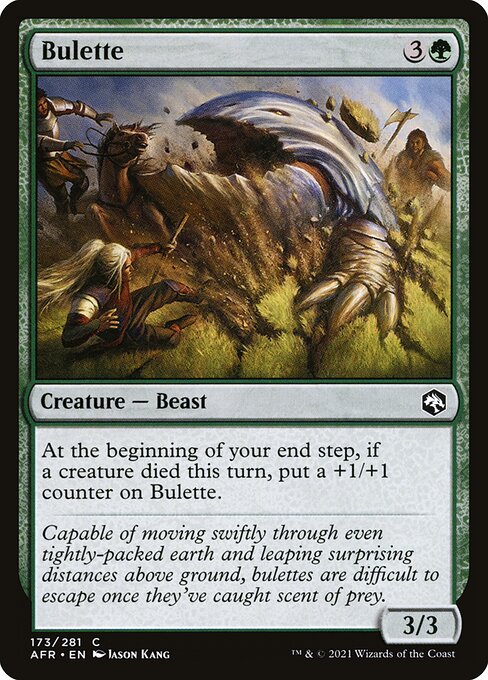 : a non-evasive 4/4 for 4 that just keeps growing. Is that good enough, though, when it can just be chump-blocked for days? The base case of a hill giant feels a bit bad when it can't even grow itself without having at least one friend on the board – and if you're tapping down creatures to grow this, that gives your opponent's removal that much more incidental value.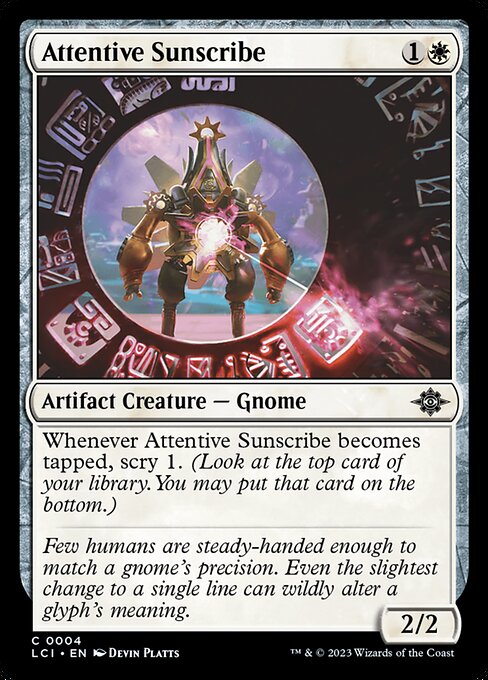 Phizzled: As an artifact and a creature, this little gnome suffers from being more easily removed, but a 2/2 for two mana that offers card selection isn't embarrassing.  I don't think this cracks the various more powerful creatures in the two-drop slot, but I will continue to be excited to see White get recurring card selection on creatures.
Neveron: You'll want to have Vehicles for this to really work, I think. It's better than Samite Herbalist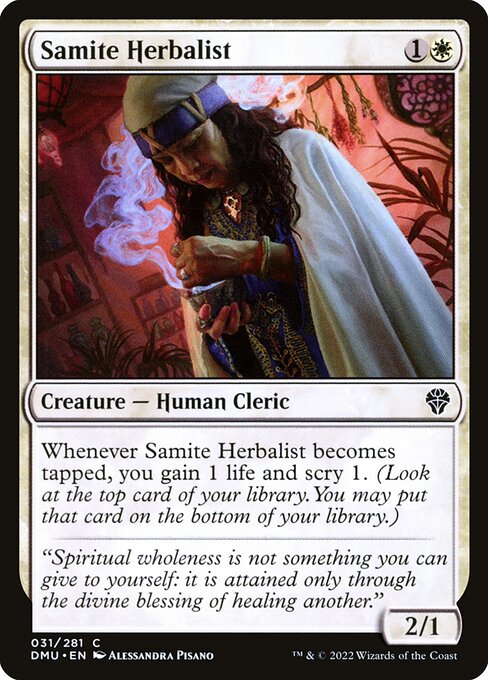 , but I don't think it's quite there yet.
Solset: Repeatable card selection is quite strong for long games.  However, in the cube, White holds down the more aggressive side of things, and I think we want more guaranteed damage.  This could be decent in a more midrange white style, where removal clears the path and late game virtual card advantage takes over.
Usman:  It having 2 toughness is nice for letting it live through attack steps, which is a nice feature, and honestly, this isn't too bad for letting beatdown decks have card selection, but I think it's pretty close to getting there.  Vehicle synergy's nice too.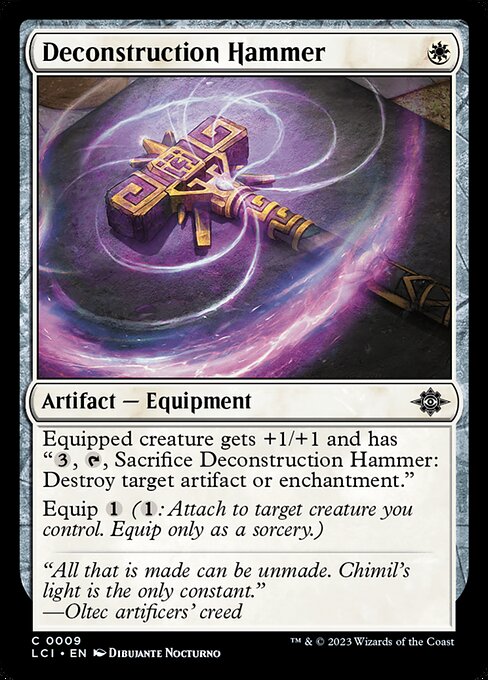 Phizzled: As Short Sword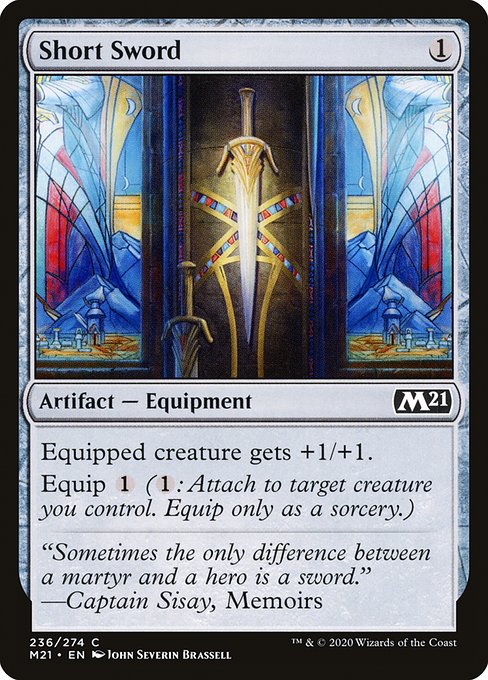 goes, it's never my favorite piece of equipment, but the flexibility to turn my equipped Short Sword into a Disenchant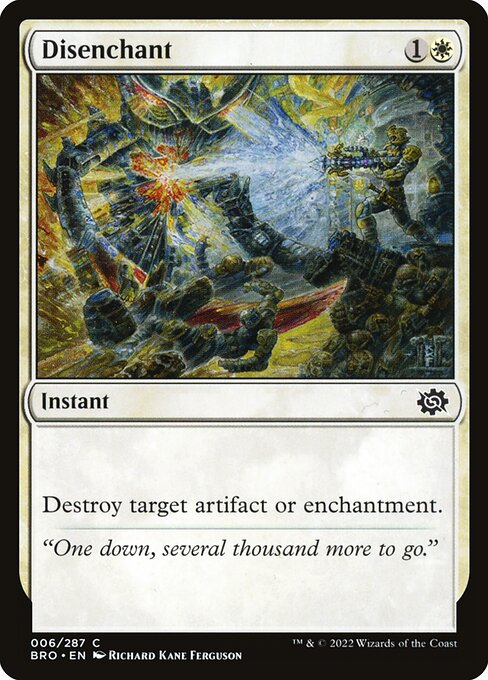 means this is never going to be truly dead.  Unfortunately, I'm not sure how this cracks the rotation compared to our current offerings.
Neveron: The main drawback here is that three mana to disenchant is quite a bit – and since it's the creature that gets the ability, it's five mana from your hand. I'm definitely keeping this card in mind, though.
Omniczech: I really like this idea even if the numbers aren't quite right. I'm interested to see a version of this in 6 months or even the possibility of seeing what the horizons version of this could look like.
Solset: I love interesting equipment, however I think this card is too weak to main deck. However, if we made a philosophical shift to create some space in the cube for more sideboardish card, this is the type I would like since it doesn't rot in your hand waiting for an opponent to draw into their Pestilence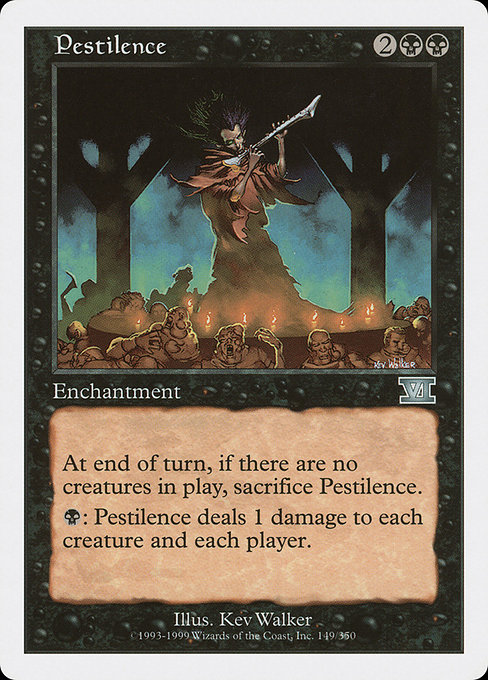 . Expect a question related to this in our next yearly survey.
Usman:  This kinda reminds me of Citizen's Crowbar, but worse since it doesn't come with its own body, and having to tap the creature + 3 mana's a whole lot of resources, and I'm iffy if Short Sword is a good enough baseline for this; creature stats tend to be pretty compacted in our format, so even a +1 on power or toughness can push a creature from trading to living in combat.  Still, the awful rate on disenchanting something just doesn't give me good vibes.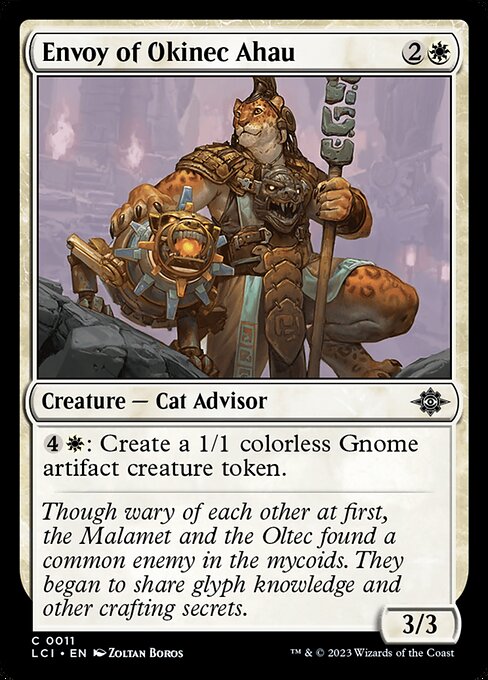 Phizzled: I can remember Glint-Sleeve Artisan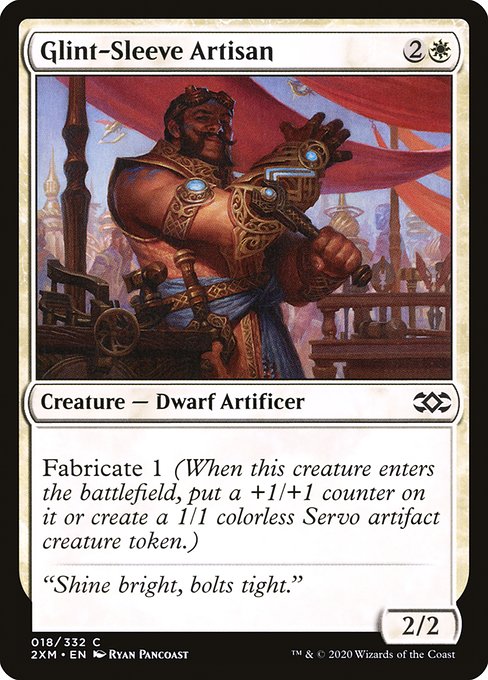 being in the Cube because a 3/3 for three mana in white was sufficiently exciting.  The body isn't exciting enough on its own these days, but the possibility of creating an inevitable army of 1/1s has served some of my favorite decks of all time (see: Kjeldjoran Outpost).
Neveron: Five mana is a lot for a 1/1 token, but people do regularly pay that for Castle Ardenvale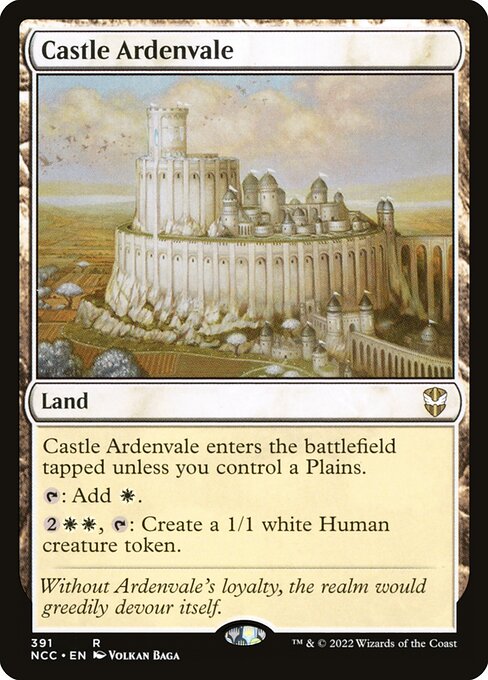 . Obviously this is a different situation, but I can't help but wonder if a white-ish control deck would like this card.
Omniczech: I don't love this one, but I think it's good, Trained Armodon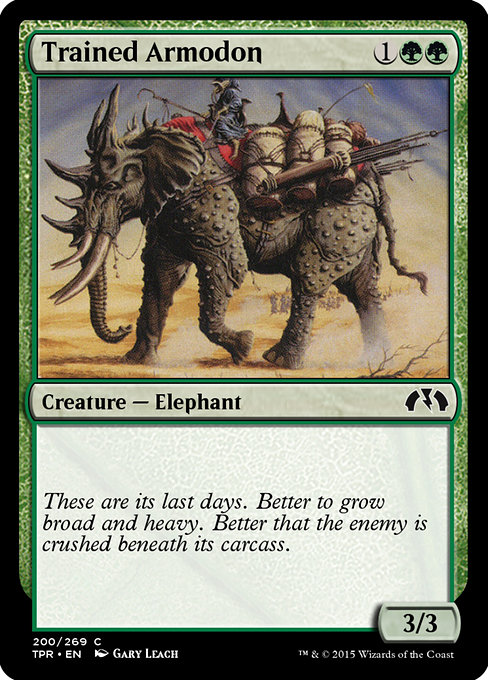 isn't revolutionary but it's serviceable and the activated ability probably wins games that run long, hell if you squint really hard, that almost resembles Sprout Swarm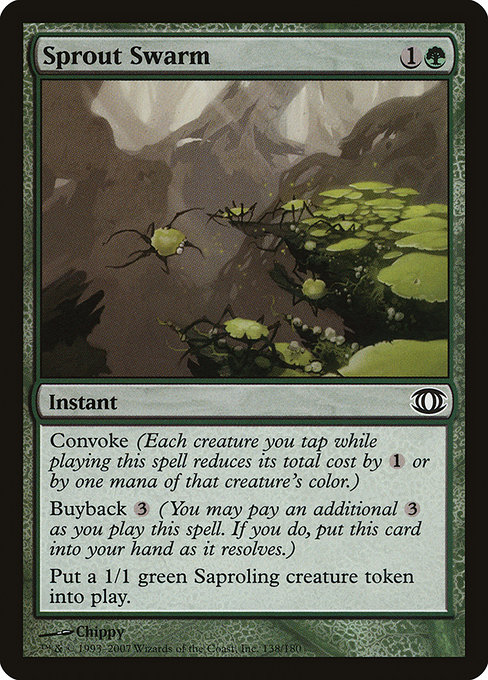 .
Solset: I am high on this card.   So many 3/3s in white have been almost there, and aggro White is well positioned to take advantage of an early body that bullies the ground.  I also find White is the color that struggles most late game to refill their grip, so a solid mana sink is welcome.
Usman: Spending 5 to make a creature is virtually a time walk, and generally these kinds of things tend to play worse than they look, but it's mostly an upside for having a 3/3 for 2W if the game goes into a stalemate and/or if you have nothing better to do.  Might also be a card for GW midrange to use as a way to hold the fort and flood the board as having access to ramp would make the 4W cost not as prohibitive, although I get the feeling that's likely not gonna happen often.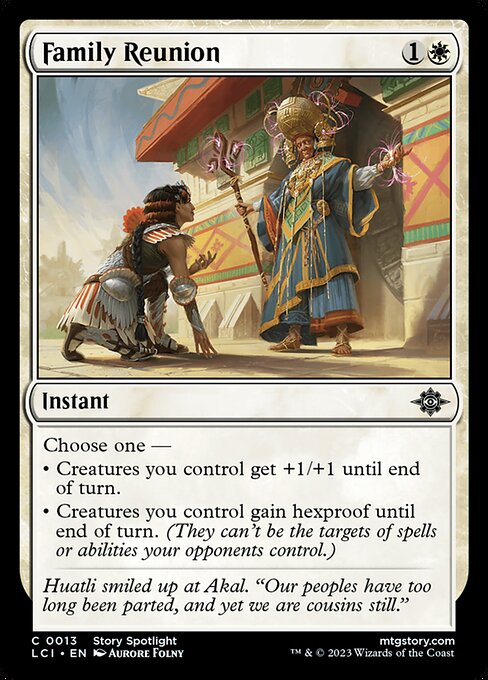 Phizzled: We currently have two modal spells at this mana cost which also buff your whole team, but our other options have a removal mode and a slightly-bigger-buff mode.  Giving your creatures all hexproof is most likely, most of the time, going to only counter one removal spell anyway.  I think I would rather have this than Dauntless Unity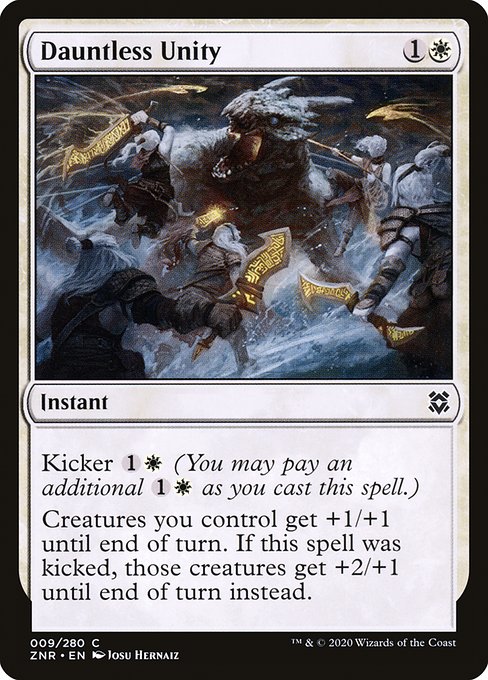 in the abstract, but I would like to see how I feel after pre-release.  (I'm really excited to play this prerelease, finally.)
Omniczech: I wonder how often this actually does more than just grant one creature hexproof in its alternate mode. Sure, if you get to punish the hell out of Ashes to Ashes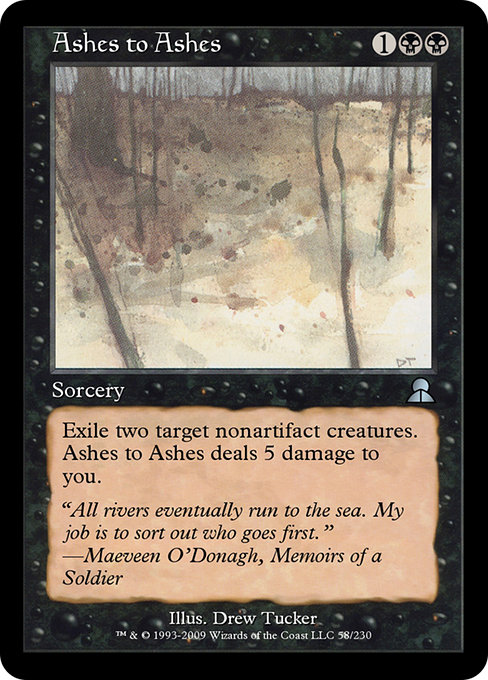 you feel great but I'm not sure that leaves me "pumped" about the lack of a second point of power.
Solset: Count me out.  I think our other modal spells that this fights a spot for represent more vital roles in their deck.  Removal from You Hear Something on Watch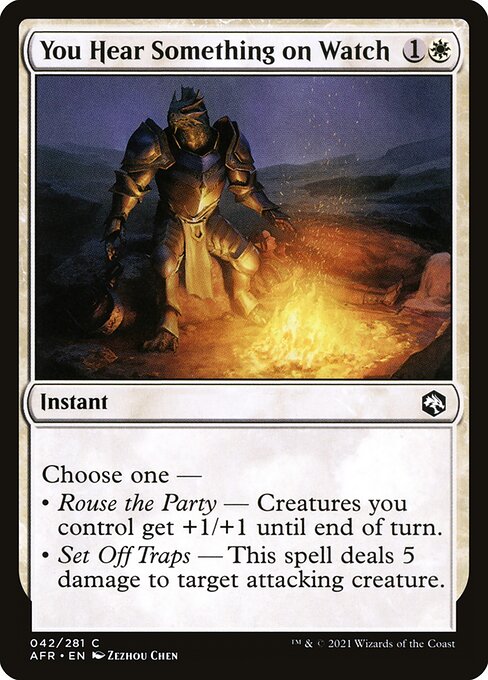 , game winning pump in Dauntless Unity,  and counter support in Unbounded Potential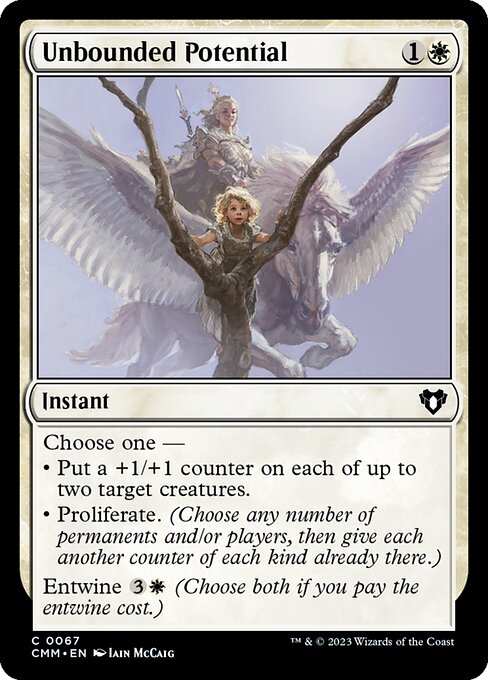 .  If we want White to get some sort of "protect-a-creature-counterspell," I'd rather commit a spot to something like Benevolent Blessing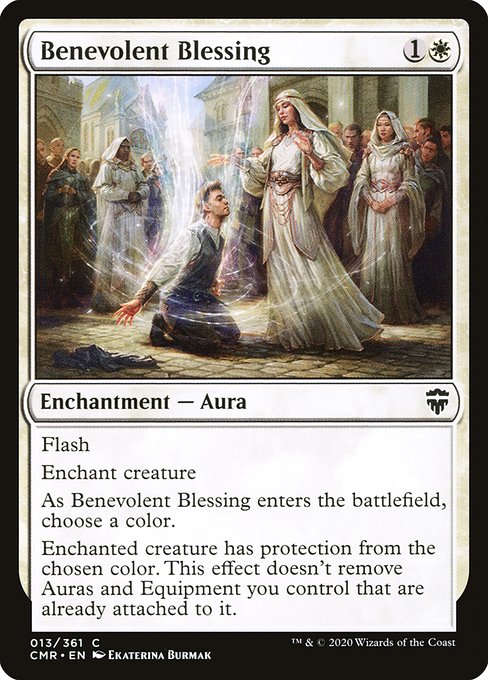 which has way more applications than hexproof.
Usman:  I think our AOE buffs are better than this, and I'm honestly not that big on them in general.
Neveron: Between this and Dauntless Unity I'll take the one that gives an extra +1/+0.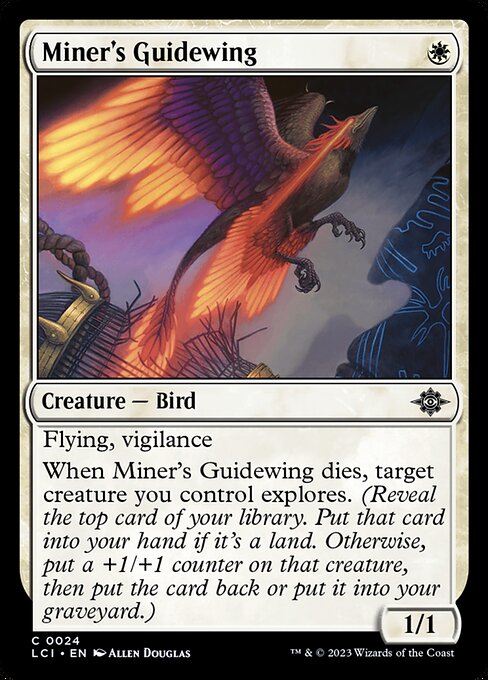 Phizzled: A 1/1 with evasion and vigilance makes this a primo early drop to plink in for some incidental damage.  This is not as clean as Doomed Traveler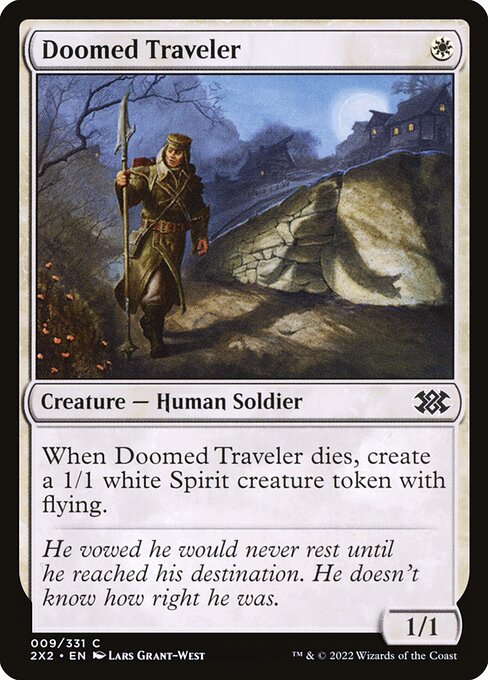 and friends, since all of your other creatures could be killed, causing you to miss out on the explore trigger, but I could see the more aggressive approach as more appealing than, say, Hunted Witness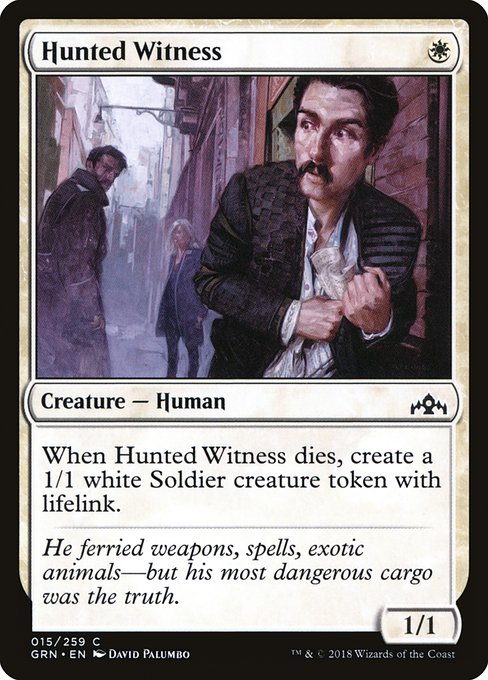 .
Neveron: The interaction of flying, vigilance, and a death trigger feels like it could be spicy. Unlike Hunted Witness and the like, it'll seldom be completely useless on turns the opponent doesn't swing in.
Omniczech: I like that this can be relevant the turn after it comes down more often that hunted witness while also helping buff out smaller threats when it dies to help apply more pressure.
Solset: This looks so much better than Hunted Witness in our cube, but I have never been a big fan of that card without White caring about sacrifice or life gain.
Usman:  Segovian Angel with a death trigger; my issue with these kinds of creatures is that their vigilance is mostly flavor text.  Slightly down on how this doesn't make a body, but buffs another, as Doomed Traveler et al usually represented a consistent clock (if the opponent killed it, they'd have to deal with the token) but the explore somewhat emulates it, provided you have a friend to explore.  Worth a shot.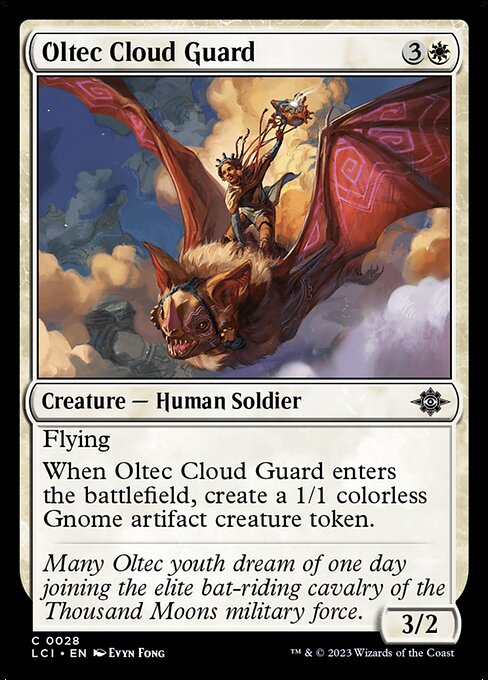 Solset: Let's be honest, 3 power flyers that come down early win games. While this dies to a few removal spells that many 5 cost 3/3 flyers will survive, such as  Dead Weight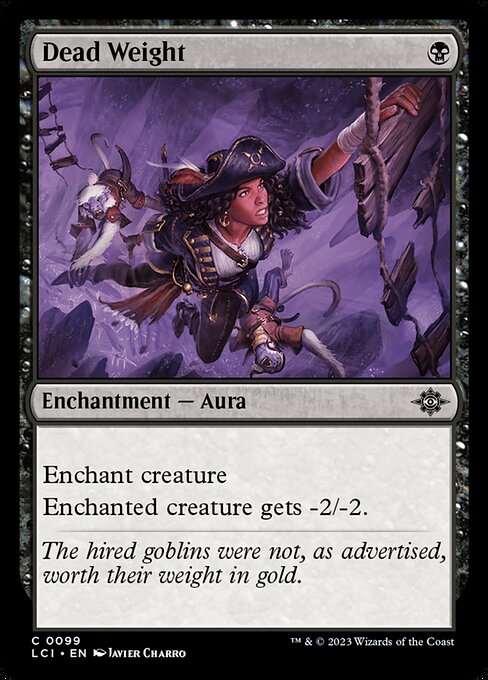 ,  this is better than most we have seen and a few we have considered.  It is cheap enough to be the top end finisher for a Go Wide deck, but a controlling deck is glad for multiple bodies to force trades or just a win condition once the ground is blocked.  I could see this upending either Knight of the New Coalition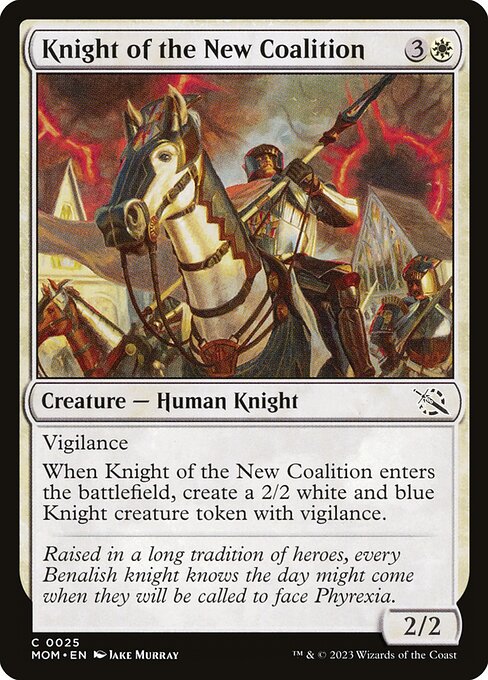 or Attended Knight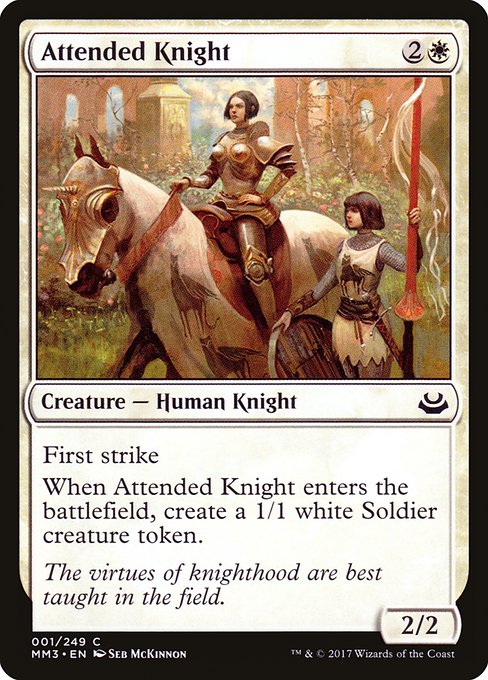 .
Usman: Yeah, this is probably better than the 2/2s that make a 2/2.  I think?
Omniczech: yeah, this probably gets work done in most white decks, I'm in for evasion over vigilance personally.
Phizzled: Evasion (or evasion as multiple bodies) both work for me when evaluating White midrange and top end threats.  I think this reads well.  My biggest complaint: another mechanically unique 1/1 token.
Neveron: We've had this statline before, with Stalwart Valkyrie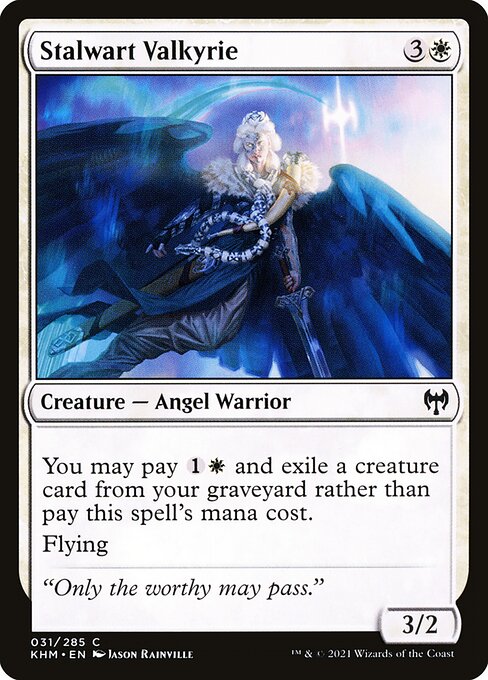 being one that actually made it into the cube for a while. Getting the extra body on ETB is a nice bonus, but like a lot of incidental 1/1s it lives for either a pump or a chump block. The token is worse than the 2/2 knights and not worth a blink, but the main body is probably decent enough to make up for that?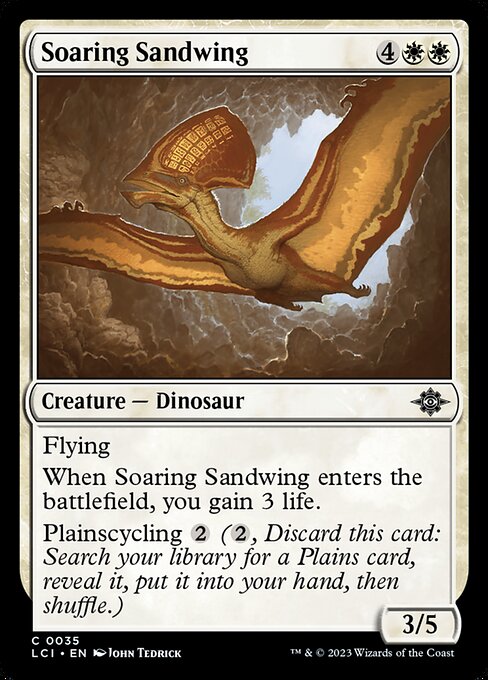 Phizzled: We just removed Sunblade Samurai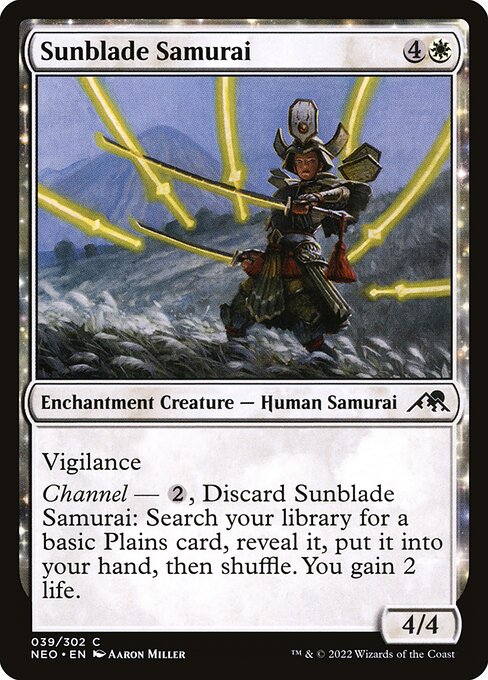 , and I still think that was correct.  But I can't ignore plainscycling on a reasonably sized flying body. I don't think we have the reanimation tools to make this great, but I'm going to still snag some for my constructed decks.
Neveron: The body is definitely reasonable for its cost – cf. Anointer of Valor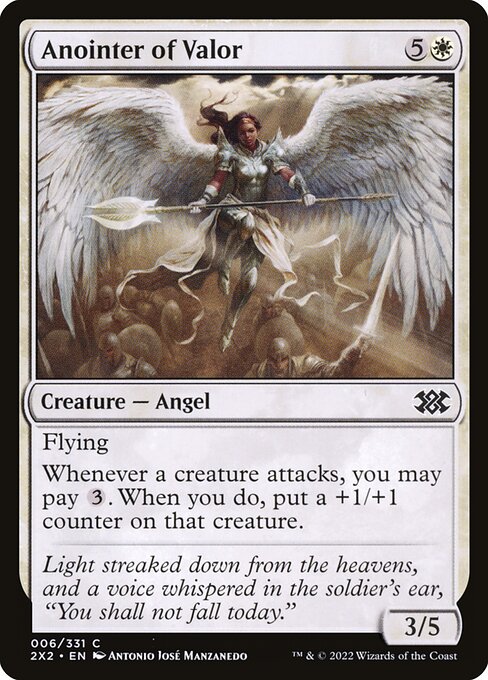 – but I can't help but feel like it's probably as impressive as you'd want it to be.
Solset: This looks bad to me. I think I would take the Samurai back or Eagles of the North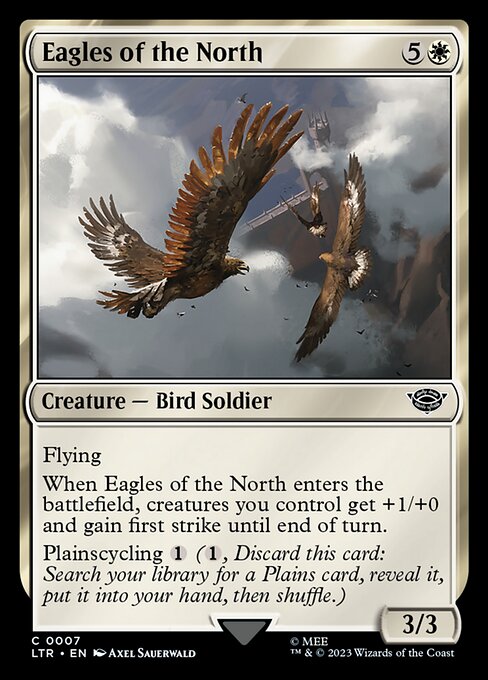 before considering a Sandwing.
Usman:  I love cyclers but I'm eh on this, since the body's pretty underwhelming.
Blue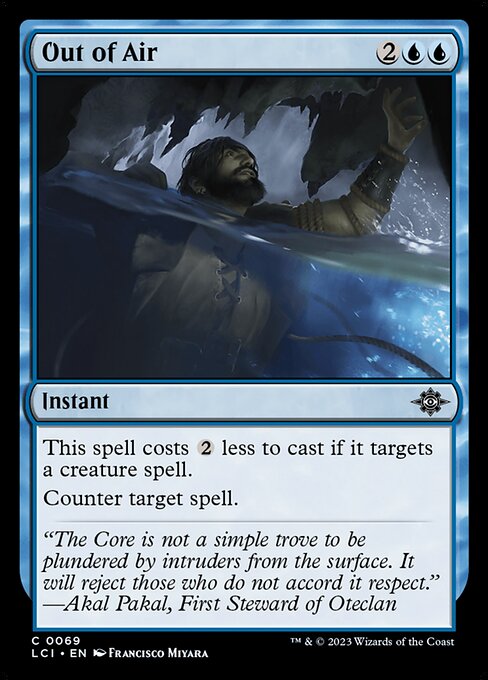 Phizzled: Okay, so hear me out: the difference between UU and 1U is not insignificant, but this is an improved Remove Soul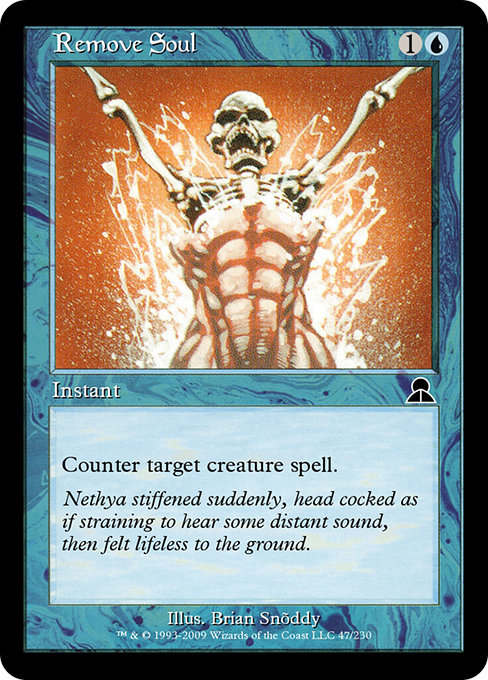 where your deck is base Blue.  This is a rough card if you're splashing Blue on only two or three islands, but if you're 7 islands and 8 mountains, I think you want this more often than our limited counterspell.
Neveron: I think that by the time you really want to counter a noncreature spell in this cube, chances are that your blue deck is going to be grudgingly alright with paying four mana. The double blue definitely requires commitment, though.
Omniczech: I wonder if reception on this card would have been better if it was phrased as a kicker instead of a discount. I do like this thing and would go to bat for it.
Solset: I went to bat for this in the previews, and I still like it.  Glad to hear the committee is interested!  I suspect some new counter will replace it eventually, but the pain of double blue seems worth it over Remove Soul which is somehow still in our cube.  As the control player, have you ever had a huge Death Denied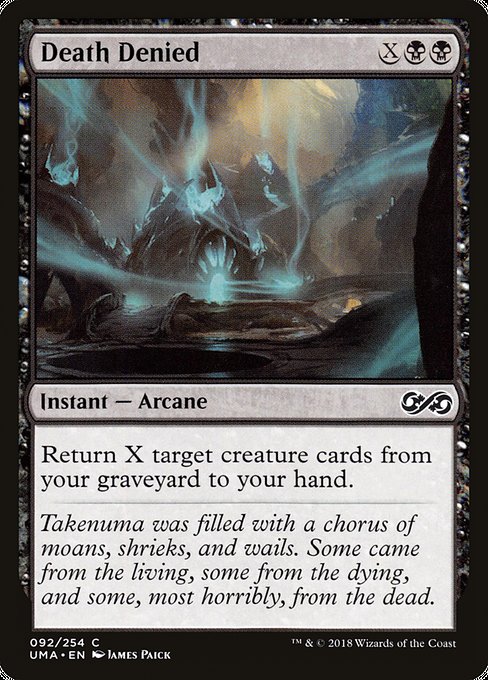 cast while you are staring at a conditional counter?
Usman:  I had been eh on it, but I like the comparison between this and a Remove Soul, since this is pretty much that for creatures, and while 4 mana's rough for a counterspell, it's nice to have in pocket when you need it.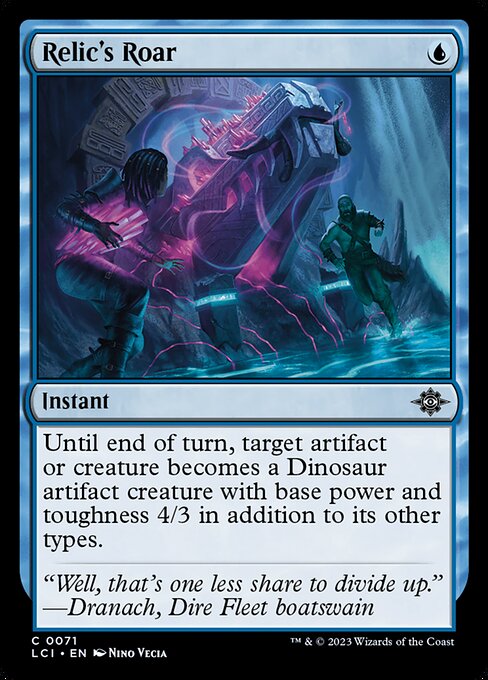 Phizzled: Do we have enough incidental artifact tokens in our environment to turn into surprise 4/3s? I don't think so, but fortunately, we can also use the roar to buff some of our evasive early creatures.  I think the fact that we didn't play the self-replacing Zhalfirin Shapecraft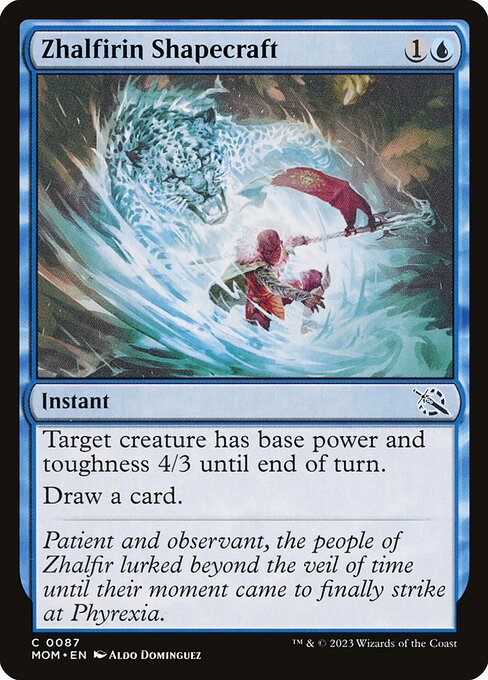 tells me this isn't going to make it.
Neveron: For what it's worth, this is the first one-mana version of this effect that we've gotten. However, unlike some two-mana versions (e.g. Mordenkainen's Polymorph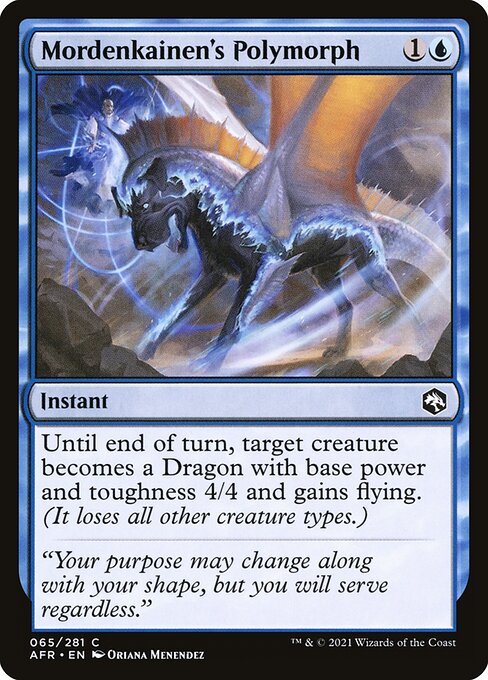 ) it doesn't give evasion and won't save your creature from a lightning bolt. On the other hand, it also lets you kill their artifacts with a bolt if you really want to. I'd chalk it up as a step in the right direction, maybe?
Solset: I am not opposed to one of these effects getting in, but I still don't think we are there with Roar considering our blue is more controlling.
Usman:  This just feels like the wrong color for this kind of thing in our meta.
Black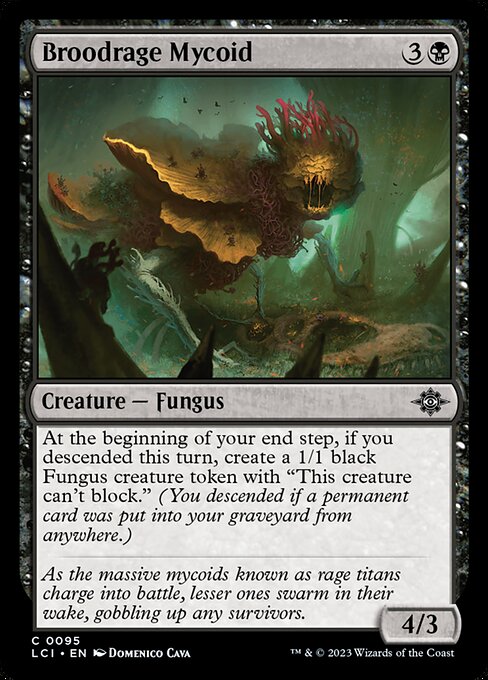 Neveron: The main drawback of this card is that Descend only counts nontoken cards, so you can't just endlessly sacrifice the fungi. Beyond that quibble, though, it's got a respectable body and will trigger from just about any other action a black deck wants to take.
Phizzled: The comparison I want to make is Wakedancer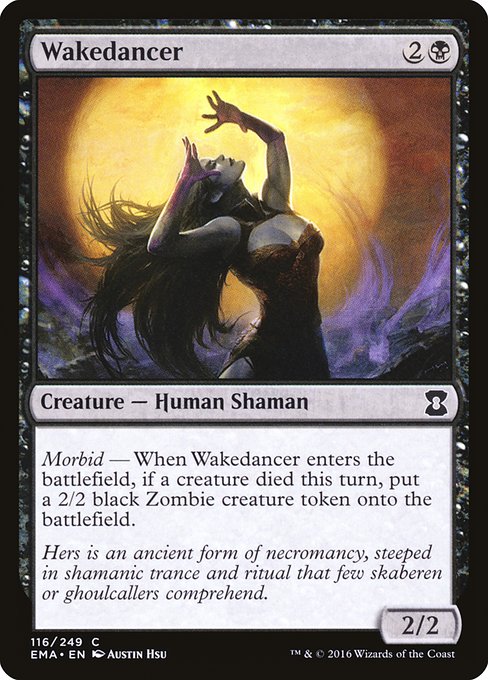 .  Triggering morbid was generally easy to achieve since anybody's creatures counted. Here, any permanent card going to your graveyard will work, and, assuming the fungus survives, you don't necessarily have to worry about triggering it the turn you cast this.  The lack of inevitability notwithstanding, I like what I'm reading.
Omniczech: I am less on board with this than most but not enough to the point I'll be upset if it makes the cut. I can see the appeal in it being a neat build around/army in a can, but the restrictions of only on your turn, the tokens won't trigger it AND it dies to most red removal just leave me less than excited here.
Solset: I am really high on this card.  This will be triggering on both aristocrats and self mill.  Cross archetype support makes brain go BRRR .  I enjoyProfessor of Zoomancy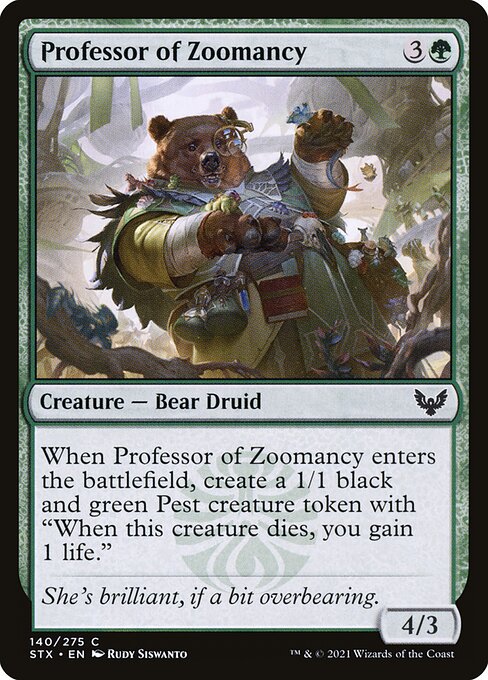 in my bigger mutation, and think this will be better a lot of the time.
Usman:  Kinda like a black "Moose and Squirrel" (Ambassador Oak) if it descends once.  Probably not going to happen 2+ times that often, but I think it counting any permanent type (your own creatures/things) is a way to get to occur more consistently.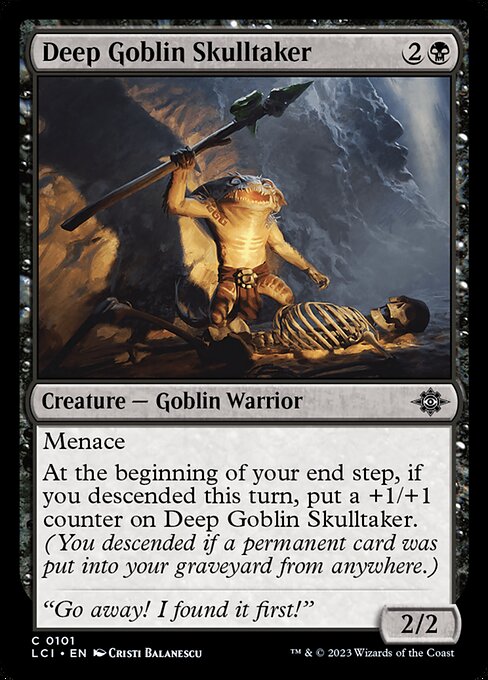 Neveron: This has the same general nontoken issue that the Mycoid has, but it also has Menace. With all the assorted mill, discard, and sacrifice in our cube, I feel like it's not too tricky to have this swing as a 3/3 menace on turn 4 and 4/4 on turn 5.
Phizzled: I feel like the fairest comparison is Voracious Vermin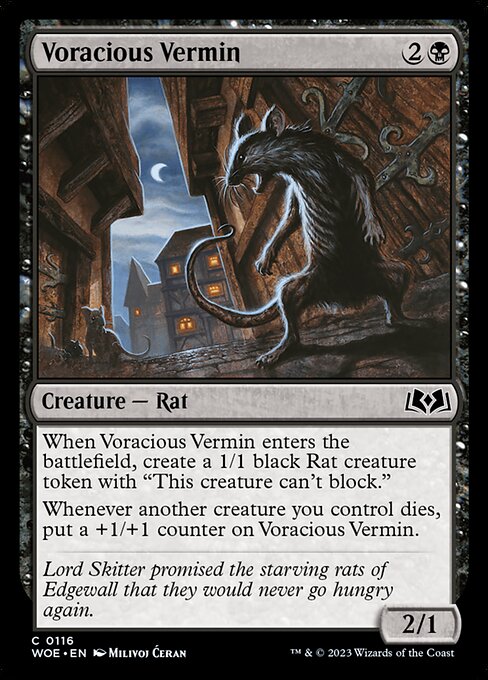 . I don't know how big this has to get to outclass our other early threats, but having evasion and growing helps.
Solset: I am not convinced.  Waiting until the end of turn, and only triggering once really diminishes what I think people expect this card to do.  Maybe it plays better than I see it.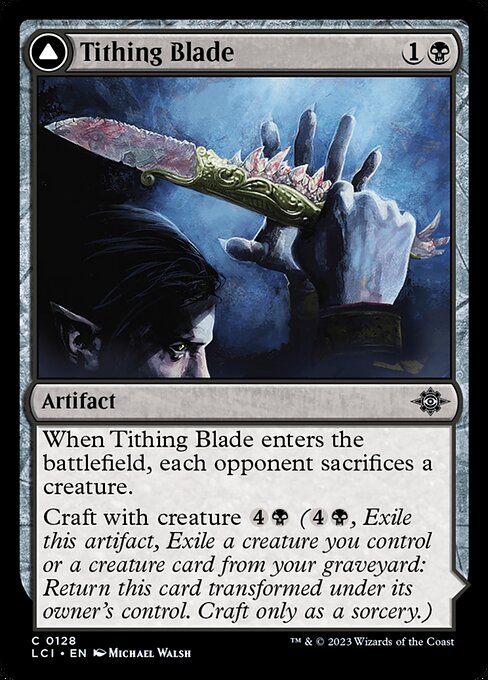 Neveron: What if you could flicker Chainer's Edict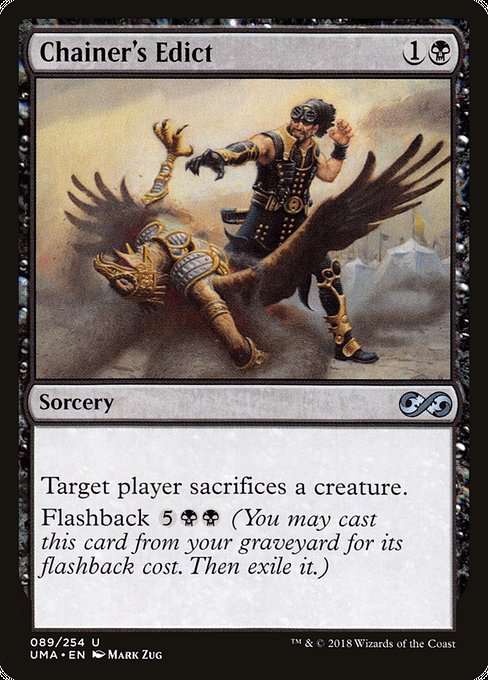 ? What if it could let you exile one of those zombies littering your graveyard to cast a Dogged Pursuit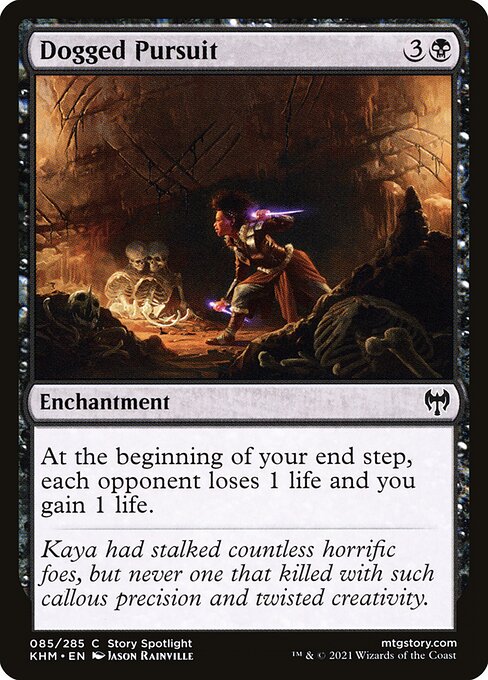 ? I think this one's worth a test, at the very least.
Phizzled: You had me at "edict."  In all honesty, I think the crafted variant is too slow, but the craft cost is cheaper than the second half of Chainer's Edict.
Omniczech: I like this, it's a very very durdle-oriented card but I'm a sucker for those types of things. It's best friends with ways to flicker it, but it's also just an edict that turns into a clock later on. I'm a big fan here.
Solset:  Dual faced cards are really fun, so I am already interested.  Since we lost Predatory Nightstalker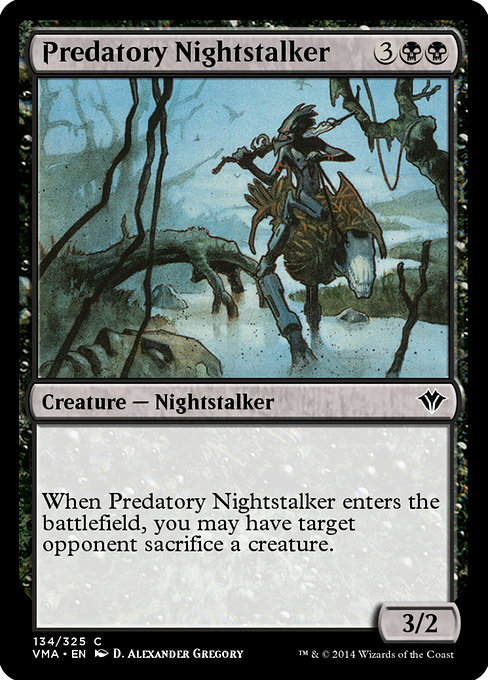 , we were missing something for our UB ghostly flicker loops, and this fits nicely.   Having a bit more support for a slower bleed archetype, is all win/win for me.
Usman:  I like this as an edict with some extra text.  Chainers' flashback was always a billion mana, but this is slightly more reasonable with some side upgrades/downgrades (+flickers/sacrifice fodder, -recursion with Archaeomancer type things.)  I think this is better overall.
Red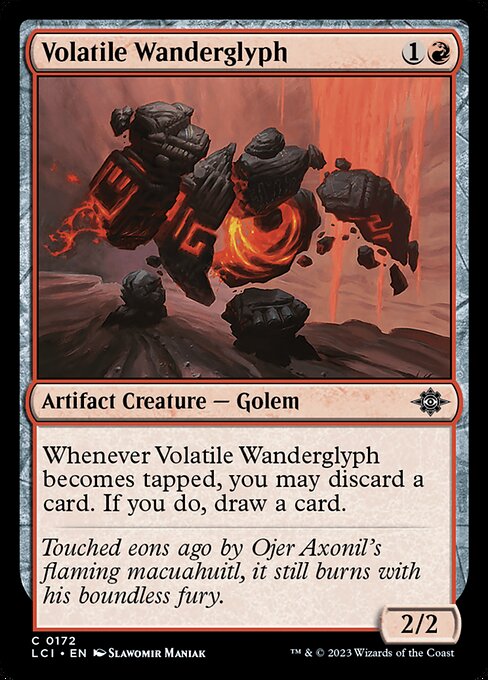 Neveron: This is the cheapest we've gotten this effect, and it doesn't even need Vehicles to shine. The community compared it to Tuskeri Firewalker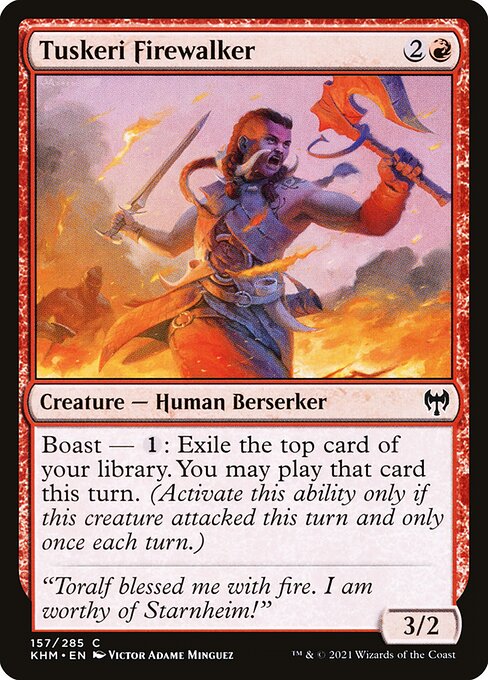 during the preview season, and I'd say that it looks good.
Phizzled: It feels like it hasn't been that long since the 2/2 for two mana in red mean the creature came with a downside.  Rummaging, and rummaging with a "may" is appealing for sure.  I wouldn't mind testing this.
Omniczech: This card is simultaneously very boring but also  probably decent to run just to keep cards flowing in a red deck.
Solset: Compared to scrying, Wanderglyph lets you immediately ditch a land on turns when you know you won't need it.  Immediate advantage is what an aggressive color needs. Also, our red has just a bit of synergy with cards like Skophos Reaver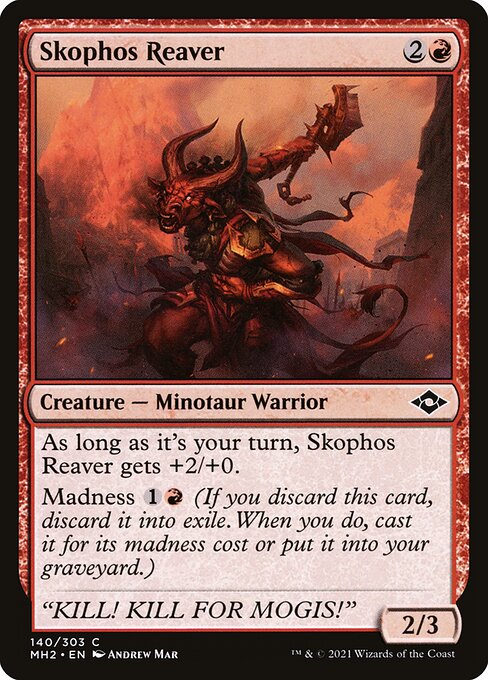 , Underworld Rage-Hound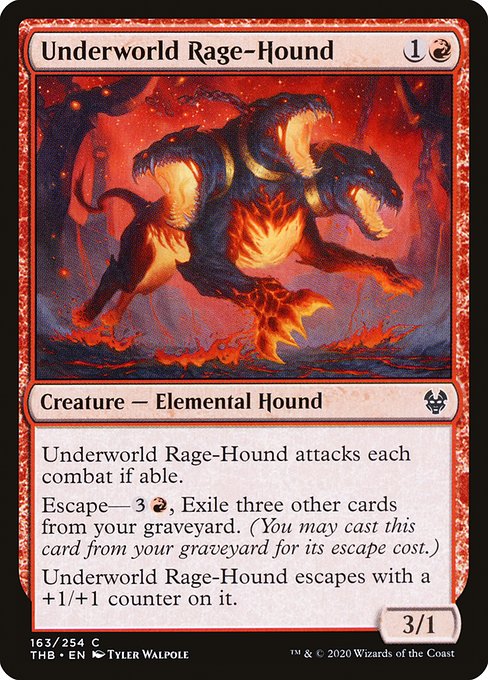 , and some flashback spells to make me interested.
Usman:  Compares to Attentive Sunscribe and I think I like the rummaging effect over scrying, especially in red.   Not bad.
Neveron: In the early game, you cycle this for a land. In the late game, you play this as a red Colossal Dreadmaw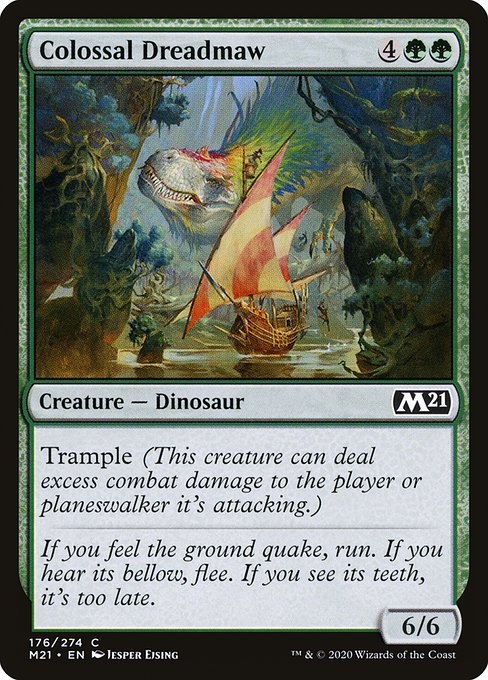 that also lets you draw 1-2 cards the turn it untaps. I feel like Gruul would appreciate this big dumb dino.
Phizzled: Land cycling makes me wish so much we had more powerful reanimation spells. Trample appeals a lot to me in Red, which might remove creatures with damage mid-combat.  I will have to play with the land cycling to get a feel for how practice that is.  My worry is that, outside of Gruul, the land sacrifice is additive distraction only.
Solset: While Gruul would like this, normally that color gets its early and midrange options in Red and late game in Green.  Keeping our Red fast enough to balance more controlling archetypes means we need to be pretty selective with our 5+ mana red spells.  Maybe we can get one more in, but it is going to be a tough cut.
Usman:  I remember Grabby Giant's activated ability looked better than it played, since it required a lot of mana, and while, in theory, it helped against flooding, it just felt clunky.  Still, I think it's mostly just flavor on a big trampler with landcycling, which ain't bad.  Worth a try.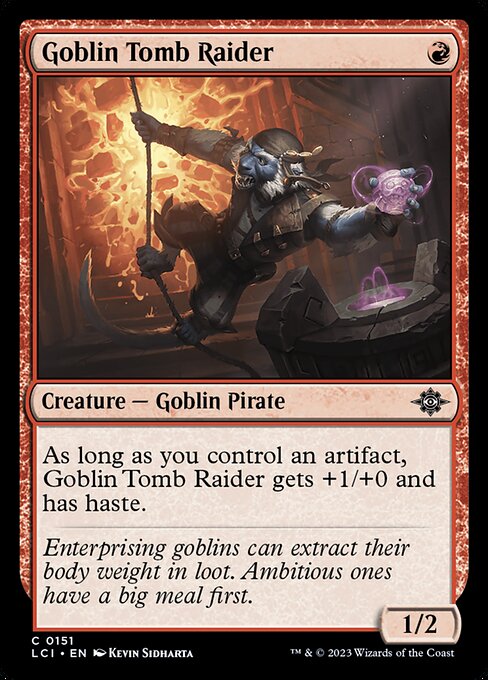 Neveron: While this goblin is likely to be a pauper all-star, unfortunately it's unlikely to be a Goblin Guide
in our cube. I know people love this card, though, and we didn't forget it.
Phizzled: We had Ghitu Lavarunner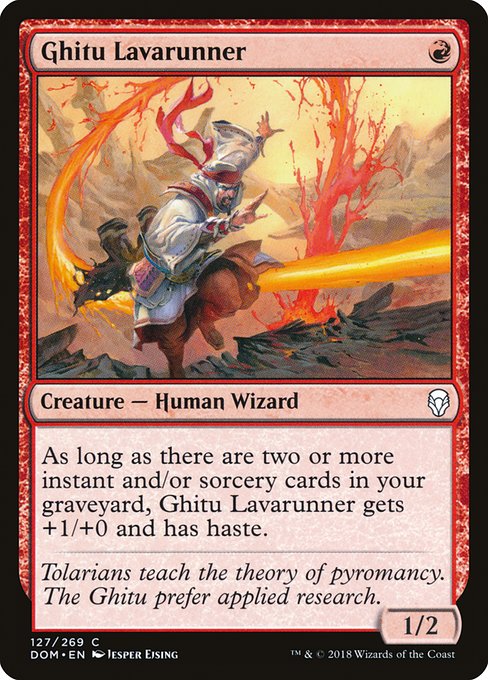 for a while and two instants or sorceries was easier on average to achieve early in the game, but wasn't a Cube all star.  I think having an early artifact is harder to achieve, and this will be less exciting.
Usman:  Yeah, I don't think we have the artifact density for this to work, unfortunately.  Rate is absolutely absurd if it can be reliably a Goblin Guide, but our density is too low to make it happen.
Green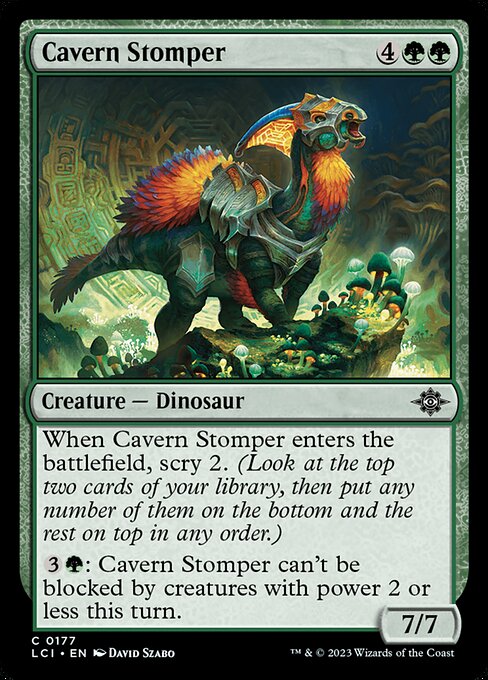 Solset: Cavern Stomper has a lot going for it.  Power and Toughness greater than its cost, evasion from chump blocking, and an ETB that helps you draw gas late game.  In a lot of situations, this is going to be a fantastic ramp target.  However, in those situations, a Colossal Dreadmaw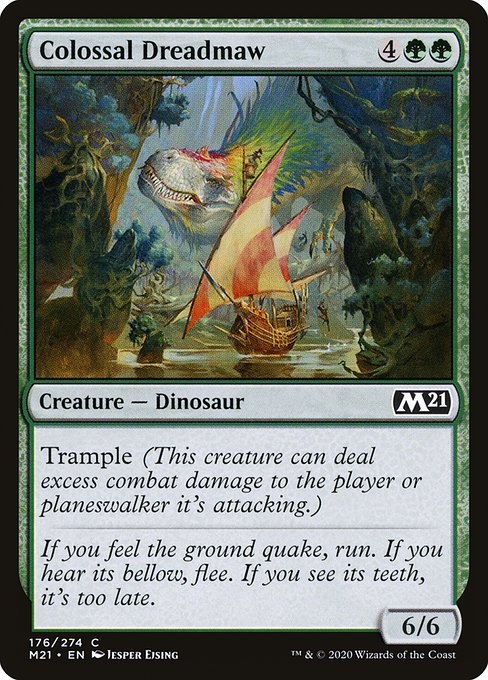 is likely to be almost as good.  I am convinced that to function in our cube with great bounce and spot removal, a ramp target needs to either have an early game modality, or immediate board impact in case it eats a 2 mana removal spell – Ideally both.  If we expand ramp in the future, this could get reconsidered, but for nowI think we need more out of big guys.
Usman:  Not bad as a big beater with some upside on ETB, which has historically been those creatures' downfall (being bad vs instant black removal, and relatively bad against Pacifisms.)  Unsure if this is enough though.
Omniczech: I do wish this just drew a card, but having a bit of value to negate the old "Haha dies to doom blade" argument is nice. I do like the "no chumpblocks" text on these huge idiots, but I'm not sure how they measure up to just having trample.
Phizzled: Prophet of the Peak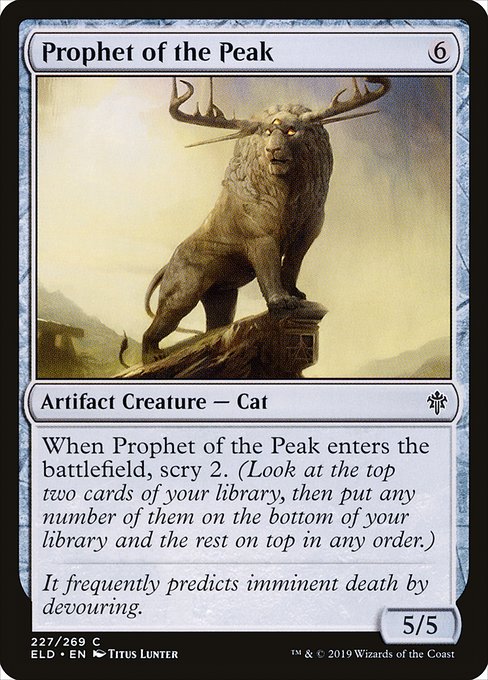 's brief tenure makes me hesitant.  This ETB is fine, but knowing this came in a set with explore makes me think Wizards really considers this card better than it reads.  Having to pay for evasion is an annoyance, but if this can get through, it will end the game in three swings.  I'm just not sure this deals as much damage as a 4/4 trample creature will in most matchups.
Neveron: During spoiler season I think the point of comparison was Greater Sandwurm
, and I think I might prefer paying an extra mana up-front for the privilege of not having to pay for the evasion. Scry 2 is good late-game, though, I'll give it that.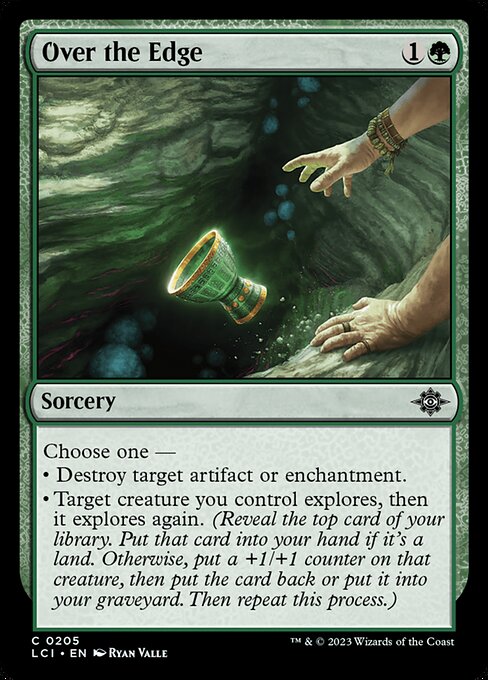 Neveron: As of writing, this is the only green card to poll positively. We've previously seen this more exciting type of modal card in MOM's Sunder the Gateway
, and the secondary option being 2/2 worth of stats for two mana is a nice way to make this less of a sideboard card… but Explore is unreliable enough that I'm not sure that it'll quite stand up. We'll have to see how it plays first, I think.
Phizzled: The inconsistency of exploring is mentally a killer for me.  I don't know how much deck thinning you have to do to feel good about getting the 2/2 worth of power and toughness, rather than drawing a land and only getting one counter.  As a flexible sideboard card, it feels extremely functional, but I can't imagine feeling thrilled to pick this early in a draft ever.
Omniczech: Echoing what Phizzled said, I do hate evaluating explore, this one is interesting as it's not amazing as a main deck include but it isn't just dead. Again, another card I'm excited to see the eventual pushed version of.
Solset:  My comments on Deconstruction Hammer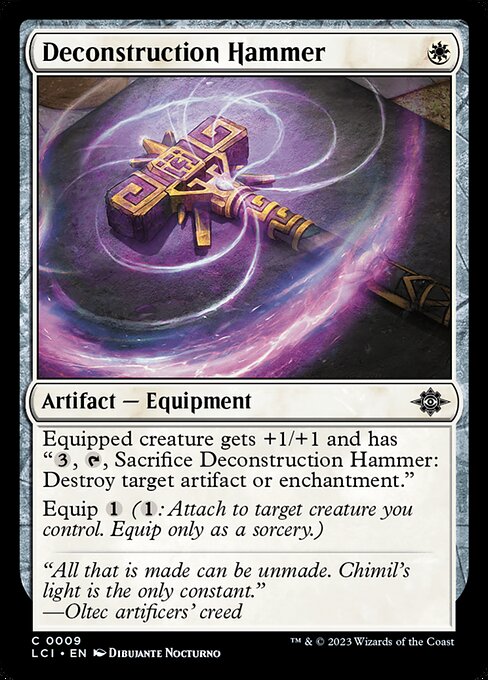 hold true here.  Until we make the call to carve out room in all colors for sideboard cards that are okay main deck, I just don't think this makes sense.
Usman:  Mediocre on both halves, and generally feels so much worse than Sunder the Gateway.  Eh.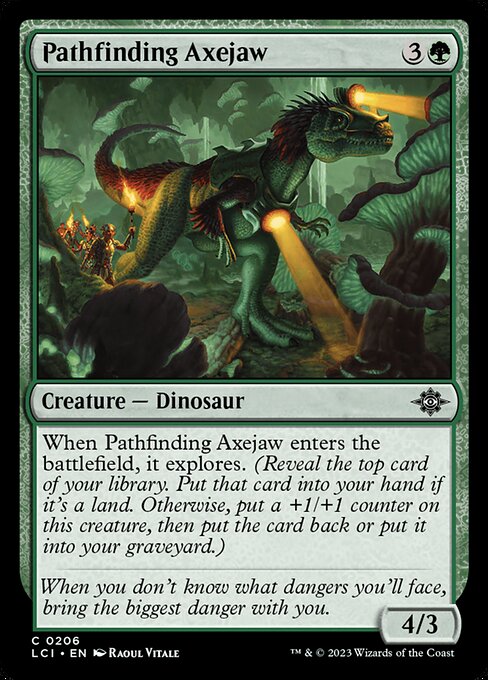 Solset: I know I am mostly alone on this one, but I think a card like Pathfinding Axejaw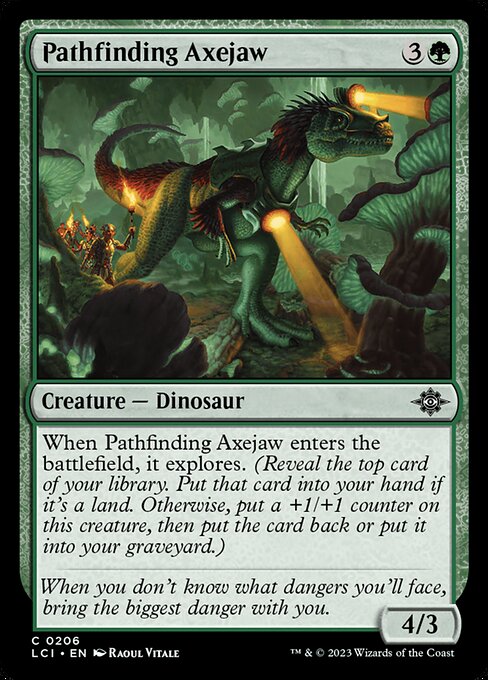 is what makes mana elves worth it in our cube. This card comes down early enough that without a removal spell, the game is barreling toward the finish regardless of how explore resolves.  Drawing lands helps slower Simic  Blue builds, getting a counter plays with White Selesnya counters, and milling some value goes nicely with Golgari Black.   Just being a 5/4 for 4 is what we want for our Red Gruul builds to follow up after a Yavimaya Steelcrusher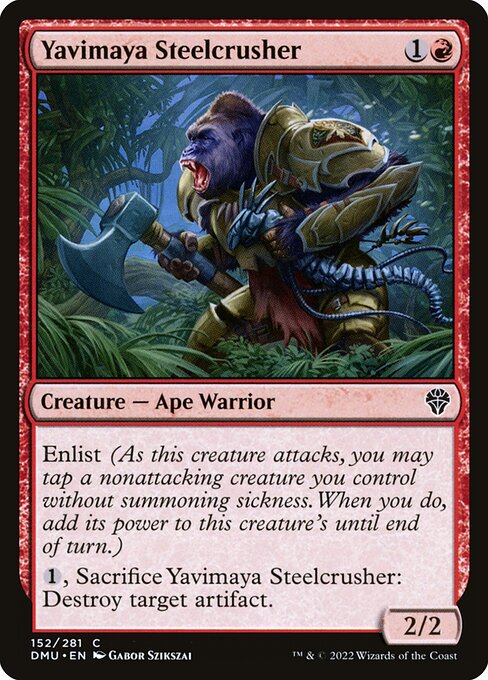 and Jewel Thief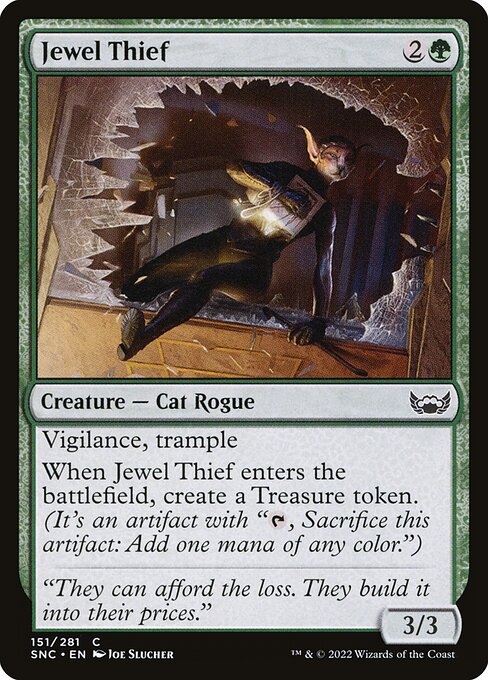 .
Omniczech: I'm mostly in the camp of "I'm not sure this is enough over a vanilla beefy boy" but if the support is there I'm sure we've cubed worse in the past.
Phizzled: I would be so much more interested if this had evasion built in, but explore immediately putting the body out of Bolt range or drawing  you a land feels better than, say, Cavern Stomper above.  French Vanilla creatures have their place, they just are harder to get excited enough to nominate cards that remain serviceable.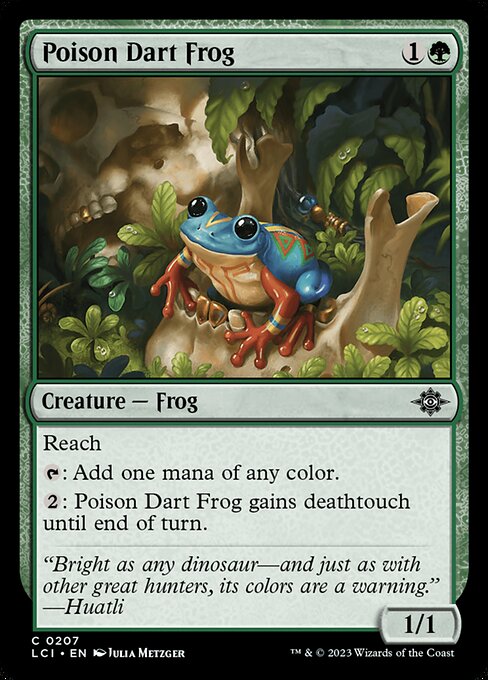 Solset: If we ever find the need for some slightly slower dorks with  late game relevance, this may be the best option. Without really pushing Green aggro, this might  just be an upgrade on the mostly defensive Thornweald Archer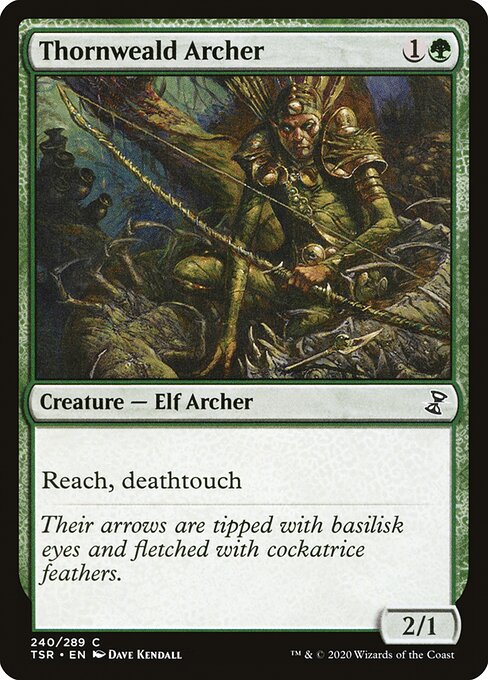 .
Omniczech: I'm just so uncertain about what deck this fits in, the requirement for 2 mana to gain deathtouch has me hesitant to say that this fits in all of the green decks we're trying to support.
Phizzled: I think you have to value the color fixing highly in the early game for this to be a strong contender, and the reach/deathtouch combo late game for this to make more sense over several of our other mana dorks. Late game, this can potentially hold off a single significant attacker for a while or eat premium removal, but I think Green would generally prefer to spend that mana making its own must-kill threat, right?
Neveron: There are many mana dorks out there that give late-game utility. In this case I think I'd rather have something like Wose Pathfinder
and play offensively, or perhaps just Careful Cultivation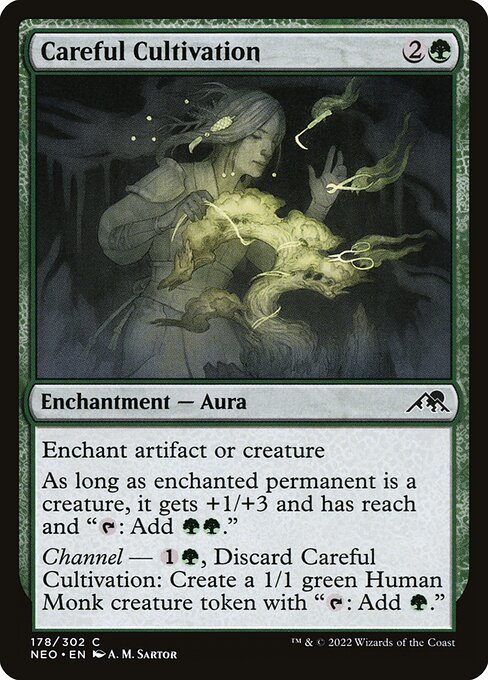 if I'd rather play things defensively.
Colorless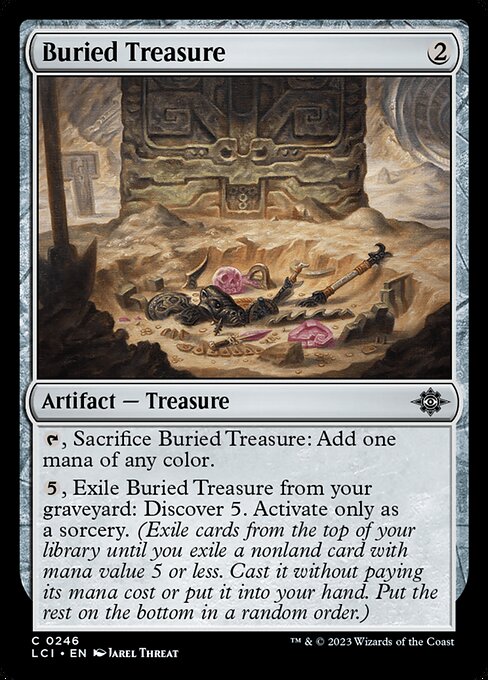 Neveron: Two-mana treasure isn't fantastic, but it's something that has seen play at times. Being able to randomly cascade into things if you discard or mill this probably needs to be the main draw, and being able to discount that ability by sacrificing the treasure isn't irrelevant. I'm unsure about this card, but I think I might like it?
Phizzled: The thing that will make or break this card for cube seems like it will clearly be the discover ability.  Discover being a sorcery hurts a little here, but you never truly whiff.  I think this is less powerful than some of our other two mana rocks on average, but offers story equity when discover is really great.
Solset: Playing this card fairly seems pretty terrible.  I am embarrassed to run this without figuring out a way to gain some synergistic value for sacrificing, controlling an artifact, or getting this in the yard without costing you a full  card.  I think we have a few of these in our cube, but not nearly enough for the danger of how this plays most of the time.
Usman:  Yeah, playing this for a fair rate is just so meh and I'm just not feeling this upfront rate.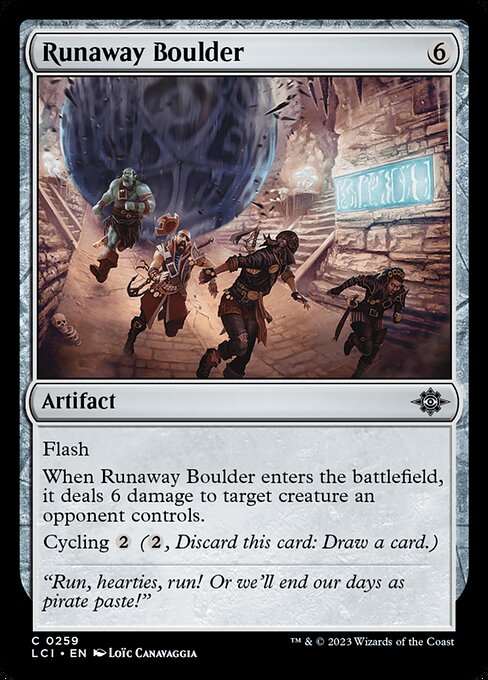 Neveron: This card fits snugly between Introduction to Annihilation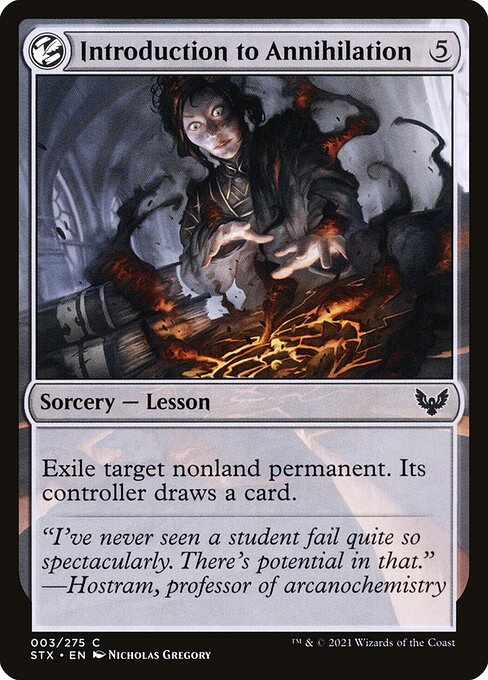 and Scour from Existence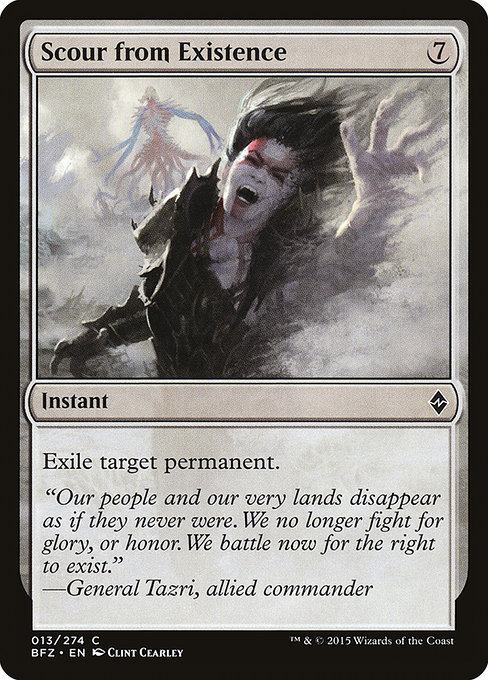 in its price, and six damage is enough that this is likely just a colorless instant-speed "destroy target creature" that you can blink. The cycling is nice as well, as with most expensive cards. Is it worth cubing, though?
Phizzled:  I think generally, you'd rather have Scour if you need the colorless removal spell. I worry this is too often going to be the 24th or 25th card "in" a deck.  I don't think this is going to make sense in the cube, but will probably do decent work in retail limited.
Solset:  If this had some minor ability on the board, I think I would be curious to try it out.  It is obvious that in retail, you are supposed to get extra value from this on the board. Hey, it combos with Improvised Club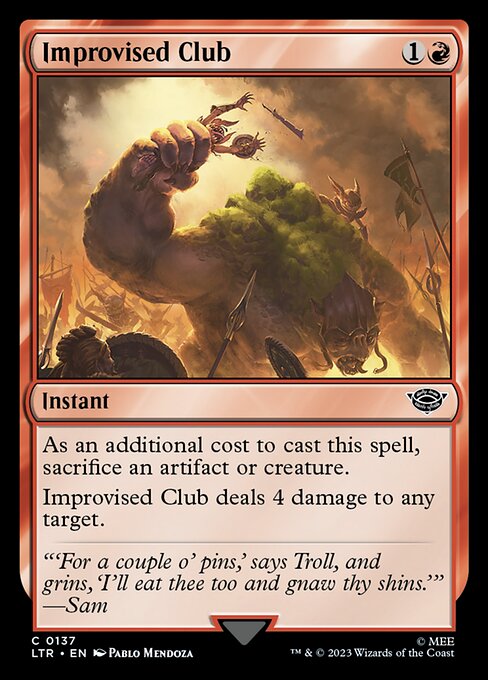 at least.  I think soon, we will get one of these worth considering.
Usman:  It has some of my favorite keywords but it's just so clunky at 6 mana lolp that it's a really rough sell due to the high cost upfront.
Land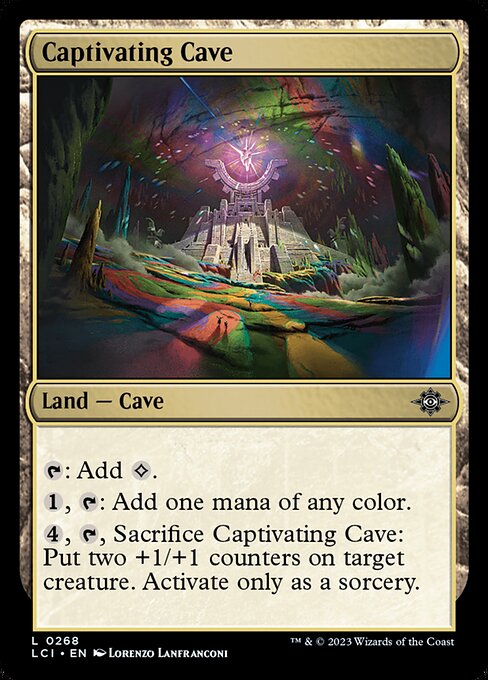 Neveron: It's Cave of Temptation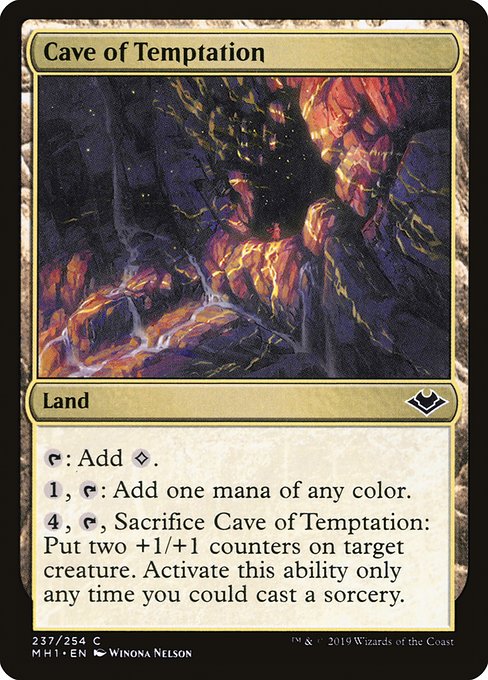 , but a Cave. Run whichever you find prettiest, but Cave synergies are mediocre enough that the official list is probably going to stick to the older card.
Phizzled: I can't imagine making the change just for the sake of making the change without a mechanical difference.  I do think the prismatic art is a little more appealing than Cave of Temptation's art.
Usman:  Like Promising Vein, another card to something similar with a Cave type attached.  I'm mostly ambivalent but seeing cards like this can unintentionally make drafters think there's a "theme" when such a thing is a theme in its native limited format.  Not really good enough to double up on, and mostly just fine.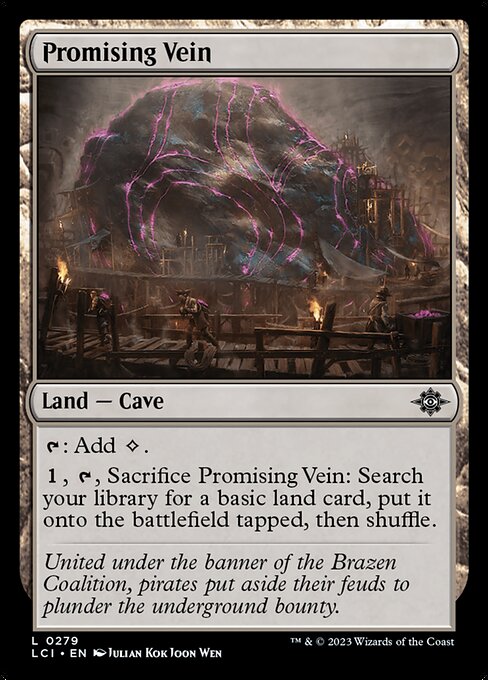 Neveron: It's Shire Terrace, but a Cave… and without the Tolkien license. Switch it up if you feel like it, but I think the committee is probably fine with the status quo.
Phizzled: I'm not allergic to Universes Beyond like I know some cubers are. As above, no need to make a change just to make the change.
Omniczech: during previews I was holding out to see if there was some sort of reward for caves that might make me interested here, and there just simply isn't, leaning towards no just to avoid unnecessary includes.
Solset:  I am not opposed to doubling up on this effect, but I think I am alone here.
Usman:  Mostly just a fine fixing land.  Eh.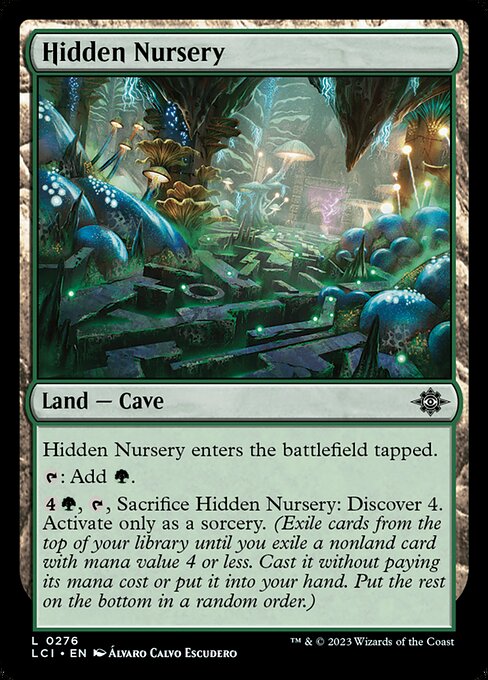 Neveron: Overall these don't quite seem worth it over e.g. The Autonomous Furnace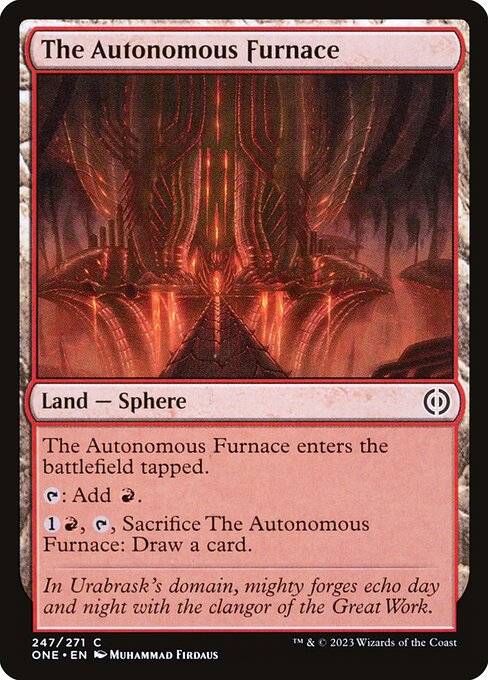 or cycling lands. There are however some arguments to be had for the green one, Hidden Nursery, given how plentiful green lands are and how high their curve tends to lean and how medium the other green utility lands are. The blue one, meanwhile, is no Mystic Sanctuary
.
Phizzled: I think it will be hard to craft a draft deck that maximizes the discover cost in the way the old pauper constructed cascade deck used to, but I'm optimistic about discover, pending getting some reps playing it.  I dislike breaking up the cycles, but if I were putting them into the Cube, I'd be looking at either the Green one, or the three that make up Naya.
Omniczech: I would be down for the idea of adding a cycle of utility lands for each color and including the green one here as a thing that's interesting to do and a mana sink, but I'm not stoked on it. What I am stoked on is the idea that we'll start getting these types of lands at common where there's some actual complexity to em.
Solset: I think it has been said well enough, but really only the Green one fits for us.  I am not sure if I prefer it over Hickory Woodlot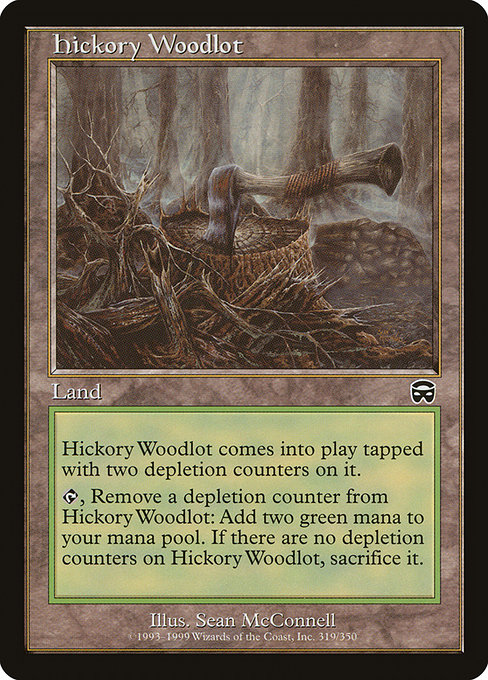 if we want a land that fits in big green, but it is close enough to remember if we add a mono colored land cycle.
Usman:  During preview season, I discussed these for one of our regulars' pauper cube and recalled that the sorcery speed on discovery just kills it for me, they're similar to the spheres by being ETB lands with some utility on board.  5 at sorcery speed is so much, but I am liking the idea for just including the green one, since it's the most able to get to using 5 mana (via ramp) without it hurting as much.  The rest, I like the ONS cyclers more, even if they lack on-board utility.